BUFFALO, N.Y. -- Erie County District Attorney Frank Clark
now believes Buffalo Bills running back Marshawn Lynch was driving the
vehicle involved in an alleged hit-and-run accident that injured a
pedestrian last weekend.
"We're proceeding on the assumption that Lynch was driving the
car," Clark said Friday, a day after he was limited to saying that
Lynch was inside the 2008 Porsche SUV when it struck a woman
crossing an intersection in downtown Buffalo before speeding off
early May 31.
Clark made his new assertion based on the vehicle being owned by
Lynch and that the player was spotted that night in the bar
district near the accident scene. And he noted that police located
the vehicle -- with damage linking it to the collision -- parked in
the player's driveway later that morning.
"So, the logical presumption is that he was driving the car,"
Clark said.
Clark said Lynch and his attorney have still not scheduled a
meeting with him or police investigators.
Clark said he's confident the investigation is nearing
completion.
"I think this case is going to be resolved, and at the latest
the first part of next week," Clark said.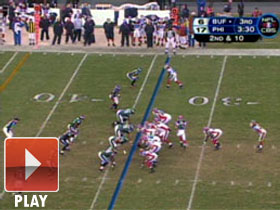 NFL.com Video
2007 Highlight: Marshawn Lynch runs 56 yards against the Eagles.
Lynch, the Bills' 2007 first-round draft pick, has declined
comment and did not take part in the team's voluntary practice
Friday morning -- the first session he's missed since the series of
minicamps began three weeks ago.
Without going into detail, coach Dick Jauron said Lynch's
absence was related to a personal issue but not the accident.
Lynch's attorney Michael Caffery was not immediately available
for comment.
The victim, identified as a 27-year-old woman from suburban
Toronto, had a bruised hip and a cut that required seven stitches.
She was treated and released from a hospital on the same day.
Clark is open to a plea in what's considered a Class A
misdemeanor that carries a maximum one-year jail sentence and
$1,000 fine.