ORCHARD PARK, N.Y. -- Rookie receiver James Hardy was one of three Buffalo Bills players subpoenaed Thursday to testify before a grand jury looking into a hit-and-run accident involving running back Marshawn Lynch's SUV.
Besides Hardy, the Bills' second-round draft pick, rookie receiver Steve Johnson and second-year offensive lineman Christian Gaddis also were subpoenaed, a law enforcement official familiar with the investigation confirmed to The Associated Press. The official spoke on the condition of anonymity because the person is not authorized to release that information.
The Buffalo News first reported the names of the players on its Web site.
Buffalo Police Department spokesman Michael DeGeorge said "a high-ranking member of the Bills security staff" also was subpoenaed.
"Investigators believe these people have information regarding this case," DeGeorge said at a news conference held hours after investigators attempted to interview several players and Bills management at the team's headquarters.
Erie County District Attorney Frank Clark has impaneled a grand jury to investigate the May 31 accident when Lynch's 2008 Porsche Cayenne allegedly sped off after hitting and injuring a female pedestrian.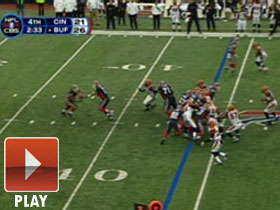 NFL.com Video
2007 Highlight: Marshawn Lynch runs 56 yards for a touchdown.
The grand jury is scheduled to convene June 20, DeGeorge said.
Clark -- who was unavailable for comment Thursday -- has previously said he's confident charges will be filed in the case. He's also called Lynch the principal suspect and is acting under the presumption the player was driving during the accident near the city's downtown bar district.
Lynch has declined comment. His attorney, Michael Caffery, did not reveal any information during a brief meeting with prosecutors Monday.
On Thursday, Caffery said Lynch was not among the players scheduled to be interviewed by police.
As for the subpoenas being issued, Caffery said: "That's what Frank Clark said he was going to do, and that's what he did."
The Bills released a statement late Thursday in response to media reports suggesting they haven't been cooperative with investigators.
Noting they assisted authorities in setting up player interviews, the Bills said they have "cooperated fully and will continue to cooperate fully" with investigators. The Bills referred to the investigation as "not a team matter, but rather a personal matter," and said police indicated their intent to subpoena Bills players and several Bills executives at the end of their visit.
DeGeorge said investigators did speak to at least one Bills player at the team's facility, but added: "I think it's fair to say, in general, there's been very little cooperation from those that investigators would like to talk to or wanted to talk to."
Referring to "an element of frustration" in trying to get answers, he said investigators believe Bills executives have information regarding the accident.
Bills spokesman Scott Berchtold declined comment regarding the police visit, other than to say: "We've cooperated fully and we will continue to cooperate fully with the authorities."
DeGeorge said when investigators asked to speak to Bills owner Ralph Wilson and chief operating officer Russ Brandon, they were referred to the team's corporate lawyer. Wilson was spotted leaving the team's headquarters about a half-hour after police arrived.
The visit to the Bills came after Clark, on Monday, said he was expanding his investigation to focus on the passengers in the vehicle.
The victim, identified as a 27-year-old woman from suburban Toronto, had a bruised hip and a cut that required seven stitches. She was treated and released from a hospital on the same day.
DeGeorge declined to say whether investigators believe the players subpoenaed were in the SUV at the time of the accident.
Hardy is considered the most high-profile of the players subpoenaed. He was selected in the second round of the draft out of Indiana and is expected to make an immediate impact in a passing attack that struggled last year.
Johnson, the second of Buffalo's three seventh-round draft picks, is good friends with Lynch after the two grew up in the San Francisco area. Gaddis appeared in one game as a rookie after spending the first 10 weeks on the Bills practice squad last season.
The Bills completed their final day of mandatory minicamps on Thursday after coach Dick Jauron, in what he called a reward for his players, canceled a final session scheduled for Friday. Lynch attended all but one of the team's 15 minicamp sessions this past month. He missed one for corrective eye surgery last week.