CINCINNATI -- Former Cincinnati Bengals receiver Chris Henry has been suspended indefinitely by the NFL.
The Bengals released Henry on April 3 after he was arrested for the fifth time. Henry is scheduled for trial June 24 in Hamilton County Common Pleas Court on charges of assault and criminal damaging. A man accused Henry of punching him in the face and breaking his car window with a beer bottle.
Henry had received permission from the judge to try out with other NFL teams, but the suspension puts an end to that.
If Henry is acquitted, the suspension could be lifted, Henry's agent Marvin Frazier said. If Henry is convicted, he faces at least a one-season suspension under the league's conduct policy. Henry was suspended for the first eight games last season for violating the policy, his second suspension from the league during his three-year career.
NFL spokesman Greg Aiello confirmed the indefinite suspension Friday.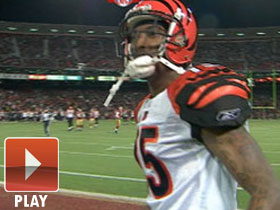 NFL.com Video
Carson Palmer 52-yard TD pass to Chris Henry.
Henry has been arrested five times since the Bengals made him a third-round draft pick out of West Virginia in 2005. His misconduct was one of the factors that prompted Goodell to tighten the league's policies last year and strengthen its punishment for players who get in trouble with the law.
Henry is the second former Bengal player trying to get back into the NFL with another team following a series of suspensions. Linebacker Odell Thurman, a second-round pick in 2005, was suspended earlier this month for the 2008 season after violating the league's substance abuse policy again.
Thurman sat out the last two seasons after skipping a drug test and getting arrested for drunken driving. He was reinstated by the league in April, but the Bengals released him last month after he skipped a series of voluntary workouts. Then, he was suspended again by the league.