The Philadelphia District Attorney's office has asked the city's police department to gather more evidence in the case involving the shooting outside Marvin Harrison's car wash and garage in North Philadelphia on April 29, meaning that the seven-week-old case has essentially stalled, sources with knowledge of the case said Monday.
Detectives are still trying to piece together what happened, relying on ballistics tests and scant information from witnesses and two victims who have been less than fully cooperative, sources say. No charges have been filed.
Unlike many other jurisdictions, in Philadelphia, the police department is the lead investigating authority, but the district attorney's office must approve the charges.
"We don't approve charges unless we can prove them in court," said an official with the district attorney's office.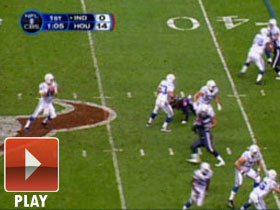 NFL.com Video
Peyton Manning pass to Marvin Harrison for a 37-yard touchdown.
Philadelphia District Attorney Lynn Abraham's office has asked police to reinterview witnesses, a police department source said. A spokesman for Abraham would say only that the "case is under investigation."
Harrison, the Pro Bowl wide receiver for the Indianapolis Colts who grew up in North Philadelphia, was allegedly involved in a fistfight with a man in his bar, Playmakers, about seven weeks ago, police sources say. Sometime later, there was a shooting outside the garage and car wash. One man was shot in the hand, another shot in the back. Broken glass from a car window also sprayed a 2-year-old boy, who suffered minor cuts.
About two weeks later, police investigators determined through ballistic tests that six of the bullet casings found near the shooting on April 29 came from a high-powered handgun that Harrison surrendered to police. Detectives are still trying to piece together enough evidence to determine who fired the gun.
Under Pennsylvania law, even if Harrison was not the shooter, he would be charged with a misdemeanor if police determine that his gun was used in the commission of a crime.
Harrison has told Colts head coach Tony Dungy that he was not involved in the shooting.
Sal Paolantonio covers the NFL for ESPN.