LAS VEGAS -- Oakland Raiders wide receiver Javon Walker was found unconscious on a Las Vegas street Monday after apparently being the victim of a robbery.
Police spokesman Bill Cassell said in a statement that Walker was taken to a hospital with "significant injuries" after being found early Monday on a street off the Las Vegas Strip.
Cassell said Walker remained in fair condition at Sunrise Hospital and Medical Center.
A Raiders spokesman said the team was "in the process of gathering information" and had no further comment.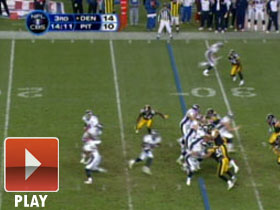 NFL.com Video
Javon Walker 72-yard rush for touchdown.
Walker signed a six-year, $55 million deal with the Raiders after being released by the Denver Broncos in February.
Walker injured his right knee for the second time in his career last season and was limited to eight games and 26 catches in 2007.
Walker was a first-round draft pick by the Green Bay Packers in 2001 and had a breakout season in 2004 with 89 catches for 1,382 yards and 12 touchdowns.
He tore a ligament in his right knee the next season and played only one game.
He was traded to Denver in 2006 and bounced back with 69 catches for 1,084 yards and eight touchdowns.