WASHINGTON -- Sen. Arlen Specter said he won't call for congressional hearings on the NFL's investigation of the Spygate scandal after previously threatening to do so.
Specter's office confirmed Tuesday his comments a day earlier to the Philadelphia Daily News editorial board, in which he said "I've gone as far as I can" with his office's investigation of the matter. Specter, the ranking Republican on the Judiciary Committee, had written in a Senate floor statement earlier this month that "I believe the NFL should step forward and embrace an independent inquiry."
"If the NFL continues to leave a vacuum," he added, "Congress may be tempted to fill it."
Specter's decision not to pursue hearings came nearly two weeks after he entered a statement into the Congressional Record calling on the NFL to conduct an independent review of the scandal, in the same way that baseball enlisted former Senate Majority Leader George Mitchell to investigate the use of performance-enhancing drugs.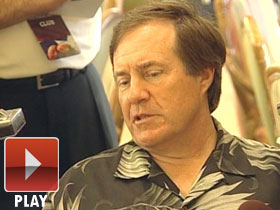 NFL.com Video
Bill Belichick on Spygate scandal.
"The commissioner's investigation has been fatally flawed," said Specter's statement, entered into the record on June 5. "The lack of candor, the piecemeal disclosures, the changes in position on material matters, the failure to be proactive in seeking out other key witnesses, and responding only when unavoidable evidence is thrust upon the NFL leads to the judgment that an impartial investigation is mandatory."
No independent inquiry has been announced; NFL commissioner Roger Goodell has indicated that he considers the investigation closed. But Specter said no hearings were forthcoming.
"I haven't pulled back. There's not much more I can do at this point," the senator said Monday, according to his office. "We've exposed a lot. ... But the public attention span is so limited. I'm not going to call for hearings because the mood is not right and we've got too many other bigger problems to deal with."
Specter did raise the issue of whether the NFL and other leagues, the beneficiaries of antitrust exemptions, should receive public funding for building stadiums. And he told the editorial board that he wasn't interested in former NBA referee Tim Donaghy's claims that playoff games were rigged.
Information from The Associated Press was used in this report.