LAS VEGAS -- Oakland Raiders wide receiver Javon Walker remained hospitalized with a concussion and a battered face Tuesday, one day after he was beaten, robbed and left unconscious on a Las Vegas street after a night of partying.
Police said a large amount of cash and some jewelry were taken from Walker, who suffered "a moderate concussion and significant injuries to his face."
Police Lt. Clinton Nichols said detectives are retracing Walker's activities in the hours before he was found injured Monday morning on a street off the Las Vegas Strip.
"We don't believe this is a random act," Nichols told the San Francisco Chronicle, adding that police believe Walker was alone at the time of the attack. "They knew who he was and [Walker] presented a target.
"We did get a surveillance [video] of a vehicle and suspects that may have been involved. We know there were suspects, possibly two [but] we haven't identified anyone yet."
According to the Chronicle, Walker told police he had about $3,000 in cash and $100,000 in jewelry stolen. The jewelry included a watch, a necklace and earrings.
According to reports published Tuesday in the Las Vegas Review-Journal, Walker visited a nightclub, Tryst, at the Wynn Las Vegas resort on Saturday night. He spent Sunday night at another club, Body English at the Hard Rock hotel-casino, before leaving about 3:30 a.m. Monday, according to casino spokeswoman Dorian Cantrell.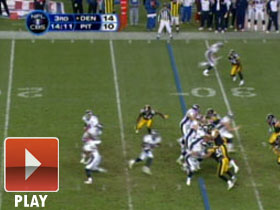 NFL.com Video
Javon Walker 72-yard rush for touchdown.
Cantrell said there were no reports of a disturbance at the club.
Nichols said detectives spoke briefly with Walker on Monday and planned a second interview Tuesday evening at Sunrise Hospital and Medical Center.
A Raiders spokesman said the team was in the process of gathering information and had no further comment.
On Monday, police officer Bill Cassell said in a statement that Walker was taken to a hospital with "significant injuries" and was in fair condition.
Walker, 29, signed a six-year, $55 million deal with the Raiders after being released by the Denver Broncos in February.
Walker injured his right knee for the second time in his career last season and was limited to eight games and 26 catches in 2007.
Walker sought a fresh start after Broncos teammate Darrent Williams died in his arms in the back of a limousine on Jan. 1, 2006 in downtown Denver.
In a 2007 "Real Sports" interview, Walker said then teammate Brandon Marshall and his cousin exchanged heated words with two men who later confronted Williams and his group after taking offense when Marshall sprayed them with champagne.
The drive-by shooting remains unsolved.
Walker was a first-round draft pick by the Green Bay Packers in 2001 and had a breakout season in 2004 with 89 catches for 1,382 yards and 12 touchdowns.
He tore a ligament in his right knee the next season and played only one game.
He was traded to Denver in 2006 and bounced back with 69 catches for 1,084 yards and eight touchdowns.
Information from The Associated Press was used in this report.