Dallas Cowboys wide receiver Terry Glenn introduced calm rhetoric into what has become an emotional standoff with owner Jerry Jones. The veteran player now seems interested in pursuing a resolution that might allow him to rejoin Tony Romo and Terrell Owens for the upcoming season in Dallas.
In a telephone conversation with ESPN on Tuesday, Glenn also more clearly defined the issues and provided insights into the impasse that has caused him to miss the team's minicamp this week just as it has separated him from his teammates throughout the offseason training program.
"I want Jerry to understand that I know he has the ultimate power in everything that goes on with the Cowboys, and I'm not trying to challenge him in any way, shape or form," Glenn said. "He can -- and will -- determine the outcome of this because it's ultimately his decision. But what I want is to remain a Cowboy. I've been here for five years and I've made Dallas my home, and I would love nothing more than to be a Dallas Cowboy."
Glenn, who turns 34 next month, told ESPN on Tuesday that he wanted to be released if Jones remained insistent upon him signing an injury waiver. While he still hopes for a resolution soon, Glenn made it clear he has not ruled out a return to the Cowboys if what he deems a fair solution can be achieved.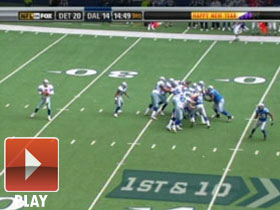 NFL.com Video
2006 Highlight: Tony Romo pass to Terry Glenn for 54 yards.
"I'm not trying to be at odds with Jerry," Glenn said. "These words and comments coming from me were strictly frustration, knowing football season is right around the corner and I don't know if my future is here, there or anywhere. I'm ready to give 100 percent. I just want to know if this is going to be my home."
Glenn says the most difficult thing for him is knowing that his teammates are on the practice field as he made his comments, preparing for a season in which he is convinced his presence can help them achieve their Super Bowl goal.
In comments made during Tuesday's afternoon practice, Jones said Glenn and his agent at the time, James Gould, had agreed to the injury waiver that would reduce the Cowboys' financial responsibility to the receiver with a recent history of knee problems from $1.7 million to $500,000. Glenn told ESPN at the time the Cowboys were actually offering $385,000 if he reinjured the right knee on which he twice had arthroscopic surgery last season, causing him to miss 15 games.
Glenn said he reluctantly agreed to the deal but noticed the figure had been reduced to $345,000 when he received the documents to sign. When Glenn inquired as to why the offer had been reduced by $40,000, he said he was told that it was the lowest the Cowboys could offer under the collective bargaining agreement.
Glenn rejected the deal, fired his agent and has since been representing himself. The Cowboys eventually increased their injury-waiver offer to the current $500,000.
While Glenn and the surgeon who twice operated on his right knee before the 2007 regular season believe the knee is healthy, the player has misgivings about losing the majority of his income if, at the discretion of the Cowboys, it is determined the knee is reinjured and causes him to miss a substantial portion of the season. Colts receiver Marvin Harrison missed 11 games last season when he suffered a knee injury when he was rolled up on from behind as he blocked downfield. If the same thing happened to Glenn, he would be paid if his left knee were injured but might not be able to claim his salary if his right knee were hurt in the identical situation.
"That's just part of the game, and I would have no protection," Glenn said.
Already attempting to overcome what was essentially a lost season in 2007, Glenn feels himself falling behind in preparing for the upcoming season -- wherever he might be playing.
"I feel I need to do something," he said. "I need to be in a camp. I need to be in this camp practicing with players I want to be with or you need to let me go. That's what I'm trying to say. I need to be involved somewhere, somehow -- and soon. That's what's so frustrating. It's that time of year. I've been doing this for 28 years straight. My body knows when it's that time. I'm getting jittery and excited but what am I getting excited about?"
Ed Werder covers the NFL for ESPN.