The Dolphins say they want Jason Taylor to play one final season in Miami, but that reportedly hasn't stopped the Green Bay Packers from continuing to check on his availability.
The Green Bay Press-Gazette and Milwaukee Journal Sentinel are reporting that the Packers have called the Dolphins to check if the team is willing to deal the star defensive end. The Packers also inquired about Taylor before April's NFL draft.
And a source in South Florida told the Journal Sentinel that, despite Taylor's insistence earlier this month that he's willing to play in Miami in 2008, he has only pushed harder for a trade from the only team he has ever played for.
According to the Journal Sentinel, the Packers would agree to a deal only if Taylor backs down on his desire to play just one more season. The Dolphins were seeking a first-round pick in exchange for Taylor before the draft, but a source told the Journal Sentinel that the Dolphins may be willing to deal the 2006 NFL Defensive Player of the Year now for a second-round pick.
The Dolphins wouldn't comment on the reports.
"We don't comment on rumors," Dolphins spokesman Harvey Greene said, according to the Palm Beach Post.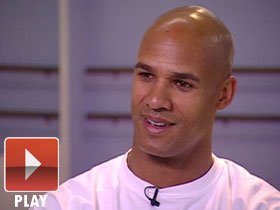 NFL.com Video
Jason Taylor discusses his future Dolphins and his role in the ABC hit series Dancing with the Stars.
Packers defensive coordinator Bob Sanders is familiar with Taylor from his time on former Dolphins head coach Dave Wannstedt's staff in Miami.
Defensive tackles coach Robert Nunn, who was also on Wannstedt's staff, is a big fan of Taylor.
"Anytime you can get a guy of that caliber, you'd want to try to get him," Nunn said, according to the Press-Gazette. "But I don't get involved in anything like that.
"All I know is that when I coached him, he was a great football player and a great person. I hope it works out for him because he's had such a great career, and I'd hate to see it end on a bad note in the public's eye. The guy is such an outstanding individual and a great football player, and I just hope for the best for Jason and hope it ends well, and he's able to compete for a Super Bowl."
The Journal Sentinel reported that general manager Ted Thompson recently discussed Taylor with both Sanders and Nunn.
Sanders wouldn't comment when asked if he thought Taylor would be a good fit with the Packers.
"Ted does a great job with that," Sanders said, according to the Press-Gazette. "I yield to him on all those situations."
The Packers have a need for another pass-rusher as Corey Williams and his seven sacks were dealt to the Browns in the offseason. Also, defensive end Kabeer Gbaja-Biamila is returning from knee surgery.