Cross one -- and perhaps the most pressing -- item off Chicago's 2008 offseason to-do list.
The Bears have agreed with defensive tackle Tommie Harris on a four-year extension through 2012 worth approximately $40 million, including $18 million in guarantees and $27 million over three years, according to sources familiar with negotiations. The extension makes Harris the highest-paid defensive tackle in the NFL and in history. The contract is the richest in team history.
Chicago has been engaged in negotiations with representatives for arguably its three most important players -- Harris, linebacker Brian Urlacher and wide receiver/returner Devin Hester. Urlacher, considered by many to be the face of the franchise, signed for four more seasons but would like his contract upgraded. Hester had outperformed the four-year pact he signed as a second-round pick in 2006.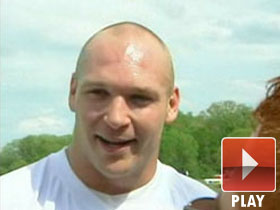 NFL.com Video
Brian Urlacher is feeling good and happy to be back playing football.
Getting Harris, 25, locked up was of the most urgency for the Bears, as he would have been eligible for unrestricted free agency following the '08 season, the last year of his rookie contract.
Had the sides not agreed to a long-term deal the Bears likely would have applied the franchise tag to Harris next year and possibly 2010. Instead negotiations between the Bears and agent Drew Rosenhaus intensified the past two weeks and ended with a deal that will allow Harris to reach free agency again at 29 years old.
One of the game's most dominant interior defenders, Harris has been selected to the past three Pro Bowls. His skills are especially key in the Bears' Tampa 2 defense, which relies primarily on defensive linemen to apply quarterback pressure, particularly the 3-technique position played by Harris and made famous by former Buccaneer and Raider Warren Sapp.
Since the Bears selected him 14th overall in the 2004 draft out of Oklahoma, Harris has started 56 of 60 games played, amassed 19½ sacks, forced five fumbles and recovered three. Harris collected a career-best eight sacks last season.
Michael Smith is a senior writer for ESPN.com.