IRVING, Texas -- Adam "Pacman" Jones had to wait more than a year to get back on the field. So when the suspended cornerback was finally cleared this month to practice with the Dallas Cowboys, he was ready.
"He's very serious. I think he understands that this is a big step for him this year," secondary coach Dave Campo said. "He's hungry. He wants to do good. He wants to play good."
So serious, in fact, that Adam Schefter of NFL Network is reporting Jones will publicly request this week he be known as Adam Jones, dropping his Pacman moniker.
Really, Jones just wants to play after missing all the 2007 season while serving his NFL suspension that has not yet been completely lifted.
While Jones might have to wait until the week before the Cowboys' Sept. 7 opener to find out if commissioner Roger Goodell will let him play during the regular season, Jones is already trying to prove himself to the Cowboys, who acquired him from Tennessee in April.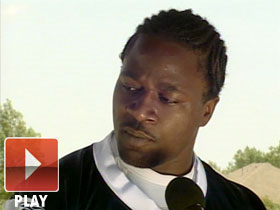 NFL.com Video
Adam "Pacman" Jones talks about his first workout with the Cowboys.
So far, Jones has made a good impression.
"He's just an instinctive cornerback," receiver Patrick Crayton said. "He backpedals natural. He doesn't look nervous. ... Right now, he's just trying to get back in the groove."
In each of his first two practices two weeks ago, Jones had an interception that he returned toward the end zone. He took some snaps with the first-team defense during the team's only mandatory minicamp this week, which wrapped up Thursday without a practice session.
"Kind of what we thought. He works hard," coach Wade Phillips said. "I thought he was a competitor, but he is an extraordinary competitor. He really likes to mix it up out there and make every play."
Jones had told reporters that he'd talk Thursday after the end of the minicamp. But there was no media access after Phillips canceled the final scheduled practice.
Instead of practice, players, coaches and their families took part in a picnic and other family activities at the Valley Ranch facility. The family lunch was already planned, but players weren't told about the cancellation of practice until getting to their position meetings Thursday morning.
The three-day minicamp followed four weeks of optional workouts, the first two coming before Jones was cleared to participate. There are no more organized practices for the Cowboys until they report to training camp in Oxnard, Calif., on July 24.
Jones was suspended in April 2007 following an accumulation of arrests and legal problems, including his connection to a shooting at a Las Vegas strip club. He's been arrested six times and involved in 12 incidents requiring police intervention since being drafted in the first round by Tennessee in 2005.
"The past is the past. I made some bad decisions and I owned up to all my decisions," Jones said June 4, after his second workout with the Cowboys and the first open to the media. "Now I worry about the future."
That was the only extensive interview Jones has done at Valley Ranch since being cleared by Goodell to return to the field for practices and preseason games. He said then it was "in a great position and I'm ready for it."
Jones was the first player on the field Tuesday for the opening workout of the minicamp. Throughout his three weeks of practice, Jones was aggressive in pass coverage and worked on kick returns.
"He's a very competitive guy and that's one thing that rust doesn't take away," Campo said. "Not playing for a year, he's attacking with the idea that he's got a chance to make a play."
The Cowboys have worked Jones at both corners, which could give them the flexibility to allow Pro Bowl cornerback Terence Newman to cover inside slot receivers. Campo said, like Newman, Jones is aggressive and quick and has good feet.
Jones has obviously gotten comfortable again with the physical aspect of the game. But after being banned completely from the NFL for more than a year, he's still working to assimilate himself into the Cowboys' system -- and working as part of a team again.
"There's been a lot of guys through injury or whatever that haven't played during the season and they just kind of pick it back up," Campo said. "He's in a little different situation because he wasn't at the facility.
"He's got to get in with the team," Campo said. "And some of those kind of things are probably more important than the actual physical part of it."
That's what Jones has been working to do the last three weeks.