LAS VEGAS -- One man was arrested and a second was sought Tuesday in a robbery and beating that left Oakland Raiders receiver Javon Walker unconscious on a side street after a long night of partying at Las Vegas nightclubs.
Police said Arfat Fadel, of Las Vegas, was accused of multiple felonies, including kidnapping, robbery, battery and conspiracy in a June 16 robbery. Lt. Clinton Nichols said Walker lost about $3,000 in cash and $100,000 worth of jewelry in the robbery.
The loot has not been recovered, he said.
"Mr. Walker was in town to have a good time, as many of our visitors to Las Vegas do," Nichols said. "As he will readily admit, he probably had a little too much to drink and he did not pick up on the clues that Mr. Fadel was someone he probably should not have been with."
Police released a booking photo of the 30-year-old Fadel and a black-and-white surveillance videotape image of the other alleged assailant who they said they believed was still in Las Vegas.
"The suspects knew who Mr. Walker was. He did not know who they were," Nichols said. "Whether they were part of his entourage or not remains to be seen."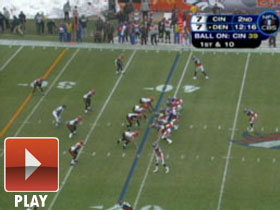 NFL.com Video
2006 Highlight: Javon Walker 39 yard touchdown.
Nichols said Walker got out of one vehicle he was riding in with friends and got into Fadel's black Range Rover with Fadel and the other man before he was assaulted and robbed.
"He willingly got in the vehicle on his own," Nichols said of the 6-foot-3, 215-pound Walker. "We're unsure why."
Nichols said during a news conference the two men were seen in some of the crowded nightclubs where Walker was shown on surveillance videotapes partying from about 9 p.m. June 15, until shortly before he was found unconscious at 7:19 a.m. the next morning about a block east of the Las Vegas Strip.
Police said Walker was hospitalized for treatment of a moderate concussion and significant facial injuries.
Walker was released by the Broncos last February and was signed by the Oakland Raiders to a six-year, $55 million deal.
The team declined comment. Walker's agent, Kennard McGuire of Richmond, Texas, did not immediately respond to messages.
Fadel was booked on the Walker case while he was being held at the Clark County jail on unrelated kidnapping and battery domestic violence charges after an arrest Friday, jail records show.
He was due in a Las Vegas court Wednesday morning. It was not immediately clear if he was represented by a lawyer, and police Sgt. John Loretto said Fadel refused interview requests.
Nichols said Fadel had a record that included "a variety of criminal charges" in California, New York, Michigan and Nevada. He did not specify the charges.
Walker "assumed these people were friendly or responsible," Nichols said, "and unfortunately, they turned out not to be."
Records show Fadel pleaded guilty in April in Las Vegas to malicious destruction of property, a gross misdemeanor, and was given a suspended six-month jail sentence. Fadel also promised to pay $579.44 in restitution, move to New York and provide proof of employment there, court records show.
Fadel's lawyer in that case, Osvaldo Fumo, declined comment Tuesday. He said he had not been hired to represent Fadel in the Walker case.
Walker, a former first-round 2001 draft pick by the Green Bay Packers, was traded to the Denver Broncos in 2006. On New Year's Day 2007, Broncos teammate Darrent Williams died in Walker's arms in the back of a limousine after a drive-by shooting in downtown Denver.
Walker later said then-teammate Brandon Marshall and his cousin exchanged angry words with two men who confronted Williams and his group after taking offense when Marshall sprayed them with champagne.