The Detroit Lions' top draft pick will serve one year of probation and pay $52,000 in medical expenses after settling an assault charge stemming from a 2007 bar brawl that resulted in a patron being seriously injured, according to The Boston Globe.
Gosder Cherilus, a 6-foot-7 offensive tackle who played at Boston College, and former BC teammate DeJuan Tribble were both charged with assault and battery and assault and battery with a dangerous weapon (a shod foot) for their roles in the brawl. The charges against them will be dismissed if they complete the terms of their probation and stay out of trouble as part of the settlement they reached with the patron, Sean Maney.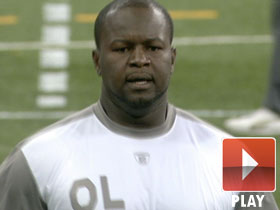 NFL.com Video
Highlights of Boston College tackle Gosder Cherilus from the 2008 combine.
Attorney Philip A. Tracy Jr., who represents Cherilus and Tribble, said, "We're glad this part of the case is behind us," according to the Globe.
It was alleged that Cherilus and Tribble, a sixth-round draft choice of the San Diego Chargers, intervened in a dispute between the bar's co-owner and a patron. The co-owner, Massachusetts State Police Sgt. Joseph J. Boike, wanted Maney and his friends to move so Cherilus, Tribble and a group of BC teammates could sit down, the Globe reported.
The settlement came days after it was reported that the Lions' second-round pick, former Colorado linebacker Jordon Dizon, was arrested six days before the NFL draft on suspicion of drunk driving, driving the wrong way on a one-way street and failure to provide insurance. The Boulder (Colo.) Daily Camera reported the arrest Monday.
Dizon has pleaded not guilty to the charges and is scheduled to appear in Boulder County Court on Aug. 18, according to the Daily Camera and the Detroit Free Press.
According to the Globe report, Maney, a software engineer, testified during a preliminary hearing that Cherilus grabbed him in a two-arm choke hold and dragged him across the bar's dance floor while Boike and Tribble repeatedly punched him. Maney also testified that he and Cherilus crashed into a table and that he lapsed in and out of consciousness while Cherilus and Tribble kicked him.
Maney suffered a broken neck and other injuries, according to the report. "I thought I was going to die up there that night," he testified.
Maney could not be reached for comment, but his mother, Maureen, said the family was satisfied with the settlement, according to the report.
Boike continues to face charges that he assaulted Maney and the girlfriend of Maney's brother.