BUFFALO, N.Y. -- Bills running back Marshawn Lynch had his driver's license revoked in traffic court on Friday after saying he didn't know he hit someone while driving on a Buffalo street last month.
Administrative Law Judge Thomas Gagola found Lynch's behavior on May 31 "constituted a reckless disregard of human life or property." He also imposed the maximum $100 fine and $50 surcharge after Lynch pleaded guilty to failure to exercise due care toward a pedestrian.
Lynch, the Bills' first-round draft pick in 2007 out of California, was driving his 2008 Porsche Cayenne SUV in the city's bar district at 3:30 a.m. when he struck a 27-year-old Ontario woman and kept going.
"It was raining real hard, there was a dancing pedestrian in the middle of the street," the 22-year-old Lynch said before the hearing. "I slowed down to let her go and continued on my way home. I didn't know my car had hit anyone or anything."
Investigators believe the woman Lynch struck was near the woman he saw dancing.
A longer written statement issued by Lynch's attorney after the hearing said police officers later came to his house and removed his car and that Lynch "was in disbelief" when told it had been in an accident.
Attorney Michael Caffery called the revocation of Lynch's license for an unspecified length of time "a little harsh."
During the hearing, Police Officer Allan Kasprzak said the woman Lynch struck, Kimberly Shpeley, bruised a hip and required seven stitches for a cut on her thigh.
Lynch only had his New York driver's license one day, having received it Thursday after turning in his California license.
Lynch's guilty plea was part of a deal reached last week between his lawyer and Erie County prosecutors that allowed Lynch to avoid a criminal charge. Caffery said investigators found that Lynch did not intentionally leave the scene of an accident, pointing out that Lynch drove home and parked in his driveway.
"There was no intention on his part to hide his vehicle," Caffery said.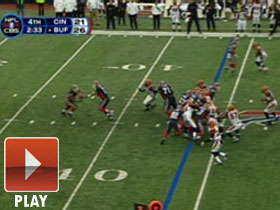 NFL.com Video
2007 Highlight: Marshawn Lynch runs 56 yards for a touchdown.
NFL commissioner Roger Goodell, in western New York for a sports symposium, said the league was monitoring the Lynch case. Under the NFL's personal conduct policy, players can be disciplined for "conduct that undermines or puts at risk the integrity and reputation of the NFL, NFL clubs or NFL players."
"From our standpoint," Goodell said, "we'll wait and see what the facts are and then we'll decide whether it's a violation or if it has any involvement in our personal conduct policy."
The Bills did not immediately respond to a request for comment.
In the weeks immediately after the accident, investigators grew frustrated by a lack of cooperation from Lynch and the Bills. That eventually led Erie County District Attorney Frank Clark to subpoena three players and at least two Bills officials, including chief operating officer Russ Brandon, to appear before the grand jury.
The grand jury was dismissed without hearing testimony once the agreement was reached.
Lynch, in his statement, said he was following his lawyer's advice.
"I regret that this matter has taken some time to resolve," he said. "If I had known at the time that my vehicle had struck a pedestrian, I would have stopped immediately.
"My greatest concerns and well wishes are of course for Ms. Shpeley. However, I also wish to apologize to my teammates, the entire Buffalo Bills organization and the Buffalo fans for this unfortunate accident," he said.
Shpeley has indicated she is considering filing a lawsuit against Lynch.