Dallas Cowboys owner Jerry Jones has initiated some internal discussion about whether acquiring wide receiver Joe Horn from the Atlanta Falcons is an option they should pursue to have a veteran starter opposite Terrell Owens, a team source confirmed.
During an AFL game broadcast on ESPN Friday night, Jones denied that he has interest in Horn.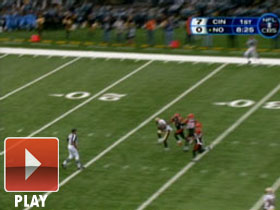 NFL.com Video
2006 Highlight: Drew Brees pass to Joe Horn for a 72 yard touchdown.
Perhaps he's reconsidered because some within the organization worry Horn's volatile personality makes him incompatible with Owens and could cause other conflict in a locker room that already includes Adam Jones and Tank Johnson.
Jones has been frustrated in his attempts throughout the offseason to acquire a veteran wide receiver option other than Terry Glenn, who is at odds with the Cowboys' front office over attempts to sign him to a contract that would reduce his salary by $1.2 million if he reinjures the right knee that caused him to miss 15 games last season. While Glenn emphatically declared he would never sign the waiver, he more recently indicated a willingness to reach a compromise with Jones to remain in Dallas.
Jones is understandably concerned about the reliance on Owens in the downfield passing game. When Owens suffered a badly sprained ankle just before halftime of the Week 16 game in Carolina, Tony Romo threw a touchdown pass on the next play and not another in the remaining six quarters of the regular season. Owens was also limited in the playoff loss to the New York Giants.
Horn, 35, has not been productive the past three seasons. He averaged 1,257 receiving yards from 2000 through 2005 but only 525 yards the past three seasons.
Those who oppose trading for Horn prefer to continue seeking Detroit's Roy Williams or Arizona's Anquan Boldin and urge Jones to remember he has Patrick Crayton and can trust former undrafted free agents Sam Hurd and Miles Austin with additional playing time as they develop.
Ed Werder is an NFL reporter for ESPN.