Wide receiver Terry Glenn, still unable to work out with the Dallas Cowboys, appears to be pushing anew for a prompt return with the team, The Dallas Morning News has reported.
Cowboys owner Jerry Jones told the newspaper he has held talks with Glenn and his agent, James Gould.
"Terry is someone I have a lot of interest in," Jones told the paper Friday night. "We worked well together last year. We will sit down here and look at how he fits and what we can do with him as a player this year."
Glenn, a former wideout for the Patriots and Packers who would be entering his 13th year, failed a physical after last season and still hasn't passed it because of problems with a right knee that was operated on twice last season.
Jones wants Glenn, whose base salary is $1.74 million, to agree to accept a $500,000 injury settlement if he re-injures the knee and can't play this season, but Glenn has refused. As a result, the team has barred him from all preseason workouts.
According to Jones, Glenn was paid $5 million for the 2007 season but was only able to log four plays.
Glenn played in the regular-season finale, but didn't catch any passes. He had two catches in Dallas' only playoff game.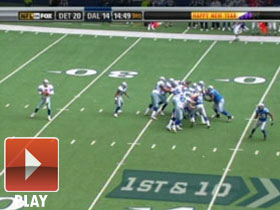 NFL.com Video
2006 Highlight: Tony Romo passes to Terry Glenn for 54 yards.
A Cowboys source confirmed to ESPN's Ed Werder on Friday that the team has held internal discussions about possibly acquiring wide receiver Joe Horn from the Atlanta Falcons to line up opposite Terrell Owens.
"I want Jerry to understand that I know he has the ultimate power in everything that goes on with the Cowboys, and I'm not trying to challenge him in any way, shape or form," Glenn told Werder earlier this month. "He can -- and will -- determine the outcome of this because it's ultimately his decision.
"But what I want is to remain a Cowboy. I've been here for five years and I've made Dallas my home, and I would love nothing more than to be a Dallas Cowboy."
Information from The Associated Press was used in this report.