Kevin Jones went through a workout Saturday while four NFL teams watched the running back sprint and cut just five months after he had major knee surgery.
Dr. D.S. Ping, who has been helping Jones rehabilitate his right knee, said Miami, Green Bay, Pittsburgh and Detroit sent representatives to the workout in Saline, Mich.
The Lions cut their former first-round pick in March with one year left on his contract after he hurt the knee late last season, adding to the injury woes that have stunted his success in the league.
The Cleveland Browns also called, Ping said, and asked for a video of the workout.
Jones did a shuttle run on wet grass in 4.3 seconds, ran around cones and caught passes.
"All the teams basically said they were amazed by what Kevin can do," Ping said.
Jones missed the first two games last season recovering from a foot injury that also sidelined him for the last three games of 2006. He ran for at least 70 yards in five games, including a season-high 105, before hurting his knee Dec. 23 against the Chiefs.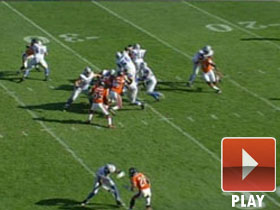 NFL.com Video
2007 Highlight: Kevin Jones runs for 34 yards.
A few months later, the Lions released him. The franchise was interested enough, though, to send director of pro personnel Sheldon White about 45 minutes west of Detroit to witness the workout.
"Sheldon said what impressed him was Kevin's burst after standing still," Ping recalled. "He also liked how Kevin picked himself up and finished a drill when he slipped on the grass that was really slick because of a lot of rain."
Ron Hughes, the Steelers' college scouting coordinator, was also impressed.
"Ron told me he thought Kevin ran really well," Ping said.
Dr. James Andrews performed the surgery on Jones' right knee in January and told him it would take up to 10 months to get back on the field. Jones, though, expects to go through non-contact drills during training camp with the team that signs him.
"I honestly feel like I'm ready to play right now," Jones insisted earlier this month.
Jones has said several other teams have also shown interest. He's vying for a job along with free agent running backs such as Shaun Alexander, Chris Henry, Ron Dayne and Cedric Benson.
He ran for 3,000-plus yards in four seasons in Detroit, including 1,133 yards as a rookie in 2004.