Wildcat Formation

Check out how to beat it and what other teams the Wildcat would work with.
• How to stop the Wildcat
• What other teams could run it?
• MIA-HOU Preview: How do the Texans counter the Wildcat?

This exotic formation, which puts tremendous pressure on a defense, has made its way to the pros from the college ranks. In 2005, Texas ran this play with QB Vince Young all the way to a national championship. However, Arkansas turned this formation into an art form in 2007 with RBs Darren McFadden and Felix Jones. Now half the teams in the NFL have it in their playbooks, and more teams are using it each week, but no one as much the Dolphins.
There are four options in the Wildcat, and all of them look the same. Plus, when the Dolphins use their base package in the huddle it prevents the defense from adjusting its personnel. Even though there could be some slight variations (like instead of having QB Chad Pennington in, Miami could bring in an extra receiver), every time the Dolphins run it RB Ronnie Brown is lined up at quarterback in the shotgun and RB Ricky Williams is lined up in the slot to the left. Right before the snap, Williams motions to the right and crosses in front of Brown. Meanwhile, LG Justin Smiley pulls to the right and either blocks the B-gap between the RG and RT or heads around the outside. This makes it hard for the defenders to pick up any keys. They might know the options -- but they still don't know which one to defend. Should they guard against Brown on a dive up the middle, Williams on a sweep, or even prepare for Brown to throw it to one of his tight ends?
HB Dive
This is the bread-and-butter play for this formation, and Brown runs it well.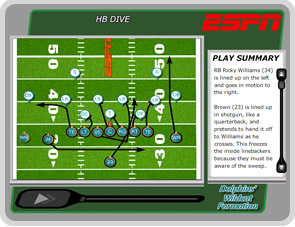 Wildcat: HB Dive
Fake HB Dive -- RB Sweep
This play works off the HB Dive, because defenses aren't sure which back to go after.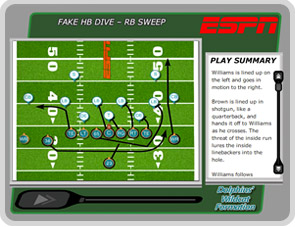 Wildcat: HB Dive - RB Sweep
Play-Action Seam Pass
This play-action pass is tough to defend because of Brown's athleticism.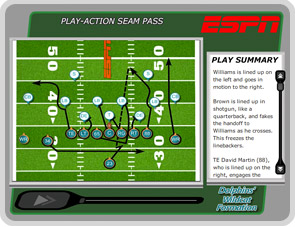 Wildcat: Play-Action Seam Pass
Play-Action HB Pass
This play confuses the defense because it is not expecting Brown to throw it.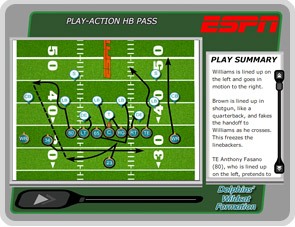 Wildcat: Play-Action HB Pass
These plays look so similar and happen so fast that the defense barely has time to react. That's what makes the Wildcat so dangerous.
Gary Horton, a pro scout for Scouts Inc., has been a football talent evaluator for more than 30 years. He spent 10 years in the NFL and 10 years at the college level before launching a private scouting firm, The War Room.