Week 5: Chargers losing grip on AFC West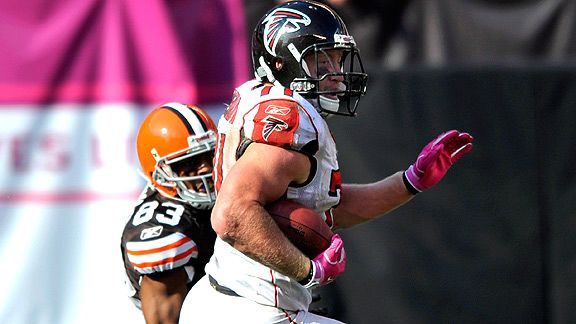 AP Photo/David RichardFalcons DE Kroy Biermann delivered one of the most spectacular plays of the day. His late deflection, turned interception, turned touchdown helped Atlanta outlast the Browns 20-10.
Week 5 leaders
We learned Sunday that divisional games should be close this year regardless of history. The Chargers owned the Raiders heading into Week 5, but Oakland was able to end a 13-game losing streak with a 35-27 victory. Eighteen of the 26 divisional games played this season have been decided by eight points or less
What we also learned is there will be some separation during an October schedule that doesn't have a lot of divisional games. Though there was plenty of drama and wild plays on Sunday, only three of the 12 afternoon games were decided by a touchdown or less. The Texans beat the Cowboys 34-27, the Tampa Bay Buccaneers accepted a Cincinnati Bengals fourth-quarter meltdown in a 24-21 victory and the Washington Redskins beat the Green Bay Packers 16-13 in a come-from-behind overtime victory.
Expect more separation in future weeks. So far this season, 45.8 percent of nondivisional games have been decided by eight points or fewer.
Here are five things I learned in Week 5.
[+] Enlarge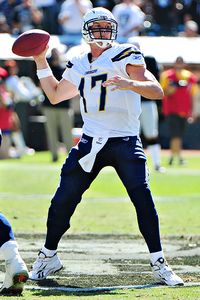 Kyle Terada/US PresswirePhilip Rivers passed for 431 yards, but he and the Chargers suffered a rare loss to Oakland.
1. Chargers open the door: The Chargers have lost their stranglehold of the AFC West and have opened the division to any team wishing to challenge. Their loss to the Raiders showed Philip Rivers can't do it alone. Rivers completed 27 of 42 passes for 431 yards and two touchdowns, but for the third consecutive road game, he couldn't convert that final two-minute drive to get the victory.
The Chargers are a different team this year. Statistically, they entered the game ranked No. 1 on offense and No. 1 on defense, but defensive coordinator Ron Rivera has been doing it with smoke and mirrors. One-time star players such as Shawne Merriman have become invisible. Recent defensive draft choices such as Larry English, Vaughn Martin, Cam Thomas, Darrell Stuckey and others have been either injured or inactive, leaving Rivera with a growing list of street free agents and undrafted players.
The Chiefs now lead the division with a 3-1 record. The Chargers had grown accustomed to 5-1 records in the AFC West. With losses in Kansas City and Oakland, the Chargers will have to scramble to win the division with maybe an eight- or nine-win record.
2. Running on empty: Don't underestimate the impact of running back injuries on how the game is being played. Even though nine backs ran for more than 100 yards in the first 12 games Sunday, running offenses are drying up quickly. The run-to-pass ratio Sunday was 41.9-to-58.1, continuing this season's downward cycle for running attempts. Entering Sunday, the running percentage was 42.9, lowest since 1999.
Heading the list of affected teams were the Denver Broncos. Knowshon Moreno was out with a hamstring injury for a third straight week, leaving Kyle Orton with Laurence Maroney, Correll Buckhalter and a lot of pass plays. The Broncos had only 13 runs for 39 yards in a 31-17 loss to the Baltimore Ravens. Orton once again had to go pass crazy to survive, completing 23 of 38 for 314 yards, a tremendous improvement over the shutdown he suffered last season in Baltimore. But the Broncos are too one-dimensional and it is leaving them vulnerable against good defenses.
Redskins coach Mike Shanahan has a lot of work to do in trying to find a running game minus Clinton Portis, who is out four to six weeks with a groin injury. Ryan Torain had 16 carries for 41 yards in the Redskins' overtime victory over the Packers, who have their own running issues. Overall, the Redskins had 51 rushing yards and had to make Donovan McNabb attempt 49 passes against a defense that often dropped seven or eight players into coverage.
Peyton Hillis
of the
Cleveland Browns
wasn't the same back Sunday because of his thigh problem. Hillis had 28 yards on 10 carries and the Browns had only 48 yards rushing in a 20-10 loss to the
Atlanta Falcons
, dropping them to 1-4.
3. Chiefs improving in the ratings: The Kansas City Chiefs didn't prove they are ready for prime time, but at 3-1, they have progressed to a point where they can go against local evening news or maybe a game show or two. The Chiefs were able to hang with the Indianapolis Colts in a 19-9 road loss. Their success can be attributed to a 2-3-6 scheme that held Peyton Manning to 244 passing yards, one red zone touchdown and no completion longer than 24 yards. Defensive coordinator Romeo Crennel, who knows Manning from their old battles when he coordinated the New England Patriots' defense, used a lot of packages in which he dropped eight defenders into coverage, forcing Manning to call a lot of running plays and settle for field goals.
Chiefs coach Todd Haley tried a game-opening onside kick that didn't work and gave Manning a field goal drive from the Chiefs' 35-yard line. Haley researched game-opening onside kicks back to 2000 and found the team that tried it won six of 11 games.
"Opening that way wasn't going to win or lose the game for us,'' Haley justified afterward.
Haley also went for a fourth-and-2 that failed at the Colts' 8 in the first quarter, figuring a team playing the Colts has to steal a few possessions or go for seven instead of three. Where the Chiefs failed and have worries is in the passing game. Dwayne Bowe dropped back-to-back passes, including one that would have been a touchdown, in the third quarter. Quarterback Matt Cassel was far from clutch, throwing six incompletions over three consecutive possessions when the Chiefs were tied or trailed by three. The Chiefs must be wondering if they have a good enough quarterback to win against an elite player like Manning.
4. Packers in world of hurt: Injuries and a suspect running game have left the Green Bay Packers vulnerable to a second-half collapse. In their Week 1 win against the Philadelphia Eagles, the Packers had only four defensive linemen on the active roster and then lost defensive end Justin Harrell for the season. The Eagles' Michael Vick came off the bench to replace an injured Kevin Kolb and put up two touchdown drives and 275 yards of offense in the second half.
In Sunday's 16-13 overtime loss at Washington, the Packers' defense suffered injuries on a dangerous level. Defensive end Ryan Pickett suffered a significant ankle injury. Linebacker Clay Matthews injured a hamstring. The defense entered the game without linebackers Brandon Chillar and Nick Barnett, cornerback Al Harris, and safeties Atari Bigby and Morgan Burnett. McNabb threw for 225 yards in the second half and overtime, putting up 13 unanswered points.
Packers halfback Brandon Jackson had 115 yards, but 71 came on a first-half run. With the lead, the Packers, minus Ryan Grant, don't have the type of running attack to grind out victories, putting more pressure on Aaron Rodgers to win it through the air. That could be problematic in future weeks because Rodgers suffered a concussion Sunday and tight end Jermichael Finley popped a tendon in his leg. Backup TE Donald Lee (shoulder) was also injured.
5. Bengals' identity crisis persists: Just when you thought the Cincinnati Bengals had figured out their offensive personality, they created more doubt in a 24-21 loss to the Tampa Bay Buccaneers. Carson Palmer struggled with accuracy all afternoon, but the Bengals settled into a nice running attack with Cedric Benson in the fourth quarter. Benson finished with 144 yards on 23 carries, but a false start with 2:28 left in regulation set up a third-and-13 at the Bengals' 38. Leading 21-14, coach Marvin Lewis called for a pass. Palmer stared down Terrell Owens and was intercepted by Aqib Talib. Remember, the Bucs had no timeouts remaining, so Lewis could have been conservative, called a running play and punted to take the game under two minutes and give the Bucs bad field position.
Josh Freeman drove the Bucs 50 yards in five plays to tie the score at 21 with 1:26 left. Palmer, who threw an interception for a touchdown earlier in the game, threw another interception that was returned to the Bengals' 34, setting up Connor Barth's 31-yard game-winning field goal with 1 second left. It was a meltdown similar to what the Dolphins did in the second half of their Monday night loss to the New York Jets. At 2-3, the Bengals have to go down as a big disappointment. Palmer, meanwhile, has six interceptions and a 59.3 completion percentage on an offense that's underachieving with only a 20-point-a-game average.
Short Takes
Mike Shanahan continues to shake up the Redskins' offense. A few weeks ago, he started to have Kory Lichtensteiger share the left guard spot with Derrick Dockery. Now, the job is all Lichtensteiger's after Dockery was deactivated on Sunday even though he was healthy. Dockery lost a streak of 115 consecutive games played. … The Broncos made a little bit of a surprise moving in deactivating guard Stanley Daniels after four starts. … So much for revenge. With Colts safety Melvin Bullitt out for the season and Bob Sanders sidelined with a biceps tear, former Chiefs safety DaJuan Morgan thought he'd have a chance to start against his former team. Not so. In need of a linebacker because of Kavell Conner's foot injury, the Colts cut Morgan and brought back linebacker Tyjuan Hagler. … The Bears started Edwin Williams at guard over Lance Louis as part of the shakeup after last week's 10-sack disaster against the New York Giants. Left tackle Chris Williams remained out because of a hamstring injury. … The Ravens had five cornerbacks active, figuring the Denver Broncos and Kyle Orton would pass the ball a lot. … The Detroit Lions went with Jahvid Best and Kevin Smith as their halfbacks, deactivating Maurice Morris and Aaron Brown. … The 105-yard kickoff return by Stefan Logan of the Lions was the longest in team history. Logan was signed off the Steelers' roster after the final cut. It was the ninth kickoff return for a touchdown this season. Three punts have been returned for scores. Last year, there were 28 combined. … Chris Gronkowski couldn't play for the Cowboys because of a groin injury, leaving the team without a fullback against the Titans. … Thanks to Aaron Kampman, the Jaguars, who had only 14 sacks in 16 games last year, are getting more pressure on the quarterback. They have 11 sacks this year. … If you were wondering about the health of Ravens safety Ed Reed, Ravens coach John Harbaugh said Reed is ready to go and should be on the field in a couple of weeks. He's on the physically unable to perform list. … That was a bold move by Cowboys coach Wade Phillips in benching high-priced guard Leonard Davis during Sunday's 34-27 loss to Tennessee. Davis gave up two sacks in a five-sack first half. Montrae Holland replaced Davis. … To cover Colts tight end Dallas Clark, the Chiefs sometimes put a defensive lineman with him off the line of scrimmage and had safety Jon McGraw trail him in coverage a good portion of the day. … The Lions had to be delighted with a 44-6 victory over the St. Louis Rams, but they had to be concerned about wide receiver Calvin Johnson landing on his shoulder and not being able to finish the game. Coach Jim Schwartz isn't sure how bad the injury is. … The season-ending loss of Rams wide receiver Mark Clayton was a big blow to quarterback Sam Bradford. "I'd be lying if I said it wasn't big.'' Bradford said after the game. "You know, I think everyone has seen what he's done for this offense in the first four games of the season. So to lose him, it's definitely going to hurt, but like I said: Him going down just gives someone an opportunity to step up."
John Clayton's game balls

• Offense: In Mike Martz's offense, running backs often become better threats catching the ball than they do running it. After averaging 2.7 yards a carry during his first four games under Martz, Matt Forte exploded with 166 yards and two touchdowns in Chicago's 23-6 victory at Carolina. Forte rushed for 1,238 yards as a rookie, so everyone knows his potential. Last year, his average dropped to 3.6 yards a carry and he rushed for less than 1,000 yards. With Jay Cutler sitting out with a concussion and Todd Collins throwing interception after interception, Forte was the offensive star of the game.

• Defense: On a day Julius Peppers faced his ex-teammates in Charlotte, Israel Idonije stole the show. He had three sacks, seven tackles, one forced fumble, two additional hits on the quarterback and one tackle for loss. Naturally, he was getting single blocking most of the game. Panthers coach John Fox wasn't going to let Peppers embarrass his team. Though Peppers made his presence felt with four tackles and one hit on the quarterback, he didn't register a sack.

• Special teams: Jaguars kicker Josh Scobee probably deserved a game ball last week for making a 59-yard field goal to beat the Indianapolis Colts in the final seconds. On Sunday, he made all five attempts in a 36-26 victory over the Buffalo Bills. Two of his field goals were 49-yarders. Scobee has made all 10 of his field goal attempts this season and has scored 41 of the Jaguars' 107 points.
Week 5 rundown
• Baltimore 31, Denver 17
Misery in Maryland. The Broncos are now 0-5 against the Ravens in Baltimore. In those games, Denver has been outscored 142-56, including 60-24 over the past two years.
• Jacksonville 36, Buffalo 26
How bad is the Bills' defense? Buffalo has allowed more than 30 points in four straight games -- the first time that's happened in franchise history.
• Tampa Bay 24, Cincinnati 21
Ouch. This one hurts for the Bengals, who have now lost two in a row to inferior opponents (on paper anyway) and face a brutal upcoming schedule.
• Atlanta 20, Cleveland 10
An outstanding play by Kroy Biermann and the best effort of the season by Michael Turner (140 rushing yards) helped the Falcons outlast the upset-minded Browns.
• Detroit 44, St. Louis 6
After making big strides in the previous two weeks, the Rams were steamrolled by the lowly Lions. Making matters worse for St. Louis was an ugly leg injury to WR Mark Clayton.
• Indianapolis 19, Kansas City 9
Dwayne Bowe knows drops. If not for a big drop on a would-be TD, the Chiefs might be 4-0 right now.
• Washington 16, Green Bay 13 (OT)
Cardiac kids. It's been the year of dramatic wins (and losses) for the Redskins. Brandon Jackson rushed for 115 yards, but the Packers' running game remains a concern.
• Chicago 23, Carolina 6
With Jay Cutler ailing, the Bears picked a good time to find their running game. Matt Forte's career day (166 yards, 2 TDs) was all the offense Chicago needed.
• N.Y. Giants 34, Houston 10
Looks as though last week's dominance of Chicago was no fluke. The Giants' D was at it again on Sunday, frustrating Matt Schaub and holding the Texans' running game to 24 yards.
• Arizona 30, New Orleans 20
Cardinals rookie QB Max Hall lacks polish, but he appears to already have decent chemistry with star wideout Larry Fitzgerald (7 catches, 93 yards).
• Tennessee 34, Dallas 27
Marc Colombo. Mike Jenkins. Tony Romo. It's hard to pick just one goat for the Cowboys, who are 1-3 and seem to lack the discipline and focus to be consistent winners.
• Oakland 35, San Diego 27
The latest sign that the Chargers aren't shoo-ins to win the AFC West. The Raiders broke a 13-game losing streak to San Diego, thanks to big plays and some fortuitous bounces.
• Philadelphia 27, San Francisco 24
The tough losses keep on coming for the 49ers. Alex Smith rallied San Francisco back, but he dug his own hole with an inexcusable fumble.
-- ESPN.com
MONDAY NIGHT FOOTBALL
•
New England at Miami (ESPN, 8:30 ET)
Looking ahead
An early look at next weekend's biggest games:
• Baltimore (4-1) at New England (3-1): Wild-card rematch. Does Baltimore's D still have Tom Brady's number?
• Kansas City (3-1) at Houston (3-2): Is either team a real AFC contender? The jury's still out.
• Indianapolis (3-2) at Washington (3-2): Peyton Manning's first trip to Washington since 2002.