John Clayton's Last Call: Brady still out of sync; Favre still has magic touch
Genevieve Ross/Getty Images
Week 3 observations: Five things I learned
By John Clayton, ESPN.com
1. Brady still rusty:
Here is a scary thought for the rest of the NFL: Despite passing for 277 yards in a 26-10 rout of the Falcons, New England QB
Tom Brady
clearly isn't in sync with his receivers.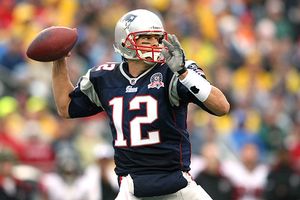 Elsa/Getty Images
The Patriots are 2-1, but QB Tom Brady has yet to regain his pre-injury form.
Brady, coming off knee reconstruction surgery, missed Randy Moss and others with long passes he normally completes. He ventured into the Falcons' red zone four times, and settled for Stephen Gostkowski field goals all four times. With slot receiver Wes Welker resting a nagging knee injury, Brady clearly can't get in sync with his replacement, Joey Galloway. At one point before the half, Galloway couldn't come up with a short completion and Brady started shouting at him.
Brady's mechanics still need work. His long passes aren't as accurate because he's not getting his legs into the throws. But even though his play has been up and down so far, Brady's leadership hasn't wavered. Brady's always trying to motivate his teammates, regardless of how the Patriots' offense is performing. "That's why he's good,'' halfback
Fred Taylor
said. "He demands that you try to be perfect. If he didn't, he'd just be another guy.''
2. Redskins reeling:
I never thought I'd say that Washington coach Jim Zorn would be in trouble after 19 games, but I never thought I'd be discussing a 19-14 Redskins loss to the
Detroit Lions
. Redskins tight end
Chris Cooley
summed up Sunday's loss the best: "It's disgusting really.'' The Lions entered Week 3 with a 19-game losing streak. They entered with a rookie quarterback,
Matthew Stafford
. In the second half, running back
Kevin Smith
was lost to an injury. Zorn is squandering the biggest gift in the NFL: an easy schedule. Beatable teams like St. Louis, Detroit, Denver, Oakland, Kansas City and Tampa Bay dot the Redskins' schedule. The Redskins barely beat the Rams in Week 2, winning 9-7, and their inability to score from the Lions' 1-yard line cost the Redskins on Sunday. On their first offensive possession, the Redskins drove to Detroit's 9, where they seemed lost.
Jason Campbell
had to call a timeout. The first pass was incomplete. A third-down play got Campbell down to the Lions' 1. Then Zorn called a running play to the right, but halfback
Clinton Portis
was stopped before he could get into the end zone. You could almost feel the Redskins lose confidence right there. The Lions scored 10 points on their next two possessions, taking Zorn out of a normal game plan. The Redskins are averaging 13.3 points a game, down from 16.6 last year. More bad news for the Redskins came when prized DT
Albert Haynesworth
was carted off the field with a leg injury. The Redskins' season is suddenly looking very shaky. When you consider their schedule, that shouldn't be the case.
3. Favre lifts Vikings:
This is why the Vikings and Brad Childress signed
Brett Favre
out of retirement.
Tarvaris Jackson
or
Sage Rosenfels
likely wouldn't have hit
Greg Lewis
with a 32-yard touchdown pass in the closing seconds to beat the 49ers 27-24. Over the past three years, the Vikings have averaged nine games a season that have been decided by eight points a less. Their record in those games is 13-16. Well, Favre stepped up when the Vikings needed him with a come-from behind touchdown drive -- 80 yards on 10 plays in 89 seconds. It was the 40th fourth-quarter comeback of his career, first among active quarterbacks. He was 6-of-10 for 80 yards on the winning drive. In the fourth quarter alone, he was 16-of-27 for 192 yards and two touchdowns. Maybe it's time for Vikings ownership to buy Favre a ceremonial tractor for his farm because he's driving them to the playoffs with his will to win and savvy.
4. Bengals shake up AFC North:
The Bengals officially have moved into the surprise team category with their 23-20 victory over the Steelers. The Bengals were down 20-9 entering the fourth quarter, but QB
Carson Palmer
took control. He completed 10 of 17 passes for 96 yards in the fourth quarter, including the game-winning TD pass to
Andre Caldwell
. With Palmer out most of last year because of an elbow injury, the Bengals dropped to 4-12. Their offense was hopeless. Now, Palmer offers hope.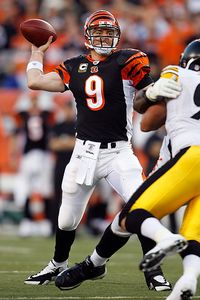 Andy Lyons/Getty Images
A rejuvenated Carson Palmer has the surprising Bengals in contention.
The outcome puts the AFC North in the hands of the Baltimore Ravens. The Ravens are 3-0 and have a two-game lead over the Steelers. The Steelers and Ravens don't meet until Nov. 29 in Baltimore, so it's going to be hard for the Steelers to catch up. The Ravens have outscored opponents 103-53. Joe Flacco has completed 65.4 percent of his passes for 839 yards and six touchdowns. Backup halfback Willis McGahee has scored six touchdowns and is averaging 5.9 yards a carry. Suddenly, the AFC North belongs to Baltimore, not Pittsburgh.
5. Titans, Dolphins in trouble:
Two spots in the AFC playoffs have all but officially been opened. The Titans dropped to 0-3 after a 24-17 loss to the
New York Jets
. The Dolphins are also winless after falling to the Chargers, 23-13. No NFL team has made the playoffs after an 0-3 start since 1998. The Dolphins made the 2008 playoffs with good coaching and an easy schedule, playing the AFC West and NFC West. They were 11-5, but much of their success was due to the surprise of the Wildcat formation. Well, the Wildcat has lost its magic in Miami. Head coach Tony Sparano had to junk all of those
Pat White
Wildcat plays when starting QB
Chad Pennington
injured his shoulder and had to be replaced by
Chad Henne
, technically third on the depth chart, in the third quarter. Putting Henne into the game before the fourth quarter disqualified Pennington and White from playing quarterback by rule. Once Pennington went out, the Dolphins had no chance. They aren't built for come-from-behind wins because this is more of a running, short-passing team. The Titans' drop from 13-3 to 0-3 is more baffling. Sure, their early schedule has been tough, particularly with road games in Pittsburgh and in the Meadowlands. The problem with the Titans has been their pass defense. Jets QB
Mark Sanchez
threw for only 171 yards, but he was able to get eight completions to
Jerricho Cotchery
for 108 yards and a touchdown. The departure of Haynesworth and his ability to crunch the opposing quarterback's pocket has clearly had an effect on the Titans.
Clayton's short takes
Packers QB
Aaron Rodgers
isn't going to hold up with the number of hits the offensive line is allowing him to take. He was sacked 10 times in the first two games and twice in Sunday's easy victory over the Rams. Rodgers was hit hard early, but things settled down. Statisticians in the Rams' press box officially gave him three hits to go along with his two sacks. … Officials might be getting too quick with their flags in protecting the quarterback. Falcons defensive end
Jamaal Anderson
(on Brady) and Vikings middle linebacker
E.J. Henderson
(on 49ers quarterback
Shaun Hill
) received 15-yard personal foul penalties for roughing the quarterback when they were just basically touching them after throws. … The Patriots'
Fred Taylor
saved the day for aging running backs. The 33-year-old Taylor rushed for 105 yards on 21 tough carries. He did it on a day when 30-year-old
LaDainian Tomlinson
, 29-year-old
Jamal Lewis
and 30-year-old
Brian Westbrook
were inactive. … It's only Week 3, but offensive linemen are dropping at an alarming rate. The list of inactive offensive linemen Sunday included
Nate Livings
(Cincinnati),
Floyd Womack
(Cleveland),
Daniel Loper
(Detroit),
Chad Clifton
(Green Bay),
Jammal Brown
(New Orleans),
Robert Gallery
(Oakland),
Jason Smith
(St. Louis),
Sean Locklear
and
Walter Jones
of the Seahawks,
Louis Vasquez
and
Nick Hardwick
of the Chargers,
Jeff Faine
of the Bucs and
Todd Herremans
of the Eagles. …
Cedric Benson
may be the steal of the 2008 season. He signed with the Bengals after being released by Tampa Bay and has re-established himself. He's third in the NFL with 293 rushing yards, two ahead of
Fred Jackson
of the Bills. …
Philip Rivers
is carrying the Chargers' offense. In three games, he has passed for 991 yards and three touchdowns. Just in case you're wondering,
Drew Brees
of the Saints has 841 yards, nine touchdowns and a 118.1 quarterback rating. … The Raiders probably have no plans to bench
JaMarcus Russell
, but it's going to be harder and harder to keep him as a starter with these numbers -- 31-of-75, 378 yards, one touchdown, four interceptions and a 39.8 quarterback rating.
John Clayton's game balls

Moss
•
Offense:
A sore back prevented
Randy Moss
from playing at his typical level in Week 2. On Sunday, he carried the Patriots' passing attack on his back by catching 10 passes for 116 yards in a 26-10 victory over Atlanta. "He got a lot of single coverage and he did a good job,'' Patriots coach Bill Belichick said of Moss. "He ran a lot of different routes. We threw deep. We threw inside. We threw outside. We threw some quick passes to him. I think he did a good job of attacking the coverage.'' Maybe the Falcons should have considered doubling him more. Moss leads the NFL with 26 receptions.

Dumervil
•
Defense:
Meet the younger version of Steelers LB
James Harrison
.
Elvis Dumervil
had two sacks in the Broncos' 23-3 victory over the Raiders. In Week 2, he had four sacks against the
Cleveland Browns
. At 5-foot-11, 248 pounds, Dumervil gets underneath the blocking reach of an offensive tackle. Like Harrison, who is also about 5-11, Dumervil drives hard and is hard to stop. The amazing part for Dumervil is that he never played linebacker until this year. He's made the conversion after being a defensive end.

Harvin
•
Special teams:
Migraines almost kept
Percy Harvin
, the Vikings' first-round pick, out of this game. Now, Harvin creates migraines for special teams coaches and defensive coordinators. His 101-yard kickoff return for a touchdown in Minnesota's 27-24 victory over the 49ers was a testament to his great speed and elusiveness. Overall, he had 180 yards on four kickoff returns. Harvin's return robbed the 49ers of winning the special teams game ball. At the end of the first half, 49ers defensive end
Ray McDonald
blocked a short
Ryan Longwell
field goal attempt. The ball went into the hands of
Nate Clements
, who went 52 yards for a touchdown. Instead of trailing 16-6, the 49ers took a 14-13 halftime lead. Harvin's touchdown righted that wrong and put the Vikings ahead 20-17.
Writers' bloc
• Michael Vick's return to the NFL was mostly uneventful -- just as he had hoped.
Chadiha
• Mark Sanchez endured highs, lows and crushing blows in beating the Titans.
Wojciechowski
Week 3 rundown
•
Detroit 19, Washington 14
The Lions' losing streak is over -- finally. Is the Jim Zorn era in Washington about to end as well?
• Minnesota 27, San Francisco 24
Well, that didn't take long. Brett Favre already has a place in Vikings lore, and his game-winning TD pass might very well be the play of the year so far in the NFL.
• Green Bay 36, St. Louis 17
Now that the Lions have snapped their losing streak, the Rams will have a hard time deflecting attention away from their own run of futility (13 straight losses and counting).
• New England 26, Atlanta 10
As he continues to work off the rust, Tom Brady needs a reliable running game. That's just what Fred Taylor (21 carries, 105 yards, TD) provided on Sunday.
• N.Y. Jets 24, Tennessee 17
The bad news for the Jets' D? It finally allowed a touchdown (two exactly). The good news? It once again showed the ability to turn up the heat with the game on the line.
• Philadelphia 34, Kansas City 14
Michael Vick's return dominated the pregame headlines, but it was Kevin Kolb's efficiency that allowed the Eagles to cruise.
• N.Y. Giants 24, Tampa Bay 0
The Giants' running game finally had a breakout performance (226 yards). Of course, it came against a Bucs D that's now allowing 187 rushing yards per game.
• Baltimore 34, Cleveland 3
As expected, the Browns' feeble offense was no match for the Ravens' D. Instead of relief, Derek Anderson (three INTs), who replaced Brady Quinn at QB, added to Cleveland's growing offensive headache.
• Jacksonville 31, Houston 24
The Texans' most glaring weakness? Stopping the run. Houston has allowed at least 184 rushing yards in all three games this season.
• Denver 23, Oakland 3
Are the 3-0 Broncos for real? We'll know a lot more about this team after a brutal five-game stretch that begins next week against Dallas.
• Chicago 25, Seattle 19
Still doubt Devin Hester's ability to be a No. 1 wide receiver? His game-winning TD catch and run was a beautiful sight for Jay Cutler and the Bears.
• New Orleans 27, Buffalo 7
The Bills cooled off Drew Brees, but they couldn't come up with the big play against the previously porous New Orleans defense.
•
Cincinnati 23, Pittsburgh 20
Clutch plays in the final minute. A stunning victory over the defending Super Bowl champs. Are these really the Bengals? •
San Diego 23, Miami 13
A bad omen for the Dolphins: Only three teams since 1990 made the playoffs after starting 0-3. •
Indianapolis 31, Arizona 10
It was a long Sunday night for the Cardinals' defense. Ditto for the Cards' offensive line, which had no answer for Indy's pass rush.
MONDAY NIGHT FOOTBALL
•
Carolina at Dallas (ESPN, 8:30 ET)
-- ESPN.com
Looking ahead
An early look at next weekend's biggest games:
• Baltimore (3-0) at New England (2-1): The Ravens are for real, but they can make a major statement by winning in Foxborough.
•
N.Y. Jets (3-0) at New Orleans (3-0):
Will the Jets' dream start continue? •
Green Bay (2-1) at Minnesota (3-0):
Brett Favre against his former team on Monday night. Let the hype begin. •
Week 4 schedule