Every team has a go-to play it can rely on. One play that every player executes extremely well. It could be a simple run play, a deep pass or an exotic blitz -- either way every team has a play that it's the best at. Scouts Inc. watched the film and diagrammed why these signature plays work time and time again.

Arizona Cardinals
Boldin's best crossing route
Because the Cardinals are so committed to the running game, this play-action pass has an excellent chance of being successful. It gives QB Kurt Warner a chance to move outside the pocket, read half the field and time his throw.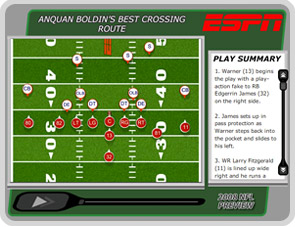 Cardinals: Boldin's best crossing route

Atlanta Falcons
Best way for the Falcons to cover up their subpar DL
New coach Mike Smith brings a lot of his defensive principles with him from Jacksonville to Atlanta. He runs a 4-3 defense with a powerful defensive line, but the Falcons don't have the personnel to attack with just their front four. As a result, Smith must use creative blitzes, like the zip shoot gut, to get pressure.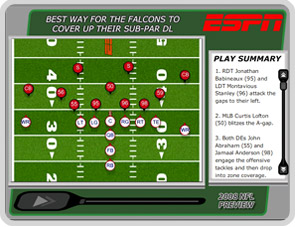 Falcons: Best way to cover up their subpar DL

Baltimore Ravens
Ravens' best way to bring unexpected pressure
The Ravens love to confuse offenses with a lot of pre-snap looks and movement. They bring pressure from all directions and sometimes with unorthodox schemes. Their best pass-rushers are ROLB Terrell Suggs and RILB Bart Scott. The Ravens like to bring overload pressure, which is a problem for most teams because they are not expecting extra pressure from an inside linebacker.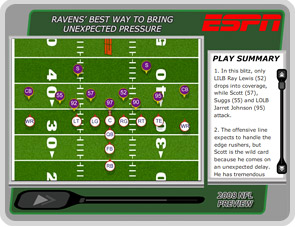 Ravens: Best way to bring unexpected pressure

Buffalo Bills
Best way to give Edwards some easy reads
The Bills must not rely on the run as much as they did in 2007. Plus, it is important to give Edwards simple reads because he is still inexperienced. This play-action option pass accomplishes both.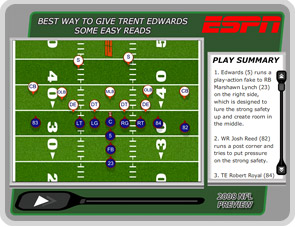 Bills: Best way to give Edwards some easy reads

Carolina Panthers
Panthers' best defense versus the run
The Panthers have an excellent defensive front. They are very active and make a lot of plays on the move. This particular stunt game works extremely well versus offensive lines that play man-blocking schemes. The Panthers put pressure on the guard to get outside, and if they do it right there are many collisions and tons of confusion for the offense. Carolina will play a safe Cover 2 coverage scheme behind it.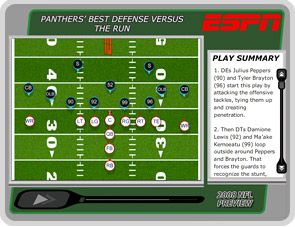 Panthers: Best defense versus the run

Chicago Bears
Kyle Orton's best passing play
Orton seems to have excellent touch on this pass. He is very good at attacking the deep middle of the field, especially when he is facing a Cover 2 defense.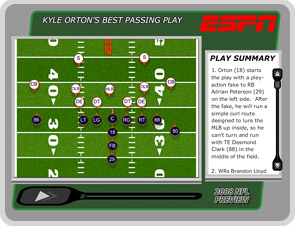 Bears: Orton's best passing play

Cincinnati Bengals
Best way for the Bengals' receivers to get open
The Bengals will likely use more two-man routes this season. WRs Chad Johnson and T.J. Houshmandzadeh are excellent at double moves and sight adjustments and this play allows them to utilize their strengths.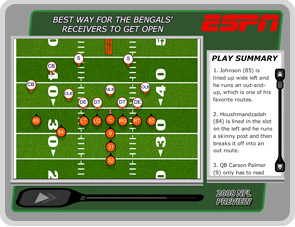 Bengals: Best way for the Bengals' receivers to get open

Cleveland Browns
Best way the Browns isolate Kellen Winslow
Winslow has rare athletic ability and this option route is designed to take advantage of his skills.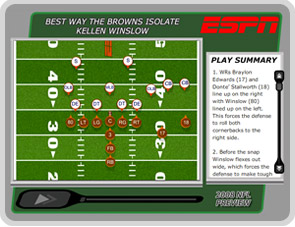 Browns: Best way to isolate Winslow

Dallas Cowboys
Best way Dallas utilizes Tony Romo's ability to throw on the run
Romo's best quality is his ability to be mobile and throw on the run. This bootleg pass gives him lots of options once he rolls out of the pocket.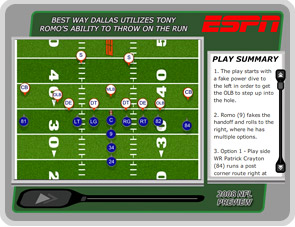 Cowboys: Romo's best play throwing on the run

Denver Broncos
Best way the Broncos utilize Jay Cutler's mobility
This is a fairly simple play that takes advantage of Cutler's mobility. The key to this play is that he only has to read half of the field.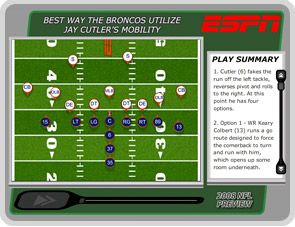 Broncos: Best way to use Cutler's mobility

Detroit Lions
Best way for the Lions to get their playmakers involved
Jim Colletto has replaced Mike Martz as the Lions' offensive coordinator and he is going to give the offense a different look by putting an emphasis on the run and using better pass protection schemes. However, he is still going to run plays like the play-action wide receiver post, which is designed to get the ball into the hands of his playmaking WRs Roy Williams and Calvin Johnson.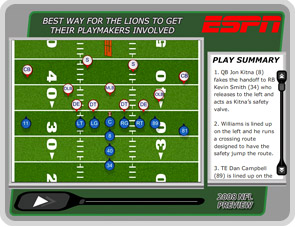 Lions: Best way to get their playmakers involved

Green Bay Packers
Donald Driver's best route
This play is a staple of the Packers' passing game. The simple slant route is designed to create yards after the catch, but the other receivers must do their part to open the field for Driver.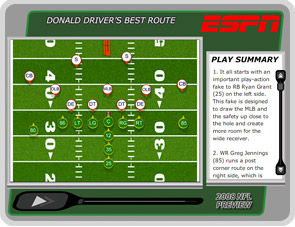 Packers: Driver's best route

Houston Texans
Best play to have Andre Johnson run after the catch
Although the pass protection for the Texans was much improved last year, it is still an area of concern. As a result, the Texans like to throw a lot of short routes where QB Matt Schaub can get the ball out quickly and avoid the hit. This short drag route takes advantage of Johnson's tremendous run after the catch skills.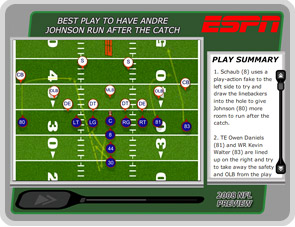 Texans: Best play to have Johnson run after the catch

Indianapolis Colts
Joseph Addai's best rushing play
The staple of the Colts' offensive success is the zone-stretch play. QB Peyton Manning's ball handling makes it tough for the defense to recognize run or pass.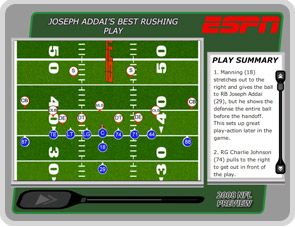 Colts: Addai's best rushing play

Jacksonville Jaguars
Best way to get Marcedes Lewis involved
The Jaguars are a very run-orientated team, which forces the defense to bite on the play-action. This play is a low-risk way to utilize Lewis and move the chains.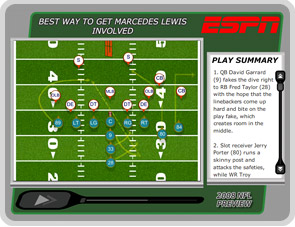 Jaguars: Best way to get Lewis involved

Kansas City Chiefs
Larry Johnson's best rushing play
The toss sweep is the best play for the Chiefs and Johnson runs it well, even though he lacks a great lead blocking fullback and his offensive line is not what it used to be.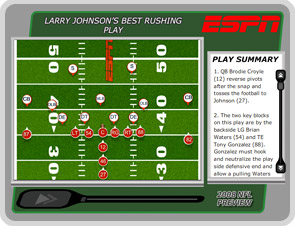 Chiefs: Johnson's best rushing play

Miami Dolphins
Best way for Miami to pound the rock
Under new head coach Tony Sparano the Dolphins will run a very conservative, run-oriented offense without a lot of flash. RBs Ronnie Brown and Ricky Williams will get a lot of carries and this halfback sweep will set up the play-action pass later in the game.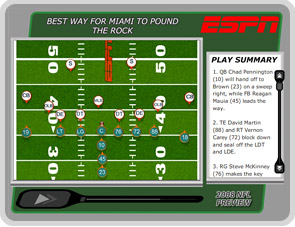 Dolphins: Best way to pound the rock

Minnesota Vikings
Adrian Peterson's best running play
The key to Minnesota's offense is its power run game, which it orchestrates from behind a massive offensive line. The halfback blast is a simple run play that features Peterson.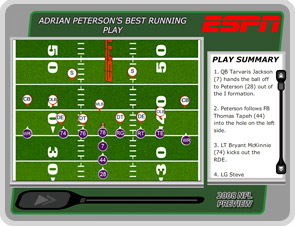 Vikings: Peterson's best running play

New England Patriots
Best way Patriots take advantage of a Randy Moss double team
When the Patriots spread the field they force the defense to play with base personnel, with two linebackers and two safeties in the game, and that matchup favors New England.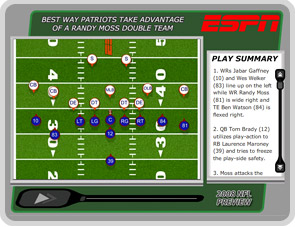 Patriots: Best way to take advantage of a Moss double team

New Orleans Saints
Saints best way to put pressure on a defense
The Saints are at their best when RBs Deuce McAllister and Reggie Bush are on the field at the same time. The reverse option puts a lot of pressure on a defense. QB Drew Brees has a lot of options, but this specific play highlights Bush.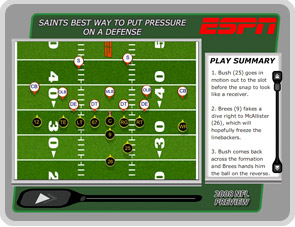 Saints: Best way to put pressure on a defense

New York Giants
Plaxico Burress' best deep route
This is a play the Giants love. It's designed to give QB Eli Manning a chance to get the ball into the hands of his favorite receiver: Burress.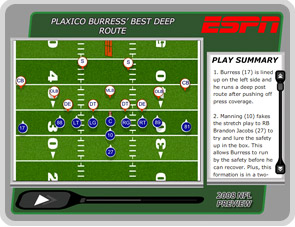 Giants: Burress' best deep route

New York Jets
Best way for Kerry Rhodes to get after the QB
Rhodes is an outstanding blitzer and he has an excellent feel for blitz timing. His timing is the key to this simple blitz.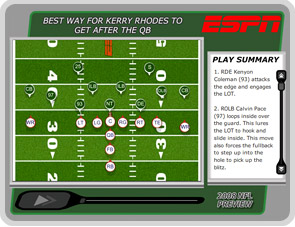 Jets: Best way for Rhodes to get after the QB

Oakland Raiders
Best way to use Darren McFadden's speed
The Raiders know the strength of their offense is depth and talent at running back. On this FB fake - HB toss, the Raiders get their two halfbacks, McFadden and Justin Fargas on the field at the same time.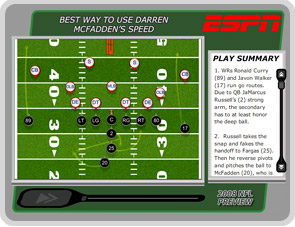 Raiders: Best way to use McFadden's speed

Philadelphia Eagles
Best way the Eagles get the ball to Brian Westbrook in space
This draw play takes advantage of Westbrook's elusiveness in space. The Eagles will run the draw on early run downs while the MLB is still in the game before the defense brings in its sub packages, which is a good matchup for Westbrook.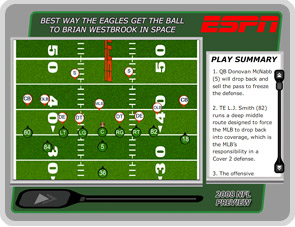 Eagles: Best way to get the ball to Westbrook in space

Pittsburgh Steelers
Best blitz play for Troy Polamalu
The Steelers love to blitz and apply pressure from all directions, but they particularly love to blitz Polamalu.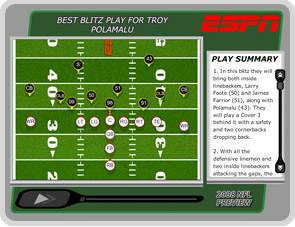 Steelers: Best blitz play for Polamalu

San Diego Chargers
Best way the Chargers get after the QB
The Chargers can change a game with their pressure defense and they love to come after opposing quarterbacks with all-out blitzes.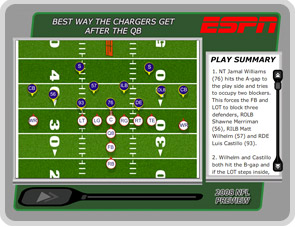 Chargers: Best way to get after the QB

San Francisco 49ers
Best way the 49ers can spread the field
The 49ers will use lots of multi-receiver sets this season because Mike Martz is in charge. He will run plays like the play-action deep in, which utilizes three wide receivers, one tight end and one running back.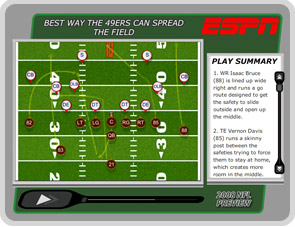 49ers: Best way to spread the field

Seattle Seahawks
Julius Jones' best running play
Now that Shaun Alexander is gone, the Julius Jones era has begun in Seattle. Jones is a shifty back who will be running behind a physical offensive line, especially on the off-tackle power run.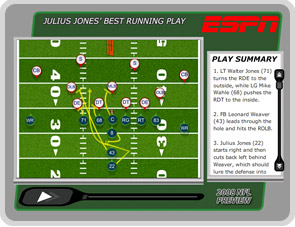 Seahawks: Jones' best running play

St. Louis Rams
Rams' best way to beat Cover 2
This deep crossing route is a great play versus a Cover 2 defense and it takes advantage of the excellent route running by the Rams' receivers.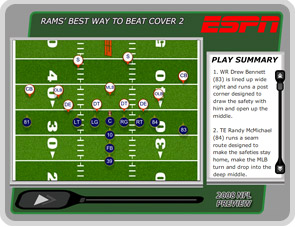 Rams: Best way to beat Cover 2

Tampa Bay Buccaneers
Joey Galloway's best deep route
Head coach Jon Gruden runs a conservative passing game, but it's very sophisticated and demanding for his quarterback. He utilizes a passing game with three layers and QB Jeff Garcia is asked to read the coverage quickly and make a decision. On this play, Galloway runs a simple go route and tries to beat the cornerback with pure speed.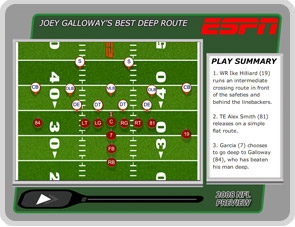 Buccaneers: Galloway's best deep route

Tennessee Titans
Best play catering to Vince Young's strengths
This is a play that Young ran successfully in college at Texas, and is one that plays to his strengths. It gives Young the freedom to run or throw with fairly easy reads, while putting a lot of pressure on opposing defenses. He has four options during this play and he only has to read half the field.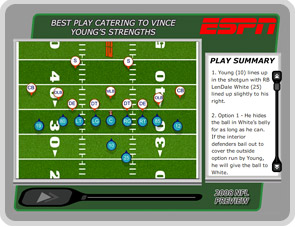 Titans: Best play catering to Young's strengths

Washington Redskins
The Redskins' best way to pressure the QB
Even though defensive coordinator Gregg Williams is gone, his replacement, Greg Blache, will run a very similar defense because he is a carry-over from the Joe Gibbs era. He will use a lot of aggressive blitz packages from all angles, especially the corner blitz.
The Redskins have three quality cornerbacks and they are especially effective in their blitz packages from their nickel personnel. Washington has the ability to bring either one or both cornerbacks off the edge.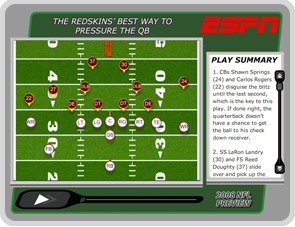 Redskins: Best way to pressure the QB
Scouts Inc. watches games, breaks down film and studies football from all angles for ESPN.com.