Feel like you're going through a bit of NFL withdrawal? That's no surprise -- the draft is over and summer training camps haven't begun yet. Fortunately, we have just the thing to tide you over: a new edition of the Uni Watch NFL Power Rankings, where we rank all of the NFL uniform sets, from first to worst.
Before we get started, here's a refresher course on the Power Rankings ground rules: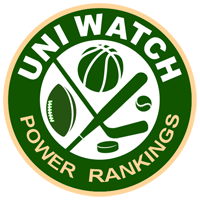 • All judging has been done by the Uni Watch Power Rankings Executive Committee, which has a membership of one and freely admits its biases. The committee is rather fond of striped socks, for example, but is less enthusiastic about monochromatic uniforms (solid-red, solid-black, and so on) and takes a dim view of design "innovations" that just feel like gimmicks. If you don't share the committee's preferences, then you're totally hopeless and it's a wonder you can dress yourself each morning that's fine -- the whole point of a project like this one is that it's fun to argue and disagree.
• Each team has been ranked mainly on the basis of its primary colored and white uniforms, with alternate and throwback uniforms taken into account if they're part of the team's regular uni rotation. Consideration has been weighted to reflect how often a particular uniform combination is worn. The Cowboys, for example, hardly ever wear their blue jersey, so that design doesn't count very much in the team's ranking.
• Certain rankings here are, by necessity, somewhat speculative. The Browns' new uniform set, for example, hasn't yet appeared on the field, so we can only go by how the unis looked at the team's unveiling event. Ditto for the 49ers' new black alternate design. In addition, at least two teams -- the Packers and Dolphins -- will have new throwback uniforms for 2015 that haven't yet been released.
• For each team listed, you can click on the link below the team's name to see its current uniform set. The number in parenthesis after the team's name ("+2," "-3," etc.) indicates the team's movement up or down on the chart since the previous edition of the Power Rankings.
OK, enough preliminaries -- let's get at it.
1. Pittsburgh Steelers (+3)
View uniforms here
Aside from the switch from block numbers to italics (which many fans still gripe about, although it's been nearly 20 years now and we should all just get over it already), the Steelers have stayed the course. They still have their logo on only one side of the helmet, they still don't use helmet numbers during the preseason (you have to earn them by making the final roster cut), they still have that instantly recognizable sleeve striping (the Rolling Stones are even using it to promote their show at Heinz Field), and their gold pants still work equally well with either of their jerseys. And while some folks can't stand the bumblebee throwbacks, that design is actually a big hit here at Uni Watch HQ and helps vault the Steelers into the top spot in this year's Power Rankings. First rate.
2. Oakland Raiders (+2)
View uniforms here
Just suit up, baby. Whether you're talking about music, movies, food or uniform design, the classics are classic for a reason, and it doesn't get much more classic than the Raiders' elemental silver and black. No alternates, no throwbacks, no Nike collar, no nonsense. True, they haven't fared very well on the field in recent years, but think of it this way: If you have to lose a bunch of games, you may as well look great while you're doing it.
3. Green Bay Packers (-1)
View uniforms here
Still the perfect autumnal color scheme for a fall sport. The Pack might have ended up one or even two spots higher in this year's rankings if not for some lingering ambiguity regarding their uniform set: They're scrapping their Acme Packers throwbacks and replacing them with a new throwback uni. No word yet on what that design will be or when it will be unveiled, so for now Green Bay's grade has to be considered a bit incomplete.
4. Chicago Bears (-3)
View uniforms here
The color scheme is as effective as ever, the matching stripes on the sleeves and socks are still the envy of most other teams, the unique number font is still instantly recognizable, and the Monsters of the Midway throwback has become a nice annual ritual. So why have the Bears dropped three spots in this year's rankings? Two reasons: First, the helmet logo is starting to feel a bit dated. And all the old-school trappings don't work well with Nike's Flywire collar. Several other teams -- including all three of the ones ranked above the Bears on this year's list -- have opted not to use that collar style. The Bears would be smart to do likewise.
5. San Diego Chargers (+3)
View uniforms here
Is there another team-specific graphic in all of sports that has worked so well, for so long, and in so many applications as the Lightning Bolts' lightning bolts? Whether on the helmet, the jersey, or the pants, the bolts look as cool today as they did a half-century ago. The powder-blue throwback doesn't hurt, either. Now if the Chargers would just put the uni numbers back on the helmets like in the old days -- that would definitely move them up another spot or two in the rankings.
6. Dallas Cowboys (+1)
View uniforms here
I know, I know -- the various shades of blue and silver don't match, the black outlines on the blue sleeve stripes are unnecessary, the blue-silver pants are now a lot more blue than silver. But these quirks have now been around for so long that they've become baked into the Cowboys' brand. And the helmet remains one of the NFL's all-time best.
7. Buffalo Bills (-2)
View uniforms here
Generally speaking, the Bills are a very good-looking team -- nice color scheme, excellent helmet, solid jersey and pants, bonus points for the striped socks -- but they've been docked a notch for going mono-blue for last December's game against the Packers. It was the first solid-colored game with the team's current uniform set, and let's hope it's also the last.
8. Philadelphia Eagles (+2)
View uniforms here
It's hard to judge the Eagles on what they wore last year, because a Nike manufacturing glitch left them without their signature midnight green jerseys and pants until more than halfway through the season, forcing the team to wear more white and black components than usual. Assuming Nike has its act together this time around, the Eagles should return to being one of the league's better-looking teams. (Although they'd look even better if they traded in the midnight green for kelly, which many fans have been requesting for years, and if they ditched the black alternates.)
9. Indianapolis Colts (+4)
View uniforms here
From Johnny U to Peyton Manning to Andrew Luck, the Colts' old-school look is tailor-made for a quarterback standing tall in the pocket. Not the league's most dynamic design, and it would be nice if the shoulder stripes could wrap around a bit farther, but still a uniform set that has stood the test of time.
10. Kansas City Chiefs (-1)
View uniforms here
Much like the Bills, the Chiefs are a good-looking team that's lost points by going mono. Their red pants -- arguably the single best uniform component in the entire league when paired with the white jersey -- should never be used to create the blood-clot look (which the team has now experimented with for two consecutive seasons). Come on, people, you know Lamar Hunt would want you to use the red pants for good, not evil.
11. New England Patriots (+3)
View uniforms here
The defending Super Bowl champs and Deflategaters are making a small change for 2015, as they're going with a new chest logo. Aside from that minor adjustment, the Pats remain a very solid-looking team with one major flaw: those miserable side panels on the jersey. Get rid of those, and New England would jump several spots in the rankings.
12. New York Giants (+3)
View uniforms here
The gray pants still feel too drab, and it still makes no sense for a team whose main color is blue to have such a red-centric road uniform (a more detailed argument on this point can be found here). But the white alternate pants are a big improvement. At the very least, let's see those pants rolled out for more games this season. Even better, let's make them the team's primary pants.
13. San Francisco 49ers (-7)
View uniforms here
Man, that new black alternate uni is a disaster. Also: How is it possible that the 49ers continue to wear those partial sleeve stripes? Also-also: It's time to admit that the gray face mask may be due for an update. Remember when they went with the red one? Wouldn't hurt to dust off that look. On the plus side, the basic jersey-pants combos still look great.

14. New York Jets (-2)
View uniforms here
Not a terrible-looking team, but one that's more than ready for a makeover. The Namath-era look no longer works and the franchise has felt dysfunctional on multiple levels for years now, so a visual reboot would be a good place to start. OK, Nike -- get crackin'. (And while we're waiting for that, would it kill them to come out with a New York Sack Exchange throwback? That's long overdue.)
15. Tennessee Titans (+11)
View uniforms here
The helmet is still a problem -- the flaming thumbtack logo has always felt too USFL, and the tapered stripes are soooo 1990s. But the Titans have made a major improvement this season simply by redesignating their navy alternate jersey as their primary look. It's like upgrading your roster by getting a player back from injured reserve instead of signing a free agent.
16. Minnesota Vikings (+1)
View uniforms here
The Vikes moved up a few slots this time around simply by avoiding the mono-purple look last season. The weird numbering system still needs to go (you wouldn't believe how many emails and tweets come in at Uni Watch HQ each Sunday saying, "How come this guy's '7' doesn't match this other guy's '7'?"), but the overall look is holding its own as a middle-echelon NFL uniform set.
17. Miami Dolphins (+1)
View uniforms here
The Dolphins are celebrating their 50th season this year and will be marking the occasion by adding a throwback uniform to their wardrobe, although it won't be unveiled until July and it's not yet clear which era it will be from -- or even if the jersey will be white or aqua. (Remember, the Dolphins often wear white at home). As for the rest of their set, it's serviceable but unremarkable. Anyone else wish they'd try an orange face mask?
18. New Orleans Saints (+2)
View uniforms here
The Saints have moved up a few slots, but don't be fooled: That's because a few other teams have moved down. (We'll get to them shortly.) They have their aesthetic moments -- the white-over-gold look is particularly strong -- but they also have a bunch of problems that need to be addressed: (1) The neck roll collar design needs to go, (2) the black pants need some stripes, (3) they need non-black socks to go with the black pants, to avoid the dreaded leotard look, and (4) they should avoid the mono-black look.
19. St. Louis Rams (+2)
View uniforms here
There's potential here -- the helmet design is still the class of the league, for example -- but there are too many problems. The neck roll has got to go (especially on the throwback jersey, where it makes absolutely zero sense), and the Rams go mono-blue too often -- four times last season alone. The truth is that even one time would be too many, but four is way out of hand. Also: My kingdom for the return of the gold pants!
20. Cleveland Browns (-4)
View uniforms here
There's no getting around it: This season's most ballyhooed makeover is a downgrade. The helmet is fine, but the jersey feels high school-ish, and the pants, with that big, honking "Browns" lettering down the sides, are embarrassing. Granted, we can't be sure about any of this until we see how everything looks on the field and how they choose to mix and match their jerseys and pants, but the early indications are not good.
21. Seattle Seahawks (+1)
View uniforms here
Nike's radical makeovers are supposed to work like this: They look weird or even outlandish at first, but then we slowly get used to them and they start feeling like the new normal. That's largely been the case with the Seahawks' current set, which seemed like a provocation when it was introduced in 2012 but now feels almost conventional -- except for the neon green, which distorts everything it touches. I just can't get used to it. Tone down that element and we can talk, but until then this set is still problematic.
22. Houston Texans (+1)
View uniforms here
Here we have the league's most frustratingly generic-looking team. True, they don't present much that's worth hating (well, except maybe that comically oversized collar), but they also don't have much that's worth praising. Year after year, they just look like TGIFootball Team -- no visual character, no pizzazz, nothing to hang your hat on. Some sort of overhaul has got to be in the works, no?

23. Baltimore Ravens (+1)
View uniforms here
OK, we get it -- ravens are black, so this is the rare team whose use of black doesn't feel gratuitous. But that doesn't mean they couldn't scale it back a little. The black pants could use some stripes, and they'd be better if they were paired with non-black socks (which the team used to have, once upon a time) to avoid the leotard effect. On the plus side, here's a detail worth noting: The gold trim on the numbers is a really nice accent.
24. Washington (-5)
View uniforms here
Let's give credit where it's due: Bringing back the gold pants (very nice) and the striped socks (even better) might go down as the greatest thing Daniel Snyder has ever done for his beloved franchise. He certainly isn't helping on most other fronts, including his steadfast refusal to budge on the team's name and logo, both of which inevitably overshadow any discussion of Washington's uniforms.
25. Denver Broncos (-)
View uniforms here
According to the rumor mill, Nike is poised to make the Broncos "the Oregon of the NFL," or something along those lines. For now, though, they're just another team with a badly dated look that hasn't aged well (and, let's face it, never looked that good to begin with). This was Nike's signature design back in 1997, so it wouldn't be surprising if they have something similarly mold-breaking in store for the Broncos' near future.
26. Detroit Lions (-1)
View uniforms here
Former Lions GM Matt Millen is gone, but his legacy lives on in the form of all the black trim on the Lions' uniforms. Every stripe, every numeral, every letter, the color break in the socks, the helmet logo, the facemask -- all accented in black. Look, gang, here's how it works: You've got that Honolulu blue thing going. You should own that color. Don't tart it up with black. And a less gimmicky number font would help, too.
27. Carolina Panthers (+3)
View uniforms here
The conventional wisdom is that old franchises stay with their long-established looks while new ones change their designs like a revolving door. But the Panthers are now starting their third decade with essentially the same uniform set. They deserve credit for consistency but, unfortunately, not for much else. The pointed pants piping, the divergent helmet stripes, the color scheme -- it all feels badly dated, like it's from a 1990s handbook on football uniform design. It's well past time for a face-lift.
28. Atlanta Falcons (-)
View uniforms here
Man, those sleeve stripes -- it's like something a clown would wear at the circus. The reverse-tapered pants piping doesn't help, either. Matt Ryan deserves better, wouldn't you say? Back to the drawing board.
29. Tampa Bay Buccaneers (-18)
View uniforms here
It wasn't broken, but they fixed it anyway. The Bucs' 2014 makeover took a perfectly decent uniform set and mutated it into a bad joke. The pewter now looks too brown, the helmet logo is now too big, the wordmark on the sleeves feels like an arena league move, and the uniform numbers, as a few million people have noted, look like they belong on a digital clock. The one new element that works: the chrome face mask, but that's not enough to save this uniform set from the scrapheap.
30. Arizona Cardinals (-1)
View uniforms here
Ugh -- where do we start? There's the absurd pants piping, the silly underarm striping, the unnecessary black uni, the blood-clot look, and so on. Even the helmet, which is really nice when viewed in isolation, doesn't work because it's an old-school design that looks out of place with the rest of the uniform's new-school details. A mess from top to bottom.

31. Cincinnati Bengals (-)
View uniforms here
There's a fine line between uniform and costume, and the Bengals have been on the wrong side of it for years now. The striped panel on the pants even looks like a tail. Unfortunately for them, Halloween doesn't fall on a Sunday this year.
32. Jacksonville Jaguars (-)
View uniforms here
You know, the superhero jersey isn't bad, and the Jags' color scheme has always been underrated. But there's no getting around it: This is the worst helmet in NFL history, and everything else in this uniform set is subordinate to that. Woof!
Paul Lukas will have updated Power Rankings for other sports later this year. If you liked this column, you'll probably like his Uni Watch blog, plus you can follow him on Twitter and Facebook. Want to learn about his Uni Watch membership program or his Uni Watch T-Shirt Club, be added to his mailing list so you'll always know when a new column has been posted, or just ask him a question? Contact him here.