---
No. 5: DENVER BRONCOS
Last Season: 12-4
First place, AFC West; lost 24-13 to Colts in divisional round
---
The Broncos have the NFL's best record (38-10) since Peyton Manning's arrival in 2012. But last year, Manning finally began to show his age. Over the first eight games, he had an 85.0 QBR and a 24-5 TD-to-INT ratio. The final eight: 61.2 and 15-10. "It's arm strength, mobility, everything," says one defensive coordinator. In new coach Gary Kubiak's run-heavy offense, the Broncos will shift some of the burden to RB C.J. Anderson, who averaged 4.7 ypc last year. But even a throwback ground game can't turn back the clock on Manning's right arm. Finding the right run-pass balance on offense is a start, especially for a team with a defense that ranked sixth in EPA last season. The Broncos' winning formula is changing. -- Mike Sando
The Broncos have Pro Bowl players up and down the roster, including five returning on defense. They're built to be aggressive on defense with plenty of team speed, proven edge rushers in Von Miller and DeMarcus Ware, and cover corners like Chris Harris Jr. and Aqib Talib. At 39, quarterback Peyton Manning changed some of his offseason work, returned lean and has shown plenty of arm strength. The Broncos have also instituted a schedule to give him rest days to keep him fresh for the postseason. He'll operate in a proven system in the run game and throw to two 100-catch receivers in 2014 in Demaryius Thomas and Emmanuel Sanders.
It would take a historic run of injuries to keep this team out of at least a wild-card spot. The defense and run game are good enough to overcome any potential extended absence of Manning, if he were injured. But other than the season he missed -- 2011 -- following his fourth neck surgery, Manning has not missed a game in 16 previous seasons.
Broncos' percentage chance to win each game
Sept. 13 vs. Baltimore: 65.8
Sept. 17 @ Kansas City: 52.9
Sept. 27 @ Detroit: 57.4
Oct. 4 vs. Minnesota: 71.7
Oct. 11 @ Oakland: 72.2
Oct. 18 @ Cleveland: 65.9
Nov. 1 vs. Green Bay: 54.0
Nov. 8 @ Indianapolis: 42.0
Nov. 15 vs. Kansas City: 62.0
Nov. 22 @ Chicago: 63.2
Nov. 29 vs. New England: 55.6
Dec. 6 @ San Diego: 57.3
Dec. 13 vs. Oakland: 81.9
Dec. 20 @ Pittsburgh: 51.0
Dec. 28 vs. Cincinnati: 65.3
Jan. 3 vs. San Diego: 68.7
Jeff Legwold's game-by-game predictions
After three consecutive crushing playoff losses, including a lackluster, emotionless showing against the Indianapolis Colts this past January, John Fox and the Broncos parted ways. Fox won four consecutive AFC West titles, but executive vice president of football operations/general manager John Elway said he didn't see a team that was "kicking and screaming" in the postseason. Elway's former teammate, former offensive coordinator and longtime friend Gary Kubiak was hired not only to continue to win regular-season games -- the Broncos have won 13, 13 and 12 games in the past three seasons -- but to get an accomplished team to play its best football in the postseason.
The Broncos took huge free-agency plunges in 2012 with Manning, then again in 2014 to sign Ware, Talib, Sanders and T.J. Ward. They have won four consecutive division titles and played in one Super Bowl over the past four seasons. They're saying now what they've said all along: "Around here, it's always Super Bowl or bust, that's the mindset here. You don't have to be here long before you know that. We know it's up to us to see it through and even if we won a Super Bowl the next year would be Super Bowl or bust," Sanders said.
If this team isn't in the Super Bowl conversation throughout the season and is not at least playing for the AFC's slot in the big game, the words "disappointment" and "fell short" will be in every sentence of every season review. As Kubiak said: "I came in knowing what the expectations are here because they have always been the expectations with Pat Bowlen as this team's owner. We signed up for it, we believe it and we want it."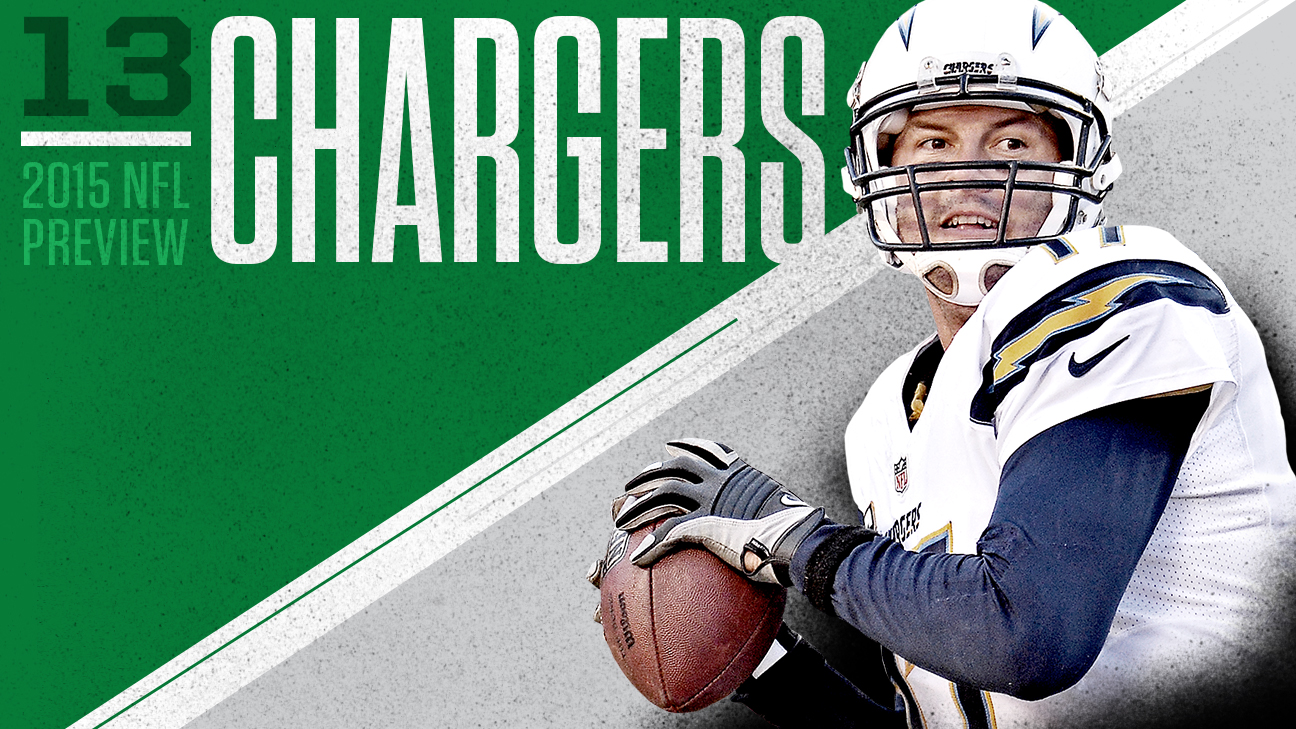 ---
No. 13: SAN DIEGO CHARGERS
Last Season: 9-7
Third place, AFC West
---
Philip Rivers, now 33, may not have the big-time arm, but he anticipates throws as well as anyone. He played like an MVP through the first half of 2014, with an 86.3 QBR and a TD-to-INT ratio of 20-5. So why did San Diego start 5-3? The main culprits were the team's mediocre D (23rd in EPA) and inept run game (the Chargers ranked 30th in total yards rushing, at just 85.4 per game). That stands to change this year thanks to first-round pick Melvin Gordon. Also, newly signed guard Orlando Franklin should take some of the heat off Rivers. But question marks remain with the front seven, which contributed to San Diego allowing 1,986 yards rushing (26th) and 4.5 ypc (29th). -- Mike Sando
When the San Diego Chargers have balance on offense to go with quarterback Philip Rivers' playmaking ability, they are hard to beat. San Diego averaged 102 yards a game on the ground in the team's nine wins in 2014, and just 65 rushing yards a contest in the team's seven losses. The Chargers anticipate upgrades along the offensive line, and the addition of first-round selection running back Melvin Gordon will provide the balance San Diego needs on offense to control the tempo of the game and keep opposing offenses off of the field.
According to Football Outsiders, the Chargers were second to only the New York Giants in adjusted games lost due to injured players. San Diego used five different centers last season, and even Rivers limped through the year with back and rib injuries. Although the Chargers improved their depth up front on both sides of the ball, injuries to players like guard Johnnie Troutman on offense and the loss of defensive tackle Tenny Palepoi for the season with a fractured foot have cut into that depth. The Chargers are still a year or two away from building enough talent throughout the roster to withstand a rash of injuries for a second straight season.
Chargers' percentage chance to win each game
Sept. 13 vs. Detroit: 57.1
Sept. 20 @ Cincinnati: 38.9
Sept. 27 @ Minnesota: 44.1
Oct. 4 vs. Cleveland: 66.8
Oct. 12 vs. Pittsburgh: 50.3
Oct. 18 @ Green Bay: 25.9
Oct. 25 vs. Oakland: 68.6
Nov. 1 @ Baltimore: 35.2
Nov. 9 vs. Chicago: 63.3
Nov. 22 vs. Kansas City: 54.3
Nov. 29 @ Jacksonville: 54.8
Dec. 6 vs. Denver: 42.3
Dec. 13 @ Kansas City: 36.2
Dec. 20 vs. Miami: 51.7
Dec. 24 @ Oakland: 57.1
Jan. 3 @ Denver: 31.0
Eric D. Williams' game-by-game predictions
The Chargers have more speed and playmaking ability on defense, built mostly through the draft. Eight of San Diego's 11 projected starters were selected in the first three rounds of the NFL draft, starting with veteran safety Eric Weddle in the second round in 2007. It's the first offseason the entire group was healthy and played together, and that chemistry and cohesion has been evident during preseason play. With a healthy Melvin Ingram and Jeremiah Attaochu, the Chargers should be more effective rushing the passer, and that will benefit one of the more underrated defensive backfields in the NFL.
With uncertainty on where this franchise will be located, alongside the possibility of foundational players like Weddle and tight end Antonio Gates playing their final season with the organization, players want to take advantage of a possible final season in San Diego at Qualcomm Stadium. "We have more depth in key areas than we had in the past," Rivers said. "But there's so many things involved. And things like injuries that are out of our control that you can't predict. We just have to play better. But I do feel that we have the pieces in place to win the division." .
The Chargers have a daunting schedule, facing five playoff teams from 2014 in their first eight games, including three on the road. San Diego also finishes with three of its last four games on the road. However, with an efficient quarterback in Rivers, and if Gordon performs up to expectations, the Chargers will be explosive on offense. They should once again compete for an AFC West title. And if they can remain relatively healthy, they could make a deep playoff run. A third straight 9-7 season is a realistic expectation for San Diego.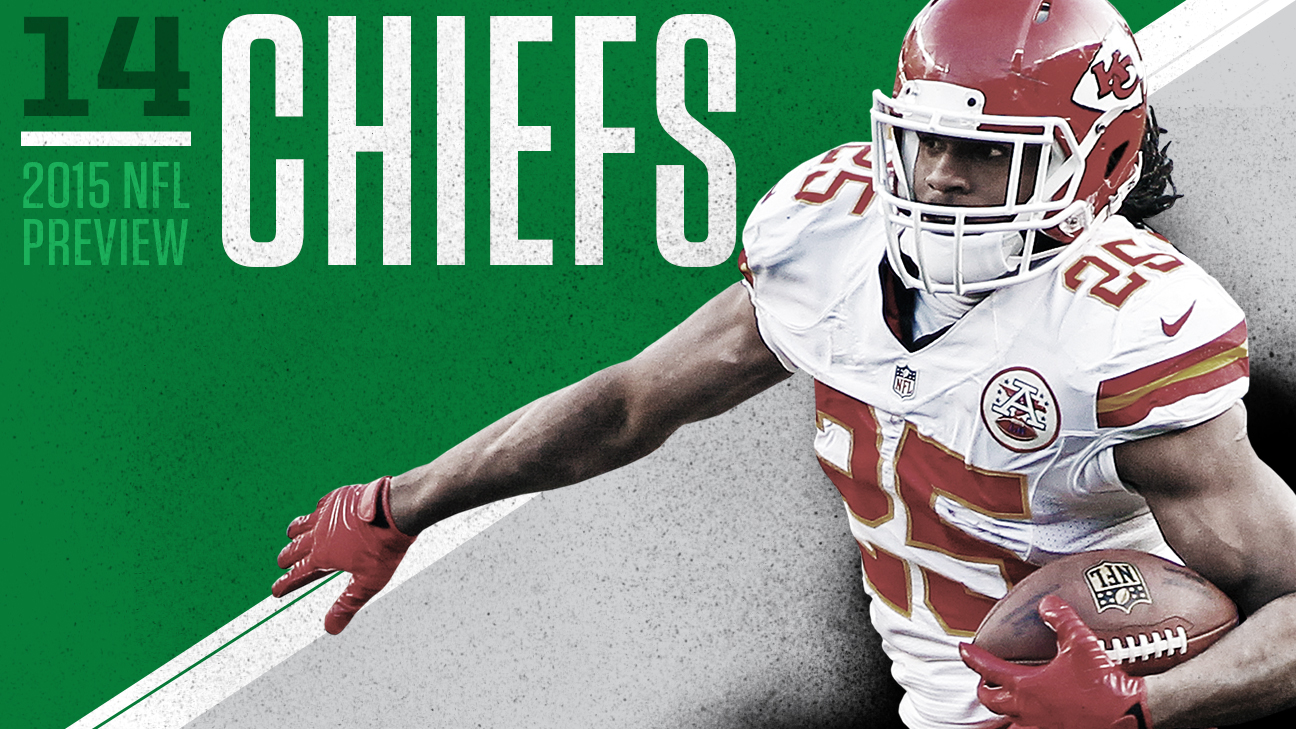 ---
No. 14: KANSAS CITY CHIEFS
Last Season: 9-7
Second place, AFC West
---
Coaches who've worked with Alex Smith say he possesses an uncanny filter for avoiding turnovers (second to Aaron Rodgers in INT percentage since 2012). Of course, he rarely passes -- 25th in pass attempts per start since 2012 -- and when he does, he doesn't send it far (last in air yards per pass attempt since 2012, with 6.33). Playing it safe with Smith has worked for KC, since its defense allowed 281 points in 2014, the second fewest in the league, and its running game featured Jamaal Charles and his 5.0 ypc. Incoming WR Jeremy Maclin should provide more firepower on those short throws, but it's unclear whether Smith can take advantage of his improved weaponry. And if so, will that be enough to overtake Peyton and the Broncos? -- Mike Sando
The Chiefs have a lot going for them. They're a well-coached team that will play well on defense and special teams and should run the ball effectively when Jamaal Charles is in the lineup. The Chiefs also won't throw many interceptions as long as Alex Smith is their quarterback. Despite having an unproductive passing game, the Chiefs barely missed making the postseason last year.
The Chiefs are showing some of the same problems they had last year when they finished 9-7. Partly because of injuries but also because the Chiefs were waiting for others to play well, they consistently shuffled players on their offensive line and didn't settle on a starting group until late. Smith and the starting offense also had trouble getting the ball down the field with long pass plays.
Chiefs' percentage chance to win each game
Sept. 13 @ Houston: 45.3
Sept. 17 vs. Denver: 46.7
Sept. 28 @ Green Bay: 31.5
Oct. 4 @ Cincinnati: 43.0
Oct. 11 vs. Chicago: 67.1
Oct. 18 @ Minnesota: 45.5
Oct. 25 vs. Pittsburgh: 56.2
Nov. 1 vs. Detroit (in London): 53.2
Nov. 15 @ Denver: 37.7
Nov. 22 @ San Diego: 45.3
Nov. 29 vs. Buffalo: 60.1
Dec. 6 @ Oakland: 63.5
Dec. 13 vs. San Diego: 63.5
Dec. 20 @ Baltimore: 40.4
Dec. 27 vs. Cleveland: 70.9
Jan. 3 vs. Oakland: 75.4
Adam Teicher's game-by-game predictions
The Chiefs are determined to get more big pass plays. They signed free-agent wide receiver Jeremy Maclin and overhauled their offensive line to afford Smith better protection. The Chiefs may start as many as four new linemen this season. The Chiefs signaled their intent when their first play at training camp and again in the preseason was a long Smith-to-Maclin pass. The Chiefs were last in the league last season in pass plays of 25 yards or more.
Maclin on how talented the Chiefs are offensively: "It's extremely talented. Obviously starting with Alex, Jamaal [Charles], you've got Travis [Kelce], who I think is one of the bright tight ends in this league, up and coming. I'm excited to work with him. Obviously, Albert [Wilson] showed flashes last year. He's a guy who is going to come along and help us win ... If we can get it all together and get it on the right page, I think we will be pretty darn good."
The Chiefs are good enough to win 10 or more games and play in the postseason. But, for the second straight year, they'll lament that an unsettled offensive line and lackluster passing game held them to nine wins and prevented them from making the playoffs. Maclin's addition will help, but the Chiefs have had trouble identifying a consistent threat as their other wide receiver who can take pressure off him.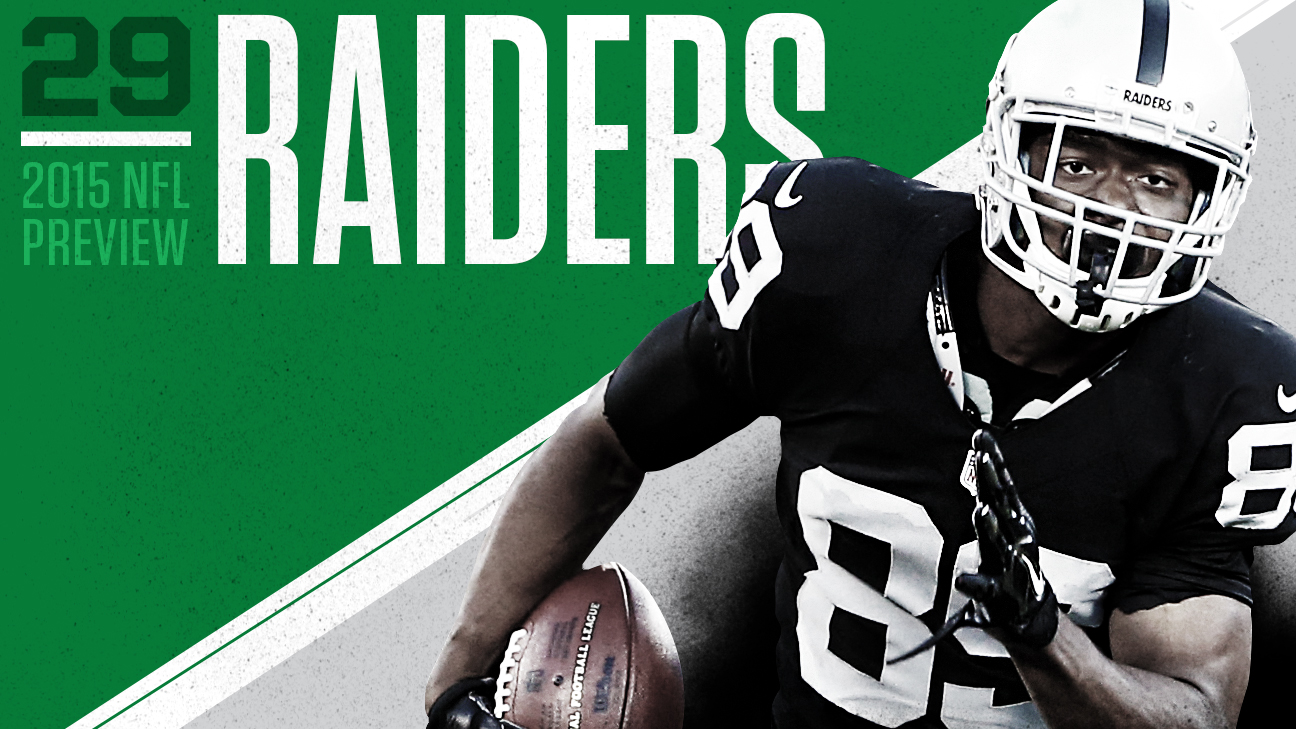 ---
No. 28: OAKLAND RAIDERS
Last Season: 3-13
Fourth place, AFC West
---
Derek Carr entered the NFL in 2014 with one of the worst supporting casts in recent memory. His leading receiver was James Jones, and no RBs on the roster ranked among the league's top 36 rushers. Yet Carr still threw 21 TDs and just 12 INTs. "You get the offensive line and run game going, surround him with some better players, and he makes a big jump," says one personnel director. About that: Welcome, rookie WR Amari Cooper. The Raiders also bolstered their offensive line with free agent center Rodney Hudson and signed DT Dan Williams, who is best against the run. This is still not a playoff team yet. But don't look now -- the Raiders are finally doing things that ... make sense. -- Mike Sando
The Raiders have a young nucleus of players that includes quarterback Derek Carr, pass-rusher Khalil Mack and receiver Amari Cooper. The Raiders believe these three players (Carr and Mack are each in their second season, while Cooper is a rookie) are ready to be superstars. On offense, Carr and Cooper will lead an explosive, varied offense. On defense, Mack will be a 15-plus sack man who leads an aggressive, fast, playmaking unit. The result will be the first Oakland playoff appearance in 13 years.
The Raiders just don't have enough horses. They are not quite there. This is very much a work in progress for a team that has won just 11 games in the past three years combined. The Raiders are improved, but they still have key holes and question marks. This may be a bridge season. The Raiders may become respectable this season and then be primed to make a true run next season.
Raiders' percentage chance to win each game
Sept. 13 vs. Cincinnati: 37.5
Sept. 20 vs. Baltimore: 34.7
Sept. 27 @ Cleveland: 35.2
Oct. 4 @ Chicago: 32.2
Oct. 11 vs. Denver: 27.6
Oct. 25 @ San Diego: 31.1
Nov. 1 vs. N.Y. Jets: 45.1
Nov. 8 at. Pittsburgh: 22.8
Nov. 15 vs. Minnesota: 42.4
Nov. 22 @ Detroit: 26.1
Nov. 29 @ Tennessee: 40.3
Dec. 6 vs. Kansas City: 36.2
Dec. 13 @ Denver: 17.9
Dec. 20 vs. Green Bay: 27.5
Dec. 27 vs. San Diego: 42.5
Jan. 3 @ Kansas City: 24.4
Bill Williamson's game-by-game predictions
The Chiefs are determined to get more big pass plays. They signed free-agent wide receiver Jeremy Maclin and overhauled their offensive line to afford Smith better protection. The Chiefs may start as many as four new linemen this season. The Chiefs signaled their intent when their first play at training camp and again in the preseason was a long Smith-to-Maclin pass. The Chiefs were last in the league last season in pass plays of 25 yards or more.
The Raiders are always optimistic this time of the season. This year is no different. But Jack Del Rio, Oakland's eighth head coach since 2004, is truly focused on positive thinking. He brought in a mindset coach early in the summer to help the team stay focused on the future. General manager Reggie McKenzie, in his fourth season, said early in training camp this is the best he'd felt during his tenure with this team.
I believe the Raiders will be looking toward 2016 with an eye on making a playoff push. Oakland will be flush with salary-cap room for the third straight year and it will probably need three starters or so to improve that postseason push. Among the areas Oakland may be looking to bolster are the offensive line, defensive line and the secondary.