This is part of a seven-story package assessing the state of the young NFL quarterback. Look for more on Jameis Winston, Marcus Mariota, Johnny Manziel, Andrew Luck, Andy Dalton, Cam Newton and others in ESPN The Magazine's How to Raise a QB Issue, on newsstands Nov. 13. Subscribe today!
ON MARCH 18, 2012, the Seahawks spent $19 million for Matt Flynn to be their next franchise quarterback. A month later, GM John Schneider and coach Pete Carroll drafted a fifth-year senior out of Wisconsin, Russell Wilson, in Round 3 to compete to be the No. 2. The rest, of course, is history.
Entering this season, Wilson's 68.2 career QBR trailed that of only Peyton Manning, Aaron Rodgers, Drew Brees, Tom Brady and Matt Ryan. From 2012 to 2014, he won 36 regular-season games, tied for second with Brady behind Manning and the most ever for a QB in his first three seasons. During that span, he also led the Seahawks to back-to-back Super Bowls and picked up two Pro Bowl nods. Flynn, meanwhile, was traded a year later and, after five teams and five starts since, is an unsigned free agent.
While Wilson's stats speak for themselves, what Schneider and Carroll saw in him can't be expressed through numbers. To paraphrase Schneider, who gave Wilson a four-year extension this past offseason that pays him $21.9 million per year (second to Rodgers among QBs), the guy simply changed the temperature in the room; he made a team of veterans believe in him from day one. Sure, next-level analytics provide more context than ever for what's going on between the lines. But success under center is still predicated on an intangible: that space between a signal-caller's ears, the fine line between fourth-quarter comeback and collapse.
"You can't compete for titles without a QB who can make plays on his own," Schneider says. "Nothing is perfect, and offensive lines are so challenged with the speed on defense right now that your QB has to create plays and function on the move. Russell does that."
Look no further than Seattle's Week 4 Monday Night Football game against Detroit. On third-and-12 early in the second quarter, no score, Lions defensive end Jason Jones came unblocked in Wilson's face -- 6-foot-5, 275 pounds vs. 5-11, 203 pounds. Then, as he has done many times, Wilson pulled a Houdini, ducking, darting and dashing away, then firing a 34-yard bullet to Jermaine Kearse before absorbing a vicious shot to the sternum. Instead of taking a deep breath and celebrating a first down, Wilson rallied his team to the line. He instantly recognized the Lions' coverage in hurry-up mode and dropped a perfectly thrown seam route to Doug Baldwin for a 24-yard score, Seattle's lone TD in a 13-10 win.

Wilson's next-level numbers over first four seasons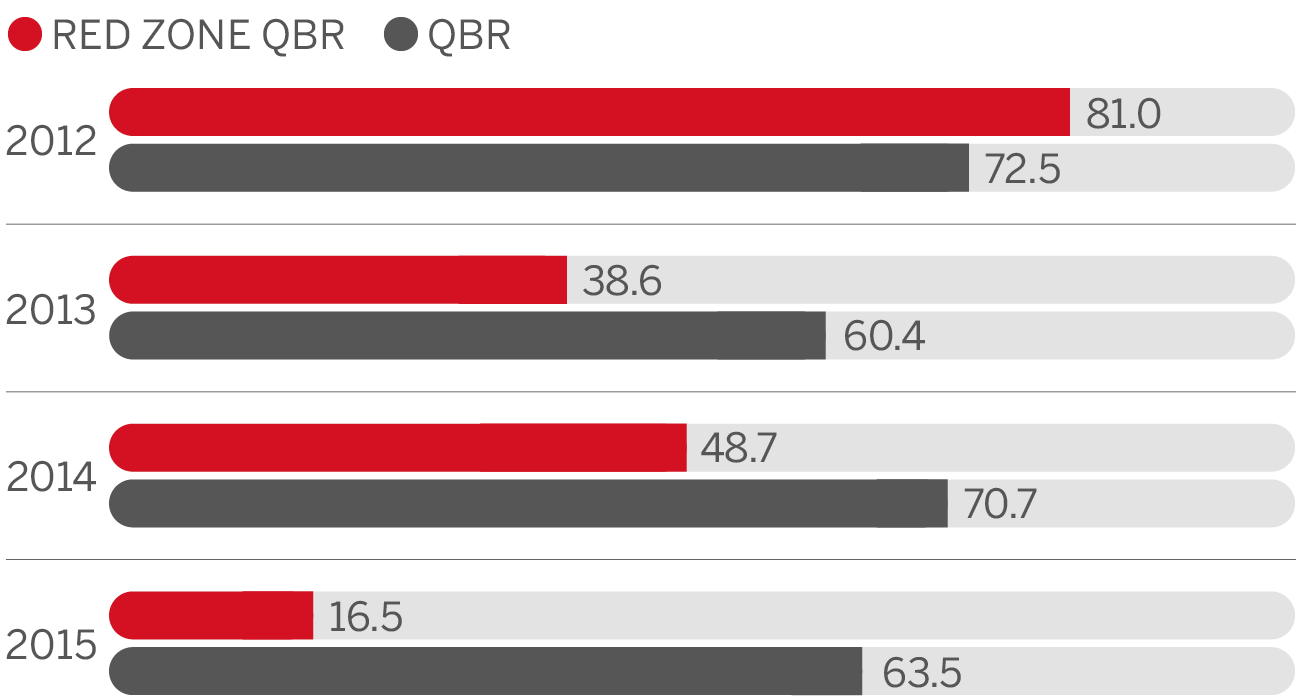 ---

Carroll has remained steadfast in his belief, and the organization's commitment, to play elite D, run the ball and run it some more. And when executed well, that philosophy keeps the Seahawks ahead or within striking distance. In fact, their 27-17 loss at Green Bay in Week 2 was the first double-digit defeat of Wilson's tenure. But to rely on ground and pound in the NFL, you need a QB who can deliver in the clutch, à la Wilson, who engineered 15 game-winning drives over his first three seasons, the most of any QB since 2012. He earned his 16th in a 13-12 Week 8 win over the Cowboys to get the Seahawks to 4-4.
Yet the storyline out of that Dallas victory was about more than Wilson's resolve; it was the first game he hadn't been sacked. Much like his '12 classmate Andrew Luck, Wilson is facing real adversity in his fourth season. Through Week 9, despite his O-line's clean sheet at Dallas, he was sacked an NFL-high 31 times. Seattle has a piecemeal O-line that sources in the organization admit was a risky experiment. Still, under this regime, the Seahawks won't deviate from their business plan: Gamble on RBs and DBs, not a QB. That's why they took Wilson in Round 3 and monitored his progress before committing long-term.
Now it's up to him to continue to pay off.