ENGLEWOOD, Colo. -- Denver Broncos coach Gary Kubiak made it official Monday afternoon, announcing that Brock Osweiler will start at quarterback Sunday against the Chicago Bears and Peyton Manning will begin the process of trying to heal a partially torn plantar fascia in his left foot.
"[I] told the team this week that Peyton is not going to play," Kubiak said. "That Brock is going to play this week and that all of our full attention is going to be to getting Peyton back and healthy. That decision has been made. I know that's the best decision for him, to get him back and healthy, and we need to know where we're heading this week."
Though Manning declined to go into specifics about his meeting with Kubiak, he did acknowledge he was less than thrilled with where he stands.
"We had a talk and, like I said, I'm disappointed that I'm injured," Manning said. "Certainly, like I said, one day after as you could expect -- disappointed about the loss yesterday."
Manning was removed from Sunday's loss against the Kansas City Chiefs with just over six minutes remaining in the third quarter, and Osweiler closed out the game 14-of-24 for 146 yards to go with a touchdown and an interception.
Manning, who has been listed on the injury report with right shoulder, foot and rib cage injuries over the past two weeks, set an NFL record for career passing yards Sunday but finished 5-of-20 passing for 35 yards and four interceptions.
"I've got a couple different issues I've been dealing with," Manning said. "I just got back from getting an MRI on that rib cage area. I haven't gotten the results of that, but I think the week can help me try to get healthy in some of the things that I've been dealing with. Hopefully I can use it my advantage."
The move was made, Kubiak said, to allow Manning an intensive week of injury rehab; he will not practice. Kubiak, who met with Manning for an hour Monday, said the two will sit down next Monday to "re-evaluate." Rookie Trevor Siemian, the team's seventh-round draft pick in this year's draft, will be Osweiler's backup against the Bears.
Asked whether Manning agreed that rest was the best course of action for the injury, Kubiak said, "I never met a player who agreed with that. No, he's up there [Monday], he wants to go, he wants to do everything he can for his football team, and I knew that, I expected that. But I tried to express to him my concern for getting him back to himself and feeling better. I think he understands the position I'm in, and I sure as hell understand the type of person he is and the player he is."
Sources told ESPN that Manning has battled plantar fasciitis for weeks but is believed to have aggravated the injury against Indianapolis on Nov. 8, resulting in a partial tear of his plantar fascia. Almost always, a partial tear is more painful to play with than a complete tear.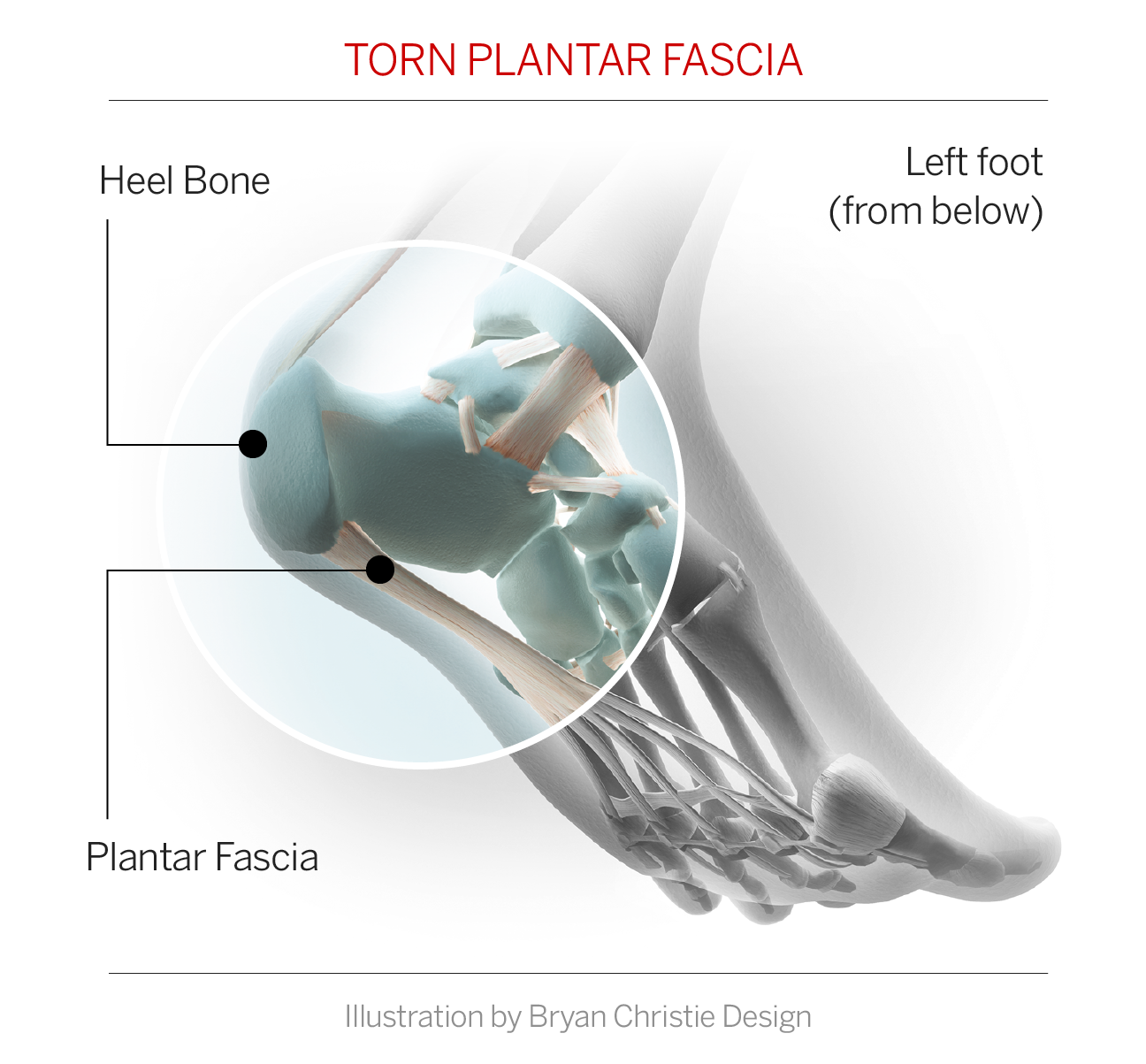 Peyton's brother, Eli Manning, said he suffered a full tear of his plantar fascia in Week 4 of the 2009 season and did not miss any games. The New York Giants quarterback said he talked to his older brother about the injury last week but hadn't spoken with Peyton since Sunday's game.
"Hopefully, he'll figure out a way to feel as good as he can and get a plan for getting back to playing the way he knows how to play," Eli Manning said Monday. "It was a few weeks, probably three to four weeks, before the pain was away and I was able to perform a normal way and the way I'm accustomed to.
"He'll be fine. He'll bounce back and hopefully get healthy. And hey, they're in a good spot. They're 7-2. I'd take 7-2 with one four-interception game at this point."
Kubiak said Monday that Peyton Manning had an MRI on his left foot in the days following the Broncos' loss to the Colts. Kubiak said after Sunday's game that he was "disappointed" in himself that he didn't hold Manning out of the 29-13 loss to the Chiefs, especially after Manning, already dealing with the foot injury, expressed discomfort with his ribs.
"When I go back and review the week, just in general, as it went, you know, not listening, in my opinion, to the things that were going on, obviously coming out of the game, I know, we have to step back here and we have to take the time to make sure he takes care of himself and we get him back to himself and feeling good," Kubiak said Monday. "It's something that I wanted to get done [Monday] because I wanted the team to know our direction."
After Sunday's game, Manning expressed disappointment with his play and said he believed, at least initially, he was healthy enough to play against the Chiefs.
"Bad game, disappointing, made some really bad plays and just put our team in a really bad position," Manning said. "... [I] really put our team in a bad spot all night."
Manning also shoved aside talk of his injuries, saying he had been "very honest" with the team's training staff and Kubiak in the days leading up to the Chiefs game.
"I have a really hard time using that as any type of excuse," Manning said. "I had some injuries during the week. ... I felt good enough to go out there and play. It's obviously, you look back on it now, I have a hard time saying that's why I played, you know, badly. Could that be the reason? I guess it could be, but to me, that's an easy way out, kind of an easy line to say after the fact. ... I wanted to go, I wanted to be out there for the team."
With the Broncos playing the Bears this week, Manning will miss out on playing against his former coach John Fox, who is now the coach in Chicago.
"I've got nothing but great respect [for Manning]," Fox said Monday. "He's a great, great quarterback. He's arguably the best to play the game."
Osweiler, who will make his first career start, was also effusive in his praise of Manning.
"Peyton's still our guy, he's one of the best to ever do it," Osweiler said. "He's been extremely supportive of me since Day 1, he's taught me so many things. I'm going to continue to support him. I'm starter this week at Chicago, but that's all it is, then we'll re-evaluate everything again. But I stand by Peyton 100 percent."
Osweiler admitted the announcement caught him a bit off guard.
"It takes you a little bit by surprise," Osweiler said. "Peyton's been the starter here for this team for a number of years, ever since I've been here, so to hear Coach Kubiak say 'Brock, you're going to start this week at Chicago,' in front of the whole team. That's a little abnormal."
Fox, who was Denver's coach for four seasons, also praised Osweiler.
"He's smart. He had the opportunity to learn under one of the best," Fox said. "For a big man he's got good quickness, good athleticism. I felt good about him. I didn't get a chance to see a lot of him, but when I did see him I liked what I saw."
ESPN.com Bears reporter Jeff Dickerson contributed to this story.