Plenty of Super Bowl hype this week surrounds Carolina Panthers quarterback Cam Newton, along with Carolina's suffocating defense led by Pro Bowl selections such as Luke Kuechly and Josh Norman. But tight end Greg Olsen was the team's leading receiver with 77 catches and 1,104 yards this season and should factor heavily into any success Carolina has against the Denver Broncos in Super Bowl 50. He's a star in his own right and enters Sunday's game in rarified air at his position. Only three tight ends have entered a Super Bowl with more catches in a season: Dallas Clark (100 receptions in 2009), Todd Christiansen (92 in 1983) and Rob Gronkowski (90 in 2011 and 82 in 2014). Of those three, only Gronk caught a TD pass in the Super Bowl, and none of them topped 10 catches or 100 yards in the big game. In fact, no tight end has ever been selected as Super Bowl MVP. Could Olsen be the one to end the drought with a big-time performance? He's more than capable, as a player who serves as both a security blanket for Newton and a big-play threat. Based on regular-season numbers, here are six ways he could have a significant impact on Sunday's game, and one way that he probably won't.

1. When Newton is pressured
Newton is elusive enough to escape the pocket and pick up yardage when he needs to -- his 636 yards rushing led all quarterbacks, and his 57 rushing first downs was fourth among all players. But as with many QBs, his passing numbers suffer when he has to make throws under pressure. Luckily for him, he targets the sure-handed Olsen more than anyone else when pressured. Of Newton's 38 completions under pressure, 10 of them (26 percent) were to Olsen, and no other Panther caught more than five. Newton's passing numbers when pressured this season: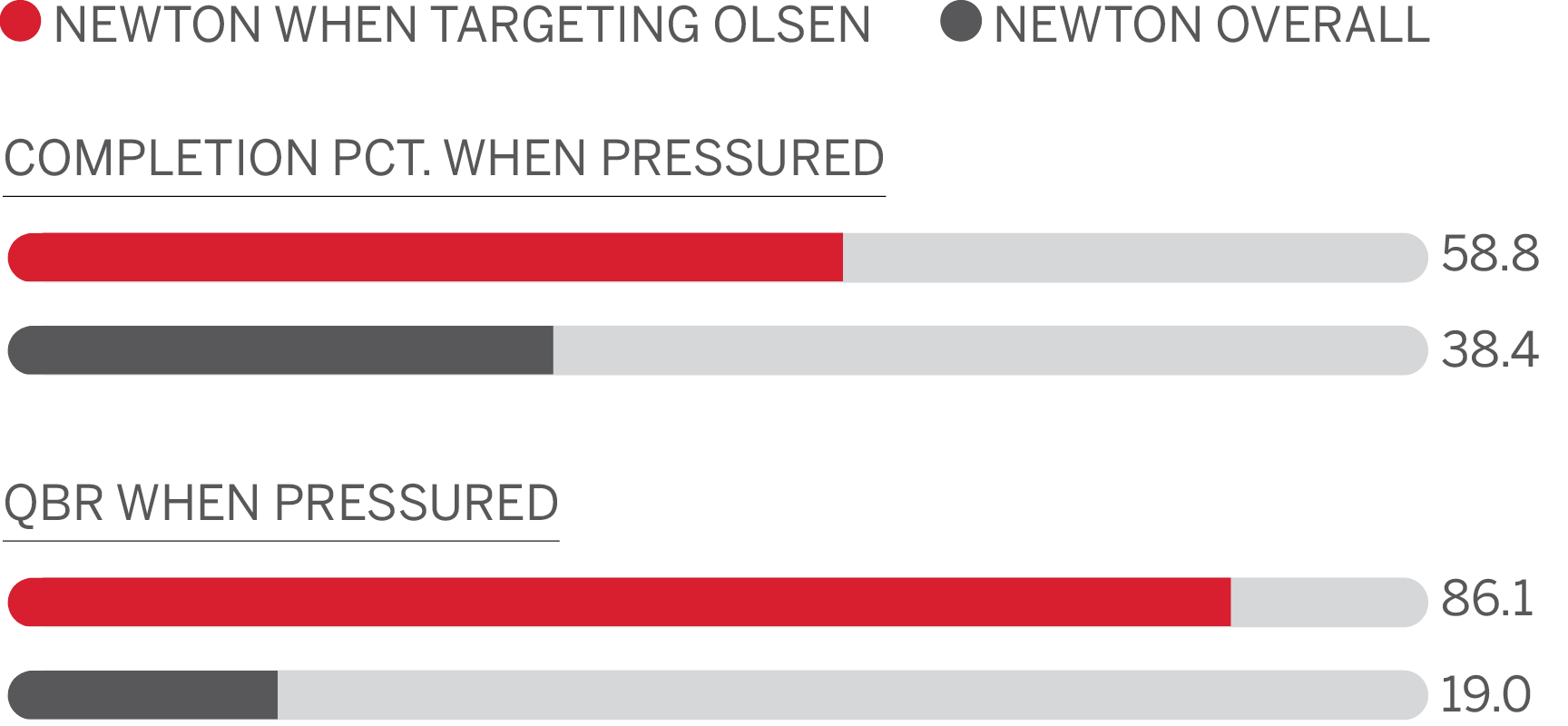 2. In tough down-and-distance situations
What about when the Panthers need to rely on the passing game in a pressure situation and the down and distance requires more than a short pass? This is where the absence of Kelvin Benjamin (out for the year with an ACL tear) is most glaring, since he is the type of prototypical No. 1 receiver who would normally get the ball on third-and-long. Without him, Newton's most productive option by QBR is clearly Olsen when faced with a third or fourth down and at least 10 yards to go.

3. On the right side of the field
Olsen lines up all over the place in Carolina's various schemes, but he starts on the right slot more than anywhere else -- 166 of 465 total routes, or 36 percent, came from there. So it's not surprising that the middle-right section of the field is where he catches the most passes and by far the most touchdowns (4). A breakdown of his 77 catches by zone: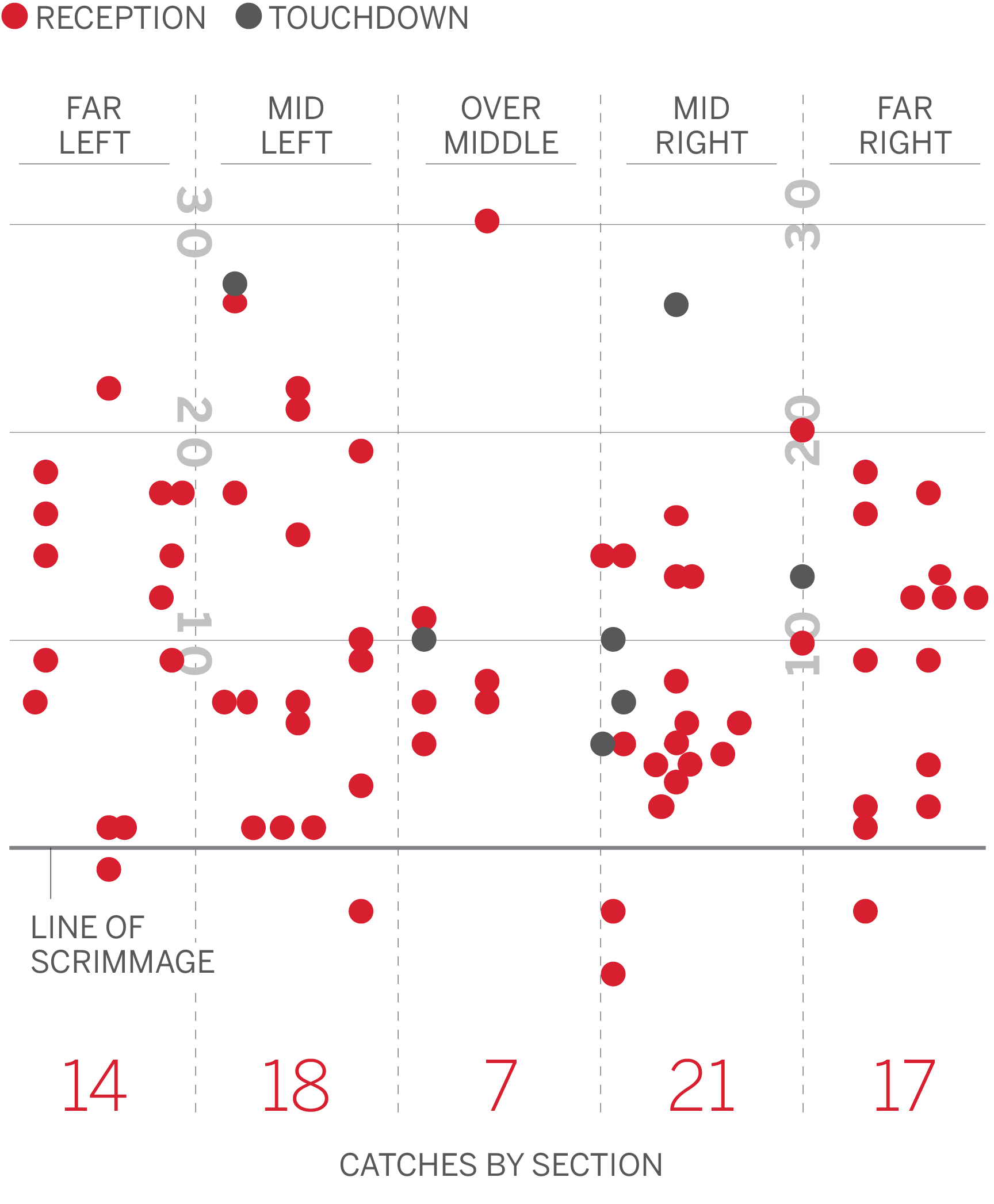 4. On big plays
He's not just Newton's security blanket -- Olsen is also a downfield threat. He can stretch defenses with his speed, having recorded a 40 time of 4.51 at the scouting combine, and at 6-5, 253 pounds is a tough matchup for smaller defenders. The Panthers use Olsen as a vertical passing option -- his average of 10.5 air yards per attempt was first among starting tight ends, and his total of 20 receptions of 20 yards or more was sixth among all players. That's more than star receivers A.J. Green, DeAndre Hopkins, Odell Beckham Jr. or Brandon Marshall. Here's how Olsen and his Carolina teammates stack up in catches of 20 yards or more this season: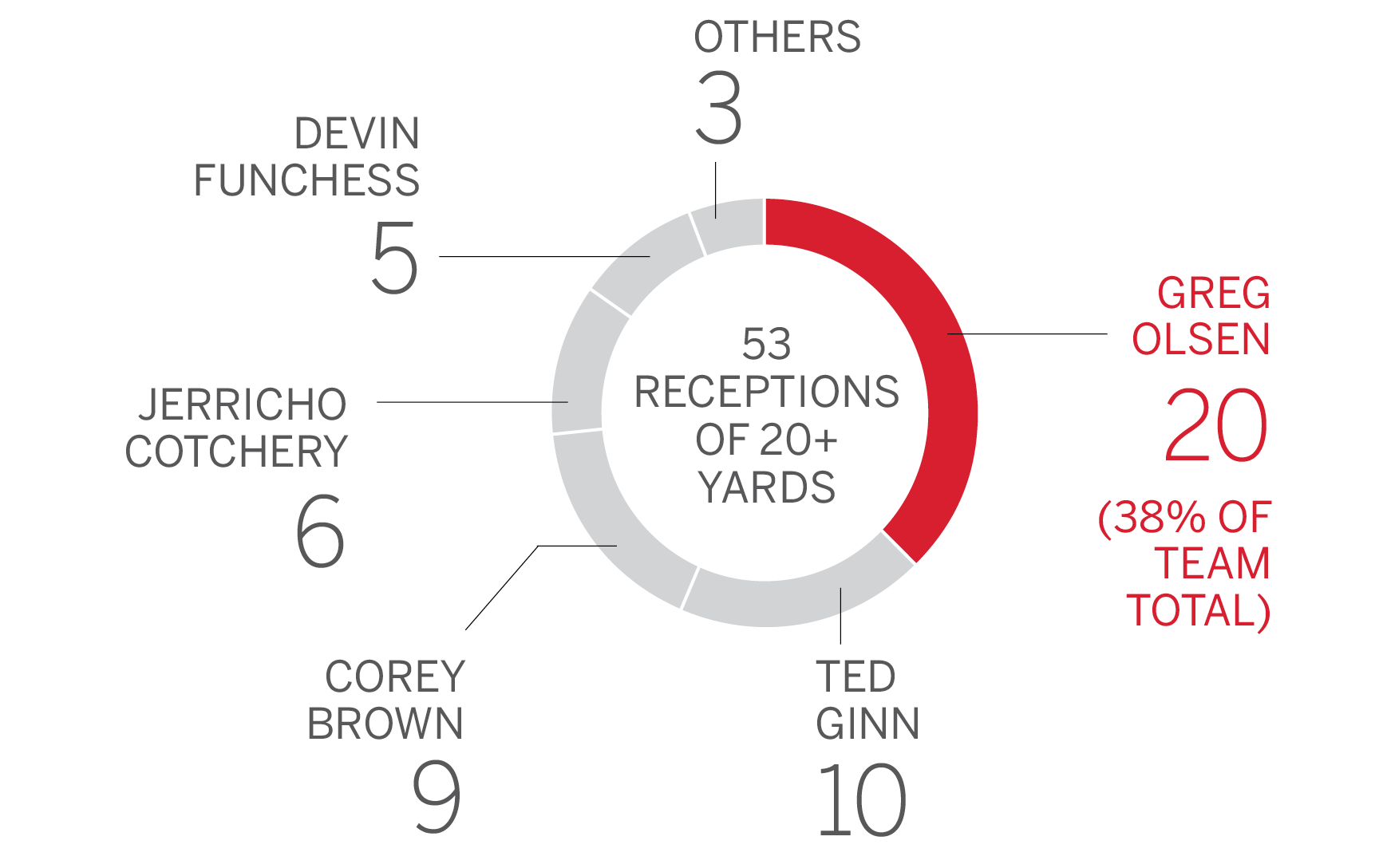 5. Testing Denver's safeties
Last time we saw it in the AFC championship game, Denver's defense was trying in vain to slow down another big-play tight end: Gronkowski, who finished with 8 catches, 144 yards and a touchdown. That was due in part to injuries that sidelined safeties T.J. Ward and Darian Stewart late in the game; both are expected to play Sunday. In general, Denver relies on the solid coverage skills of Ward (pictured below) and Stewart to keep tabs on opposing tight ends and has mostly held them in check. While the Broncos allow more yards per game on tight end targets than the league average (54.0), their completion percentage allowed is among the lowest in the league. Since Denver is expected to devote a linebacker to spy Newton throughout the game, the health of Denver's safeties is crucial if the team hopes to slow Olsen. If they are playing at less than 100 percent or Denver has to go to backups, expect Olsen to make them pay much like Gronkowski just did.

6. In the ideal offensive grouping
Of all of the five-man WR/TE/RB combinations Carolina used for at least 25 snaps during the season, Olsen was part of all six of the ones that produced at least one touchdown, naturally. But keep an eye out Sunday for the most productive grouping: Olsen, Ted Ginn, Jerricho Cotchery, Corey Brown and Mike Tolbert. Together, their numbers when on the field with Newton are electric: 7 total touchdowns, 19 of 31 passing, 10.94 yards per pass attempt and 19 first downs on just 47 offensive snaps. A look at the five-man combinations with at least one score, by total TDs: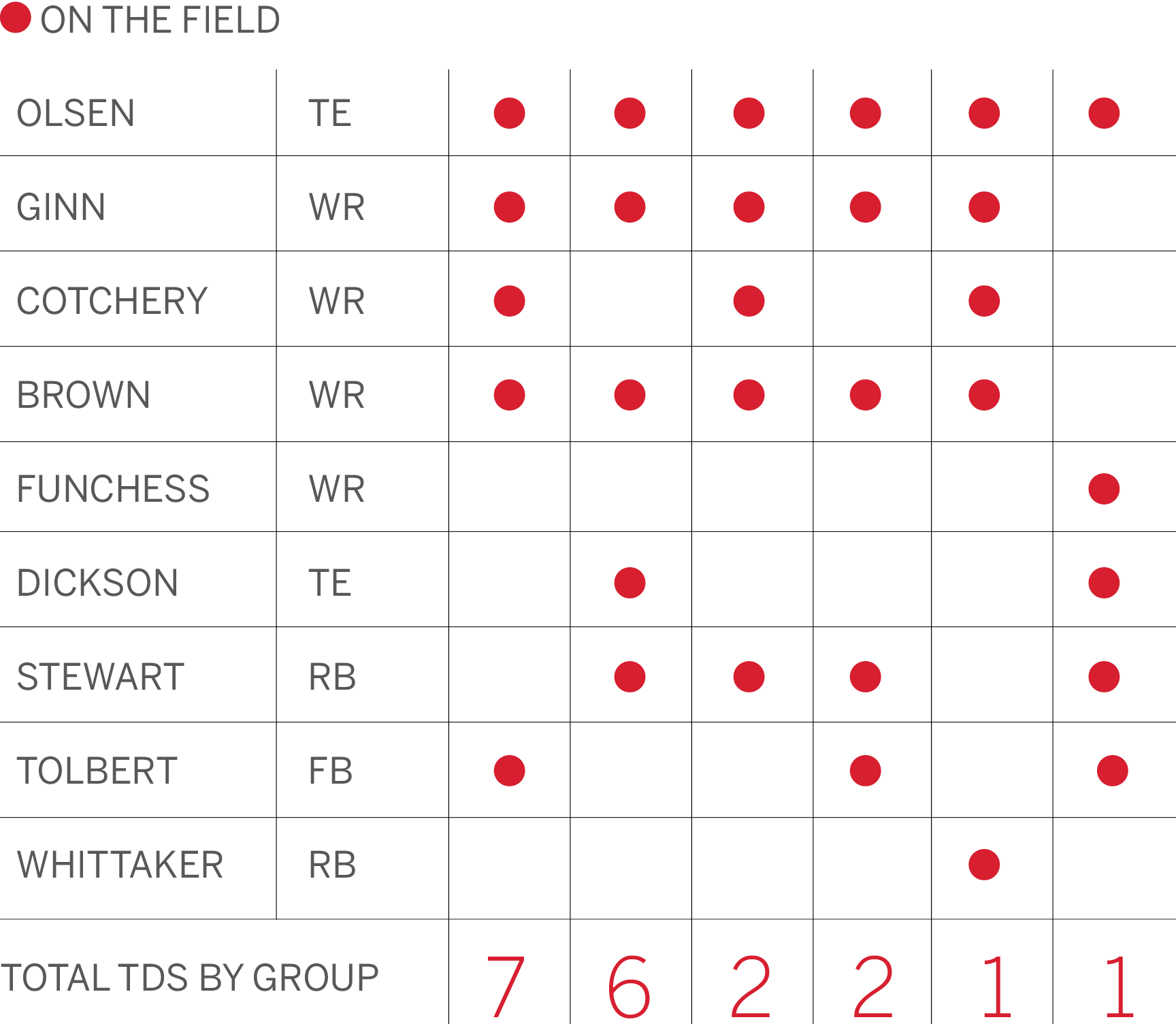 Red zone? Not so much
For all the ways Olsen has been productive, the one area where he seems least likely to be a factor is close to the goal line. Basically, Olsen helps move the chains and get the Panthers within striking distance, and then they turn to Newton (10 rushing touchdowns in the red zone), Jonathan Stewart (7 rushing TDs) or Ginn (6 receiving TDs). Olsen's total of four scores in the red zone was tied for fifth on the team with Tolbert. So even though he has a chance to impact the game, don't be surprised if Olsen gets passed over near the goal line. It's certainly been the trend this season.