Panthers reporter David Newton and Broncos reporter Jeff Legwold take an in-depth look at the Super Bowl 50 matchup between the Denver Broncos and Carolina Panthers.
DENVER BRONCOS
Regular season: 12-4
First place, AFC West
Beat Steelers 23-16 in divisional playoffs and beat Patriots 20-18 in AFC Championship Game
---
The Broncos carry a little history into Super Bowl 50. Denver's 11 victories by seven or fewer points -- regular season and postseason combined -- are the most by any team in the Super Bowl era.
The Broncos are also the first team to overcome a 14-point deficit and win against three teams that eventually made the playoffs. They did so with quarterback Peyton Manning starting nine games (7-2) and Brock Osweiler starting seven (5-2) in the regular season.
"Like I've said from the get-go, our defense has gotten us to this point," Manning said. "Let's make that very clear."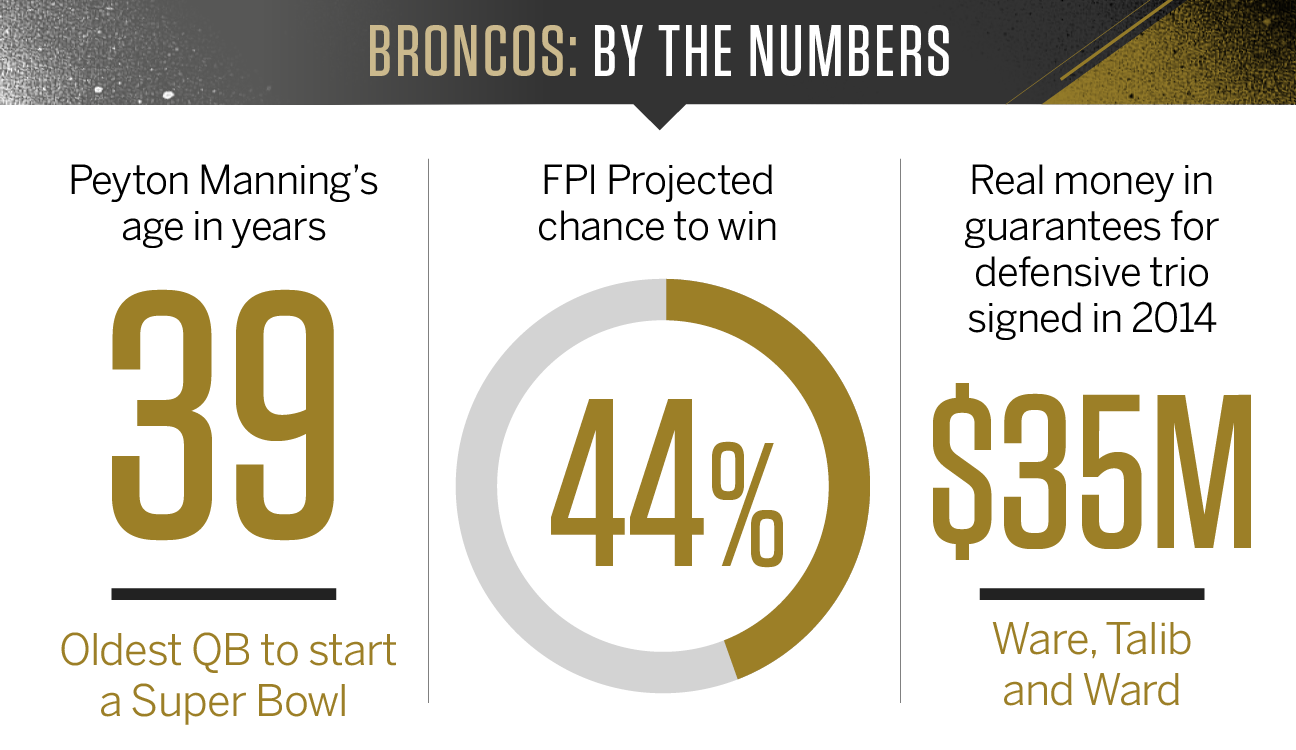 The Broncos have plenty of defensive star power. Quarterbacks have avoided throwing to receivers shadowed by Chris Harris Jr. or Aqib Talib -- both Pro Bowl selections.
Because of that, Bradley Roby is often targeted. Roby, who has the look of a future starter, has played as the team's third cornerback. He is such a good tackler that the Broncos have also used him at safety in the base defense. They call the look "single," as in one safety on the field.
When Roby holds up in coverage, the Broncos stop the run and their defense dominates.

Yes, Panthers quarterback Cam Newton, with his 45 combined touchdowns (35 passing, 10 rushing), is expected to be the league's MVP. But the Broncos' defense has been next-level all season.
The Broncos have beaten Joe Flacco, Teddy Bridgewater, Matthew Stafford, Aaron Rodgers and Jay Cutler to go with two wins over Philip Rivers and two wins over Tom Brady, including in the AFC Championship Game.
They beat five teams that made this year's playoff field. The Panthers beat just three but none since Nov. 8. Also, the Panthers allowed one 100-yard rusher (Jamaal Charles in Week 2). The Broncos surrendered a league-low 3.3 yards per rushing attempt.

A team that has walked the tightrope this long is bound to fall. If a handful of their close wins had gone the other way -- if the defense had not made play after game-changing play -- their season would've had a far different look.
Newton is also the multidimensional threat the Broncos have not seen this season. He has guided the league's highest-scoring offense to 31.3 points per game.
The Broncos' offense has not shown it can match that. The Panthers' defense has the kind of personnel and scheme that could consistently pressure Manning. They have a plus-20 turnover margin this season and lead the league in interceptions, with 24. The Panthers have the exact profile that gives the Broncos' offense the most trouble.

There are all kinds of rational reasons to pick the Panthers. The team is young and talented, with the impact player at quarterback in Newton.
But there is something about these Broncos. They win close games, they batter opposing quarterbacks, and they simply do not flinch -- no matter how tight the situation.
The Broncos also aren't just good on defense. They are game-wrecking good, and they have battered even the best quarterbacks the league has to offer and made them tentative in the pocket.
Toss in that Super Bowl 50 could well be Manning's "last rodeo," and the Broncos have both talent and inspiration. Broncos 24, Panthers 21. -- Jeff Legwold
---
CAROLINA PANTHERS
Regular season: 15-1
First place, NFC South
Beat Seahawks 31-24 in divisional playoffs and beat Cardinals 49-15 in NFC Championship Game.
---
The Panthers' season began with predictions of gloom and doom because star wide receiver Kelvin Benjamin suffered a season-ending knee injury in training camp. Forgotten was that Carolina had a defense ranked among the top 10 for three consecutive years. They Panthers had a healthy quarterback, Cam Newton, and a star tight end, Greg Olsen. They also had a reliable back, Jonathan Stewart, running behind a solid offensive line. The defense lived up to its billing once again, but what got Carolina to the Super Bowl was the emergence of Newton playing at MVP level. That the Panthers led the NFL in scoring (31.2 PPG) with the No. 6 defense created a magical season.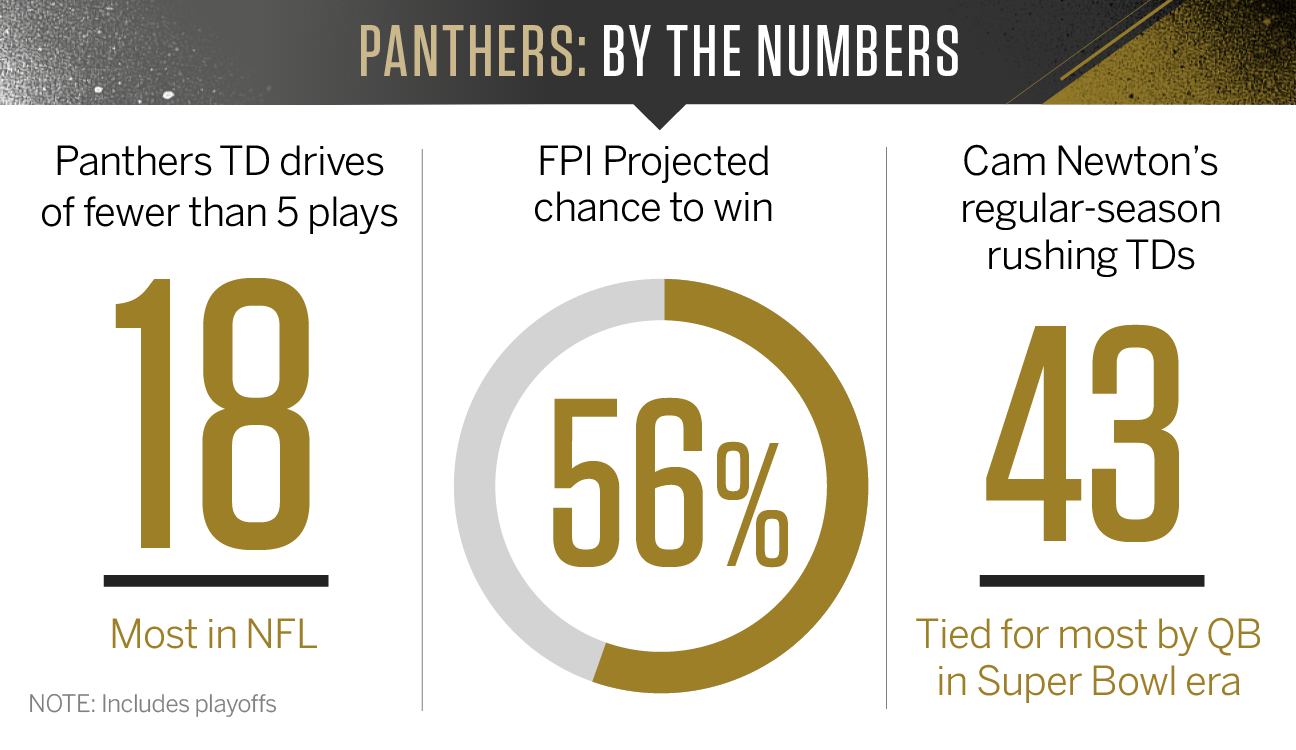 Don't overlook rookie wide receiver Devin Funchess. He was dubbed the heir apparent to Benjamin in training camp, but that never transpired because of the play of Ted Ginn Jr. (10 touchdown catches) and Philly Brown. Ginn and Brown made huge plays in the NFC title game, and their speed is always a factor. But Funchess, at 6-foot-5, is a big target with speed. He has only three catches for 33 yards in the playoffs, but one of those catches was for a touchdown. In the regular-season finale, he had seven catches for 120 yards and a touchdown. He's capable of going off at any moment.

The Broncos haven't faced a running quarterback like Newton all season. Newton had 10 rushing touchdowns during the regular season and two more in the NFC Championship Game. He won't be fazed by the league's No. 1 defense. He helped put up 31 points on Seattle's second-ranked defense in the first half of the divisional playoff game. He led Carolina to a rout of Arizona, which had the league's No. 5 defense, in the NFC title game. With the way the offensive line and receivers are playing around Newton, he is almost impossible to stop.

The Broncos have allowed only 64.5 rushing yards per game in the playoffs. They allowed only 83.6 rushing yards per game during the regular season. They need to make Newton one-dimensional and keep this close early. In the playoffs, the Panthers outscored Seattle and Arizona 55-7 in the first half. ... Then there's Manning. He has been a special player throughout his career, and this could be his swan song. His arm strength might be suspect, but so has been the Carolina secondary at times in the playoffs. That group has allowed four touchdown passes and an average of 276 passing yards per game.

The Panthers seem to have the "it" factor the Seahawks did two years ago, when they won the Super Bowl. The Panthers are built a lot like Seattle, with a strong running game designed around a dual-threat quarterback and strong defense. But what will decide this game will be turnovers. The Panthers forced seven in the NFC Championship Game and two in the divisional round. Luke Kuechly had an interception returned for a touchdown in each of those games. He's not a member of what the secondary calls "Thieves Avenue," but he should be. Panthers 24, Broncos 14. -- David Newton
---