NFL commissioner Roger Goodell received $34.1 million in compensation during the 2014 calendar year.
Goodell had a $3.5 million base salary, but he also received a bonus of $26.5 million, a figure that was determined in 2013. In addition, he received $3.7 million in pension and other deferred benefits and $273,000 in "other reportable compensation."
The information, obtained by ESPN.com, was included in a tax filing the league office submitted on Tuesday. The filing is public because the league has nonprofit status.
Goodell, who turns 57 on Friday, had his most challenging year at the helm in 2014, as he came under intense scrutiny for his handling of the Ray Rice, Greg Hardy and Adrian Peterson assault cases. Rice was suspended indefinitely after video surfaced of him punching his then-fiancée Janay, but an arbitrator reverted the punishment back to the two-game suspension Goodell had originally handed down and reduced Hardy's suspension from 10 to four games. Peterson's indefinite suspension was eventually reversed by a court.
In the nine years in which his commissioner salary has been disclosed, Goodell has made an average of $20 million a year and a total of $180.5 million.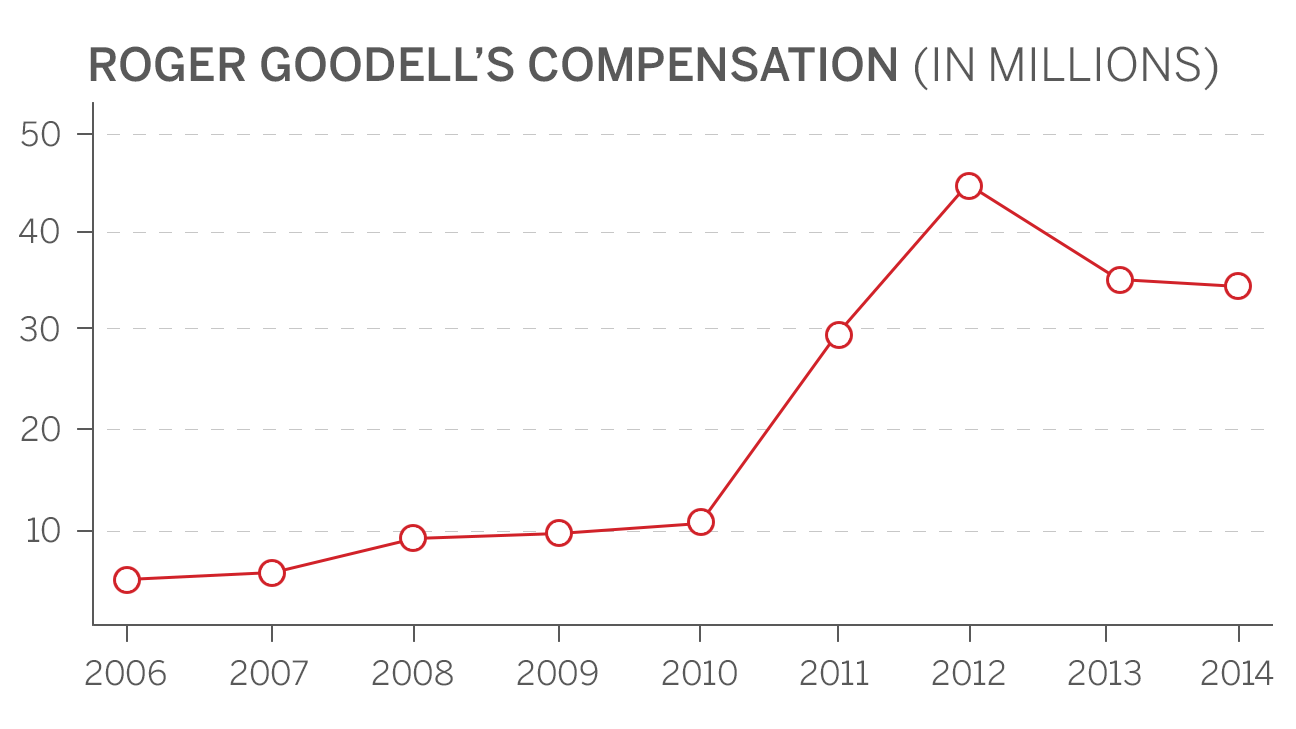 Goodell's salary can be seen as high or low depending on how one compares executive compensation to revenue. NFL revenues were about $11 billion in 2014.
In 2014, Nike CEO Mark Parker, for example, made $14.7 million off company revenues of $27.7 billion. But Yahoo's Marissa Mayer received $42 million in compensation in 2014, a year in which Yahoo pulled in only $4.6 billion.
The NFL has qualified as a 501(c)(6) nonprofit since 1942. That status means they don't pay taxes on revenue that comes into the league office, though they do pay it on everything else -- including TV rights fees, sponsorships and ticket sales -- as the teams themselves are taxed.
Last April, Goodell said that the league office would give up its tax-exempt status because it was "mischaracterized repeatedly" and "will make no material difference to our business." That also means that 2014 will be the last full year for which Goodell's salary will be public.