THE NFL HAS sponsored programs, implemented the Rooney Rule, counseled team owners and convened committees to address its diversity problem in the coaching ranks. None of it is working. Minority coaches are frustrated. The numbers explain why -- emphatically.
Teams have taken a chance on 21 first-time white head coaches and only one first-time minority head coach, Todd Bowles, over the past five hiring cycles (2012-16). The gap was an identical 21-1 nearly two decades ago, when the New York Jets made Herm Edwards the only first-time minority hire from 1997 to 2001.
It's as though team owners have reverted to previous form, undoing the historic gains driven by Tony Dungy and his coaching tree in the early 2000s.
"Remember the old thing [where they said] you can't win with a black quarterback?" a minority assistant coach asked. "It is almost like that for the coaches."
Various league initiatives -- led by the Rooney Rule, which required teams to interview at least one minority candidate when searching for a new head coach -- continue to address the symptoms, not the underlying issues:
80 of the NFL's current 85 offensive coordinators, quarterbacks coaches and offensive quality control coaches are white, including all 37 with the word "quarterback" in their titles.

23 of 32 defensive coordinators are white.
Those are crushing numbers for minorities considering how the hiring game is played: 94 percent of head coaches hired over the past 20 years (133 of 141) had been NFL coordinators, pro head coaches (including interim) or college head coaches previously.
The path to becoming an NFL head coach is clear. It is also largely unavailable to minorities, especially with Dungy in retirement. Dungy and his former assistants accounted for 43 percent of minority head-coaching hires over the past two decades and 39 percent since the Rooney Rule took effect.
"The good thing about the Rooney Rule was not that you had to interview a minority candidate but that it slowed the process down and made you do some research," Dungy said, "but now it seems like in the last few years, people haven't really done what the rule was designed for. It has become, 'Just let me talk to a couple minority coaches very quickly so I can go about the business of hiring the person I really want to hire anyway.'"
Minorities dominate coaching positions for running backs and, to a lesser degree, the defensive secondary, but whites fill the most upwardly mobile spots. Researchers at the Georgetown McDonough School of Business expounded on this subject in a study of coaching staffs from 1985 to 2012. They concluded in part that while teams do hire minorities for positions carrying a lower likelihood for promotion, white coaches gained promotions more readily even when researchers accounted for assistant coaches' initial and current NFL jobs.
Current minority coaches agreed to share their thoughts for this story in hopes they could raise awareness to effect positive change. They requested anonymity because they felt that speaking candidly for attribution could jeopardize future opportunities. Dungy felt no such restrictions in retirement.
First-time minority head coach hires
From 1997-2016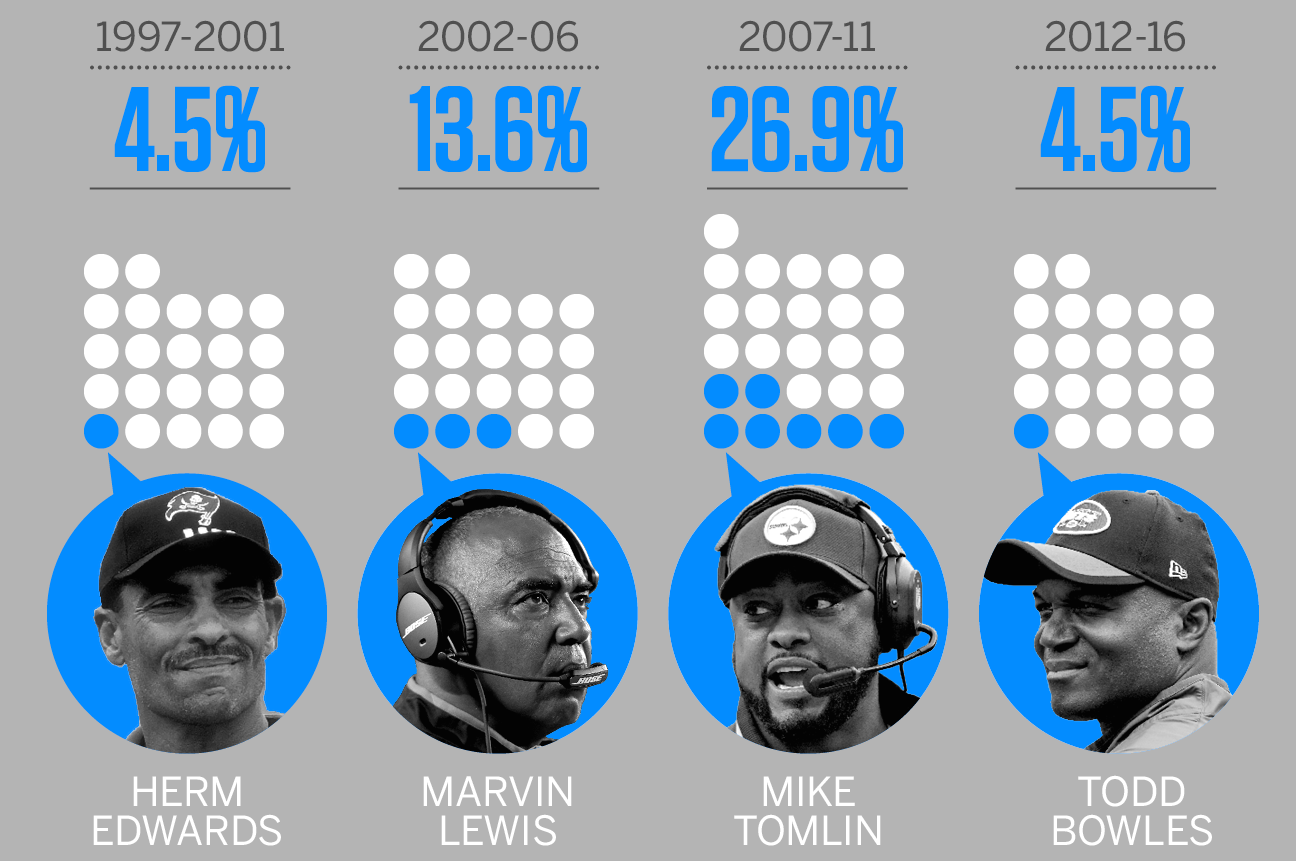 ---
ARIZONA CARDINALS COACH Bruce Arians hired minority coordinators on offense (Harold Goodwin) and defense (Bowles) when he took the job in 2013. (Bowles has since moved on to the Jets.) He added former NFL linebacker Levon Kirkland to his staff last season under a two-year coaching fellowship designed to help former players get into coaching. Arians cringed during a conversation at the NFL owners meetings in March when told teams had hired white head coaches 120 times in 141 chances over the past two decades.
"Those are staggering numbers," Arians said.
How staggering? Second-, third- and fourth-time white head coaches outnumber all minority hires by a 40-21 margin during that span.
Arians thinks the league should expand the Rooney Rule to include interviews for jobs as coordinators. (The rule was expanded in 2009 to cover "lead personnel executives," such as general managers.)
"You could expand the Rooney Rule if you wanted," a minority coordinator said, "but the problem is, they say, 'OK, we need a minority coach, and he coaches DBs, D-line, running backs, receivers. He does not coach quarterbacks, he does not coach offensive line.' Guys like Tony Dungy and Jim Caldwell have tried to put minority coaches in positions where they are next in line so they get an opportunity, but when you look at it, all the new hires were the offensive guys this past year."
Indeed, all seven head coaches hired in 2016 had backgrounds on offense. Five were coordinators last season, and Mike Mularkey went from assistant head coach/tight ends to interim head coach in Tennessee. A seventh, Chip Kelly, was a head coach last season. Six of the seven head coaches hired in 2015 had defensive backgrounds, but two were already head coaches in 2014 (John Fox and Rex Ryan), four were coordinators, and the seventh, Jim Tomsula, was an outlier as a career defensive line coach who appealed to the San Francisco 49ers as an agreeable in-house successor to Jim Harbaugh.
"For most of the black guys, they give you raises and not promotions," a prominent minority coach said. "They put money in your pocket to keep you right there to handle that position group. You usually will take it because you have nowhere to go."
About one-third of NFL coaches are minorities, while about two-thirds of NFL players are African-American. This imbalance creates dynamics rarely discussed publicly. Some white assistants say they've been told teams could not hire them because the head coach sought a minority for a certain position. One prominent minority NFL coach said he still gets calls from college programs saying they would like to hire him explicitly because the head coach needed minority representation on staff, presumably to help with recruiting.
"It is not as bad in the NFL," this minority coach said, "but you'd better have some guys who can relate to the black players on the team or you are going to have a hard time."
All minority head coach hires
From 1997-2016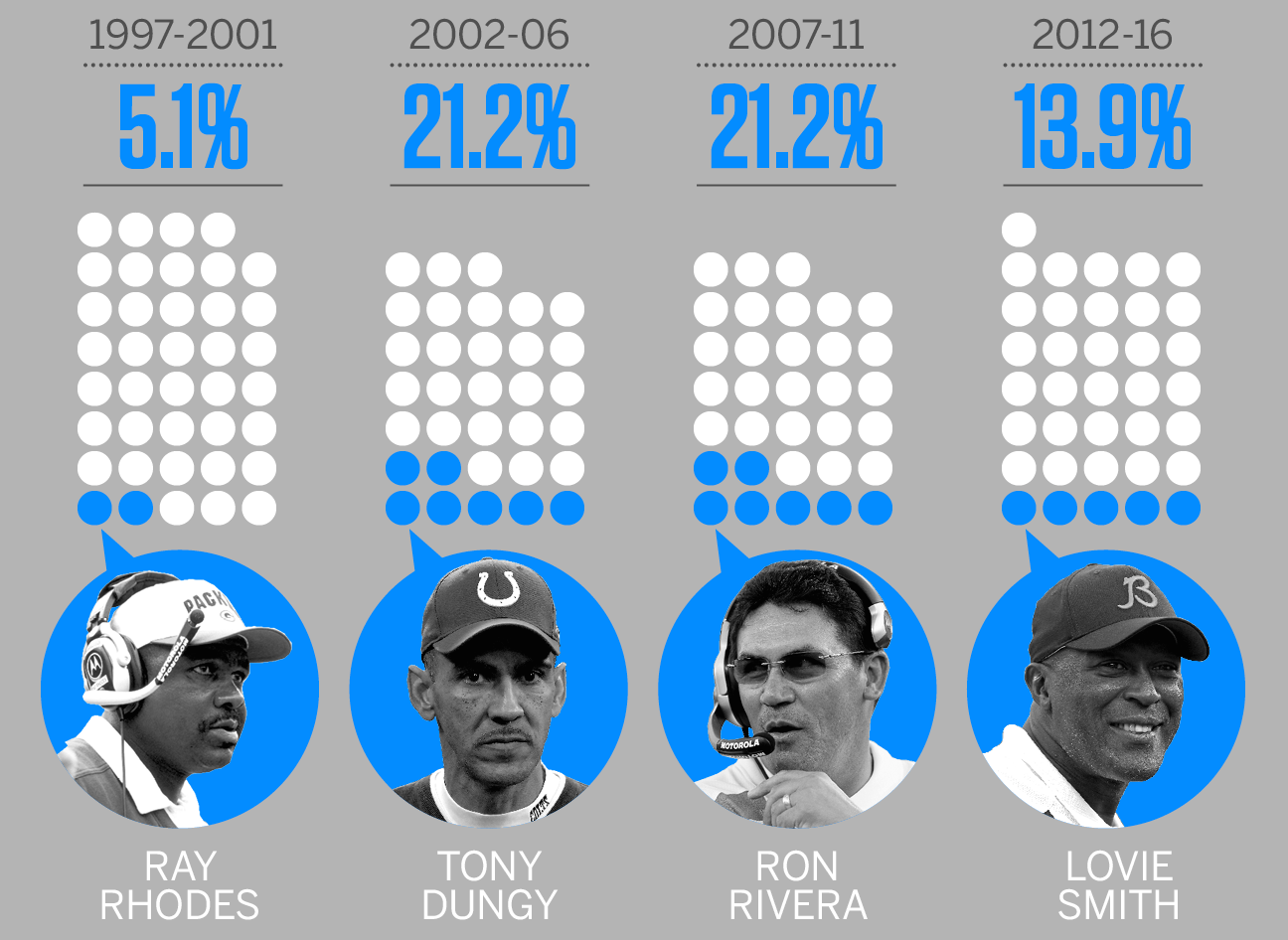 ---
WHEN THE EAGLES hired Doug Pederson as head coach this offseason, minority coaches noted that Pederson had never been a primary NFL playcaller. Would a minority coordinator receive the same consideration in the absence of having held play-calling responsibilities?
This year, all five minority offensive coordinators work under offense-minded head coaches who get most of the credit (and blame) for how their units perform. Goodwin works under Arians in Arizona. Edgar Bennett works under Mike McCarthy in Green Bay. Curtis Modkins works under Chip Kelly in San Francisco. Mike Sullivan works under the New York Giants' Ben McAdoo. Terry Robiskie works under Mike Mularkey in Tennessee. Robiskie is the only one of these five expected to call plays in 2016. At 61, he is also oldest of the four. (A sixth prominent minority assistant, Pep Hamilton, is associate head coach/offense for Cleveland.)
"This is Modkins' second time as a coordinator and both times he has been with offensive head coaches," a minority assistant said. "And the first thing everybody is going to say is, 'Well, he doesn't call the plays.' Well, Doug Pederson did not call the plays with Kansas City. Everybody knows Andy Reid calls the plays, yet Doug Pederson was able to get a job."
Raheem Morris and Mike Singletary became first-time minority head coaches without ever being the primary playcaller (both were on the defensive side), but their teams promoted them from within. Both already had relationships with the people who hired them as head coaches, clearing a huge hurdle from the process. The same was true for Pederson. He was an Eagles assistant under Reid from 2009-12 and played for the team in 1999. The Eagles' familiarity with him was obviously important.
"In life, you are probably going to do things with people who you know," another minority assistant said. "The coaching business is no different."
"For most of the black guys, they give you raises and not promotions. They put money in your pocket to keep you right there to handle that position group. You usually will take it because you have nowhere to go." Prominent minority coach
Minority coaches also took note this offseason when the Miami Dolphins hired Adam Gase, who was coming off a 6-10 season with Chicago. They wondered how many team owners would have gone outside the organization to hire a minority coordinator coming off a losing season
"Teryl Austin had a good season a couple years ago, and then last year when the Lions did not have a great year, he falls off the face of the earth," a minority coach said of Detroit's defensive coordinator. "An African-American will never get [a head-coaching job] if we have a bad record, ever. We have to go two years in a row to be considered serious, and then after that, if you don't have a good record, you might as well forget it."
Mike Tomlin, Marvin Lewis, Leslie Frazier and Singletary became first-time minority head coaches while coming off losing seasons, but there were special circumstances. Dan Rooney, namesake for the Rooney Rule, was the one to hire Tomlin. Singletary and Frazier were interim head coaches who earned promotions from organizations that knew them well and sought continuity. Lewis, meanwhile, still had cachet when the Bengals hired him in 2003 from coordinating the Ravens' record-breaking defense in 2000.
"Everybody will tell you, it is a damn game to try to get with these owners and figure out what they want," a minority coach said. "Sometimes they want what the fans want or the media wants -- an offensive guy or maybe an experienced guy, which rules out a lot of candidates, especially minority candidates. We don't care as long as it is even. But when there are different standards applied, then that doesn't sit well. It is part of our reality, but it doesn't sit well."
NFL head coaches' previous jobs
Hires from 1997-2016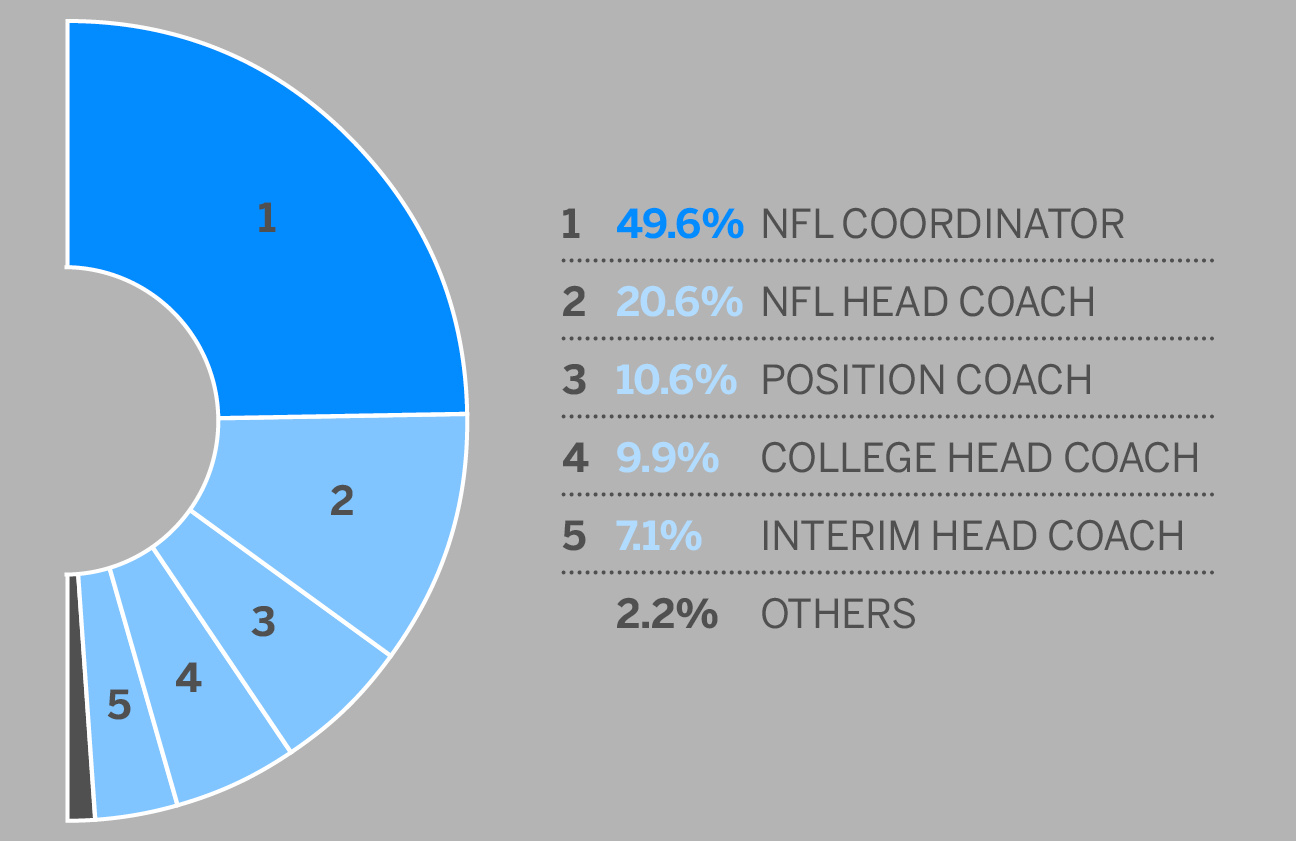 ---
DUNGY'S HALL OF FAME legacy extends beyond the dominant defense he built in Tampa Bay and the Super Bowl his Indianapolis Colts won. It extends beyond a .668 career winning percentage that ranks between Paul Brown and Bill Belichick on the NFL's all-time list (minimum 100 games coached). Dungy also blazed trails. He and his assistant coaches fueled a surge in minority representation within the head-coaching ranks as Lovie Smith, Edwards, Caldwell and Tomlin rose to prominence.
While Dungy's enshrinement in Canton next month provides an opportunity to celebrate this legacy, it's also a reminder that perceived progress in minority head coaching hires had more to do with Dungy's coaching tree than with the Rooney Rule driving a shift in how teams operate.
"The process now probably is not that much different than it was in '97 or '98, unfortunately," Dungy said.
Eight of the 21 minority head-coaching hires since 1997 involved coaches who either entered the NFL on one of Dungy's staffs or had worked on his staff previously. A ninth involved Dungy himself, with the Colts naming him their head coach in 2002 (Tampa Bay hired him in 1996). As noted earlier, that means we can trace back to Dungy 43 percent of minority head-coaching hires over the past two decades.
Caldwell, Smith and Tomlin entered the league on Dungy's staffs. They have become head coaches a combined five times. Edwards was on Dungy's Tampa Bay staff when the Jets hired him in 2001. Edwards became a head coach for the second time with Kansas City in 2006. Frazier had been on Dungy's staff in Indianapolis five years before Minnesota promoted him to the top job in 2011.
"They were all under that tree and I'm sure Tony had a hand in [their hiring]," a minority coach said. "Those were when the Tampa 2 thing was hot and he was responsible for a bunch of them, but overall, for the rest of us, it wasn't really possible."
This minority coach made another distinction, suggesting darker-skinned African-American coaches can have a steeper hill to climb, a phenomenon Georgetown University sociology professor Michael Eric Dyson recently analyzed for The Undefeated regarding Golden State Warriors guard Steph Curry.
"I'm not as light as Dungy," this coach said. "There is a different element of racism there. There is racism, and then there is dark-skinned racism. There are layers, now. It goes deep. You'd better be spit-shined and polished, your teeth had better be white, you'd better be well-groomed and you'd better sound intelligent and see everything around you. Then, on top of that, you'd better be a damn good coach."
A longtime NFL executive who has participated in the hiring process with multiple teams said owners look to make safe choices. Dungy's credibility enabled his former assistants to break through partly on his recommendation. Owners recently have been more apt to hire minority candidates who have been head coaches previously. Second-time minority head coaches Romeo Crennel, Caldwell, Hue Jackson and Smith account for four of five minority hires since 2012.
"In a way, it is good that those guys have been second-timers and they roll into the system so that they are treated like everyone else," Dungy said. "That is progress. But in looking at the numbers overall, we have shifted back to some old hiring practices."
Percentage of minority coaches, 2016
Excludes non-football personnel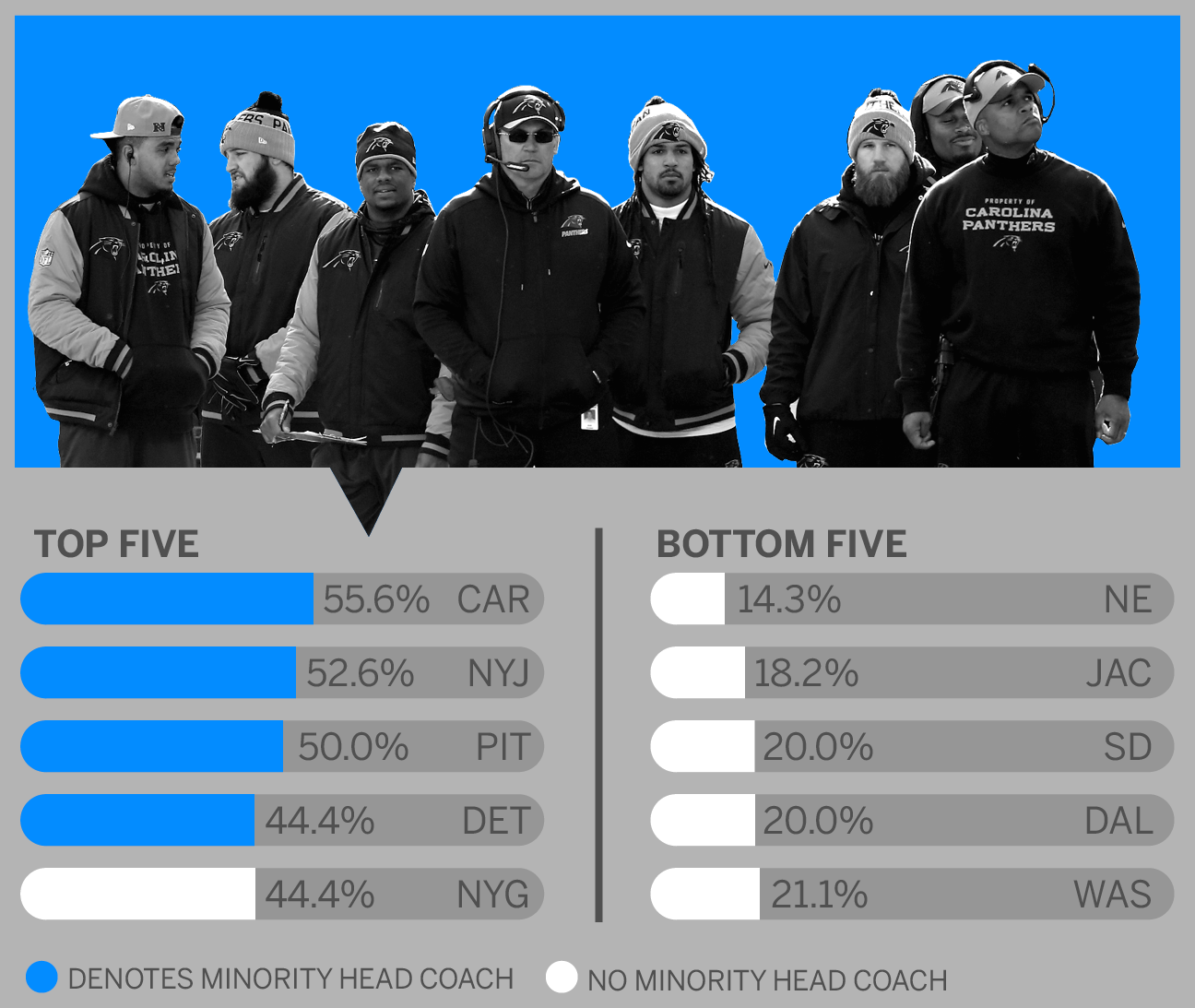 ---
THE PANTHERS, JETS and Steelers are the only teams with coaching staffs composed of at least 50 percent minorities this season. All three have minority head coaches, but five of their six offensive and defensive coordinators are white. This is not an anomaly. The minority head coaches hired over the past 20 years filled their initial staffs with minority defensive coordinators 11 times in 21 chances, beating the 30 percent rate for white head coaches over that span. However, these same minority head coaches started out with white offensive coordinators 76 percent of the time.
Sometimes it's not permitted or simply impractical for new head coaches to replace existing coordinators. Dungy and Caldwell, for example, both inherited Tom Moore, the Colts' offensive coordinator and Peyton Manning's right-hand man. Arians was already on the Steelers' staff and in line to become coordinator when Rooney hired Tomlin in 2007.
Of course, it's tough to hire minority offensive coordinators with so few candidates in the offensive pipeline. Twenty-six of 28 head offensive line coaches are white. All 28 quarterbacks coaches are white, as are all four assistant QB coaches and five others with some oversight of the position. Eighteen of 19 coaches responsible for offensive quality control are white (the lone minority, Rock Cartwright of the Cleveland Browns, is also assistant running backs coach).
"Remember the old thing [where they said] you can't win with a black quarterback? It is almost like that for the coaches." A minority assistant
There are 29 minority running backs coaches (three white) and 17 minority receivers coaches (16 white). One of those minority running backs coaches, Craig Johnson, was a longtime quarterbacks coach and a former college offensive coordinator. He is now 56 years old and coaching running backs for the New York Giants under McAdoo, whose NFL career path took him from offensive quality control coach (2004) to offensive line coach (2005) to tight ends coach (2006-11) to quarterbacks coach (2012-13) to offensive coordinator (2014-15) before McAdoo became a head coach at age 38.
Becoming an offensive or defensive coordinator is the game within the game. Teams have employed white offensive coordinators about 85 percent of the time over the past 20 years. The rate has been closer to 75 percent white for defensive coordinators, not far off the two-thirds ratio of all NFL coaches who are white this season.
Why does this matter? Thirteen of the 36 head coach hirings over the past five years were offensive coordinators in their previous jobs, while eight were defensive coordinators. Fourteen of the remaining 15 (all but Tomsula) held head-coaching jobs at the college or pro level, including interim NFL head coaches.
"I have talked to a bunch of owners over the past 10 years who were looking for coaches and saying, 'I have to get somebody to get my offense going,'" Dungy said. "And you say, 'Well, if I were copying someone, wouldn't I copy New England or Seattle or Pittsburgh? That might tell you that you don't have to have the hottest offensive coordinator to win Super Bowls."
Percentage of minority coordinators
From 1997-2016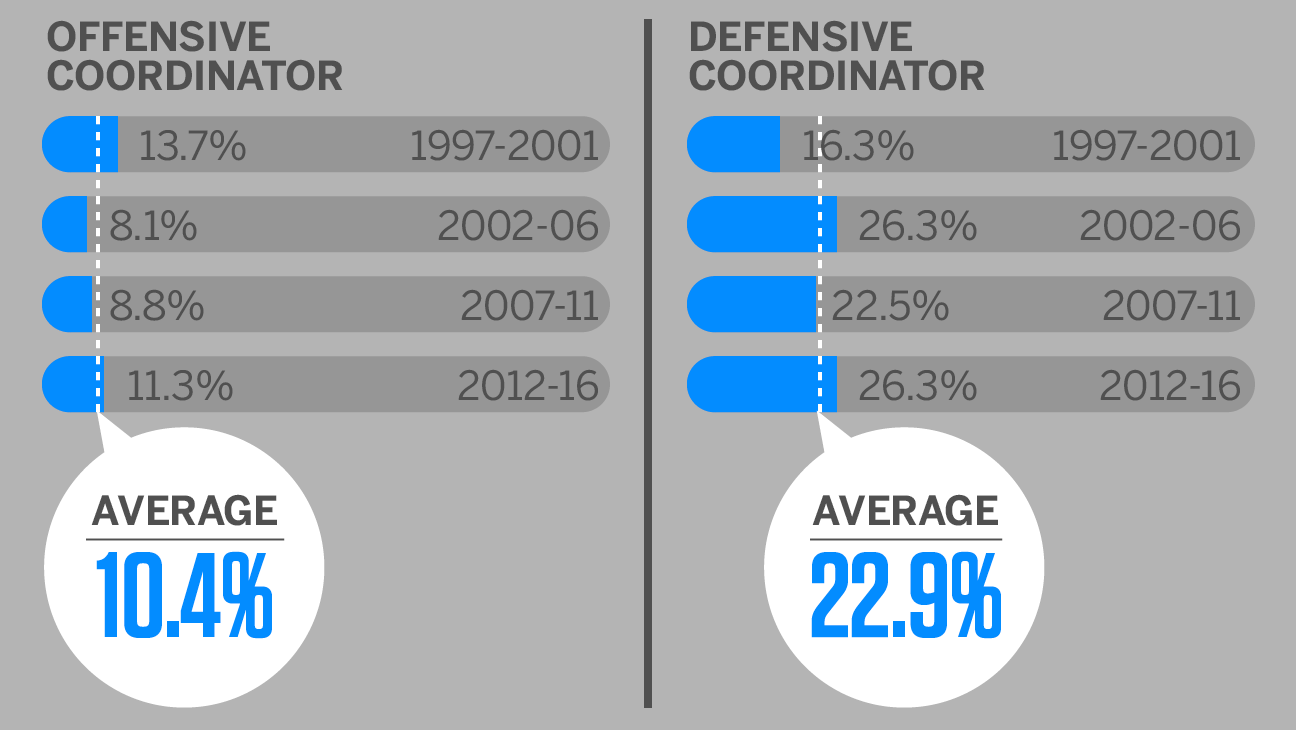 ---
ONE OF THE speakers at a recent NFL symposium for potential GM candidates told attendees the Steelers have outlined three primary characteristics the team seeks in a head coach. They want their guy to possess a commanding presence, good communication skills and strong character. Being able to assemble an appealing staff also can be pivotal, according to team executives. Two minority coaches who have interviewed for head-coaching jobs said they went into the process feeling their chances would suffer if their proposed coaching staffs appeared heavy on minority assistants.
"The first thing they are going to say to me is that I am hiring my friends," one of these minority coaches said.
Dungy called Rooney "unique" for his willingness to research each head-coaching hire with the right qualities in mind. Bill Cowher and Tomlin were not scorching-hot candidates when Rooney hired them. Cowher, though prominent at the time, remained available in 1992 while the other four teams with vacancies filled those jobs. The Steelers then arranged to re-interview Cowher and two other finalists before making the hire on their timetable.
"Too frequently, we don't look at leadership, we don't look at getting the most out of people, we don't look at bringing people together and staffs together -- all those things that you need to be a head coach," Dungy said. "It is an inexact science. It is done in an inexact way. Look how long it took Bruce Arians to get a head-coaching job; it is not just with minorities.
"But I think when you are a minority coach, you have even that added burden, or added handicap of not always being highly publicized. For owners who do not know what they are looking for, it is much easier to say, 'Well, I'll take Candidate A because at least everybody knows him and everybody will say this is a good hire.'"