The Washington Redskins paid $75 million in April to sign cornerback Josh Norman, who said he chose Washington because they are a "team on the rise." Seems like a logical explanation. But if you could get Odell Beckham Jr. of the New York Giants to theorize about Norman's motivation, he might cite two other reasons: Norman's disdain for Beckham himself and the attention sparked by their burgeoning rivalry. That rivalry will be rekindled when they line up against each other Sunday at MetLife Stadium, following a heated matchup last season and an offseason of back-and-forth sniping.
The numbers say they are both elite. Beckham's 25 receiving touchdowns since the start of 2014 are tied for the most in football, and Norman allowed an NFL-low 54.0 passer rating in his coverage area last season per Pro Football Focus. But their on-field accomplishments are partially overshadowed by their very public feud. A look at how we got here and what to expect:

The Previous Matchup
When Beckham and the Giants faced Norman and his former team, the Carolina Panthers, last Dec. 20, the game was a 38-35 thriller won by Carolina. Although Norman didn't cover Beckham exclusively, he was part of a defensive effort that shut out the Giants' All-Pro in the first half (0 catches on two targets). Beckham exploded in the second half, catching six passes for 76 yards, including a 14-yard score in the final two minutes. Norman finished with three tackles and a forced fumble. It's hard to say that either player got the best of the matchup overall -- it was a tale of two vastly different halves for Beckham, as his numbers show: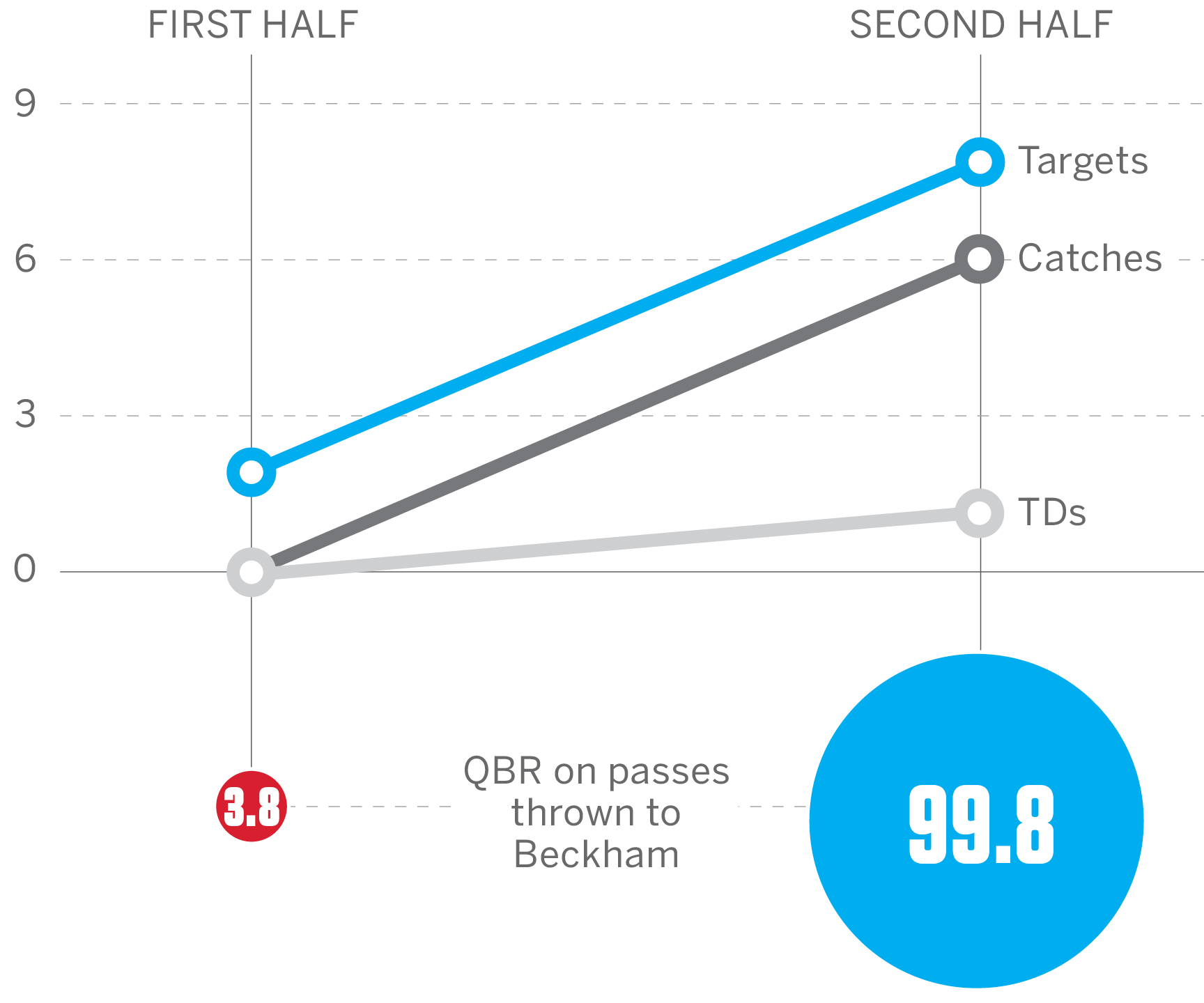 ---
The normally dependable Beckham also had a big problem with dropped passes in the December game. He dropped two targets in the first half, equaling his drop total for the rest of the season. Hard to pinpoint the reason why, but it's something to watch for Sunday. A look at the disparity: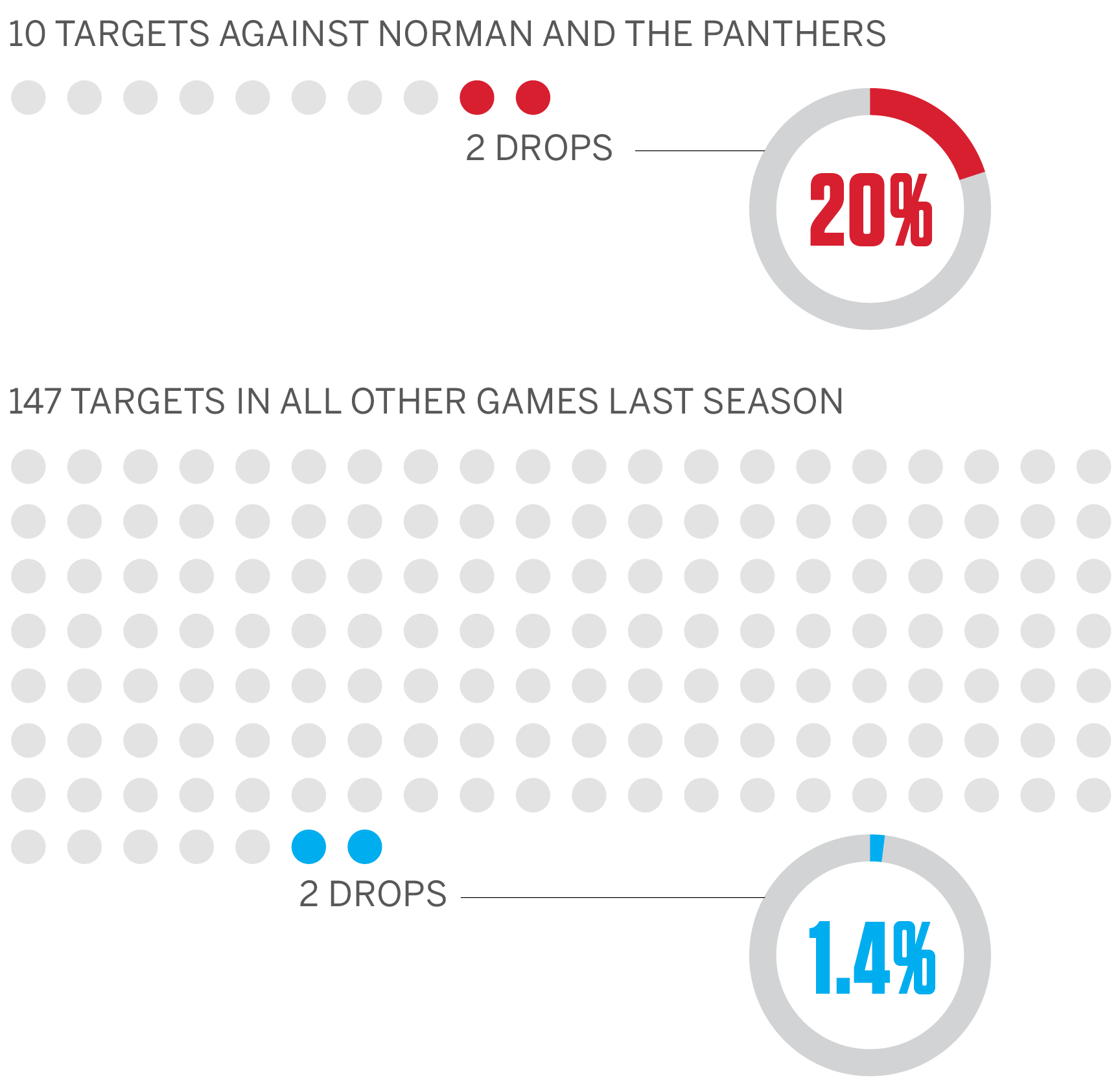 ---
They tangled repeatedly, with Beckham drawing four penalties (three of which were personal fouls). Officials chose not to eject him, but the league later levied a one-game suspension. The NFL also hit Norman with two separate fines for his role in the incidents.

The Twitter Fight
As the season finished up for both players, the bad blood persisted and eventually went public with a handful of tweets between them. Beckham's Twitter following: over 1.5 million users. Norman's follower count, while not in that range, is still more than 150,000. The social media chapter of the dispute started during the playoffs, when Beckham posted an eyeball emoji just after Norman allowed a touchdown to Jermaine Kearse in a playoff win over Seattle:
🌾👀🌾

— Odell Beckham Jr (@OBJ_3) January 17, 2016
Things escalated in late March, when Beckham made what appeared to be a subtweet about Norman -- and Norman fired back less than an hour later.
That boy should thank me for all I've done for you !!! Your welcome tho ... Lol

— Odell Beckham Jr (@OBJ_3) March 25, 2016
@Obj_3 As your boy @Drake would say "trigger finger turn to Twitter finger's" huh?
I'm not Guna sub Tweet you Ima @ You.
So wassup?

— *Joshua R. Norman (@J_No24) March 25, 2016
The pair of tweets ignited social media for a day or two, with mentions of both players skyrocketing. Beckham averaged one Twitter mention every 6 seconds in the hour right after their exchange. Here's their hourly mentions on Twitter, as provided by social media data company Spredfast: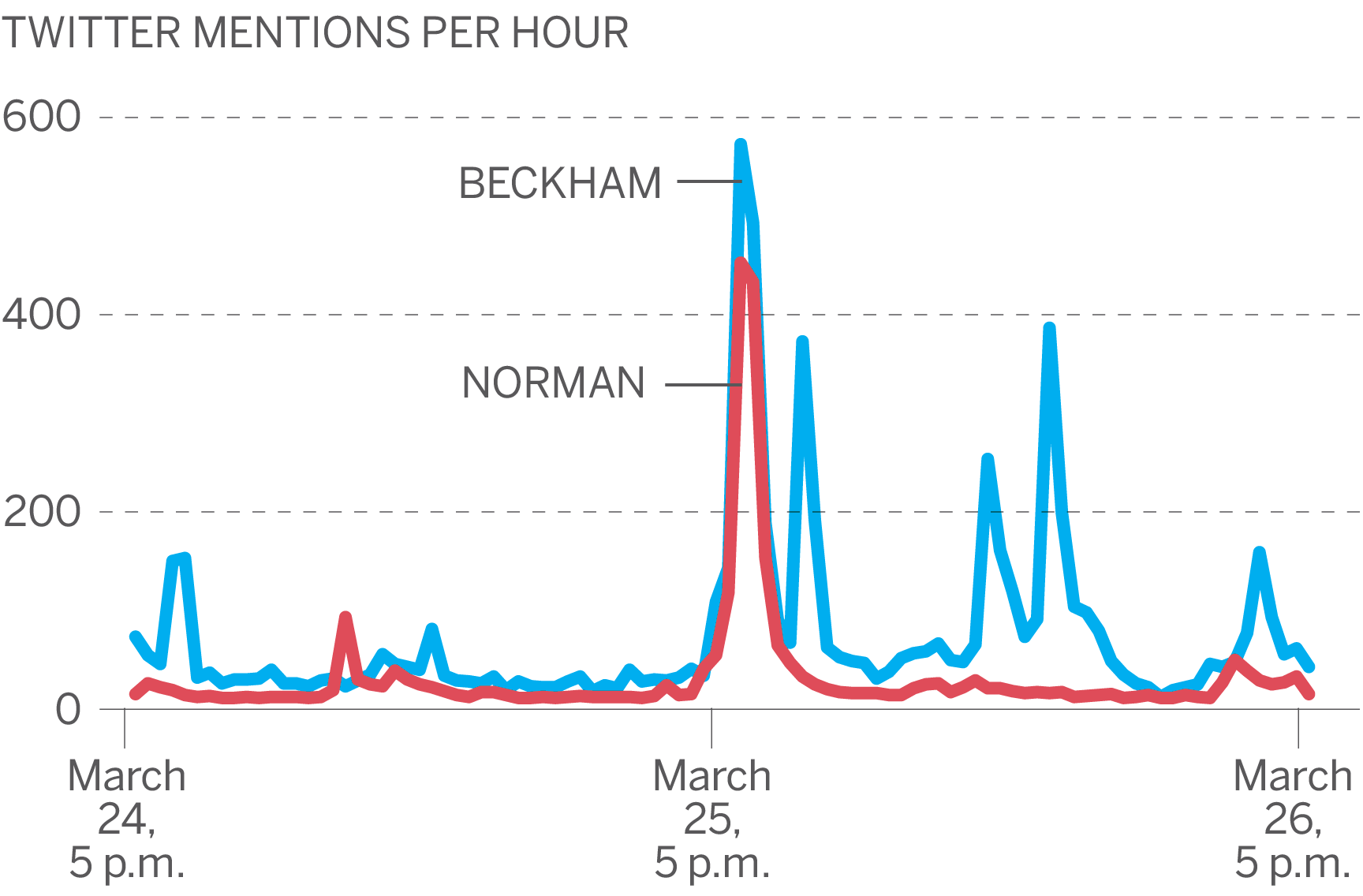 The War of Words
As the summer began, their feud moved to the next phase: taking direct shots at each other in interviews. Beckham got things started in the August issue of GQ, when he sounded off after being asked about Norman. The sentiment, that Norman owes Beckham for his current fame, echoed what Beckham wrote in his tweet from March:

Norman, never one to shy away from a verbal challenge, responded to the comment in various interviews (including the NFL Preview issue of ESPN The Magazine). A few of his choice words for Beckham:




Quote sources from top: 1 | 2 | 3 | 4 | 5

Tale of the Tape
How do they match up? By looking at their measurables from the NFL Combine, it's clear that Beckham is a tough draw for any defensive back. His hands and wingspan are impressive for a player his size, along with his leaping ability. No wonder he's known for circus catches. But Norman counters with big-time height and wingspan, and his speed is nothing to sneeze at.

Who Has the Edge?
Time to turn to the experts for insight on how things will unfold in Round 2. We asked a pair of ESPN.com NFL reporters, who follow these two stars on a regular basis, about which player will have the best performance Sunday. Here's what they said.
---
Jordan Raanan | Giants reporter
"The Giants should, at times, try to keep Beckham away from Norman by putting him in the slot. He played there 21 percent of the snaps last season and it's for this reason the Giants cross-train their receivers. They're trying to create the most favorable matchups possible, and in this case, that means Beckham vs. someone other than Norman. But when they do match up as Norman follows him around the field, expect Beckham to produce. Norman was unable to run with Beckham during last season's matchup. If not for several uncharacteristic drops, Beckham would have easily topped 100 yards receiving and scored two touchdowns directly against Norman. And this isn't just any other game. It's one Beckham has extra motivation to shine, especially after last year's matchup and last week's key dropped pass in the fourth quarter, which left him with a bitter taste in his mouth despite the team's victory."
---
John Keim | Redskins reporter
"It sounds as if Norman will shadow Beckham, but what's often said early in the week doesn't quite play out that way on Sundays. So we'll see. Carolina moved Norman around in last year's matchup, but he mostly played zone. Still, it prevented New York from knowing they could easily avoid Norman's side. Norman is off to an excellent start through two games, and when paired vs. Beckham in zone, I think he'll do well. Norman plays physical, a good strategy vs. Beckham. Really, the key for Norman will be how his help fares -- the Redskins have struggled with safety help and drop by others in coverage, leading to big gaps. Norman's ability to play tight and anticipate throws has led to multiple breakups. If it's man coverage, Norman will have to rely on help downfield, but he's good at taking away routes. Beckham, though, beat him for one touchdown with a double move last season -- and dropped a deep ball that would have been a TD earlier in the game."