This story appears in the latest issue of ESPN The Magazine, on newsstands Nov. 4.
No one could recall the last time the Dallas Cowboys spent much, if any, time meeting with and working out quarterback prospects for an upcoming draft.
Each NFL team is allotted 30 pre-draft visits to be used however they want, and Dallas never felt much of a need to use them on quarterbacks. After all, the Cowboys had Tony Romo. But in 2016, with Romo 36 years old and repeatedly injured over the past few years, Dallas brought in a whopping seven QBs before the draft. Jared Goff, Carson Wentz, Paxton Lynch, Christian Hackenberg, Jacoby Brissett, Connor Cook and Dak Prescott all showed up in Dallas.
Thus started a string of moves that all but made certain they'd end up with a quarterback -- a quarterback NOT named Dak Prescott.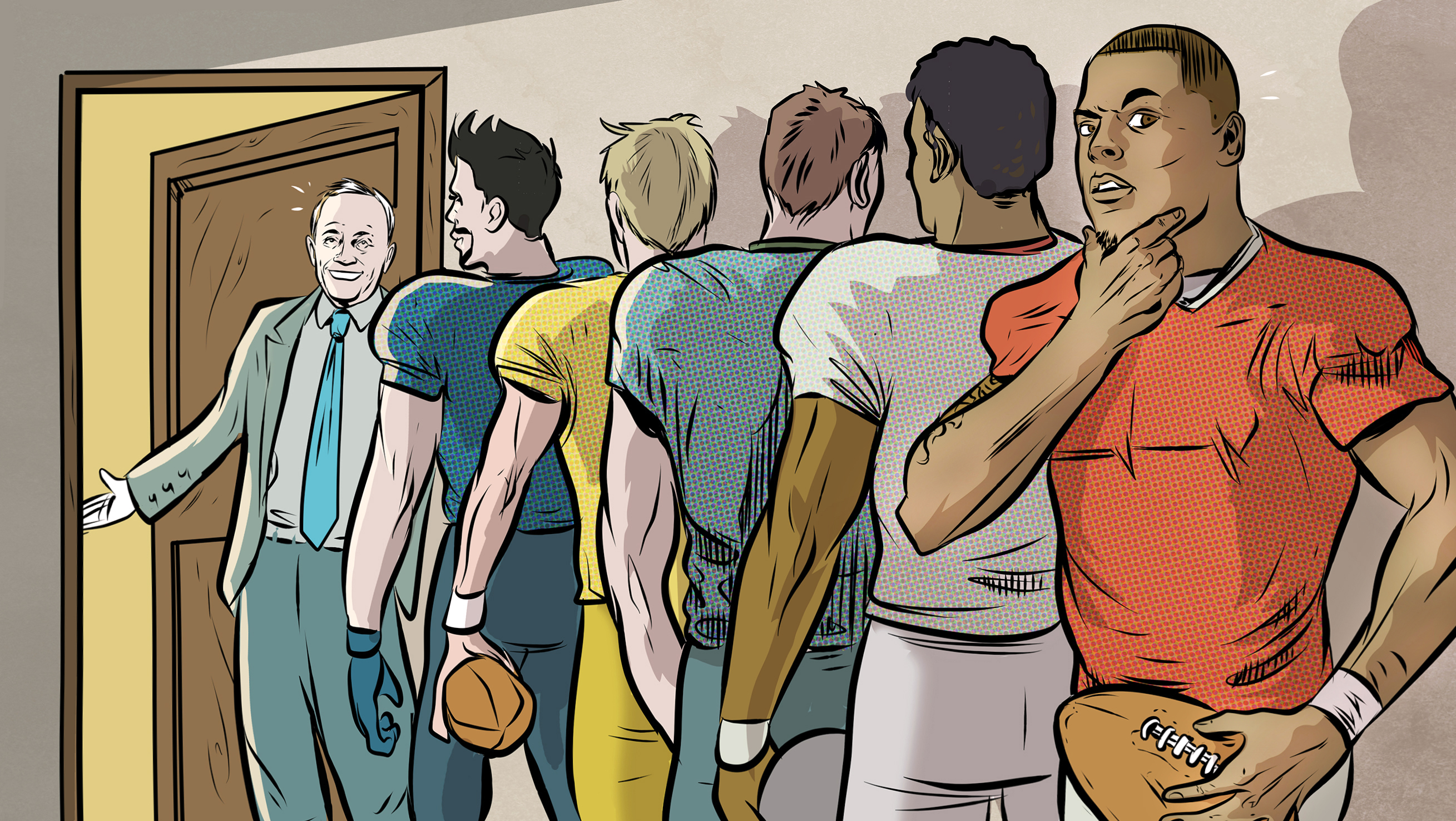 Draft Day 1, Thursday, April 28: Dallas and Paxton Lynch
Seattle sat in an ideal position, near the back of the first round, pick No. 26. Any team that wanted a quarterback, along with the ever-valuable five-year contract given to first-rounders, would want to trade into the bottom of the first round. The Seahawks sat back and waited for offers. Two teams called: Dallas and Denver. Each wanted to move up. Each wanted Lynch, the strong-armed QB out of Memphis.
For Seattle's first-round pick, Dallas offered its second- and fourth-round selections. Denver offered a first and third. The conversations went back and forth until, finally, Cowboys vice president Stephen Jones personally called Seahawks general manager John Schneider to make one final push. The Seahawks told Jones in a cordial and matter-of-fact tone, according to one Seattle official, "It's got to be a three or we're not going to do it."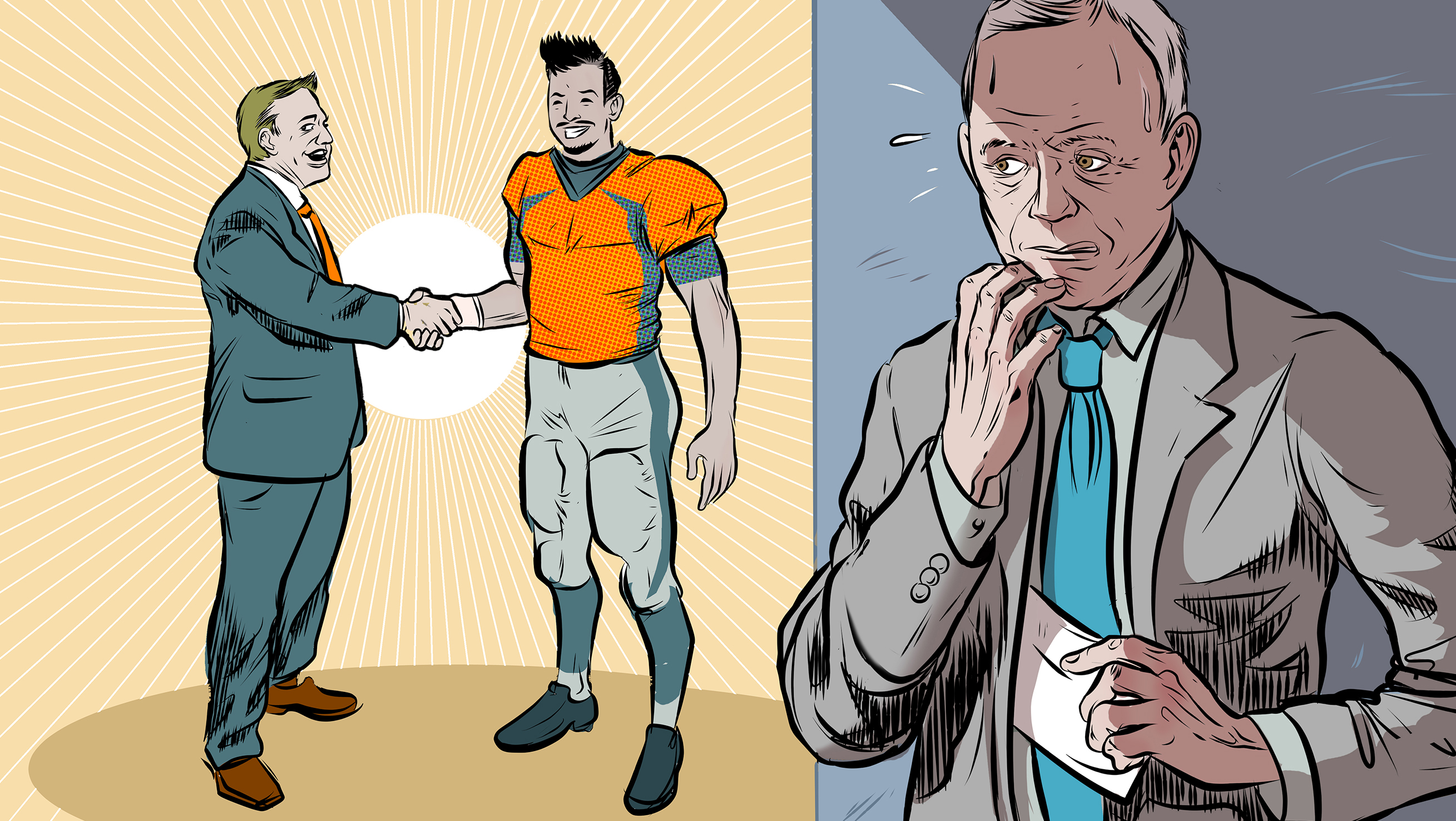 Dallas wouldn't budge. The next day, owner Jerry Jones lamented that he was unable to trade up to get the quarterback the Cowboys coveted: "I'm not gonna go jump from Dallas' tallest, so let's put this in perspective ... but if I had to do it all over again? I'd give the three."
Draft Day 3, Saturday April 30: Dallas and Connor Cook
Having already selected USC quarterback Cody Kessler in Round 3, Cleveland didn't need to use its fourth-round pick (No. 100 overall) on another quarterback. So the Browns listened to offers. Once again, Dallas jumped into the fray. Haunted by failing to land Lynch, the Cowboys had their eye on Michigan State quarterback Cook. Cleveland sat back and listened, and then took the best offer -- from Oakland.
"I was pretty surprised," Cook told reporters soon after. "I think Dallas was interested and they were trying to trade up."
Stung by being beaten out to another quarterback, the Cowboys used the very next pick, No. 101 overall, on Oklahoma defensive end Charles Tapper. Finding a quarterback would have to wait ... but not much longer. At the back end of Round 4, with a compensatory pick in the 135th draft slot, Dallas selected Prescott.
Tuesday, Aug. 2: Dallas and Nick Foles
Romo's backup, Kellen Moore, broke his ankle at the end of practice on Aug. 2. A mild case of panic ensued. Dallas saw last season destroyed by a lack of capable backups, and now, still unsure about Prescott, they searched for a capable veteran. Fortunately for the Cowboys, the Rams had released their former starting quarterback, Nick Foles, just five days earlier. Even better, Foles' agent also represented Cowboys coach Jason Garrett and offensive coordinator Scott Linehan, among others in the organization.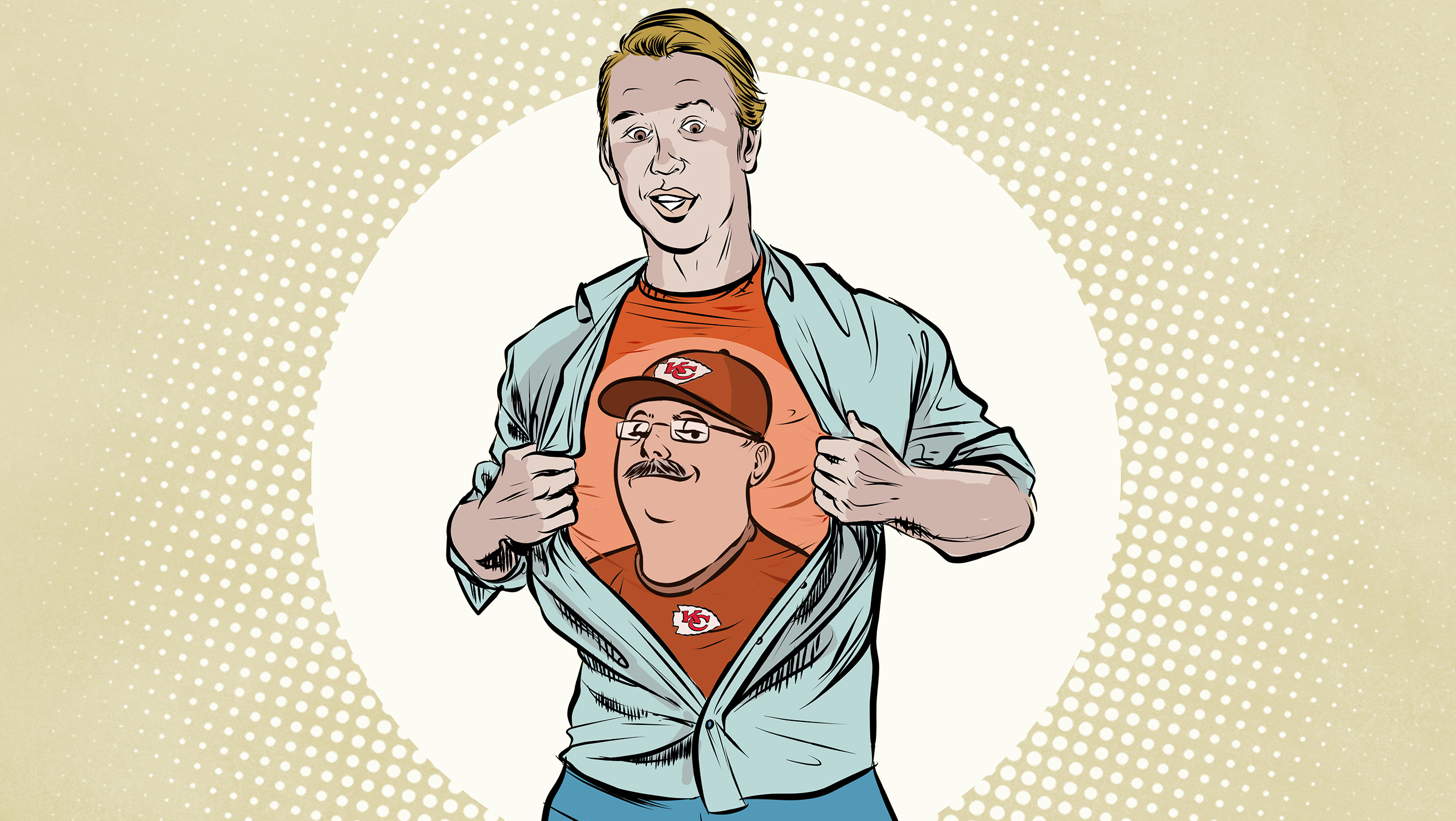 Dallas and the Rams had discussions about a potential Foles trade in the weeks and days leading up to the draft. But the Cowboys were never willing to part with a late-round pick while having to take on Foles' contract. It was too much all the way around. Now Foles was free. Dallas didn't have to compensate the Rams and it could construct a favorable contract for Foles.
But there was a problem. Even without a clear role, Foles wanted to play only for Kansas City Chiefs coach Andy Reid, Foles' former coach in Philadelphia. Even with four QBs on the roster, the Chiefs beat out Dallas.
Later that week: Dallas and Josh McCown
After striking out with Foles, Dallas called Cleveland to see about the availability of veteran quarterback Josh McCown. Dallas viewed him as someone good enough to back up Romo and win games if Romo got hurt again.
The price, however, was a problem. Cleveland wanted a second-round draft pick for McCown. Dallas never considered parting with the pick, despite the obvious need. Talks broke off.
Thursday, Aug. 25: An understated injury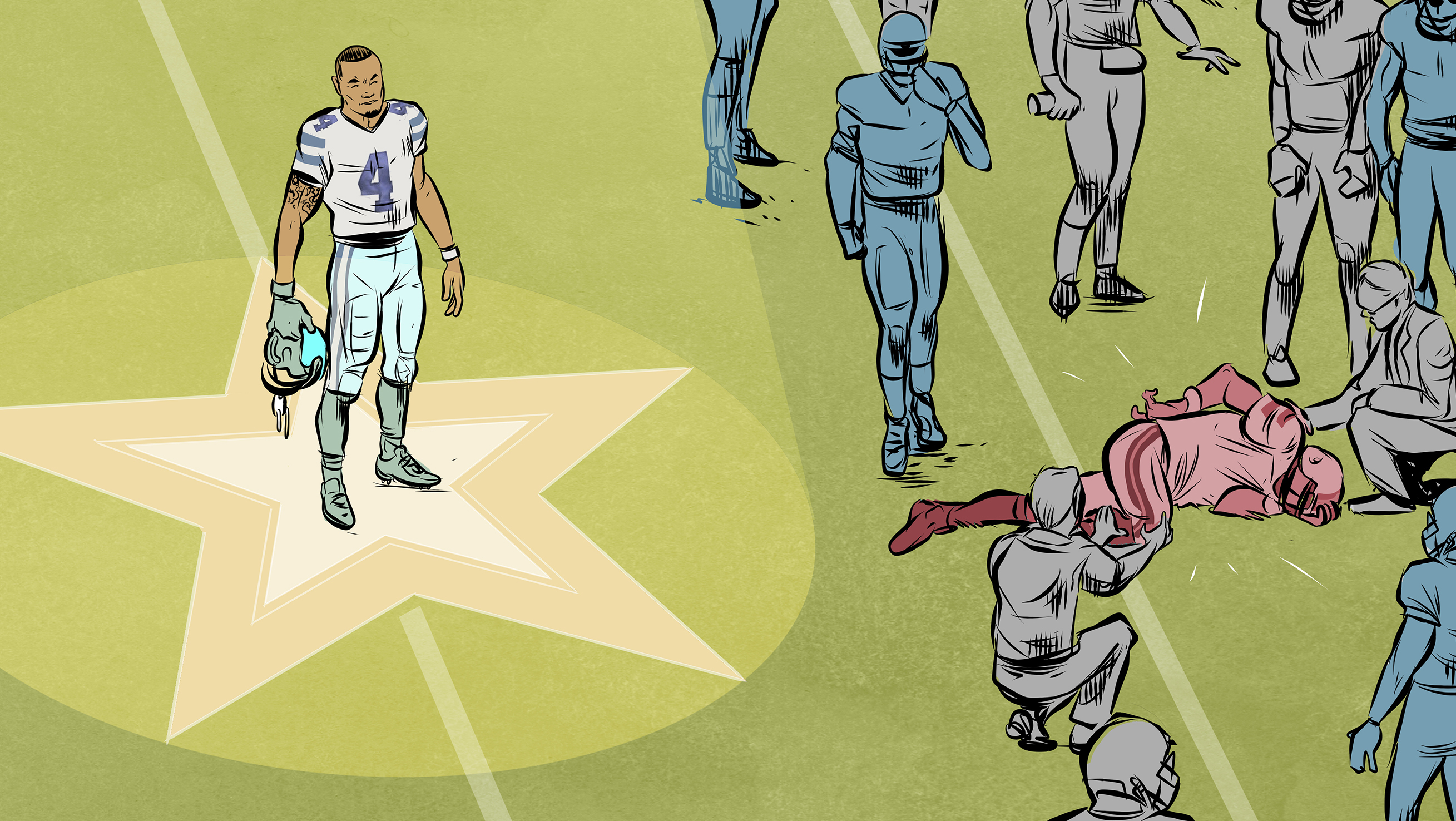 Tony Romo fell to the ground, hard and awkwardly. This was his first game back after his injury-marred 2015 season, his third snap of the game, the first real contact he endured. Seahawks defensive end Cliff Avril chased Romo and jammed him into the ground. Dallas' medical staff came out to help him, but after reaching for his lower back upon being hit, Romo insisted on walking off the field without help.
Romo fought with Cowboys coaches to go back into the game. No one thought the injury was severe.
Saturday, Aug. 27: No options left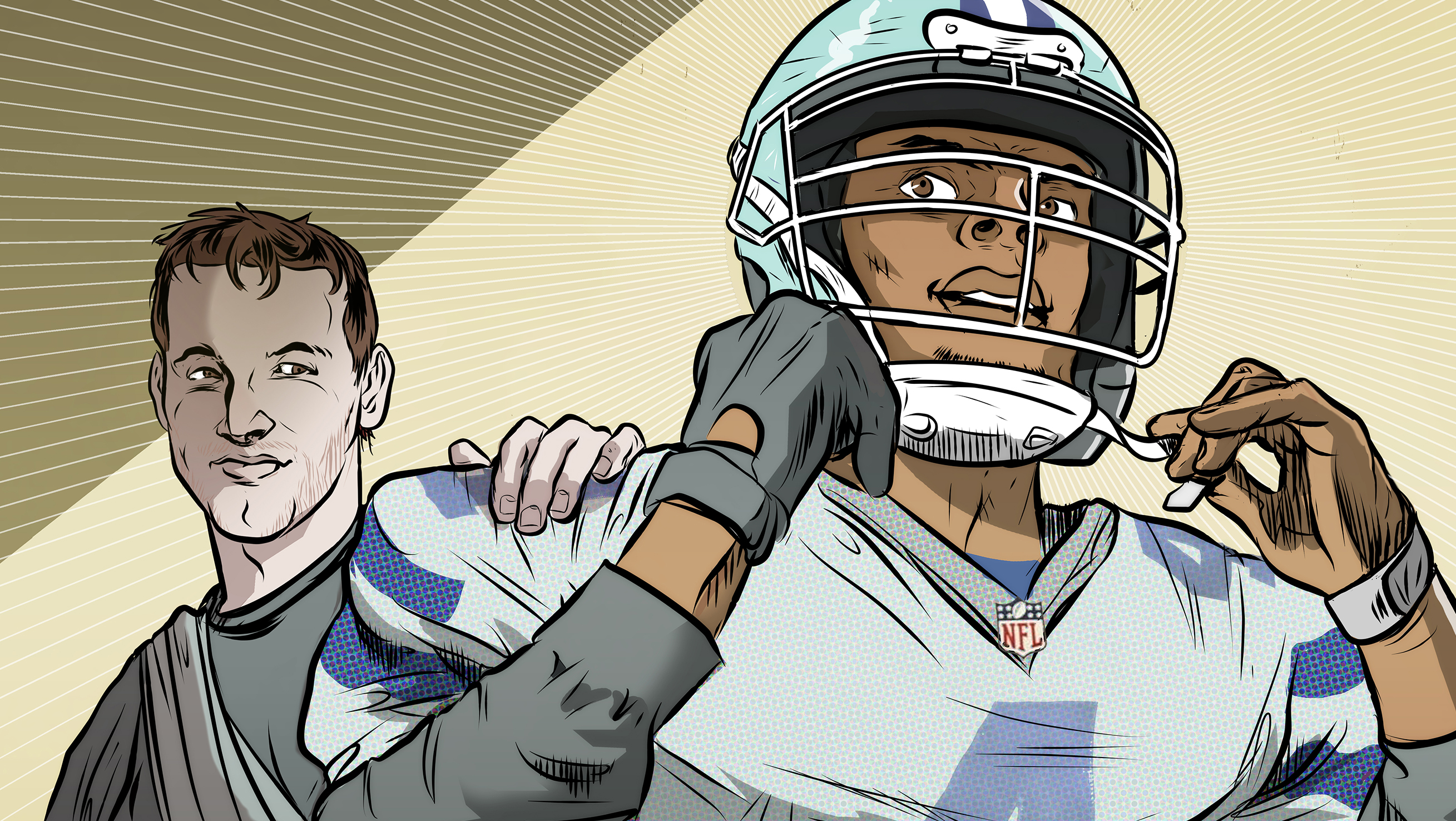 The Cowboys announced that Romo broke a bone in his back. He had a compression fracture that was expected to sideline him 6-10 weeks.
After attempts to draft Lynch and then Cook ... after trying to trade for Foles and then McCown ... the Cowboys were forced to give first-team reps to rookie fourth-round pick Prescott.
They'd tried everything, but the season was less than two weeks away, and they had no other choice.
Illustrations by Rafa Alvarez