The Dallas Cowboys have one of the NFL's top offenses -- via DVOA, EPA or any other advanced metric you choose -- and we all know why.
They found a shockingly efficient rookie quarterback in the fourth round of the draft.
Or is it because their rookie tailback is leading the NFL in rushing?
And let's not forget how much easier it is to play quarterback and running back behind an offensive line as strong as the Cowboys'.
How much is the Cowboys' success this season is a result of quarterback Dak Prescott's poise and precision? What about Ezekiel Elliott's league-leading 891 rushing yards? And would any of it be possible without an offensive line that is on its way to helping a third different runner to a 1,000-yard season in as many years?
The numbers, courtesy our weekly assist from ESPN Stats & Information senior statistics analyst Jacob Nitzberg, tell us a story of co-dependence and mutual enhancement.
It all starts, as they say, up front. There aren't many ways to quantify offensive line play in a direct way. Usually we rely on scouts, who overwhelmingly have praised the Cowboys' efforts, or look at the passing and rushing numbers they help produce.
ESPN's analytics department has developed a pass protection metric that tracks the rate at which an offensive line controls the line of scrimmage on dropbacks. (A fuller explanation can be found here.) The Cowboys rank No. 2 overall this season, one of 10 teams that have controlled the line on more than half of their passing plays.
Best pass protection rate, 2016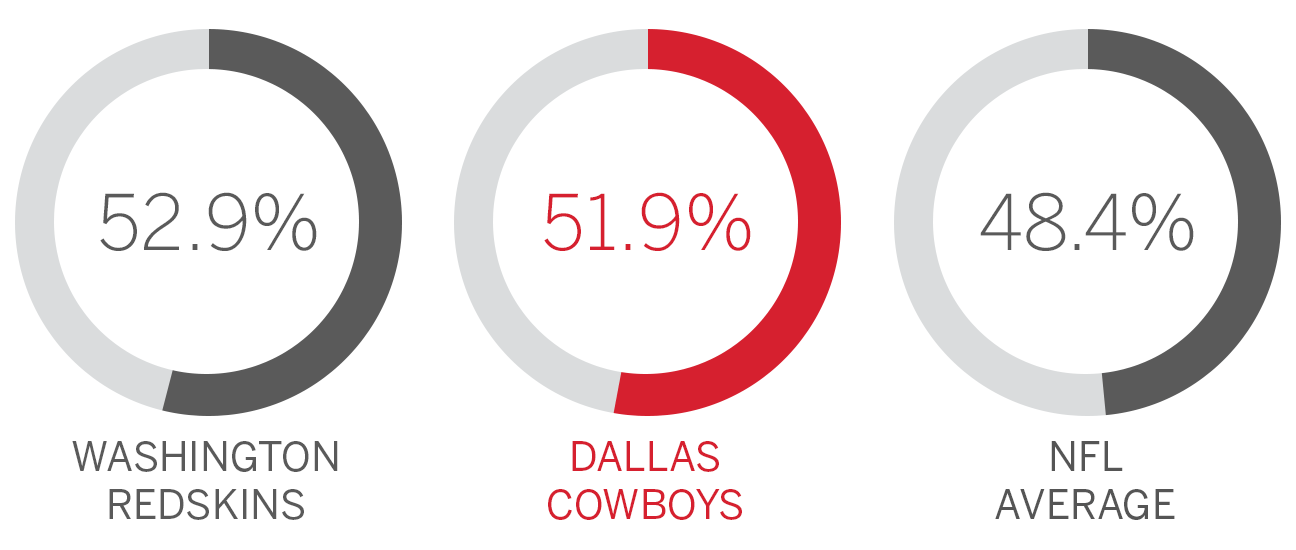 One of the ways that rate has helped Prescott is to allow him a relatively long time in the pocket to find open receivers and make good decisions. This season, Prescott has spent more time per throw in the pocket on average than all but one qualified NFL quarterback.
In the Cowboys' 35-10 victory over the Cleveland Browns in Week 9, Prescott spent an NFL-high 2.59 seconds on average in the pocket. He has finished a game below the NFL average (2.28 seconds) only once this season, when he averaged 2.26 seconds in the pocket during a 24-17 victory over the San Francisco 49ers in Week 4.
Longest average time in pocket, 2016 (in seconds)

With enough time to stand in the pocket, Prescott has been able to establish himself as one of the NFL's most accurate downfield throwers.
He struggled in a Week 1 loss to the New York Giants, missing on eight of 10 passes that traveled at least 15 yards in the air. During the Cowboys' ensuing seven-game winning streak, however, he has been lights out.
No quarterback has completed such passes at a higher rate than Prescott over that period; his completion percentage of 68.4 on throws of at least 15 yards in the air is 25 points above the league average.
Best completion percentage on passes thrown 15-plus yards downfield, Weeks 2-9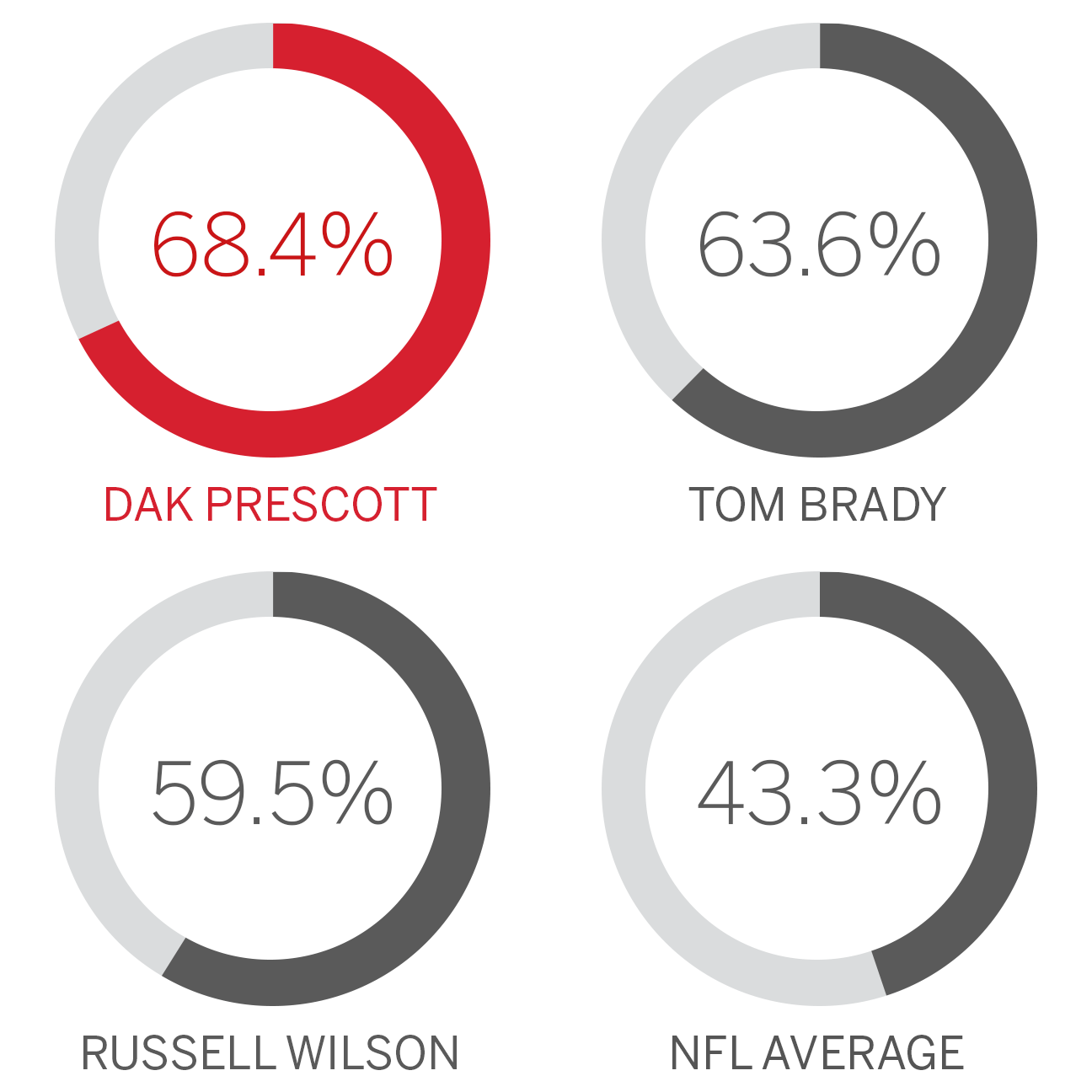 That accuracy is a credit to Prescott, as is his performance on the occasions when opponents do pressure him. That has happened more often than you might think. Despite controlling the line of scrimmage at a high rate, the Cowboys' line has still allowed Prescott to be pressured on 27.9 percent of his dropbacks -- slightly above the league average of 26.3 percent.
But Prescott hasn't wilted under the heat, producing a 54.8 Total Quarterback Rating when pressured -- fourth highest in the NFL and almost twice the league average.
Naturally, it helps when opposing defenses must modify their pressure and account for the NFL's leading rusher on most plays. Elliott has rushed for more yards in the first eight games of his career than all but two running backs. And he has a chance to break Eric Dickerson's rookie record for rushing yards in a season (1,808).
Most rushing yards, first eight NFL games

Is Elliott doing this on his own or is he a product of a Cowboys' line that helped a declining Darren McFadden to eclipse 1,000 yards last season? Let's call it a combo platter.
Elliott leads the NFL in yards before contact, which generally speaking implies the consistency of strong blocking. But he is also atop the league in rushing yards after contact, which are a credit to the runner.
It helps that Elliott has gotten 177 opportunities to carry the ball this season, second most in the league, but you get the point.
Most rushing yards before contact, 2016

The constant threat from Elliott helps Prescott in plenty of ways. Many are intangible, but at least one can be quantified.
Prescott has the NFL's second-best completion percentage on play-action passes. Those passes still require an accurate throw, but it is no doubt easier to complete when defenders are as drawn to Elliott as they are.
Best completion percentage on play-action, 2016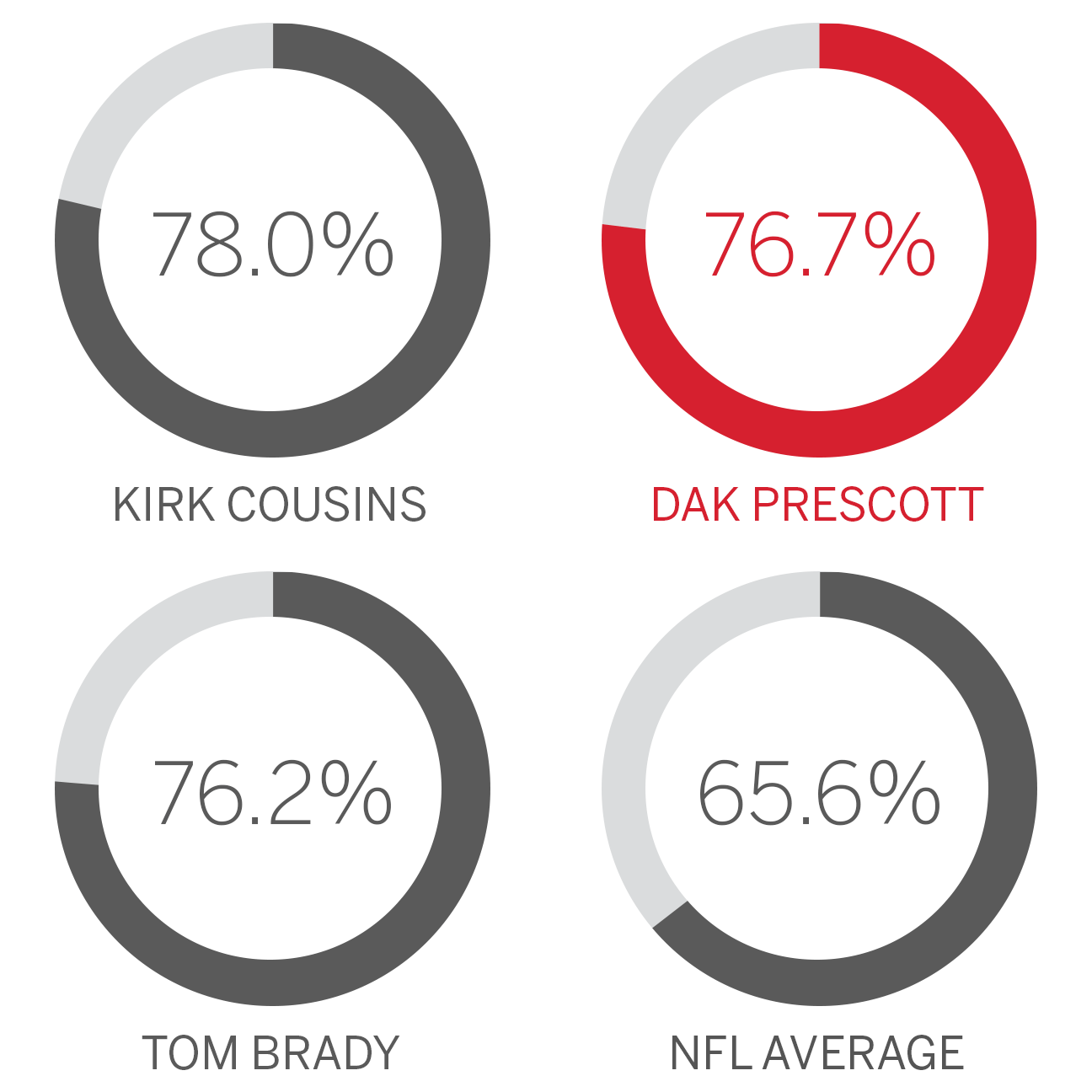 And that, my friends, might be as close as we can get to an understanding what is making this Cowboys offense work. It is a little bit of everything, complementing each other in just the right way.