Tom Brady started his 262nd career game on Sunday (including playoffs), and as has become commonplace over the past 16 seasons, he left the field with his team on top. Add up all of Brady's wins, and you'll now get 201, more than any other quarterback in the history of the NFL, surpassing Peyton Manning's NFL record of 200.
How did he do it? Let's dive into the numbers.
The quarterbacks he beat the most
Brady has collected more than one-fifth of his victories -- 43 of 201, or 21 percent -- against six opposing quarterbacks. That includes 11 victories against Peyton Manning, four more than Brady has claimed against any other starter. Manning, Philip Rivers and Ben Roethlisberger are on the list as fellow AFC starters with great staying power. Ryan Fitzpatrick, Chad Pennington and Mark Sanchez appear as current/former AFC East rivals.
Andrew Luck just missed the cutoff for appearing on this list; Brady is 5-0 against Luck's teams. That makes Luck and Rivers a combined 0-11 against Brady. Their cumulative record against all other QBs? 145-96 (.602).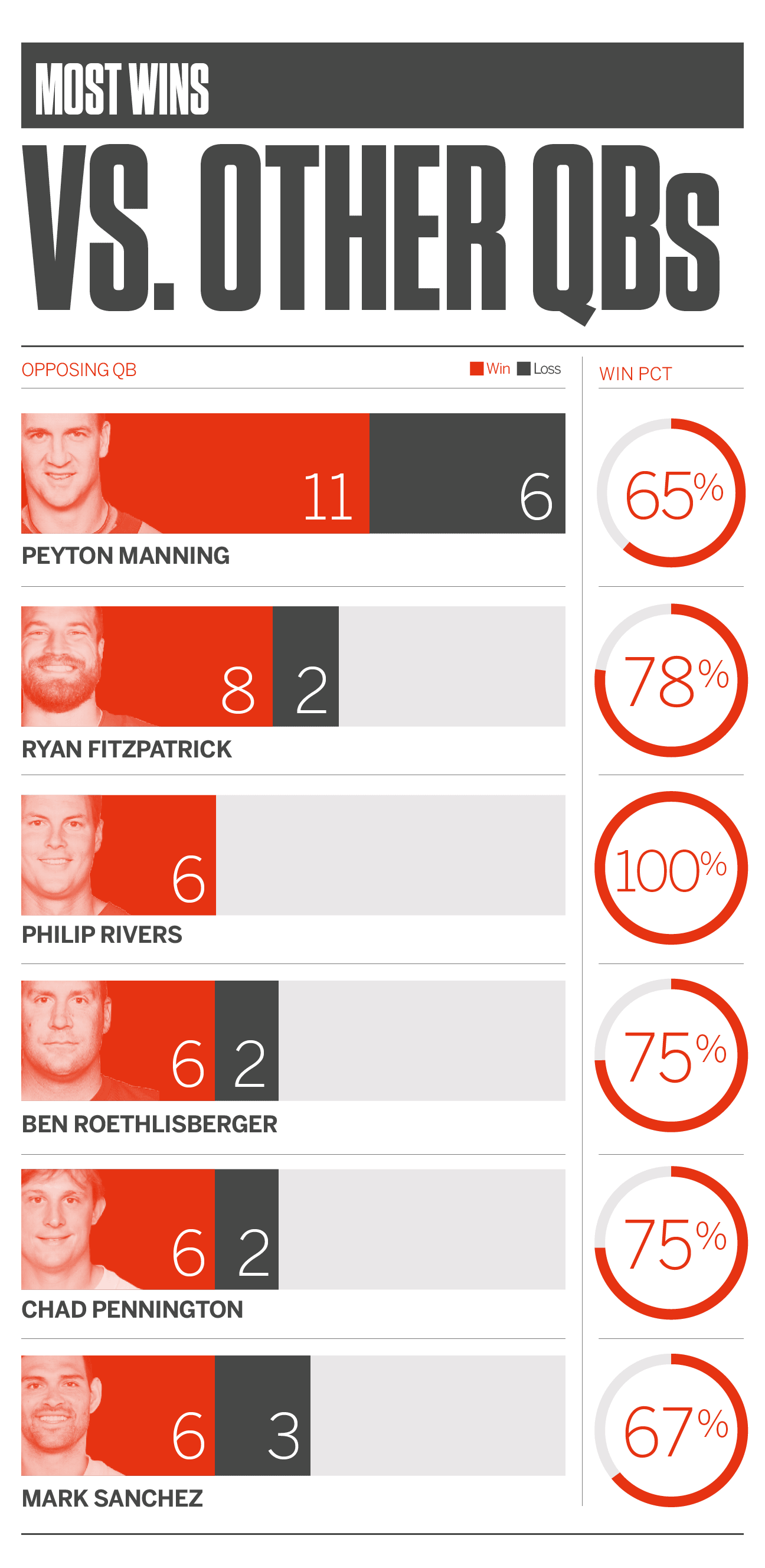 The teams he beat the most
Brady has a 68-19 starting record against the AFC East, including 26-3 against the Buffalo Bills. Those records are phenomenal, but Brady has not necessarily padded his victory total by beating up on weak division rivals. He has done better against the NFC North (.875), AFC South (.846), NFC South (.813) and AFC North (.800) than he has done against his own division (.782).
The 26-3 mark against the Bills is still remarkable, especially when considering that one of the three defeats carries an asterisk. Buffalo's victory over the Patriots to close out the 2014 regular season came when New England removed Brady at halftime to rest for the playoffs. Fitzpatrick and Drew Bledsoe are the only Bills starters to beat a Brady-led Patriots team that was actually trying to win the game. Brady tossed four picks in each of those defeats.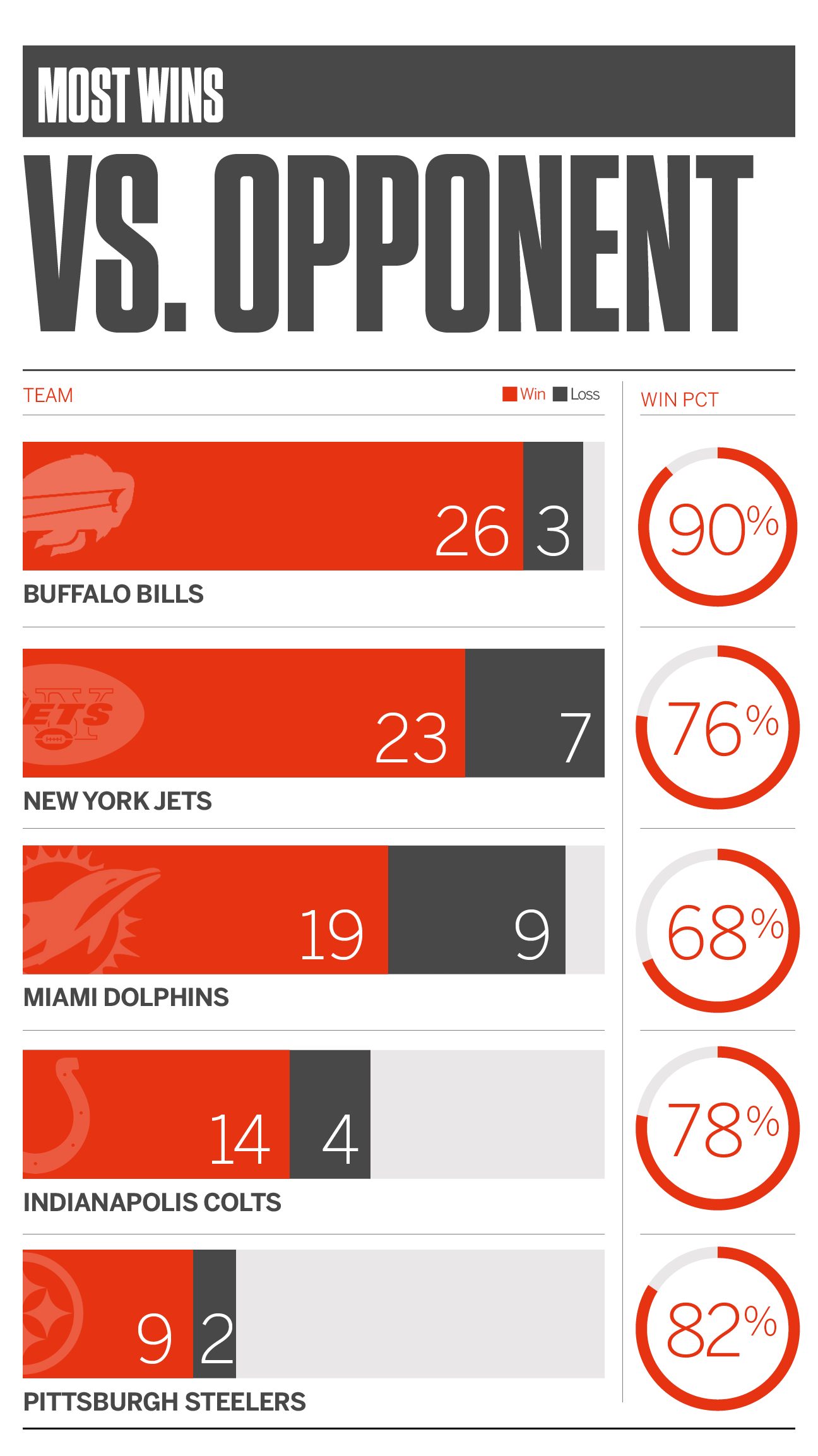 Brady's success in high-scoring games
NFL teams have won just 23.6 percent of the time since 2001 when they gave up 21-plus points. Brady's 66-50 record in these higher-scoring games equates to a .569 winning percentage -- a whopping 2.4 times better than the league average. No other QB with 50 games played since 2001 has won even half of those tough-to-win games. Brady remains on top as the scoring bar climbs even higher. He is a league-best 20-29 (.408) when the other team scores 28-plus points, far above the .151 league average.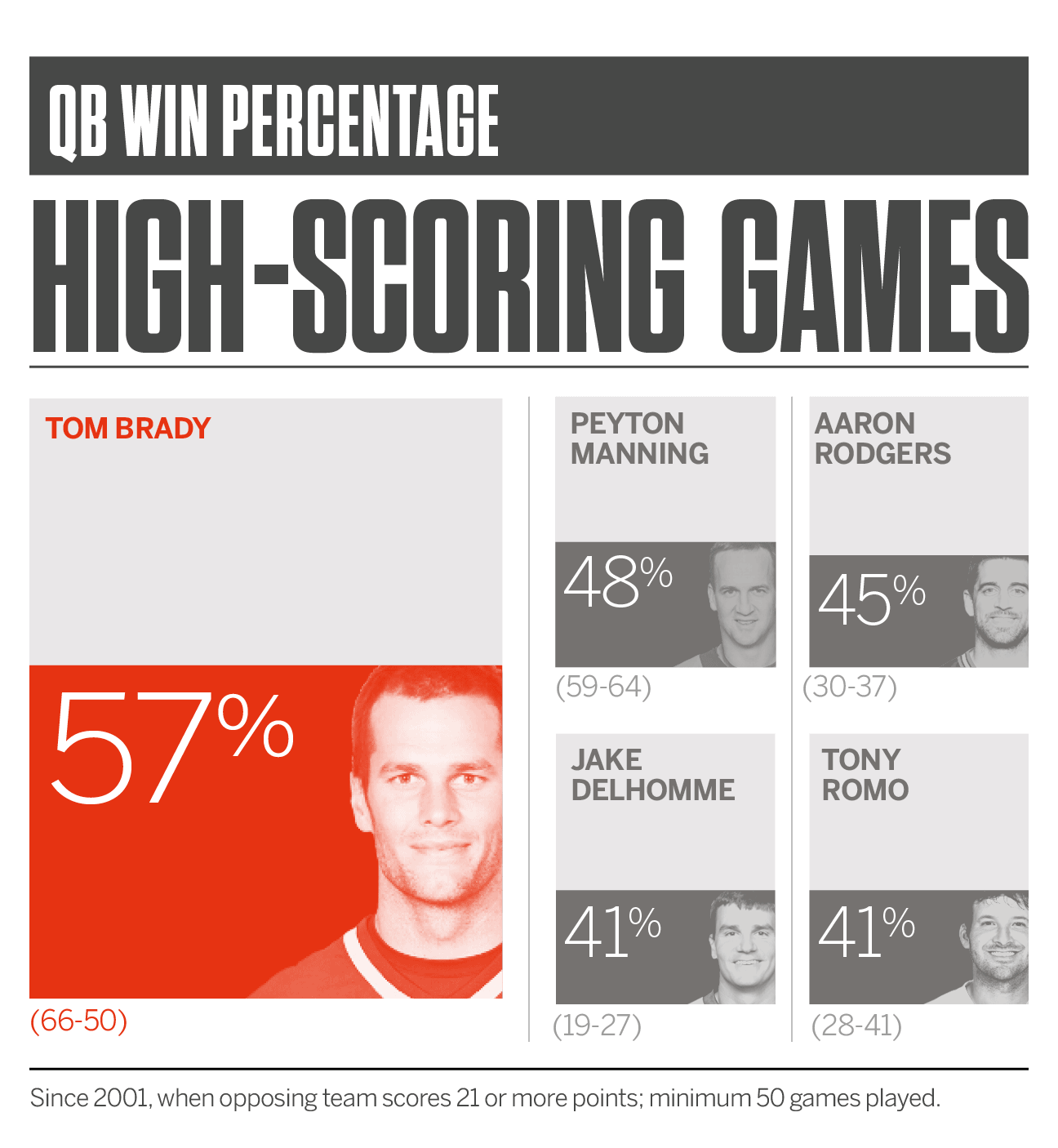 Mile High has not been his friend
Brady's 6-9 starting record against the Broncos is his only losing record against an opponent. That includes 1-6 from 2001 to 2009, but the venue could be more important than timing in the series. Brady is 4-2 at home against the Broncos and 2-7 when playing in Denver. That includes 2-0 at home against Manning and 0-3 on the road against him. Brady has a .500 record against five teams -- Giants (3-3), Packers (2-2), Seahawks (2-2), 49ers (1-1) and Cardinals (1-1) -- and a winning record against the remaining 26 franchises.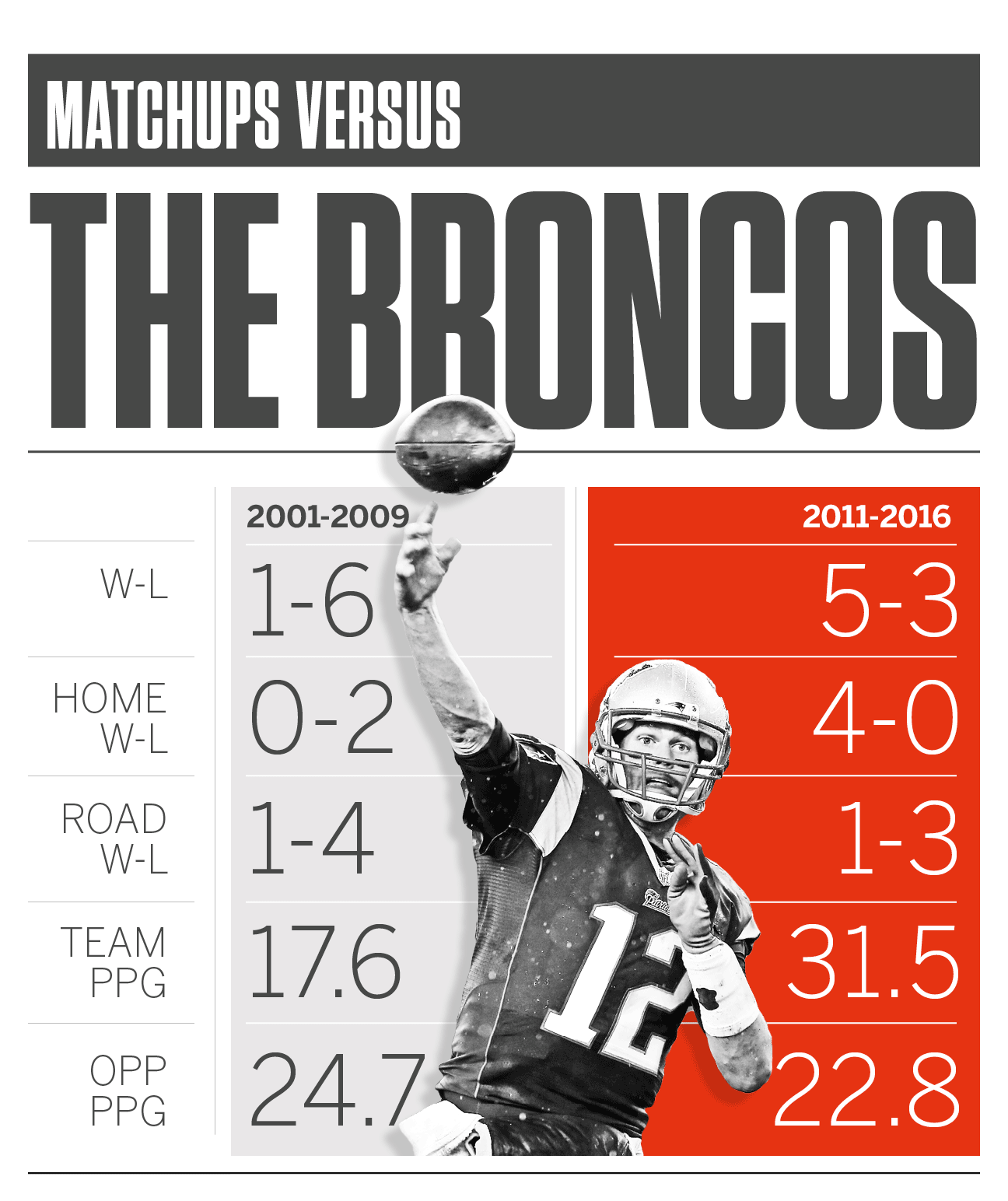 Dominant no matter the location
Brady's road winning percentage (.675) is better than the home record for a long list of prominent quarterbacks over the same span, including Brett Favre (.674), Rivers (.652), Cam Newton (.625), Drew Brees (.622), Tony Romo (.606) and Kurt Warner (.596).
Brady's home winning percentage (.857) is the highest, by far, of any quarterback with at least 50 home starts since 2001. Peyton Manning is next at .772. Seattle's Russell Wilson could be a long-term threat. He has a home winning percentage of .878 in 41 games (36-5).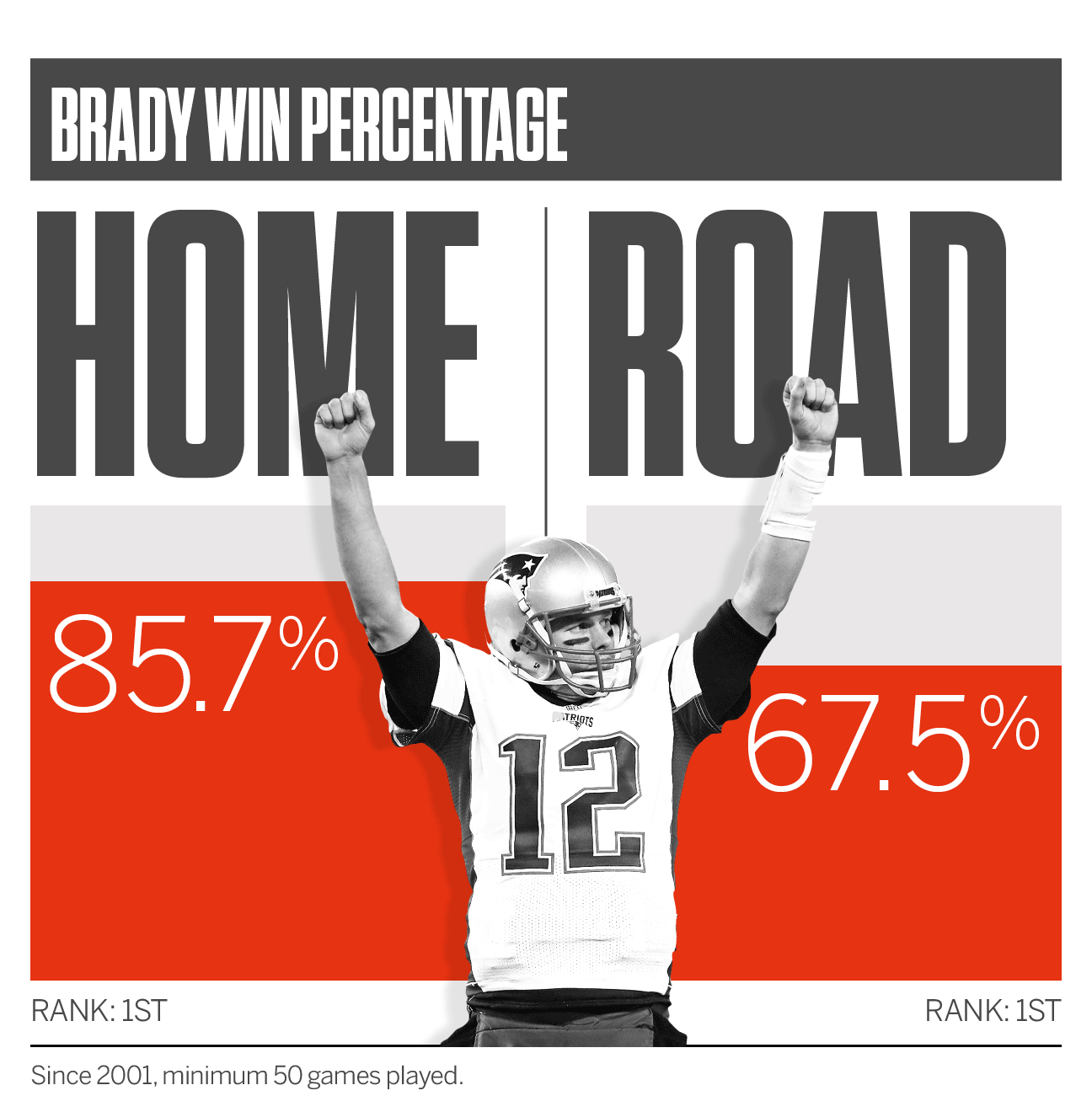 Postseason prowess
Brady has more postseason victories since 2001 than Peyton Manning (14) and Aaron Rodgers (seven) combined -- and he's tied for the most Super Bowl wins in NFL history by a quarterback (four). Brady's postseason winning percentage (.710) trails only Eli Manning's .727 among quarterbacks with at least 10 postseason starts over that span.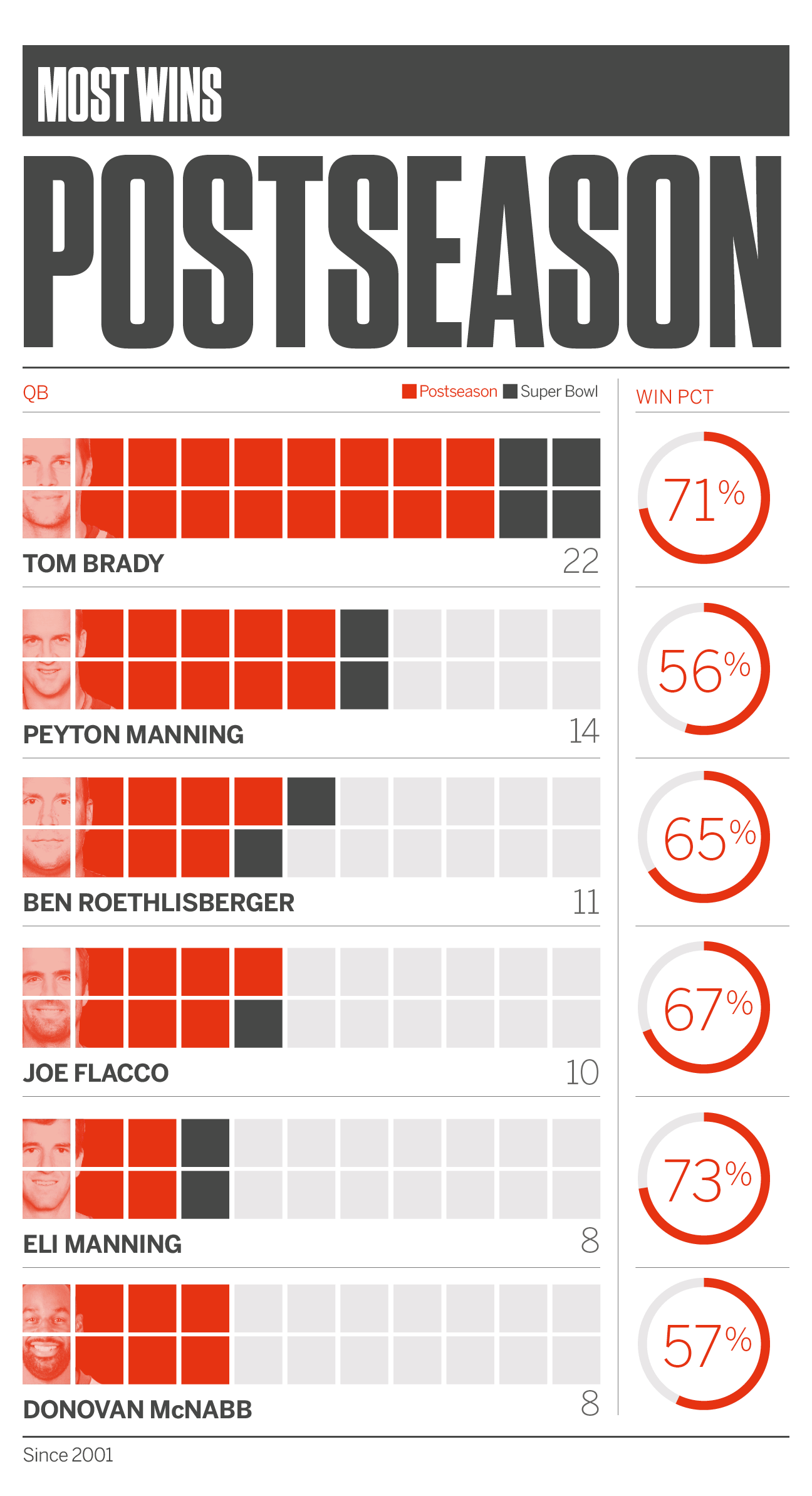 Comeback king
Tied or trailing by eight points or fewer in the fourth quarter or overtime? Brady is your man. His 50-43 record and .538 winning percentage in these situations leads the league since 2001, among players with at least 50 total games played. Quarterbacks, on average, win about one-third of these games.
Brady remains on top even in more desperate situations, having posted a 20-41 record (.328) when trailing by nine to 20 points after halftime. Wilson (.313) and Luck (.276) are next, followed by Romo (.256) and Peyton Manning (.246).