Since Bill Belichick resigned as "HC of the NYJ" and joined the New England Patriots, the team's five Super Bowl championships and 14 AFC East titles mark an unprecedented run of sustained success.
That success has also bred an impressive level of secrecy. Over the years, Belichick has done his best to withhold even the most elementary knowledge from the public and his competition. His media conferences no longer feature infamous notes annotated on loose paper like they did that January day in 2000.
They're rich with snark and lacking in information. Simple and sometimes obvious questions are met with monotonous and obvious one-liners. "What's the best for the team" is his best deflector. He said that 36 times during the 2016 season. Any questions about outside noise are often met with a retort that the Patriots "are focused on" that week's opponent, a moniker he used on 12 occasions last year. Questions about quarterback Tom Brady, a key contributor to New England's consistent success, are rarely answered in depth.
Every so often, though, Belichick delves into his vast knowledge of the game, its history, and the former executives, coaches and players he has worked with.
Belichick held more than 100 media conferences and calls with local media over the course of the 2016 season. Each provided its own window into how the coach flawlessly navigates through the NFL's many daily briefings without saying much of anything at all.
Data gathered from media conference transcripts on Patriots.com

Out of sight, out of mind
Brady served his four-game Deflategate suspension at the start of the 2016 season, which meant invaluable playing time for backup Jimmy Garoppolo and rookie Jacoby Brissett. Per NFL rules, Brady wasn't allowed to be at the team facility during his suspension, and judging from media conference transcripts during that time frame, the coach didn't spend too much time thinking about his star quarterback.
How often Belichick mentioned his QBs by name, Weeks 1-4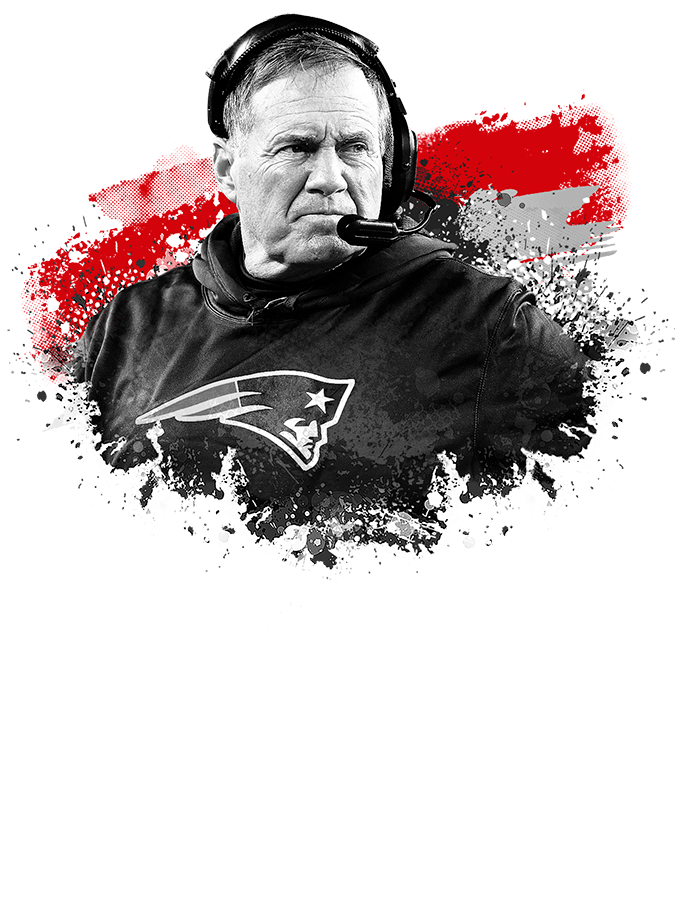 Not giving an inch
Brady made his return in Week 5 against the Cleveland Browns to much fanfare from the media but little from Belichick. The head coach addressed the media on Wednesday that week like he normally does -- and like he normally does, he showed little enthusiasm for the story of the day.
How Belichick responded to questions, Week 5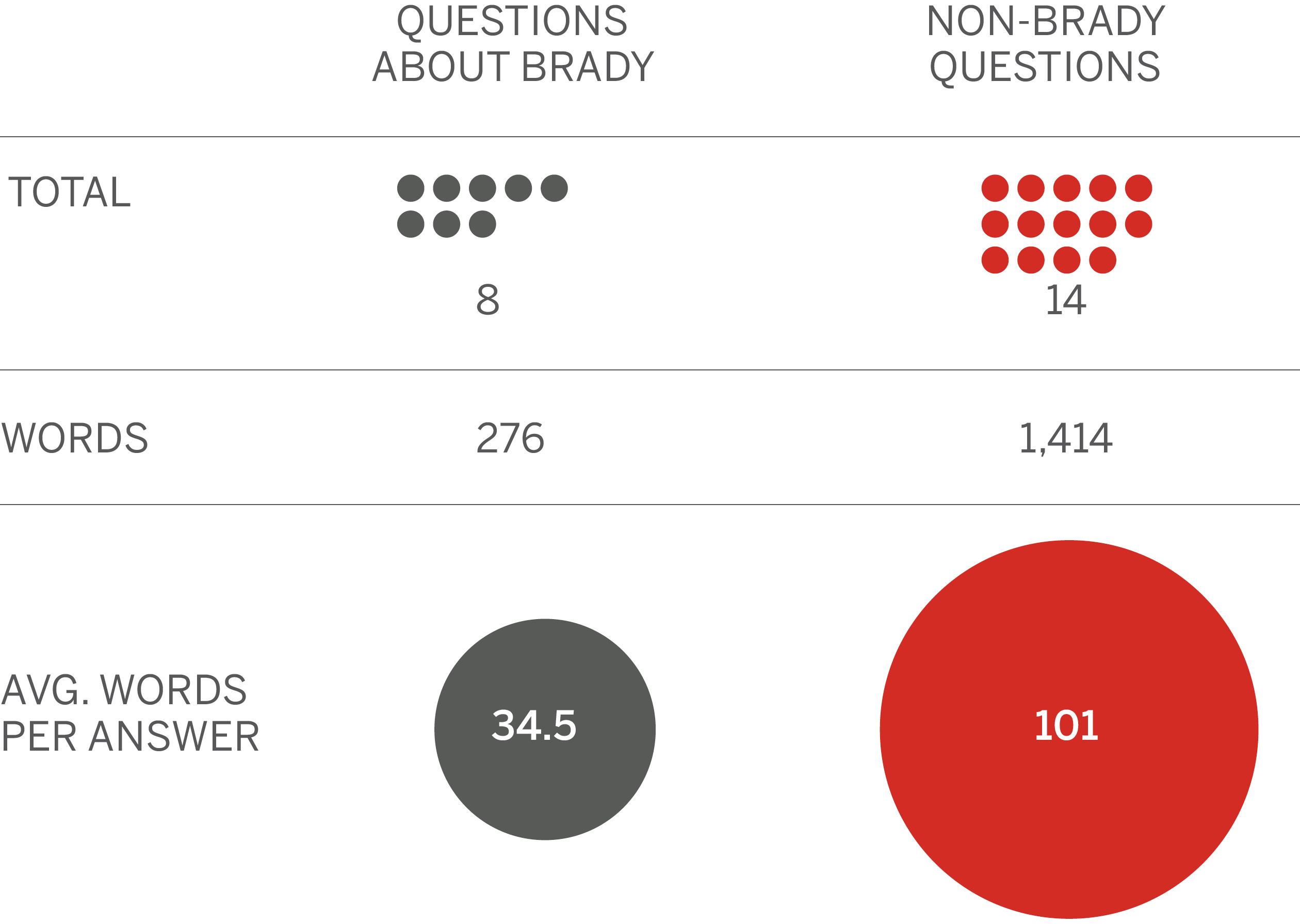 High praise for bad teams
Are the Patriots about to play the Steelers or the bumbling Jets? The Seahawks or the bottom-of-the-barrel Browns? Oftentimes, it's hard to tell when listening to Belichick, who has a penchant for heaping praise on his opponents regardless of their standing.
Prior to playing the 0-4 Browns: "Defensively they're very sound, aggressive. They capitalize on a lot of offensive mistakes with their effort and aggressiveness. We've got to do a great job of taking care of the ball and staying out of long yardage. They're a very good third-down team, longer yardage situations, so those are hard to convert and very aggressive in the secondary. They've got good experience back there with [Joe] Haden, [Tramon] Williams, [Jamar] Taylor, [Jordan] Poyer, guys like that, guys that have been around for a while that are smart, instinctive players. We've got to do a good job there."
How the Browns performed in Week 5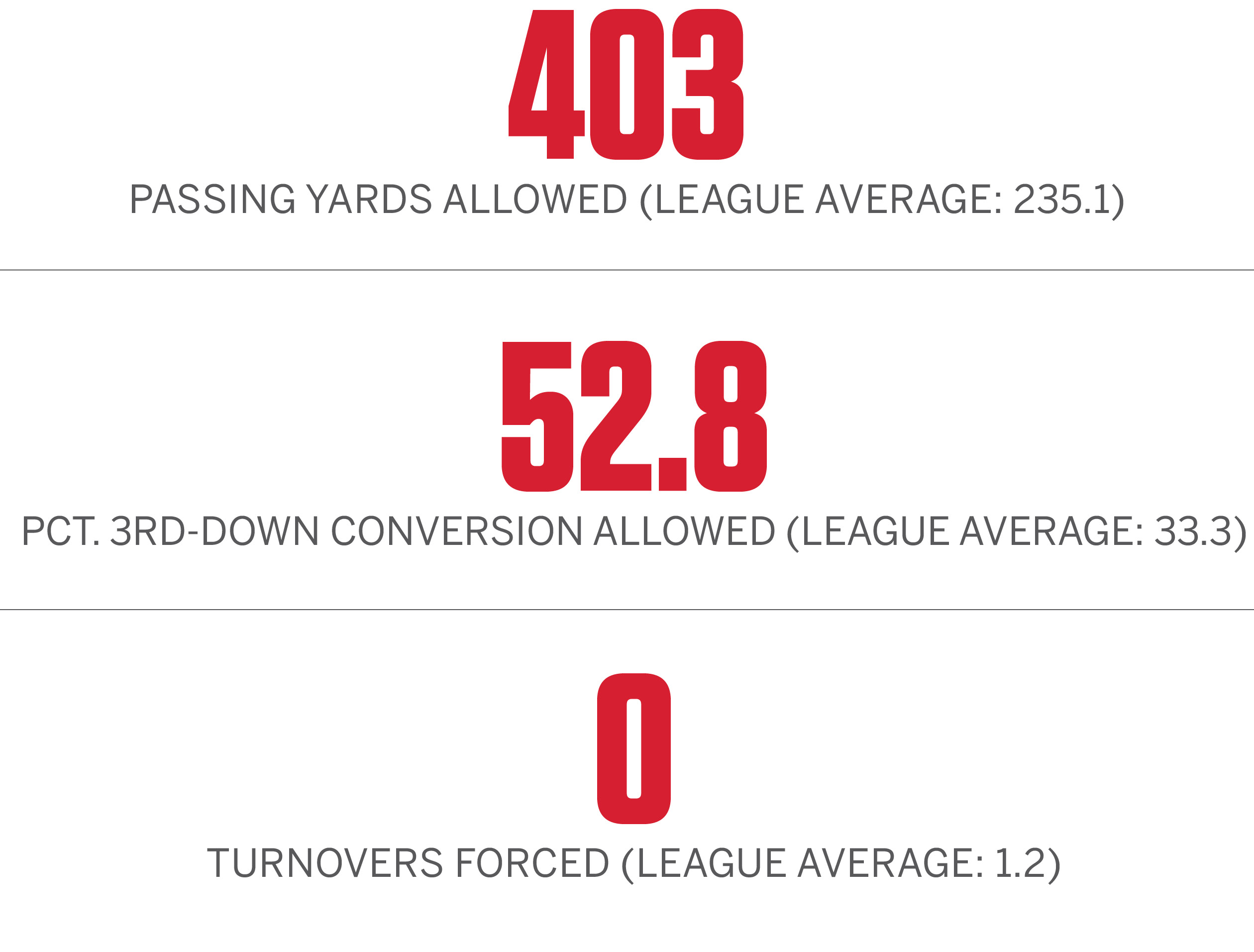 ---
Prior to playing the 4-10 Jets: "We've got a lot of work to do relative to preparing for this game on another short week. Offensively, a team that was very explosive and it's become even more explosive with kind of the emergence of [Robby] Anderson, [Bilal] Powell ... plus the [Quincy] Enunwa, [Brandon] Marshall and [Matt] Forte group that we already spent a lot of time talking about. But these guys, Powell and Anderson in particular, have been extremely productive and explosive the last few weeks. I'd say [Bryce] Petty has a lot of confidence in those guys. Their production has been very impressive."
How the Jets performed in Week 16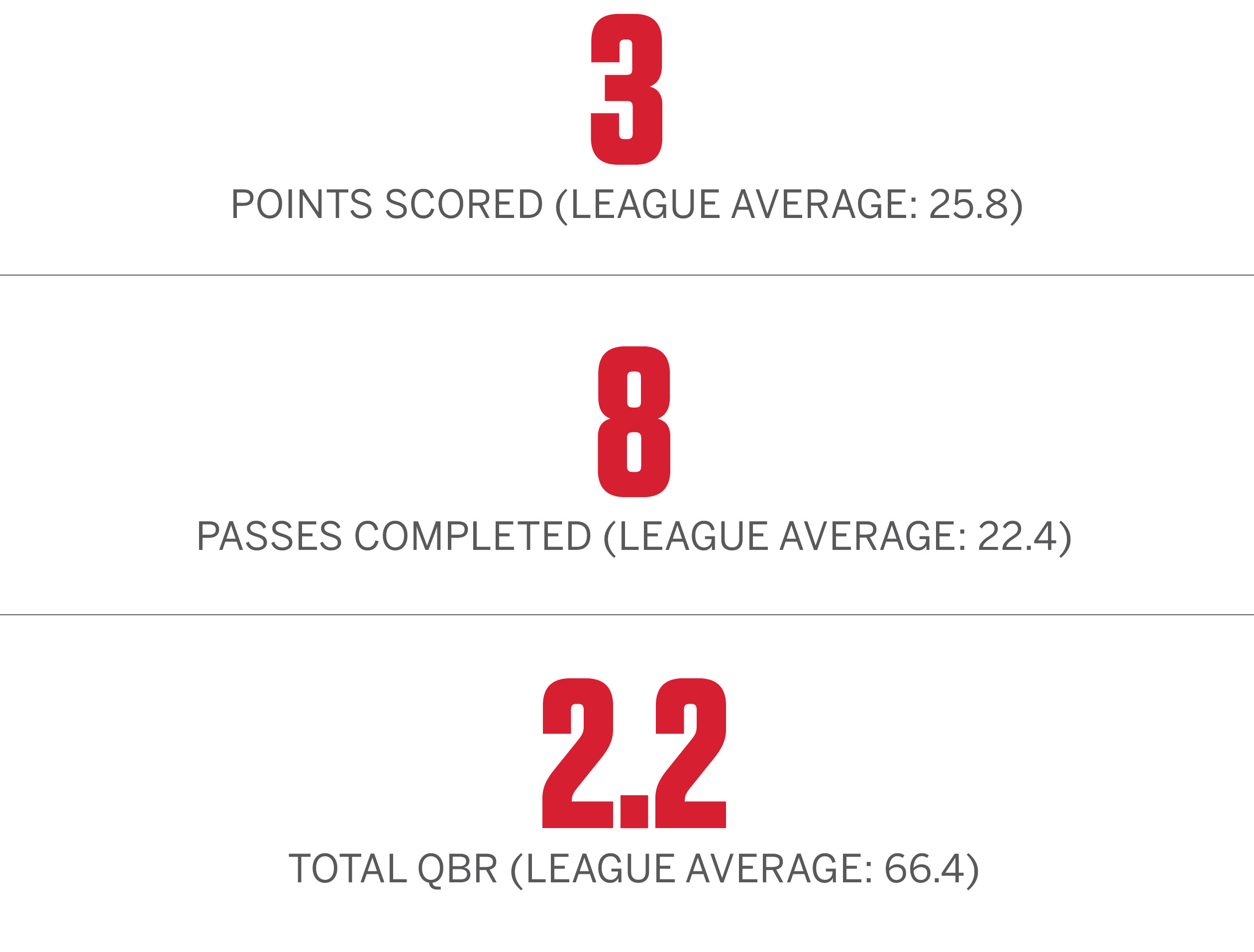 The NFL's hardest-working team
Every coach will generally note that his players "work hard" in varying degrees, but Belichick took it a step further during the 2016 season, bestowing his "nobody works harder than" seal of approval on multiple players.
Let's start with pretty much the entire receiver corps: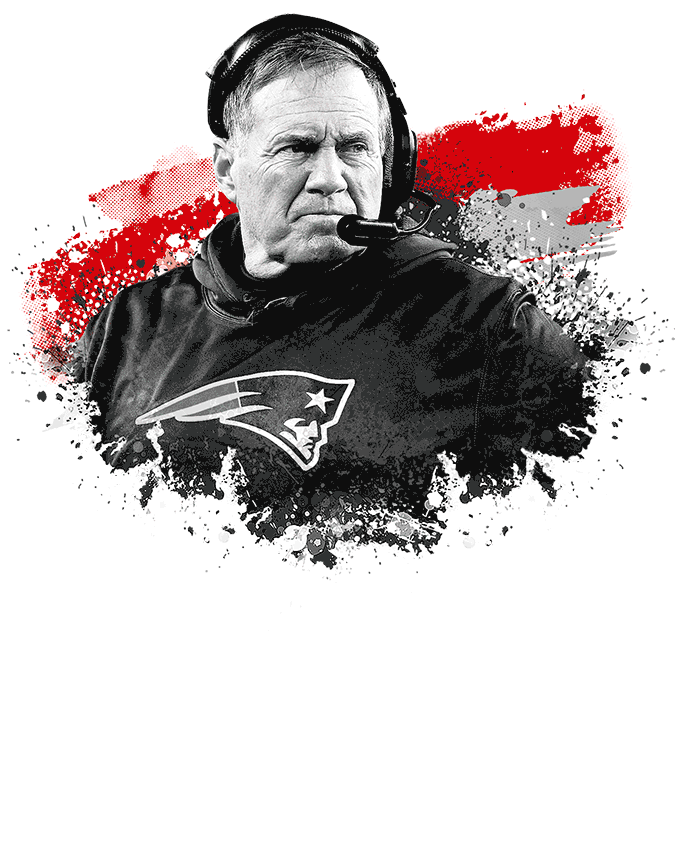 You've got that right: Nobody works harder than Chris Hogan, Matthew Slater, Julian Edelman or Danny Amendola. Well, except for them, of course.
Stephen Gostkowski, Dion Lewis, Rob Gronkowski, Danny Amendola (again) and Wes Welker all joined the "nobody works harder than" club before season's end. Here's a quick sampling:
On Gostkowski's struggles (Oct. 23): "Nobody works harder than Steve. Steve's a very talented player. He's mentally tough. He's a good football player. We'll work through it."
On Lewis' play coming off an ACL injury (Oct. 28): "Dion works really hard. I think nobody works harder than Dion."
After Gronkowski's back surgery was announced (Dec. 12): "Nobody's worked harder than Rob and has been a better teammate and all that, so hopefully things will work out as positively as possible with him."
On how Amendola handled his time off recovering from injury (Jan. 10): "Yeah, nobody works harder than Danny. Nobody works harder. He's done everything he can do. I'm sure he'll continue to do that, and we'll see how it goes."
After the Texans hired Welker as an assistant coach (Feb. 1): "Nobody worked harder than Wes. Wes loved football."

Tough crowd
Brady posted the NFL's best Total QBR score during four different weeks last season. But you wouldn't know it when perusing Belichick's postgame remarks after those games against the Browns, Steelers, Bills and Jets. Any questions directly intended to steer Belichick toward praising Brady were often shut down by the Patriots coach.
Brady's QBR vs. NFL average

What Belichick said postgame: "I think Tom works hard. He's always worked hard. I don't think there's any question about that. I think there's a lot of things he needs to work on. There are a lot of things we all need to work on as a football team."
---

What Belichick said postgame: He was not asked about -- and did not mention -- Brady's play.
---

What Belichick said postgame: "Well, again, I thought that we had good play from our entire team today. You know, Tom did a good job, but we had a lot of the guys play well today. It was a good team win."
---

What Belichick said postgame: He did not mention Brady's play while answering a question about the amount of time the QB had to throw the ball.

The rants
Belichick will occasionally give impressively long answers. Sometimes a question sparks one of the coach's many interests -- left-footed punters, football history or inaccurate meteorologists, to name a few. Other times, Belichick, who's always one step ahead, is filibustering to kill time like it's the end of the fourth quarter. Here are some of his lengthiest rants from the 2016 season: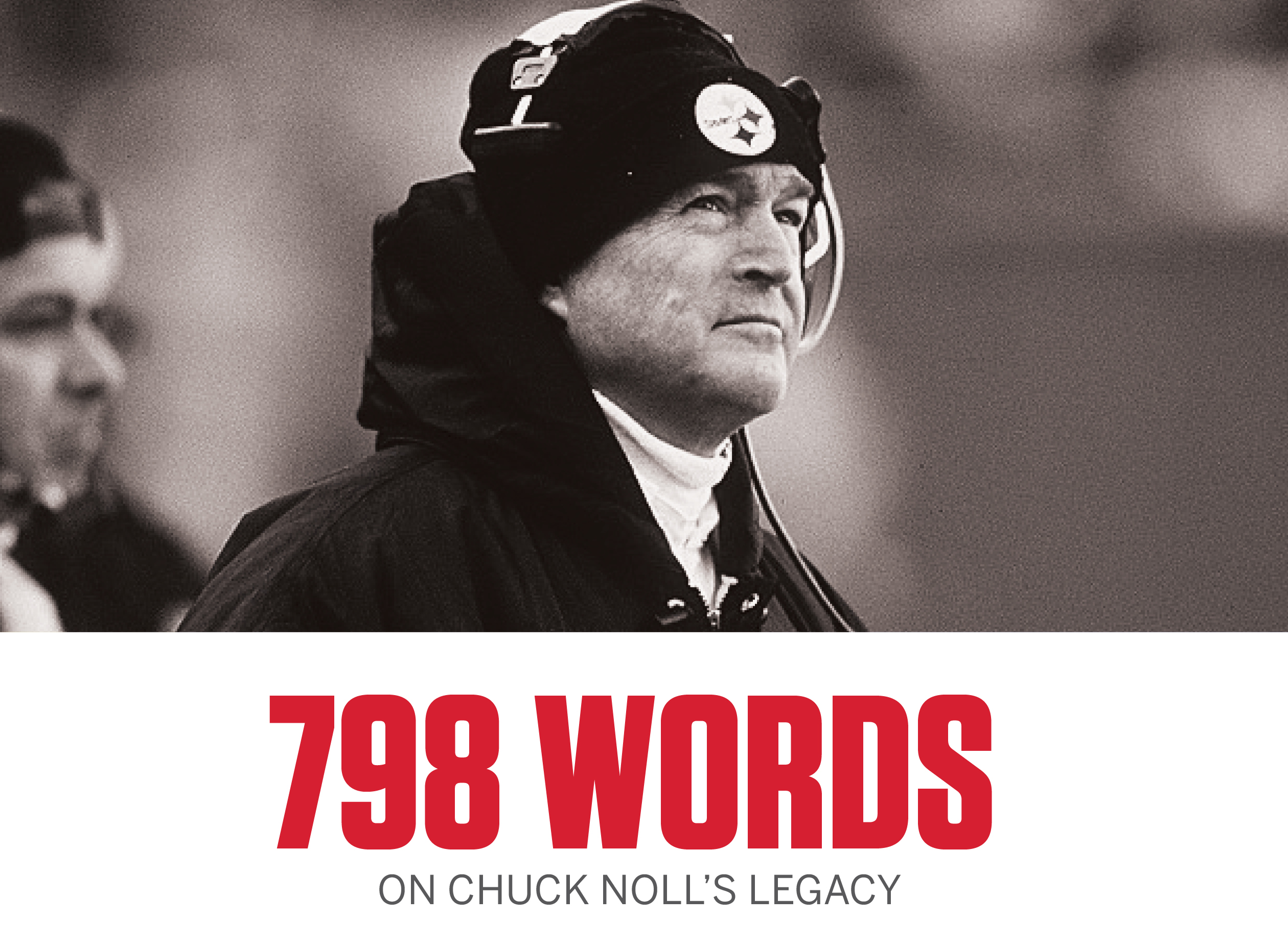 Sampling: "Because of [the Steelers'] consistency I've learned a lot from studying that organization and I think Coach Noll was just -- did a tremendous job. He had great stability, very good fundamental coach. He believed in what he believed in and they got good at it and they always had tough, physical, hard-nosed, smart football players. The receivers blocked, the offensive line was tough, defensively they always tackled well. They played good fundamentals. They were just very well coached and all of the people that I've talked to that have coached on his staff, they've affirmed that with their recollections of it."
---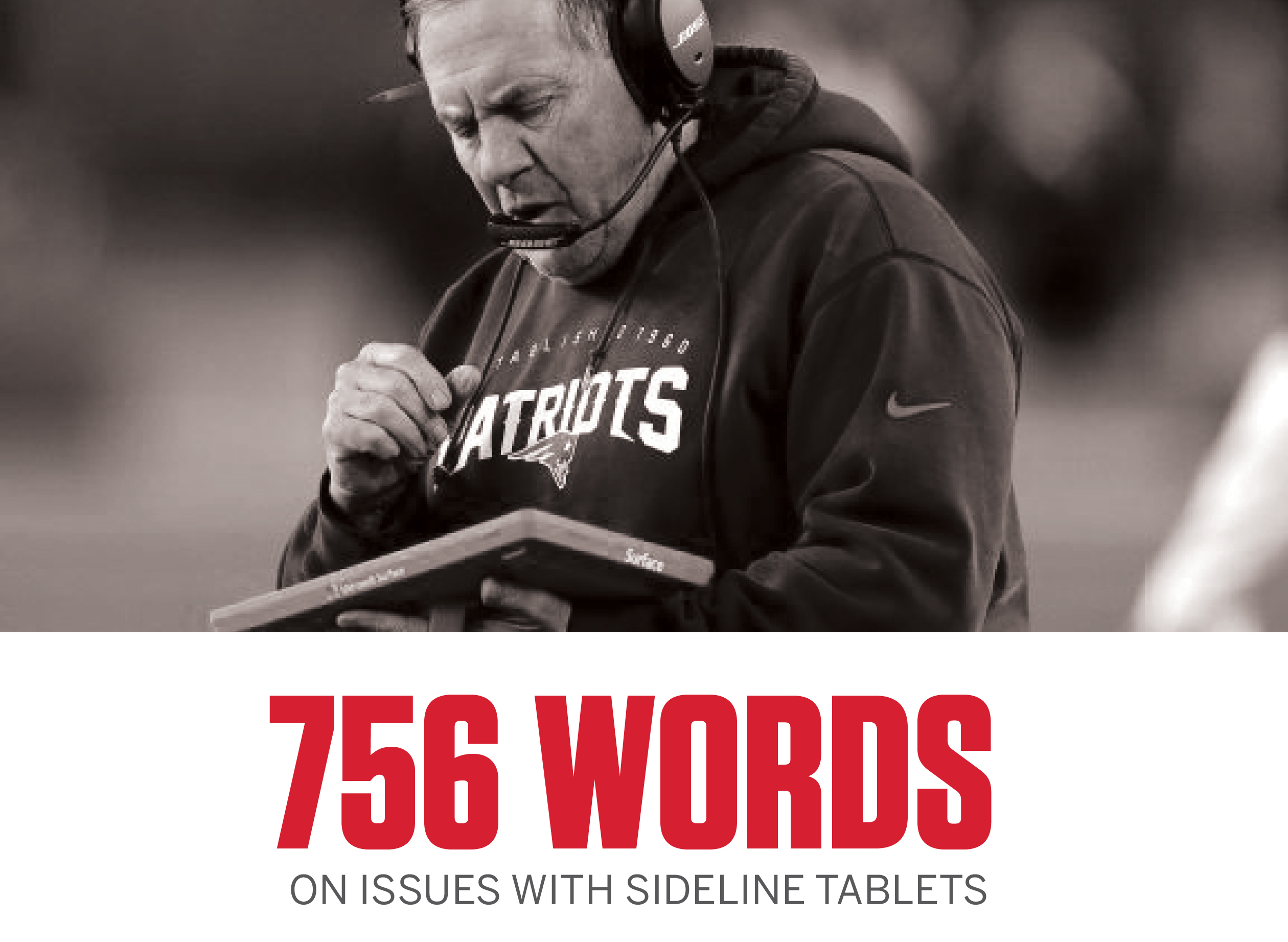 Sampling: "As you probably noticed, I'm done with the tablets. I've given them as much time as I can give them. They're just too undependable for me. I'm going to stick with pictures as several of our other coaches do as well because there just isn't enough consistency in the performance of the tablets, so I just can't take it anymore."
---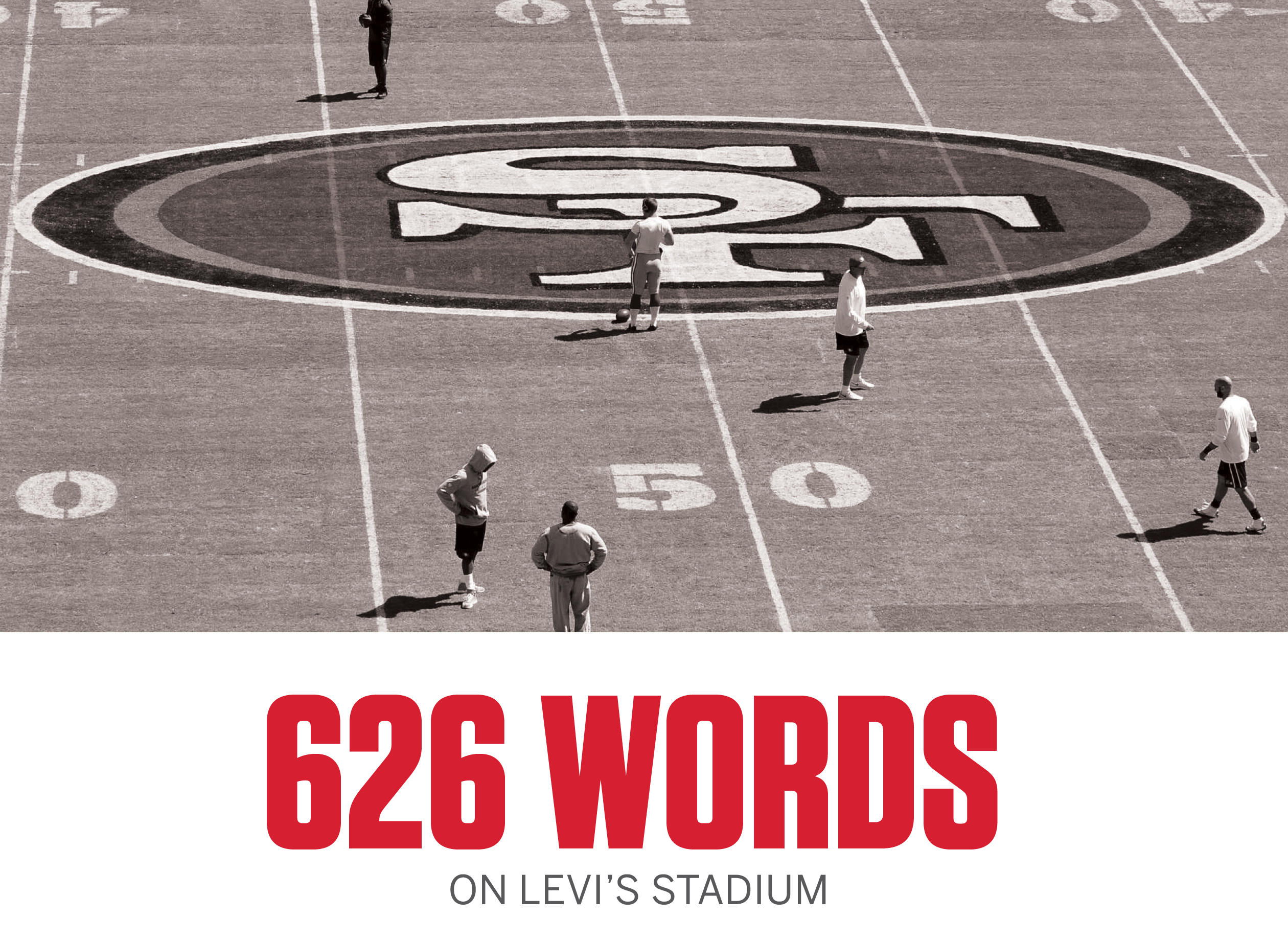 Sampling: "Teams that played on the surface that you're not familiar with find out whether it's a hard surface, soft surface, fast track or whatever it happens to be, and maybe get some opinion on what type of footwear you'd want to wear. But a lot of that comes down to actually seeing the field and making a decision the day before, the day of the game. Dave Schoenfeld, our equipment manager, has a lot of experience and he's very good at that -- identifying what type of footwear we would need on a particular field. Particularly, when he gets to the field the day before a game and sets up the locker room and so forth, he'll let me know what the conditions are. Sometimes, that's not consistent on the field. Sometimes it's, well, the field is sodded in the middle, or the field in the middle is a little chewed up but it's good on the edges or vice versa."

Not his first rodeo
At this stage, Belichick is a seasoned pro at navigating the Super Bowl media circus. It starts at the media night and drags through scheduled media conferences the next days. The Super Bowl LI matchup between the Patriots and Falcons presented a unique juxtaposition between Belichick and Atlanta coach Dan Quinn. To start, their experience difference -- Belichick was prepping for his seventh Super Bowl as a head coach, while Quinn had been in charge for just two seasons -- led to the two facing much different questions from reporters.
Types of questions asked of Belichick and Quinn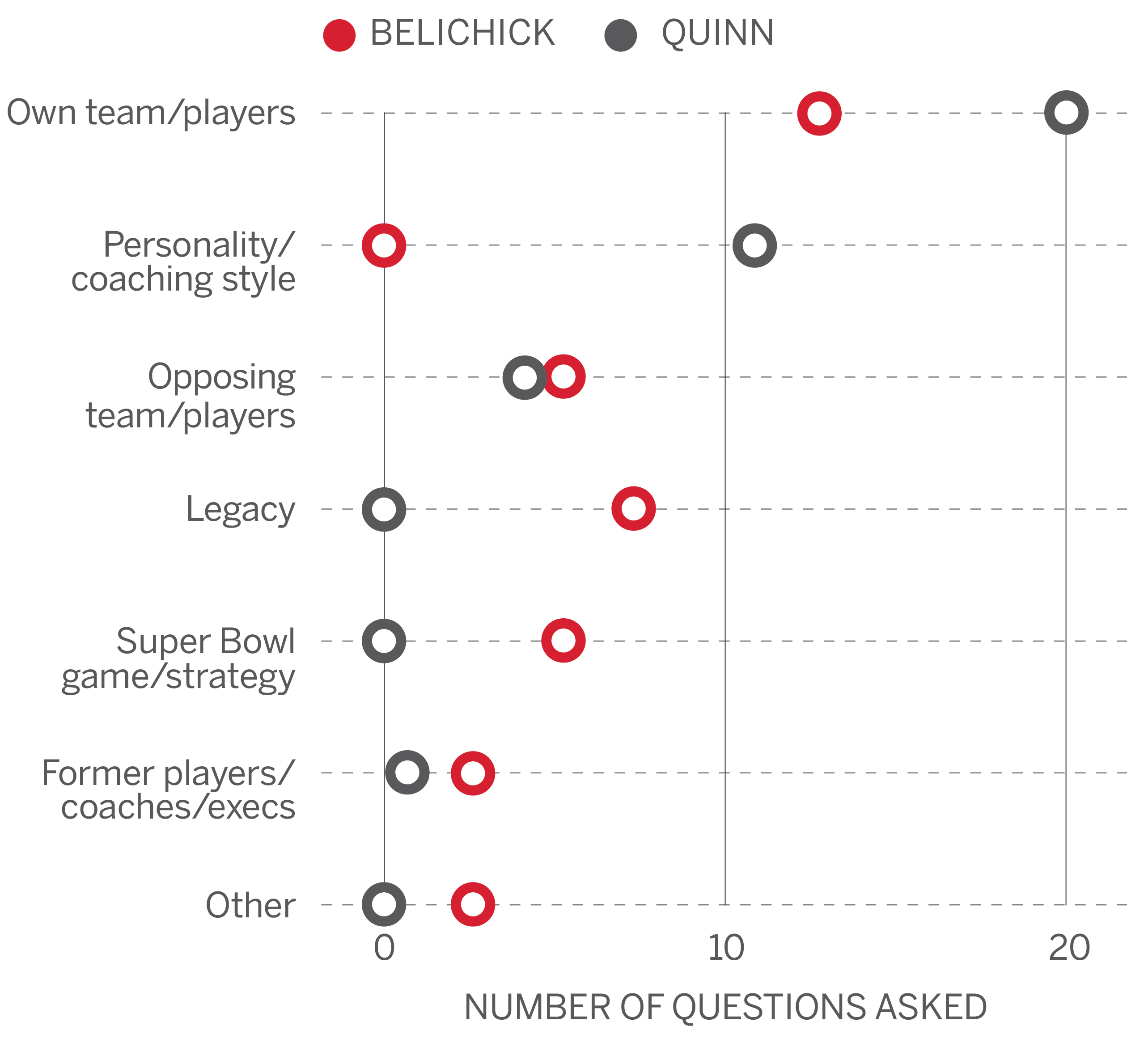 ---
No surprise for a first-time Super Bowl head coach, Quinn was more talkative during media week compared to the veteran Belichick, with the biggest discrepancy coming on Wednesday. Quinn's desire to offer an opening statement for each day that week, when he went in-depth on where he felt the Falcons were in relation to game preparation, was decidedly different than Belichick's approach.
Length of Belichick and Quinn media conferences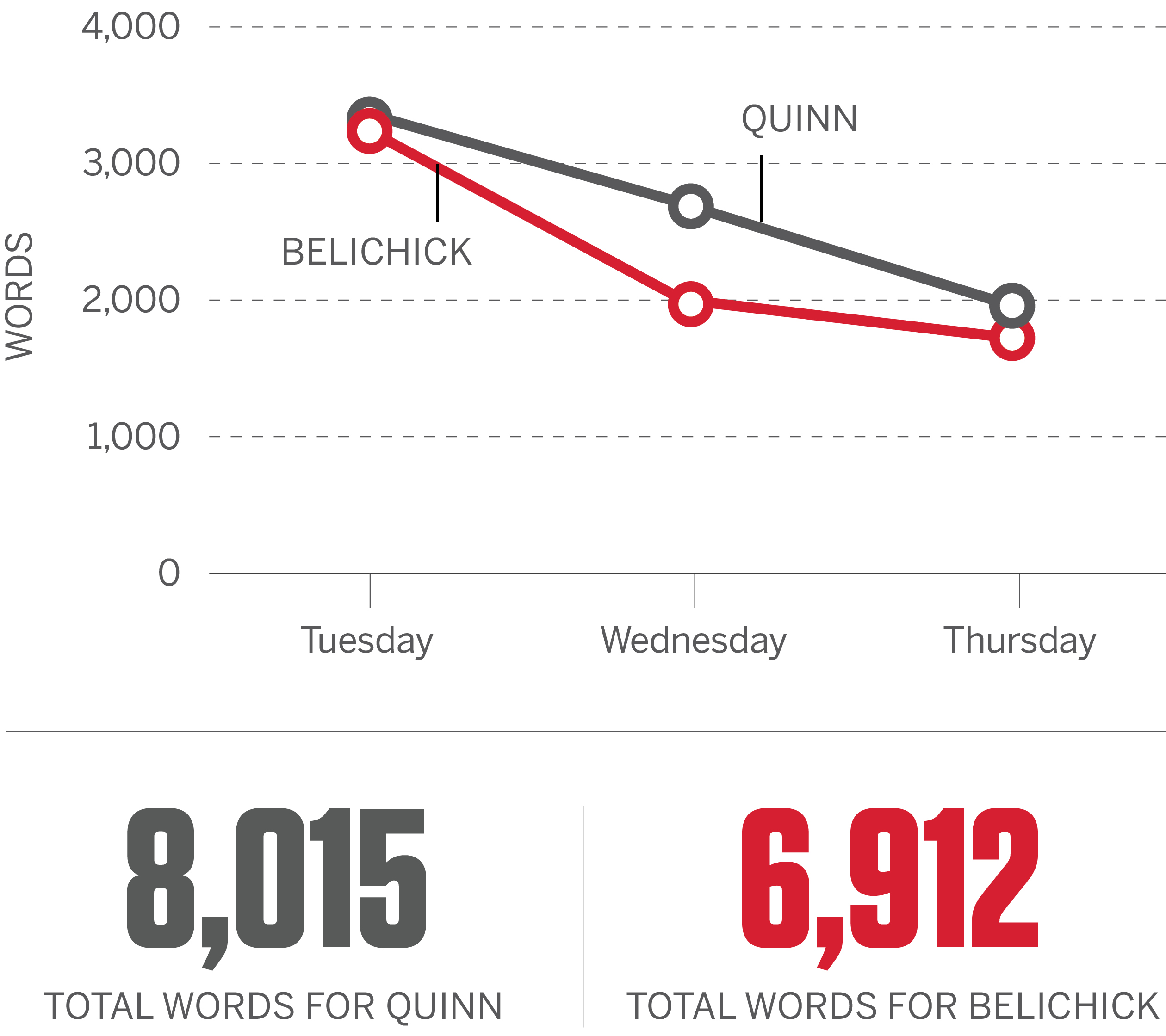 The plays that defined the Super Bowl
The Patriots' win probability in Super Bowl LI dipped as low as 0.2 percent, when they were down 28-3 with 21 minutes left to play. You know what happened next: New England mounted a furious comeback and won 34-28 in overtime. Based on his postgame remarks, three plays seemed to stand out most to Belichick.
Dont'a Hightower's strip sack (8:31 left in 4Q)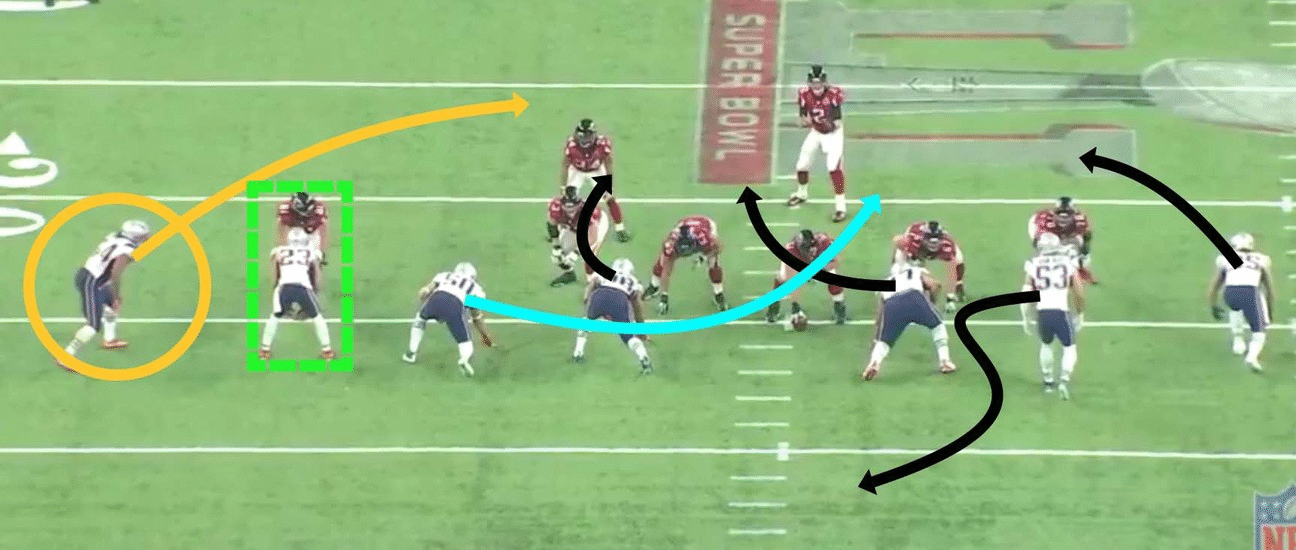 Belichick: "[Dont'a] Hightower's sack was a huge play for us. We really needed that even after our two turnovers offensively in the first half."
---
Trey Flowers' sack (3:56 left in 4Q)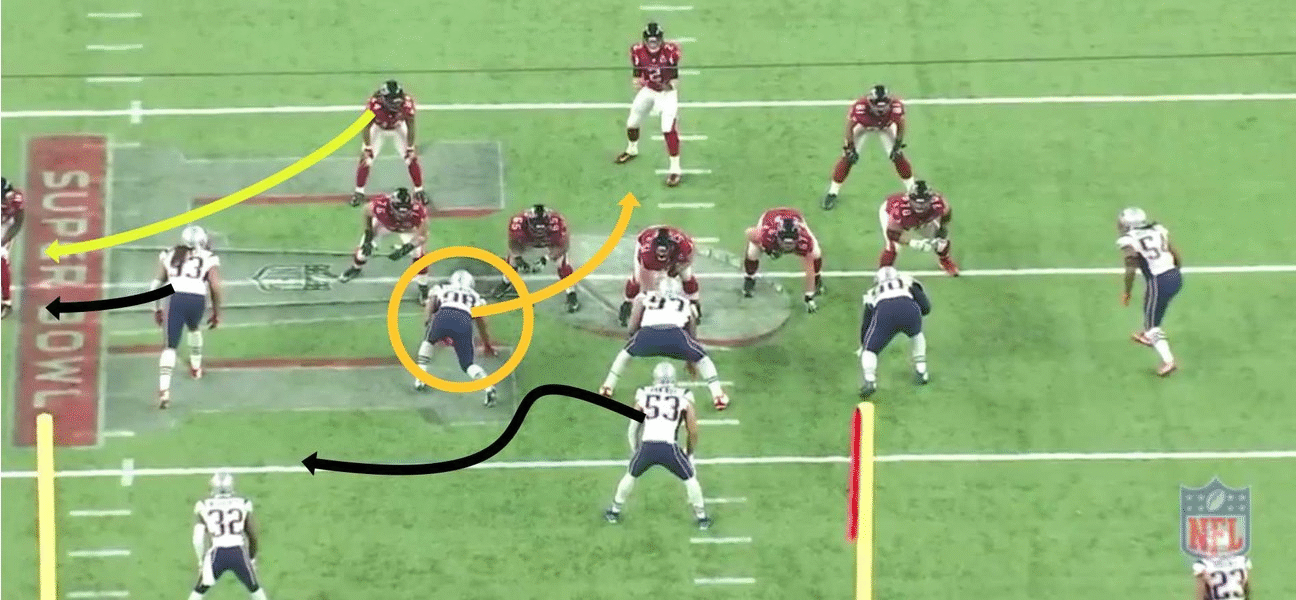 Belichick: "Shades of some of the other ones we have seen before in previous games like this, then we got [Trey Flowers'] sack. We got the holding penalty [on Jake Matthews] and we were able to push them back out of field goal range, so that was a huge defensive series for us."
---
Julian Edelman's miracle catch (2:28 left in 4Q)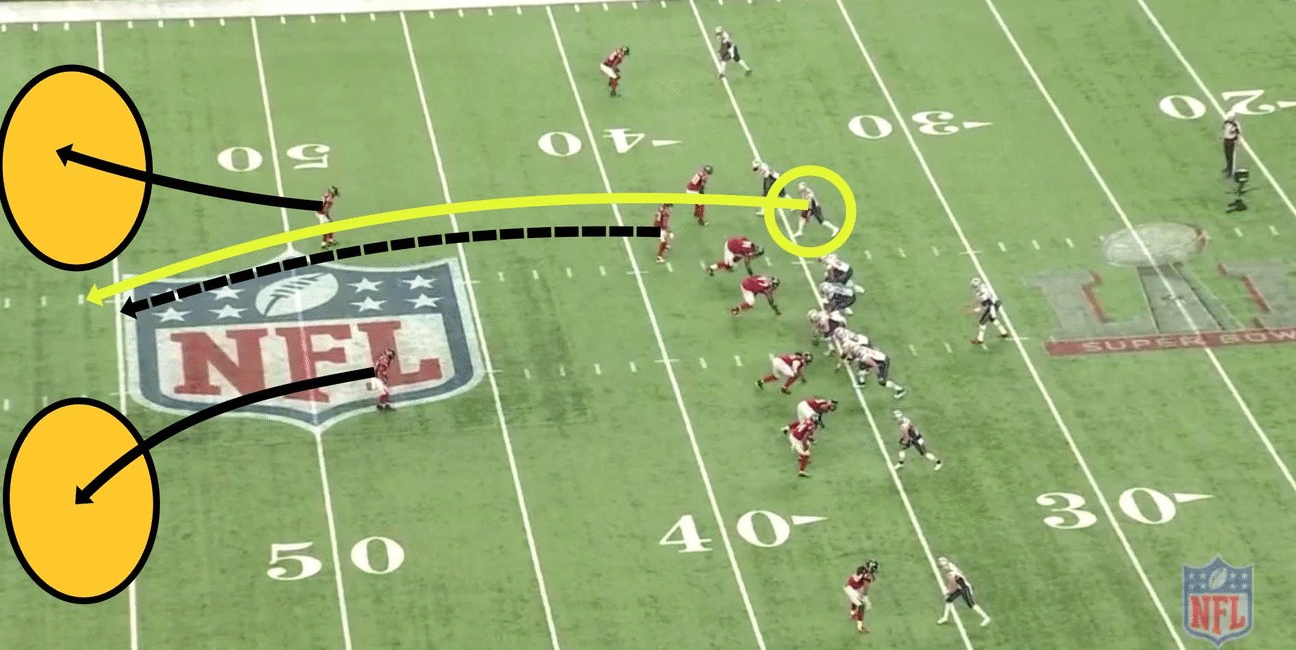 Belichick: "Edelman's catch was an unbelievable play. ... I wasn't sure if he had it or not. Then when we saw the replay he was clearly under it. Julian has great concentration. He is a tremendous competitor."