This story first ran to celebrate Tom Brady's 40th birthday on Aug. 3, 2017.
With New England Patriots quarterback Tom Brady celebrating his 40th birthday on Thursday, we've tracked down a collection of confidants to tell their favorite behind-the-scenes stories about the QB.
The untold tales span a frustrated 4-year-old golfer, a ruthless enforcer on the intramural basketball court, an unexpected beer-chugging wonder ... and everything in between.
Enjoy.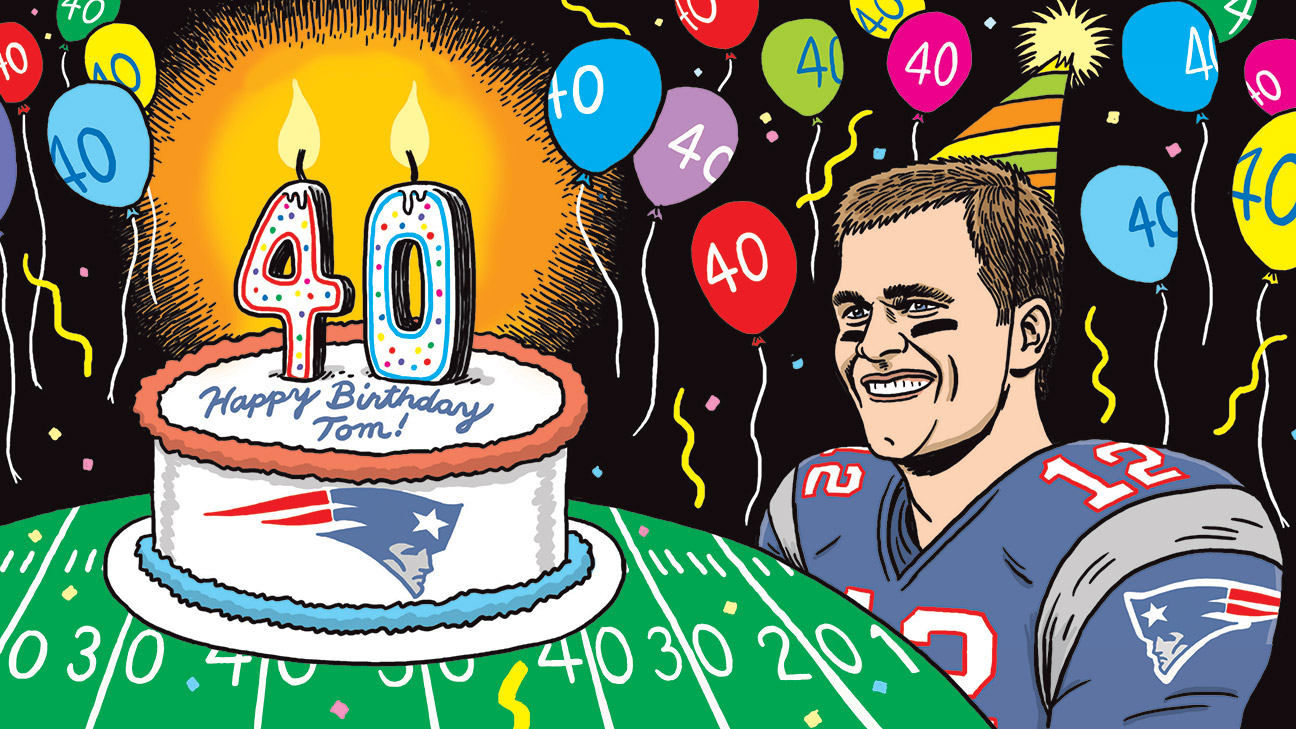 ---
Bring up Drew Henson at your own risk
Jay Flannelly, close friend from Michigan: "We played intramural basketball together, and there was one day the frat boys were giving Tom a hard time about Drew Henson. Tom was taking it. I kept going over to him, asking, 'You OK?' So the game is almost over, about a minute left, and we were up by about 30 points. He comes over to me and asks how many fouls he has. You're allowed four and Tom had two at the time. So he says to me, 'Beav, next time we're inbounding the ball, I'm going to throw it to you and just run up the court and don't look behind you. Just sprint.' So Tommy inbounds the ball to me, I run up the court and I hear this awful noise behind me. Tom set a screen, like Charles Oakley, that took out one of the guys who had been on him all game about Drew Henson. It literally knocked the kid into never-never land. I always talked to him after that about how he was the quarterback enforcer; it would have been like Wayne Gretzky beating up a goon, or when Larry Bird went up to Bill Laimbeer."
---
'I'll throw it to whoever the f--- I want!'
Mike Vrabel, Patriots linebacker, 2001-08: "My indoctrination to the goal-line [offense]: I had maybe caught a couple touchdowns and was feeling pretty good about myself, and we went to practice one day and I broke free on a crossing route or something like that. So I start yelling, 'Tom! Tom! Tom!' and I'm waving my hands. But he doesn't throw it to me. I come back, and we're in the huddle when he says, 'Mikey, if you ever wave your f---in' hands and ask for the ball again, I'll never throw it to you. I know who's open. I'm the quarterback, I'll throw it to whoever the f--- I want!' That was the last time I ever called for the ball."
---
'Good afternoon! Good afternoon!'
Rodney Harrison, Patriots safety, 2003-08: "This was when I first got to New England, we had become friends and we were in the weight room. I show up around 6:30 in the morning and he says to me, 'Good afternoon!' So the next day, I get the hint, and come in 15 minutes earlier. Same thing: He says, 'Good afternoon!' Then the next day it's 5:45 in the morning, and he makes sure to say it twice: 'Good afternoon! Good afternoon!' So I make it at 5:30 the next day and before he could say anything to me, I looked at him and said, 'Man, I don't give a damn what you say, Tom, I'm not coming in earlier than 5:30!' We both laughed at that."
---
Brady's secret skill
Brian Hoyer, Patriots quarterback, 2009-11: "We played up at Buffalo and we couldn't fly back into Boston because the weather was so bad, so we had to stay the night in Rochester. We drove there, and we all decided we'd go out to dinner together. Tom being who he was, he usually couldn't come to a team event like that. We might be at Capital Grille and he is sneaking in the back door and then people realize he's there and he has to leave. But this was impromptu at Dinosaur Bar-B-Que in Rochester. The whole team is there. And it turns into a beer-chugging contest. You have linemen, Julian Edelman, they all think they are going to win. Then someone says, 'I heard Tom is really great at chugging a beer.' We don't usually get to experience him like this, but we finally coax him into doing it. He does it, and let me tell you, you couldn't have poured out the beer faster into a glass. It was unbelievable. And he slams the mug on the table and puts both fists in the air. He walks away with a look on his face that said, 'You really thought you were going to beat me on this?' The place went nuts."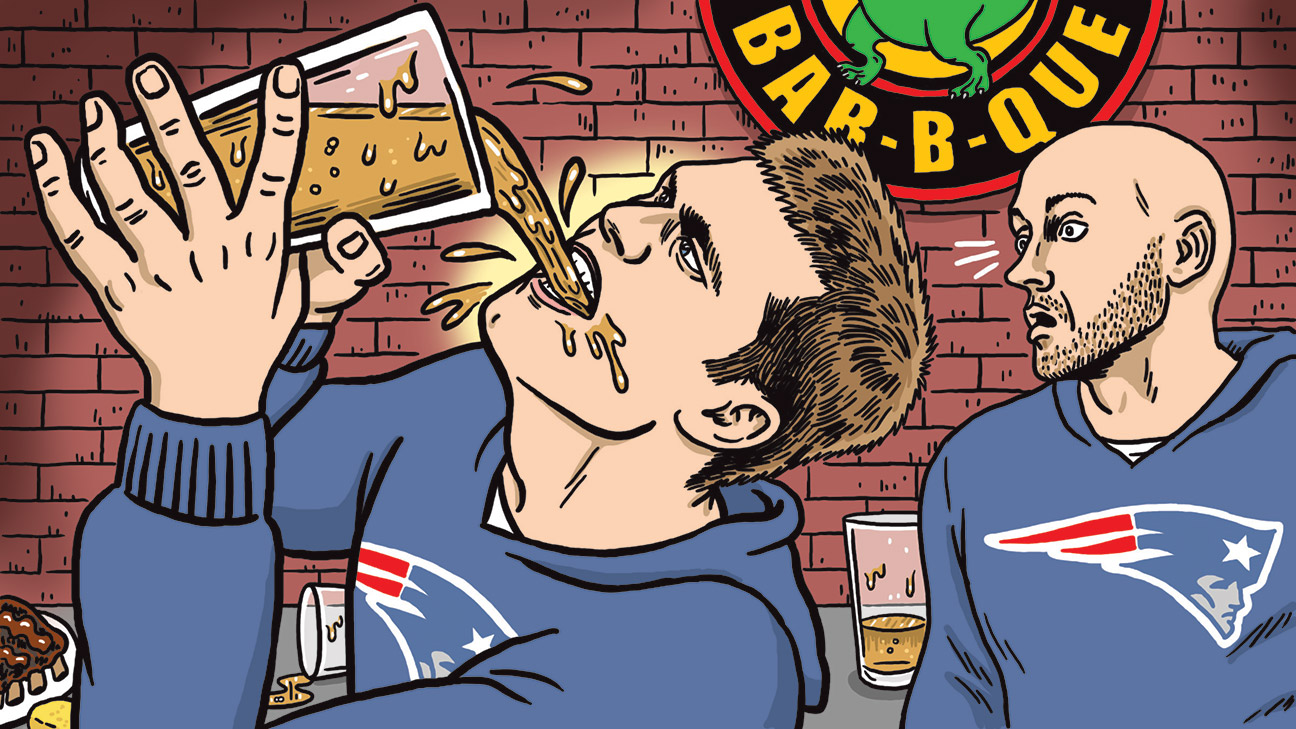 ---
'What is Tommy even thinking?'
Pat Kratus, roommate at Michigan: "In his sophomore and junior year, when he was second or third on the depth chart behind [Brian] Griese and [Scott] Dreisbach, he was still studying film at 10:30, 11 at night. He was frustrated with not playing, and that's how he channeled it. If I beat him in a game of H-O-R-S-E, he'd drop-kick a basketball. There was a golf club or two that might have gotten thrown in anger. But for his own sanity, he would always turn those situations into hard work. Whenever you talked to him about the future, he was adamant: 'I'm going to be a starting quarterback in the NFL.' He always had confidence in his own success. It wasn't braggadocios. That was just his plan from the word 'go.' He was the best man in my wedding, and after his first year, he was at my bachelor party in March 2001 along with a cousin of mine. My cousin is a very successful hedge-fund guy, and Tommy says to him, 'You know, I think I have a great shot at being quarterback this year.' He laid out this whole plan, talking about some of the things he had to do and what he had going for him. So my cousin comes up to me afterwards and says, 'Pat, there's [Drew] Bledsoe, there's Michael Bishop. What is Tommy even thinking? Hope is not a strategy.' I just said, 'Tommy has worked really hard at it. He always seems to find a way to do it. I bet you he will be a starting quarterback when it's all said and done.'"
---
Bledsoe never had a chance
Ty Law, Patriots cornerback, 2000-04: "When he finally got the job and was named the starter, our thought as a defense was, 'Just don't mess it up.' I remember us hanging out and he said something to me that, to this day, still resonates with me. We had a good quarterback in Drew Bledsoe, and here's Tom saying, 'He isn't getting this f---ing job back.' As a competitor, I was like, 'This is how you're supposed to think.' At the same time, I'm thinking to myself, 'This is the NFL! This is Drew Bledsoe -- a former No. 1 overall pick with a big contract! OK, good luck with that.' But Tom didn't look it at that way. It was no disrespect to Drew. He was determined to make it hard on [Bill] Belichick and Mr. Kraft to put Drew back on the field."
---
Sharing is overrated
Matt Cassel, Patriots quarterback, 2005-08: "He's never willing to give up a rep. I remember when I was in practice, Josh [McDaniels] would be like, 'All right Cassel, get in there. You're up.' And as soon as he put me in, Tom would be like, 'No, I want to get this one.' I remember having this conversation with him. He said, 'Look, as you play this game, you never want to see somebody else doing your job, because everybody is good in this league.'"
---
Do not try this at home
Bill Belichick, Patriots head coach, 2000-present: "When we played golf at Pebble Beach two years ago, on the sixth hole, it's a big cliff. He's literally standing out there on the ledge, trying to hit the ball. The caddie is holding him so he won't like tumble 300 feet to his death into the Pacific Ocean. It's a golf ball. But I think that's kind of the competitiveness of Tom. I'm sure there's a picture of it. I'm thinking to myself, 'What the hell are you doing?'"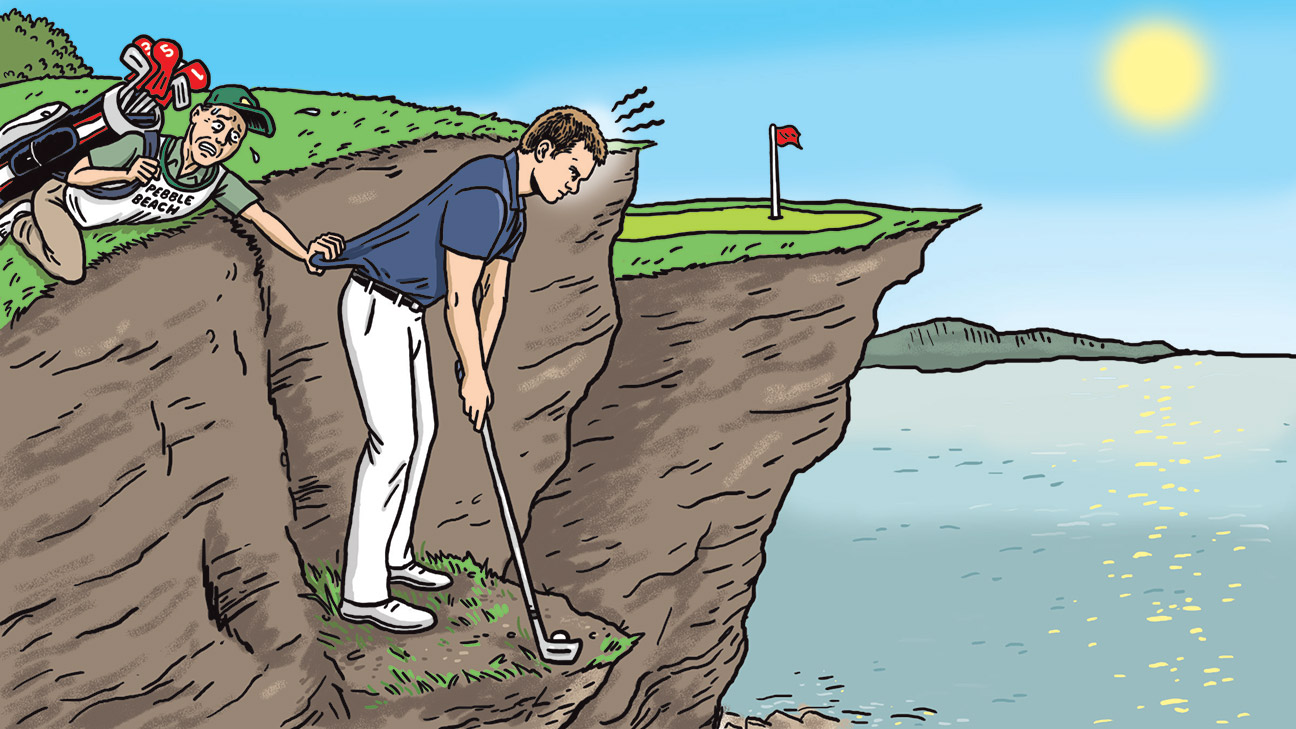 ---
A near-death experience
Charlie Weis, Patriots offensive coordinator, 2000-04: "In 2002, I was going in for gastric bypass surgery and only a couple of people knew. Tommy was one. Belichick was one. The plan was to go in on Friday, stay overnight for observation, and then get out the next day unless there were problems. Well, it's Saturday morning and Tommy comes to the hospital to see me, and when he walked in, I was almost dead. I was in intensive care, my blood pressure had dropped as low as 50 over 30, and I was in really, really bad shape. We hadn't lived up in New England that long and didn't have any family that lived in New England, and my wife [Maura], who was stunned, is trying to figure out how to take care of kids and be at the hospital at the same time. Tommy basically stayed with my wife most of that weekend until reinforcements could arrive. He was there all day Saturday, with her late Saturday night; and then Sunday, I had flatlined a little bit where I was actually dead and they brought me back. What I later learned was that Tommy and my wife had a serious conversation at the time, and he said, 'I wonder when he comes back after this if he will yell at me any less?' And the way my wife told me the story, they both looked at each other and said, 'Naaaah. That will never happen.' That was him trying to get my wife to not go in the tank at a time when he's a young kid and looking at a coach, who he is pretty close with, almost dead. Those two days really changed our family's relationship with Tommy. From that day on, he wasn't just the quarterback. There was a bond between Tommy and my wife and our family that had been created on nothing to do with football."
---
'The emotions start overflowing'
Josh McDaniels, Patriots coaching assistant/QB coach/offensive coordinator, 2001-08, 2012-present: "When I accepted the Denver job at the end of the 2008 season, I hadn't seen Tommy a whole lot over the course of the year because of his [injured] knee and all the things that were going on with his rehab. So we're on our way to the airport in Massachusetts to fly to Denver, and we still hadn't connected at that point. I had tried to get him, but he might have been out of the country. He calls while we're on the way to the airport, and as would be typical of him, he talks about how he was going to miss our relationship, how happy he was for our family, and then he asks to speak to [my wife,] Laura. Laura is strong, independent and not overly emotional, but as she's listening to him, the emotions start overflowing. She had been fine up until that moment. He told her how much he loves our family, how excited he was for us, how he'd be rooting for us every game except for when playing us. Tommy didn't even have to call, he had been going through everything with his knee. It was just really representative, to me, the fact that I've always thought he was a better human being than he is a football player."
---
Anyone missing some tires?
Kevin Faulk, Patriots running back, 2000-11: "Tom was always businesslike, but he also liked to have fun. So one day, we all walk into the locker room and three tires from Matt Cassel's car are all at his locker. Nobody knows where the fourth tire is, but Cassel's car, in the parking lot, is on blocks. They were playing pranks on each other, it was Tom who did it, and Cassel sort of looked around and said, 'What can I do, man?' Well, a couple of offensive linemen decided that they wanted to help. They wanted to leave Mr. Brady a little treat for when he was going home from practice. So Brady gets to his car and what does he find: It is filled with a bunch of packing peanuts."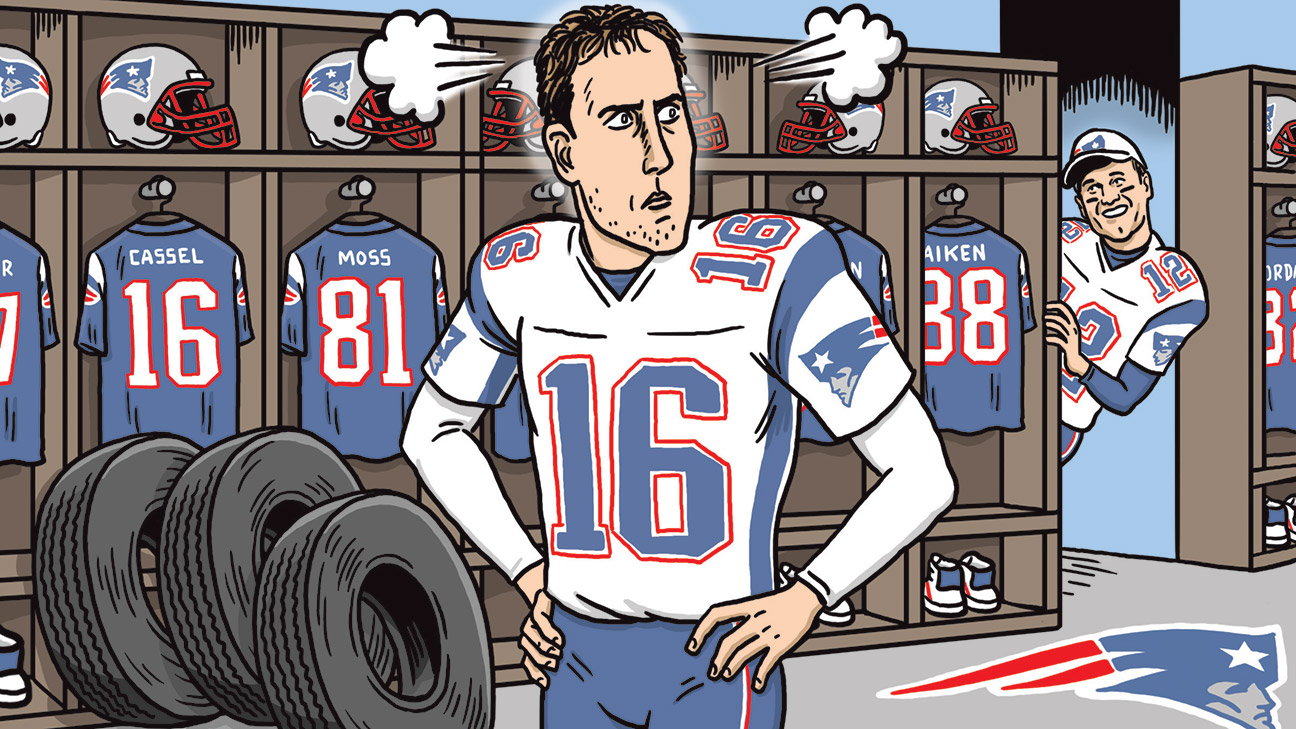 ---
'Hey, my name is Tom Brady'
Sebastian Vollmer, Patriots offensive tackle, 2009-16: "I'm always impressed, because when you walk into that locker room, everyone knows who Tom Brady is. But he introduces himself to every rookie: 'Hey, my name is Tom Brady. I play quarterback.' It's not like, 'I'm the guy.' He's not arrogant. Just humble from the perspective of, 'I don't expect you to know me, I am going to prove to you I can play.'"
---
Welcome to the team, rook
Matthew Slater, Patriots special-teams captain, 2008-present: "I remember when I first got drafted here, kind of feeling out of place, not knowing who I was on the team, what my role was going to be. But Tom came up to me, knew my name, kind of knew my story -- the way my career went at UCLA. It just blew me away that this guy, with all he has accomplished, would take the time to get to know a little bit about a youngster. I think that really speaks to his character and the way he carries himself and the type of human being he is. I'm really appreciative of that."
---
Everyone should have a TAG guy
Rob Ninkovich, Patriots defensive end/linebacker, 2009-16: "One time, we were in a captains' meeting and he had a cool TAG [Heuer] watch on. So I went up to him and said, 'That's pretty sweet. Do you have a guy that I can talk to?' He has that knowing look on his face and says with a smile, 'Do I have a guy?' I told him I'm sure he had the owner, the president of the company, whatever. Fast-forward a couple days and he handed me a brand-new box. It was exactly the watch I had said was awesome. He didn't have to do that. But that's just the way he is."
---
'I want to hit the ball hard, Dad'
Tom Brady Sr., dad: "When Tommy was 4 years old, we played in our first father/son golf tournament. This particular Sunday when we got to the course, all he was really interested in was drinking milkshakes, driving the cart and hitting the golf ball -- often. In the course of this alternate-shot tournament, I would hit the ball, then he would hit the ball, then I would hit the ball. However, he wanted to be the only one to hit the ball. On the 13th hole, I sank a long putt and he started whining, then crying, because then he couldn't hit his shot. On the next hole, I rolled a putt up to within 2 inches of the cup. He then got up with his putter and hit the ball about 60 feet away while taking a big divot out of the green. I asked him why he didn't just tap the ball into the hole, and he said he just wanted to hit the ball hard. Needless to say, we came in dead last in the tournament. However, at the end of it, he still got his milkshake."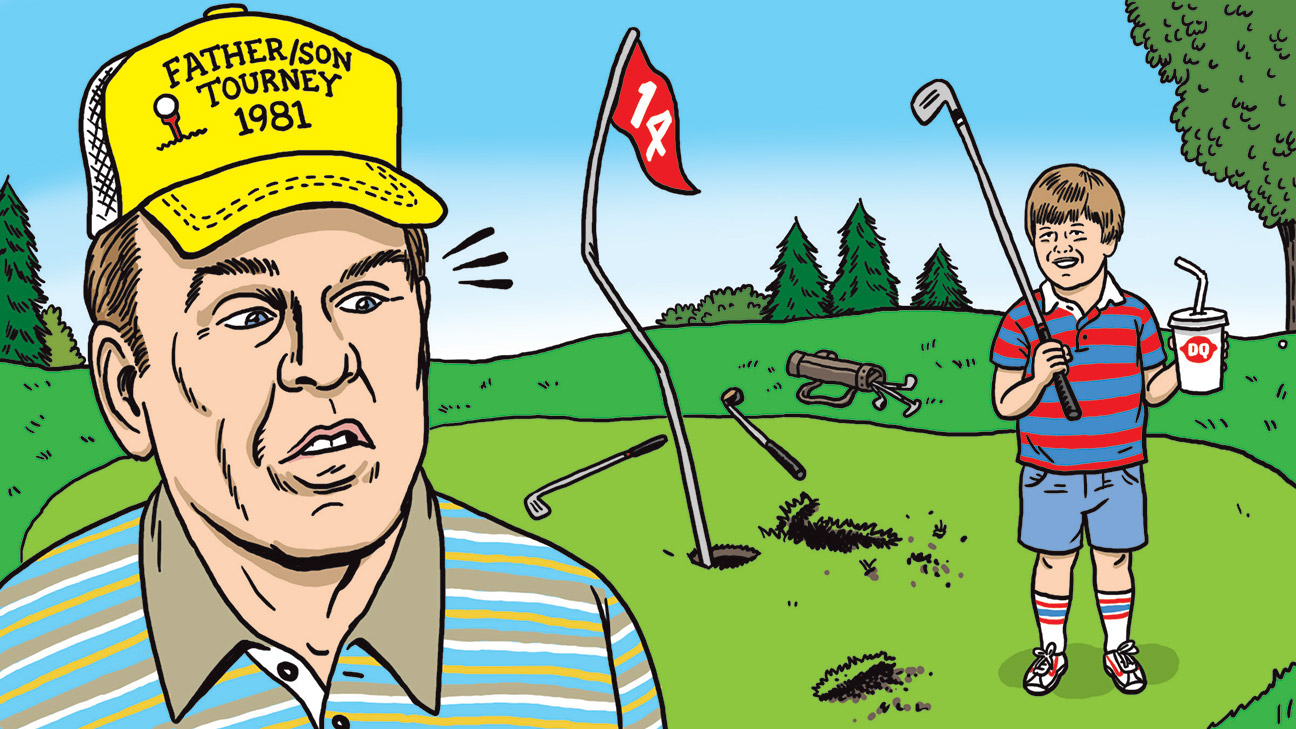 ---
Mastering the five dots
John Kirby, Junipero Serra High School teammate, 1994: "People have talked about his speed and how he isn't the fastest guy, but I always thought he was pretty fast back in the day. We did something called the five-dot drill. It looks like the five that you would see when rolling dice. You do all these different footwork things, back and forth, and the first time we did it, Tommy's time wasn't the greatest. You know the way he faces adversity; he doesn't let anything stand in his way. So what does he do? He spray-paints those dots on his garage floor so he could do it at home. His time was greatly improved by the end of the summer."
---
Good is the enemy of perfect
Matt Cassel, Patriots quarterback, 2005-08: "One day in practice, I forgot to bring the guy in motion because I got locked and knew I was throwing to the other side based on pre-snap coverage. But I forgot the motion. And Brady immediately comes up to me right after and goes, 'Cassel, you can't miss that motion.' I was like, 'Yeah, but I completed the ball.' He's like, 'Yeah, but how the hell are you going to yell at them to be accountable when they see that you messed up that motion?' You have to be perfect at this position."
---
Your money is no good here
Wes Welker, Patriots wide receiver, 2007-12: "We were flying during our bye week to L.A. to get worked on as we got ready for the playoffs. We were playing a game with dice and you try to get all your pawns to the other side, and I'm kind of beating him the first couple games. He's down about $200. I'm talking trash and you could just see his frustration growing. He then takes the board game and throws it against the back of the plane. I'm like, 'Dude, are you serious right now?' We keep on playing, and of course he ends up getting up on me $300. All of a sudden, he's in the happiest, best mood ever. I go to pay him and he didn't even take it. He just wanted to win. He had the biggest smile on his face."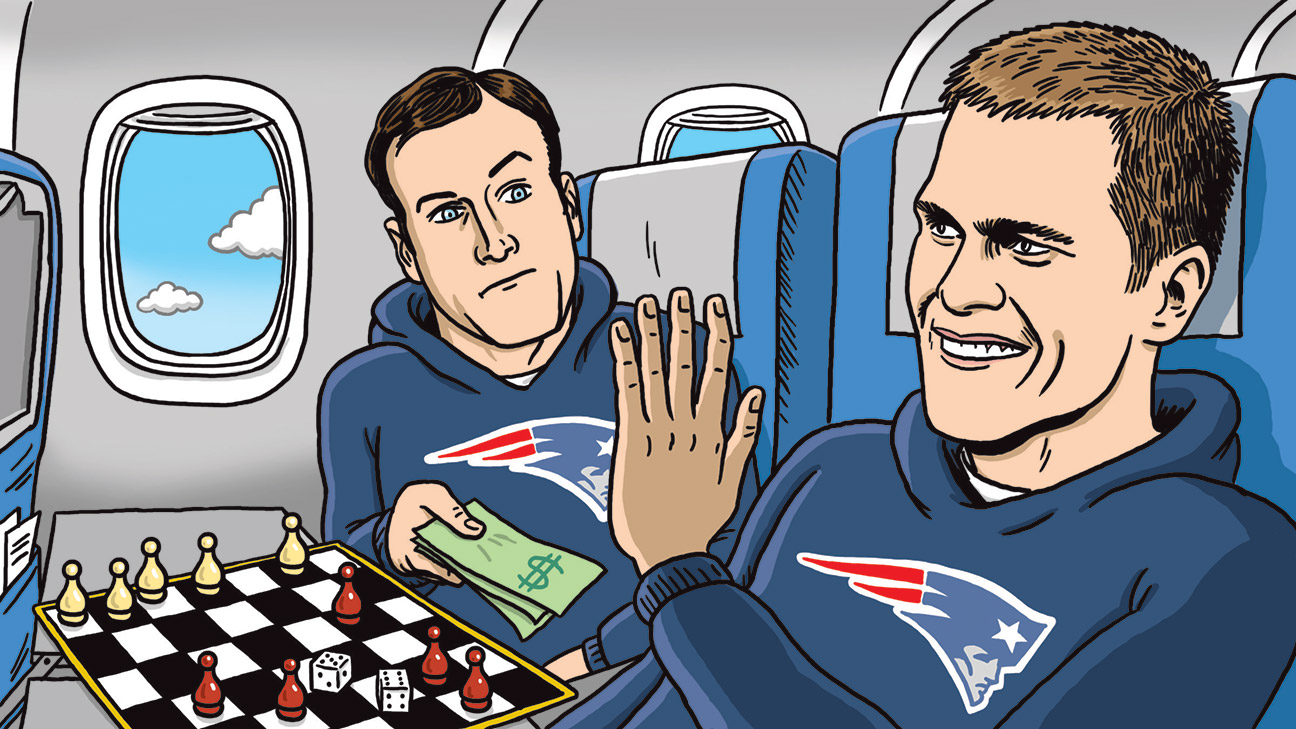 ---
'He has an IBM'
Bill O'Brien, Patriots QBs coach/offensive coordinator, 2007-11: "My favorite story about him has to do with his memory. I don't remember the exact time of the year, but we were playing Buffalo, I think it was 2009. We're in a meeting and we're watching Buffalo's first- and second-down tape. I'm talking to them about what the Bills' defensive coordinator was doing, and [Brady] basically knew who the coordinator was because he had faced him earlier in his career, about five to six years prior. So he says to me in this meeting, 'I remember we ran this play against this scheme called Crunch Stock in 2004.' I said, 'You remember that specific play?' He said, 'Yeah, I remember it against this specific coverage, which this coordinator loves to play. It was on the right hash, going away from the lighthouse, and we hit Troy Brown for a big gain on the crossing pattern.' I said, 'There is no way you remember that play like that!' He challenged me to pull it up. We have all the games on the computer system, and we find that game and there's the play: on the right hash, second-and-less-than-5, going away from the lighthouse and he hits Troy Brown on a crossing pattern. Think about all the plays he had between that day and the day we were talking. Apart from his talent and competitiveness, I always tell people that's what sets him apart. He has an IBM. He remembers it."
---
Sorry, too slow
Jacoby Brissett, Patriots quarterback, 2016-present: "When I first got here, I think he kind of set the tone in our room in terms of how competitive we are. Josh [McDaniels] is asking me a question, it was like one of my first days here. So I'm thinking about what to say, and Tom just answers. In my head, I'm like, 'What are you doing?' And then he's like, 'You just have to be faster in this room.' That's when I kind of got an opening to [his approach], and it's been the same way ever since."
---
Quite the fastball
John Kirby, Junipero Serra High School teammate, 1994: "Senior year in high school, I remember running a 17-yard curl, back to 15. I swear to god, as soon as I planted my right foot, I could already hear it coming -- like a missile in the air. That's by far my most favorite Tom Brady story of all time. You knew the ball was coming because you could hear it."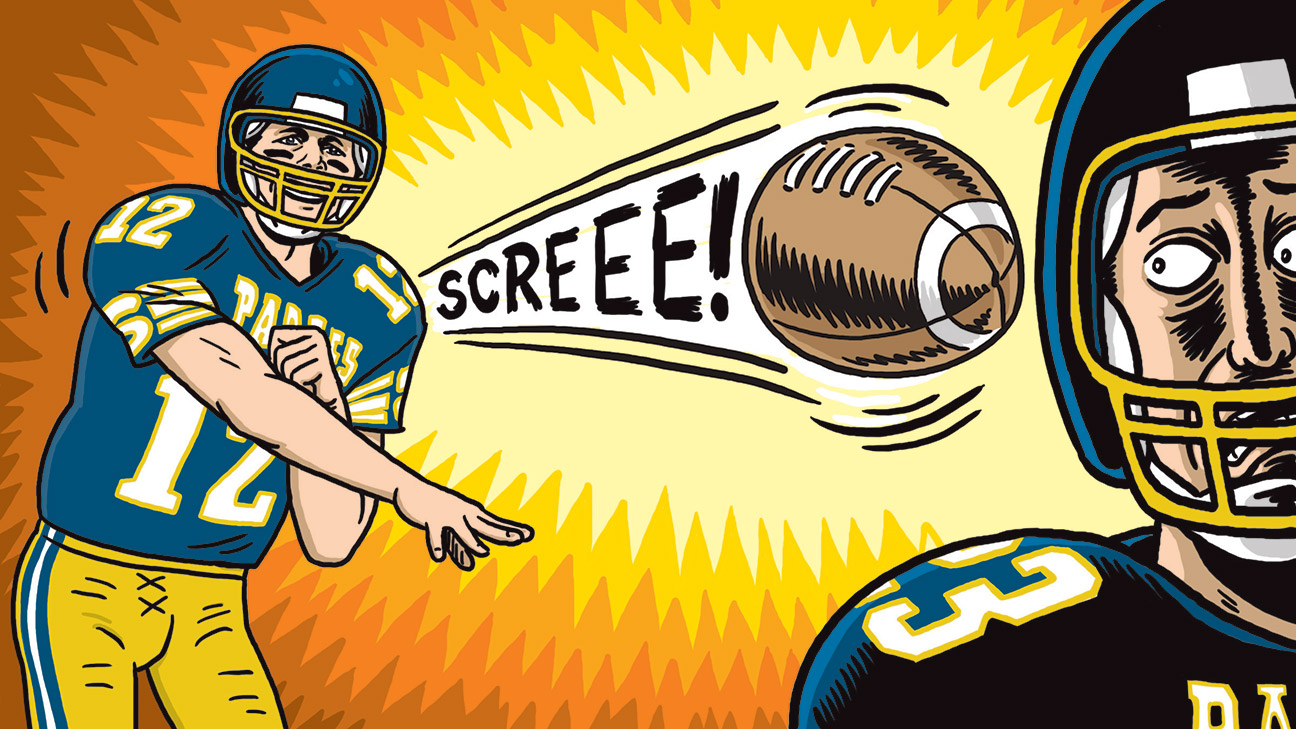 ---
Ty's Discount Furniture ... And Home
Ty Law, Patriots cornerback, 2000-04: "I think back to our first Super Bowl season [2001], and I had a different relationship with Tom, especially when he was younger. We had the Michigan connection, and I sold him my house for a major, major f---ing discount! I left everything -- all the furniture, the TVs -- it was basically, 'Just move in your bags.' The guy wasn't making any money, so I sold it to him for probably $100,000-something less than if I had put it on the market. He was such a hard worker and it was like, 'This is the least I can do.'"
---
When all else fails, 'panic cry'
Sebastian Vollmer, Patriots offensive tackle, 2009-16: "We're playing Miami and I got beat clean by the defensive end. I'm on the right side, essentially turning around, and Tom is looking to the left. The defensive end has a straight shot at him and I know Tom doesn't see him. So I just yell out one loud, 'Toooommmmm!' He doesn't even look, steps up calm as ever and delivers the ball for a completion. Then he looks in my direction, points his finger and says, 'I heard that.' I'm thinking to myself, 'What incredible awareness he has.' Never rattled. I'm the one who screwed up and he's thanking me for yelling his name. It was like a panic cry."
---
The silent treatment
Rodney Harrison, Patriots safety, 2003-08: "When we were down in the Super Bowl at Houston [in 2004], it was practice and it was a competitive one. The defense had its way with Tom that day -- knocking down balls, forcing incomplete passes -- and we were all pumped up. Then I stepped in front and picked Tom off, running down the field, high-stepping, talking trash. When I come back, he started chasing me, throwing footballs at me, yelling obscenities at me. It was unbelievable. Here we are at the Super Bowl, about to play the biggest game of our lives, and this dude is mad -- and then wouldn't talk to me for a day and a half -- because I picked him off."
Illustrations by Ward Sutton