Editor's note: Harrison, who finished the 2017 season with the Patriots, announced on Monday morning that he has retired from the NFL. The longtime Steelers linebacker turns 40 on May 4.
The obscene weights that fly off the @jhharrison92 handle each day say a lot about James Harrison's work ethic (gym house over beach house), his style of play (powerful, low to the ground), his teammates (they don't mind spotting or holding the smartphone camera) and social media (fans can't get enough).
And in sheer unit equivalency, the videos indicate Harrison can lift or move just about anything under 1,800 pounds.
Broad imaginations can have fun with that. And we did.
Turns out Harrison can push an entire NFL offensive line -- plus the quarterback.
From insane hip thrusts to sumo belt squats, here's an inside look at how Harrison's routine illustrates his approach to the game, what his teammates think and what's really necessary, from a trainer's perspective.
---
Sled push
Original workout: 1,800-plus pounds
Equivalent weight: Ravens' starting offensive line and Joe Flacco

In seven seasons, Steelers linebacker Arthur Moats has seen maybe a few linemen break the 1,500-pound mark on the sled, a staple in every NFL strength room.
Those players had power. James Harrison has horsepower.
"That's a Honda Civic, man," Moats said about the 1,800 pounds Harrison pushed across turf, arguably his greatest Instagram feat of strength. "We're not doing that."
Grinding away on the sled each offseason can help outside linebackers push back 300-pound offensive tackles in the fourth quarter.
For Harrison, who takes pride in avoiding injury, the sled is safer than the weight suggests.
Manning Sumner, a Miami-based trainer to NFL stars such as Jordan Reed and Joe Haden, said sledding puts less compression on the spine than squatting.
And it makes a great social media splash.
"I have the feeling he's doing that one for Instagram," Sumner said. "If you're gonna go crazy with weight, the sled is the thing to do it with. And Harrison has incredible strength."
Harrison downplays the weight, saying he simply does whatever his Phoenix-based trainer, Ian Danney, asks of him. The weight depends on the exercise and what's ideal for peak performance.
"Sometimes, all you need is five pounds," Harrison said.
Those sessions aren't as popular online.
---
Insane hip thrusts
Original workout: ~765 pounds
Equivalent weight: 1,000 Terrible Towels
If Harrison's workouts came with caution labels, this would be Exhibit A. The hip thrust -- also known as a glute bridge -- is a popular exercise for most Steelers, but even half of Harrison's max-out weight can pose problems.
"It kind of is [awkward], and it can be dangerous too," tight end Xavier Grimble said. "If you don't have the correct form, it can create a lower body injury. The weight can crush your legs."
The workout usually requires two spotters, enabling the lifter to crawl underneath the bar after the set is over. But crawling is for mere mortals. Harrison likes to throw the weight off his lower body, as if the grunting didn't punctuate his raw strength.
This exercise enhances explosion off the line of scrimmage and helps prevent pesky hamstring pulls, Sumner said.
Sounds routine enough. Thrusting 700 pounds is not. But Harrison isn't looking for relatability. He isn't trying to inspire or draw attention, either, he says.
"I'm going out there to work out and get myself better and challenge myself," Harrison said. "I'm not out there for anybody else."
The pass-rush community still appreciates the show.
"It's fun to watch," said former NFL defensive end Chuck Smith, who trains pass-rushers in Georgia each offseason. "And he talks some smack behind it. Nothing wrong with that."
---
Sumo belt squats
Original workout: ~540 pounds
Equivalent weight: Record-breaking Sumo wrestler Hakuhō Shō and Tom Brady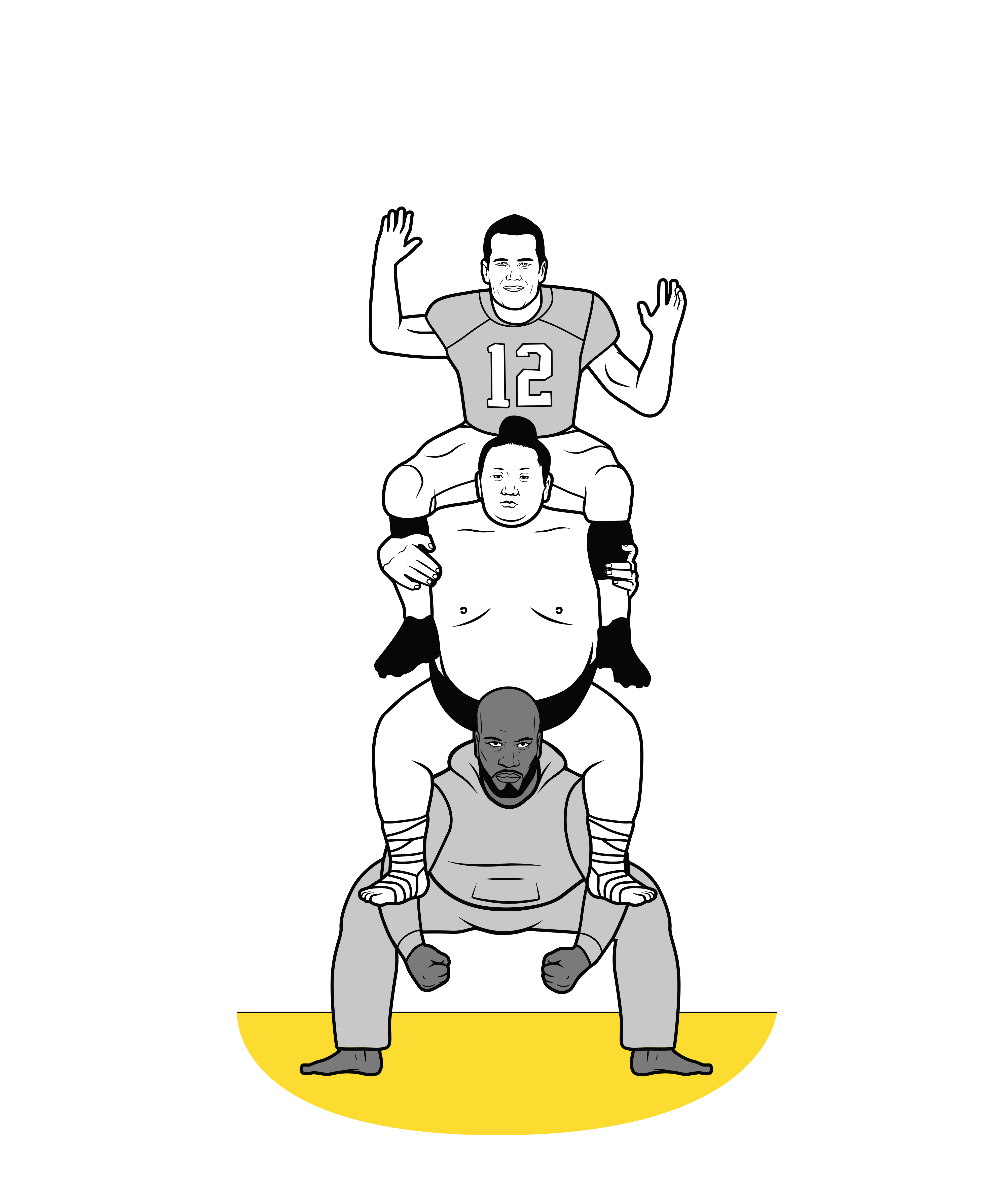 Protecting the back and spine is crucial with power lifting. After undergoing multiple back surgeries in the early 2010s, Harrison turned to a team of chiropractors, masseuses and acupuncturists to ease tension on his back. He spends $300,000 per offseason just to stay fresh.
The sumo belt -- also known as a pit shark -- allows Harrison to squat without fear of bending the wrong way.
"It's just a different way of spotting," Harrison said. "Instead of the weight being on your back, it's sending down from your waist."
The exercise has become popular for taller players who find squatting troublesome, Sumner said. The act itself feels like "you're loading the weight on you," said Moats, who clarifies that no teammate is touching 540 pounds.
Smith is quick to point out that plenty of Pro Football Hall of Fame pass-rushers aren't squatting 540 pounds or hip thrusting seven bills.
But he admires that Harrison follows his own formula.
"There's no individualized lifting with teams, which means I love what James is doing," Smith said. "He's pushing the button, saying each individual needs their own workout. The NFL needs to evolve with the training in weight rooms. Everyone does the same thing."
---
Negative accentuated bench press
Original workout: 500 pounds at the top, 405 pounds at the bottom
Equivalent weight: Roger Goodell holding briefcase full of Harrison's fine money ($125,000 in $1 bills)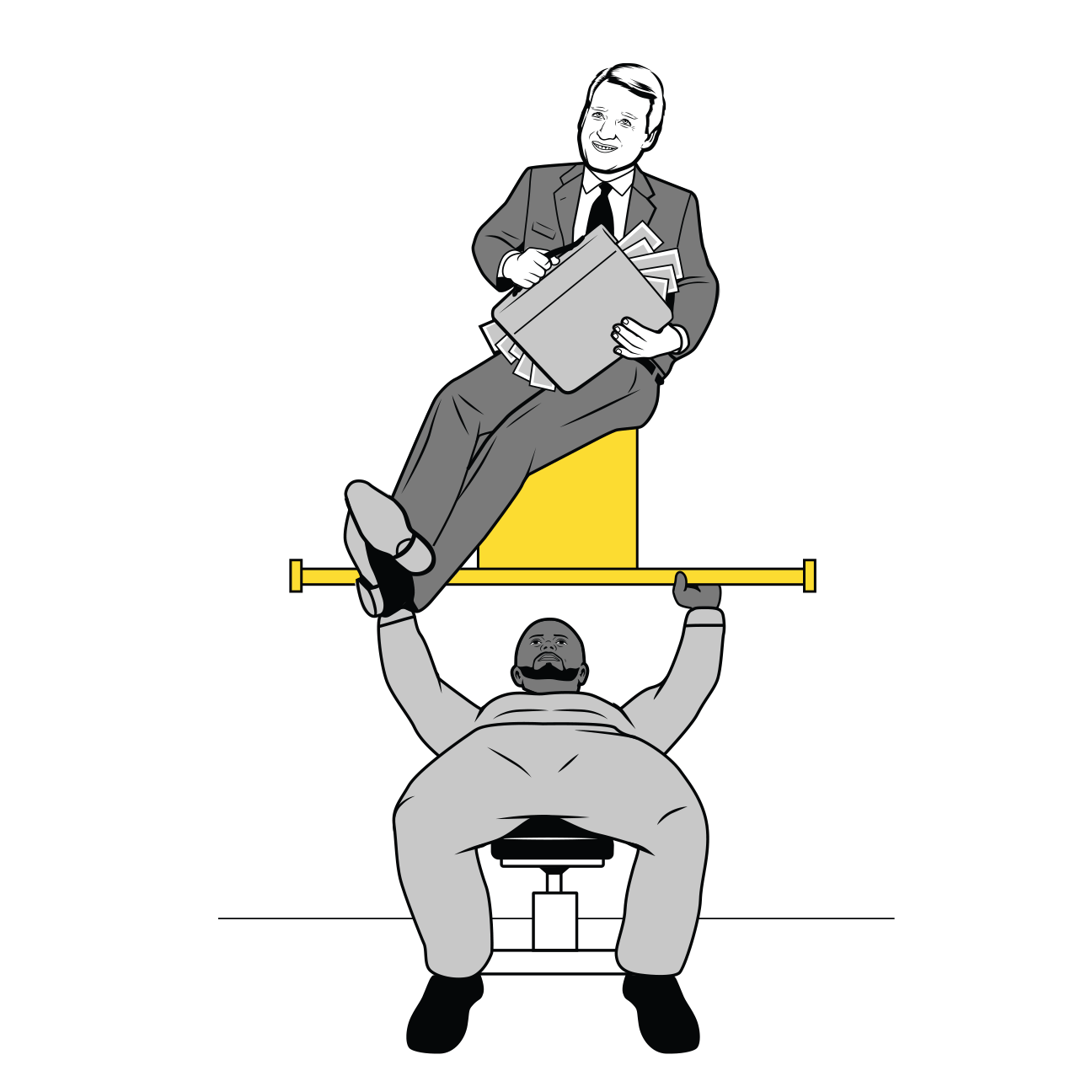 Asking Harrison about his weightlifting secrets elicits bewilderment from the linebacker, as if slinging ridiculous weight is common practice. No secrets, he says, just hourlong sessions in the gym from Monday to Friday.
He did outline his goal for the top-bottom bench press featuring hanging weights: Prepare for tussles with linemen.
"You're out there, you're punching a guy, your arms are moving, he's trying to throw you one way, the weights are trying to shake you to go one way," Harrison said. "It's stability. It's nothing in depth about it. It is what it is."
Heavy weight confirms Harrison's brute-force style. Most Steelers outside linebackers do a variation of this workout, but their goals are more modest, in part because they attack the quarterback differently. Harrison is listed at a generous 6 feet. Pittsburgh defensive coordinator Keith Butler jokingly calls him "sawed-off," which he admits Harrison does not like.
For a player who is lower to the ground, leverage is everything.
"His game is built around power," Steelers linebacker Anthony Chickillo said. "If your game is built around power, it's great for you. If it's not, you have to find something else. I would say no one's like his style of player. He's from the era when there were a lot of big running backs in the league."
---
No legs bench press
Original workout: ~375 pounds
Equivalent weight: 52 Lombardi Trophies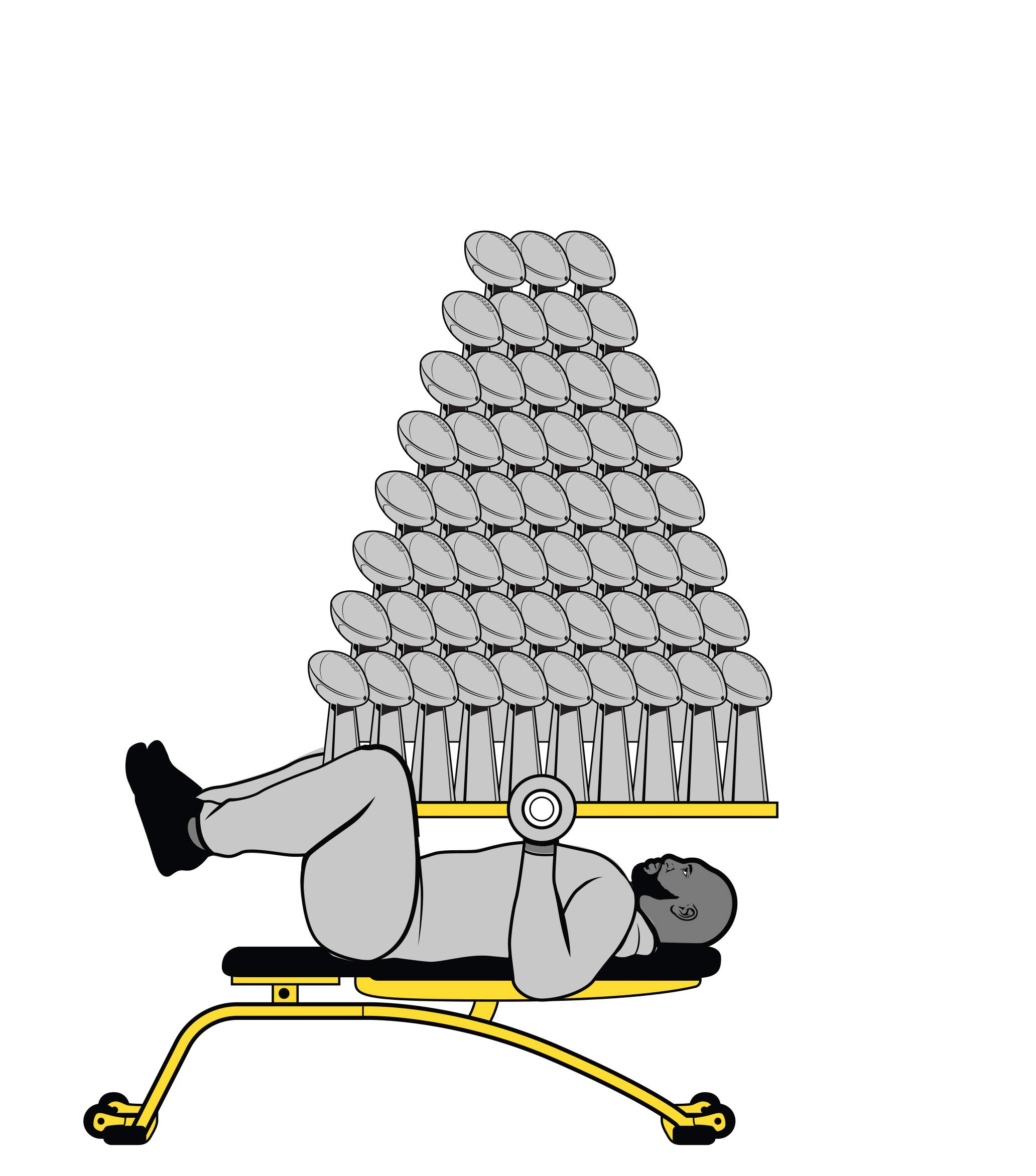 This is the least daunting of the Harrison workouts. When told Harrison put three 45-pound plates and one 25-pound plate on each side for this video, Moats was at least mildly surprised, based on precedent.
"Oh, for real? That's not that bad," Moats said. "The dual legs, that's still a good amount. That's focusing mainly on core areas. Sometimes you have the legs on the ground."
Harrison generates more power with traditional benching, but back and chest is for Tuesday. Wednesday is for core muscles only. Yes, one entire day dedicated to the midsection. That 25-minute session on the elliptical feels that much more inadequate.
Harrison also does legs on Mondays, shoulders on Thursdays and arms on Fridays, with times ranging from 7 a.m. to 5 p.m.
"I would compare him to Ray Lewis late in his career. He's always in the gym," Sumner said. "In this day and age, that is impressive. You don't see that with most players."
Harrison's plan is detailed, but it's also experimental. It has to be to make these gains, Grimble said.
"I feel like now he's really just trying to find ways to keep challenging his body, which is crazy, since most people get to a certain point and just peak," Grimble said.
Animated illustrations by Todd Detweiler