It's back! It's back! The NFL MVP poll is back!
We've reached the midway point of the season, which means it's time to start talking about things like the MVP award. We know you love this stuff, and even if you don't, we do. So in honor of the midseason mark, we polled a panel of 10 ESPN NFL experts on who they think is the league's most valuable player so far. This list should fluctuate tremendously until the end of the season -- or else where's the fun? -- and we hope you'll enjoy following along with us as it does.
So, without further ado, here's the debut in-season edition of the 2017 ESPN NFL MVP poll.
Methodology: Our panel of 10 experts nominated their top five candidates. First-place votes are worth five points, second-place votes worth four, third-place votes worth three, fourth-place votes worth two and fifth-place votes worth one. The top five finishers are highlighted in the following graphic. Full results can be found at the bottom.

TOP FIVE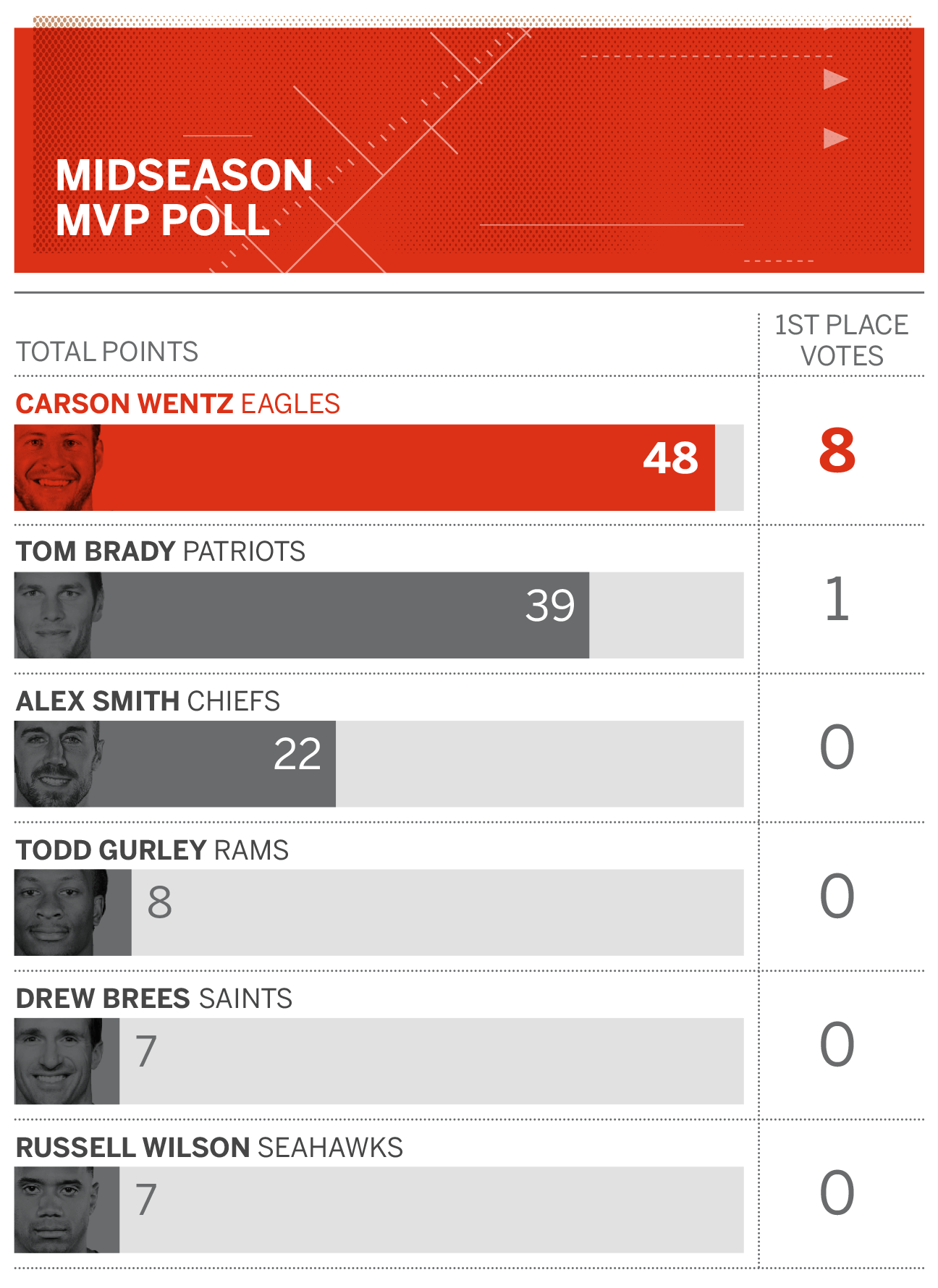 Note: Kansas City Chiefs running back Kareem Hunt received the 10th first-place vote, but did not finish in the top five.


Regular-season passing: 176-for-291 (60.5 percent); 2,262 yards; 23 TDs; 5 INTs; 73.4 Total QBR
The case for Wentz: The quarterback of the team with the best record is almost always a top candidate, and at the moment, that's Wentz of the 8-1 Eagles. He leads the NFL with 23 touchdown passes against just five interceptions, and he ranks in the top five in passing yards, passer rating and Total QBR. Heading into the bye, Wentz dropped four touchdown passes on the Broncos' secondary in last week's win to stamp his and Philadelphia's case as legit.
The case against Wentz: There's not a strong case against Wentz at this point, but if you're looking for reasons he might not stay atop this list, four of the Eagles' next five games are on the road at Dallas, Seattle, the Rams and the Giants. So things might toughen up around him, and it's possible at some point that the absence of left tackle Jason Peters will affect the brilliance with which Wentz is operating this offense. Let's see ... what else? He's only 28th in the league in completion percentage -- that's not great. But really, this was an easy call. Wentz got eight of the 10 first-place votes.

Regular-season passing: 206-for-309 (66.7 percent); 2,541 yards; 16 TDs; 2 INTs; 71.7 Total QBR
The case for Brady: Oh, yeah. This guy. Stop me if you've heard this before, but the Patriots are 6-2 and Brady is having a monster season. Apparently, 40 is a state of mind, and Brady's mind is stuck on 27. Fifth in completion percentage, first in yards per game (by 30!), second in passer rating, fourth in Total QBR, fourth in yards per attempt, with 16 touchdowns and two interceptions -- you name it. If it's about quarterback play, Brady is doing it as well as he ever has, and he's doing it without Julian Edelman. It wouldn't be an MVP poll without Brady, who got one of the other two first-place votes that didn't go to Wentz.
The case against Brady: You have to really nitpick here, but he's on pace for 32 touchdown passes, which is great, but well short of Wentz, who is on pace for 41. There's not a great case against Brady right now. The reason he's No. 2 and Wentz is No. 1 is basically just that Wentz and the Eagles have been a little bit better so far than the Patriots have been. Long way to go here.
Regular-season passing: 204-for-293 (69.6 percent); 2,444 yards; 18 TDs; 1 INT; 64.1 Total QBR
The case for Smith: The Chiefs' red-hot start has fizzled as they've lost three out of four after opening the season 5-0, but Smith is still humming along. He's third in completion percentage behind Drew Brees and Josh McCown. (Let that sentence sink in for a second.) He's second in passing yards, first in passer rating and first in yards per attempt while still throwing only one interception to go with his 18 touchdown passes. Smith has brilliantly transitioned along with Kansas City's speedy new weapons to a new style of offense, and the Chiefs are leading the AFC West because of it.
The case against Smith: Had we done this three or four weeks ago, it's possible Smith would've held the No. 1 spot. Instead, he received no first-place votes and no second-place votes (Wentz got two second-place votes and Brady got eight). Smith's numbers in the Week 8 victory over the Broncos weren't impressive, and his QBR performances in losses to Pittsburgh and Dallas were among his worst of the season. The Chiefs started the season with wins against Brady and Wentz, but they've lost some tough ones lately to contenders.

Regular-season rushing: 161 carries; 686 yards; 7 TDs
Regular-season receiving: 29 receptions; 338 yards; 3 TDs
The case for Gurley: Now, this is what I'm talking about! Enough with the quarterbacks, am I right? Gurley scored a third-place vote, two fourths and a fifth to barely edge out the two quarterbacks tied for fifth. Why? Well, he ranks fourth in the league in rushing yards with 686 and has added 29 catches for 338 yards. With seven rushing touchdowns and three receiving touchdowns for a league-leading 10 total, he has been the centerpiece of the league's highest-scoring offense and a huge part of the reason for quarterback Jared Goff's big second-year leap.
The case against Gurley: Quarterbacks do tend to win this award, and the three in front of Gurley on this list all have strong cases. And Gurley does rank second in the league in total yards from scrimmage behind Kansas City's Kareem Hunt (who, by the way, got the other first-place vote in our poll).

Regular-season passing: 197-for-275 (71.6 percent); 2,214 yards; 13 TDs; 4 INTs; 60.6 Total QBR
The case for Brees: This is a bit of a tough one. Brees is fifth in the league in yards, and the Saints are a surprising first-place team of which he's the quarterback. He seems to be steering the ship with expected competence.
The case against Brees: Is he the MVP of his own team? I mean, obviously, the QB almost always is. But this year's Saints are leaning hard on the running game and a surprisingly strong defense. Brees' numbers are fine, but they're hardly the spectacular ones we've come to expect, and the team is already one win short of its total from each of the past three seasons.

Regular-season passing: 188-for-303 (62.0 percent); 2,305 yards; 17 TDs; 6 INTs; 62.4 Total QBR
Regular-season rushing: 46 carries; 271 yards; 1 TD
The case for Wilson: This one is easier to make, because no one has done more to carry his team so far than Wilson has. Until last week, when the Seahawks finally acquired Duane Brown to play left tackle, Wilson had been playing behind Seattle's usual makeshift offensive line and making magic anyway. He's second in the league in passing yards per game, has 33 percent of his team's rushing yards and has saved the team with fourth-quarter comebacks against San Francisco and Houston.
The case against Wilson: Other than the yards (rushing and passing), his numbers don't rate with the quarterbacks higher on this list. And Seattle's 5-3 record isn't Philly's 8-1 or even New England's 6-2. That does matter in MVP voting, historically.
---
FULL RESULTS