There's a pair of pretty clear front-runners in the MVP race right now, but other than the position they play and the way they're playing it, our top two candidates don't have much in common.
One is 24 years old, the other is 40. One was the second overall pick in his draft, the other was the 199th. One wears green, the other blue. One has never played a playoff game, the other has won five Super Bowls. Yet it's the younger, less accomplished of the two who leads the pack at the moment.
There are six games to go, which is a lot, and much can change. This time last year, Matt Ryan wasn't leading any MVP polls, and he kind of ran away with the thing. But at this moment, it's a two-player race. No one besides the top two guys received a single first- or second-place vote in this edition. And if they and their teams keep playing the way they are right now, there's no reason to expect that to change anytime soon.
Methodology: Our panel of 12 experts nominated their top five candidates. First-place votes are worth five points, second-place votes worth four, third-place votes worth three, fourth-place votes worth two and fifth-place votes worth one. The top five finishers are highlighted in the following graphic. Full results can be found at the bottom.

TOP FIVE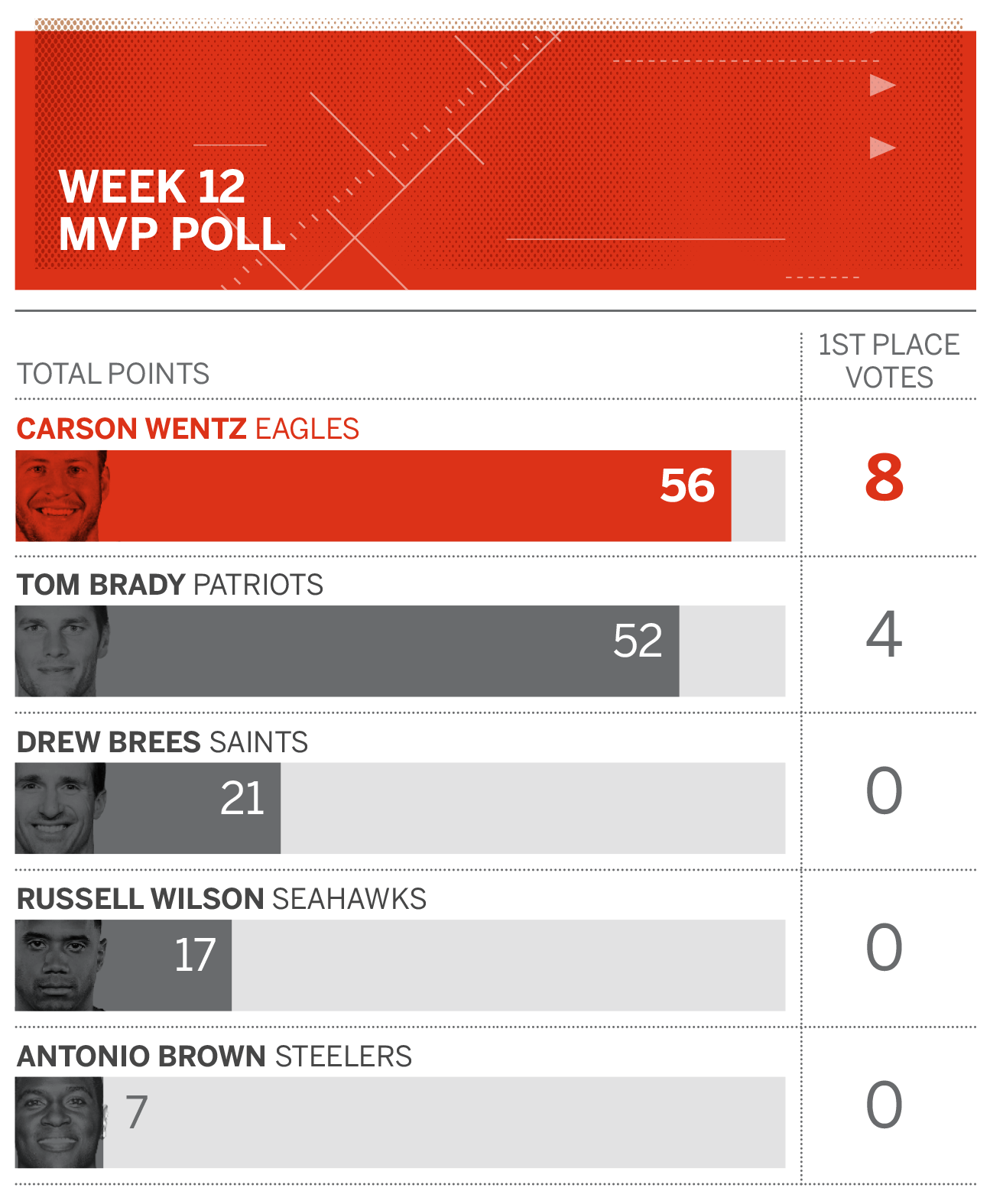 Regular-season passing: 190-for-318 (59.7 percent); 2,430 yards; 25 TDs; 5 INT; 70.9 Total QBR
The case for Wentz: He's the quarterback of the team with the best record and he leads the league in touchdown passes. That guy is always going to be a candidate, which is why Wentz received eight of the 12 first-place votes and four second-place votes. There's not much to not like. He's making good decisions, not turning the ball over, can help with his legs when the play's not there downfield ... you get the point. Coach Doug Pederson is nimbly altering the offense to fit its circumstances from week to week -- sometimes quarter to quarter -- and Wentz is in total command of it all.
The case against Wentz: Well, he's only 11th in passing yards and ninth in yards per attempt and, jeez, 30th in completion percentage. So there are some traditional stats that argue against his case if you're looking for a way to do that. But the only real reason not to vote for Wentz right now is if you think (as you quite reasonably can) that the next guy is playing better.

Regular-season passing: 261-for-380 (68.7 percent); 3,146 yards; 22 TDs; 2 INT; 72.4 Total QBR
The case for Brady: The Patriots are 8-2, only one game worse than the Eagles, and the apparently indestructible 40-year-old Brady leads the league in passing yards and passer rating. He's second in yards per attempt behind Deshaun Watson, who sadly won't end up with enough attempts to qualify for that stat, and third in Total QBR behind Watson and of course Case Keenum. (Where's the Keenum love on this list???) Brady's 22 touchdown passes are second only to Wentz, and of course he has thrown only two interceptions because he's a machine. Brady's always a candidate here, and this year is no exception.
The case against Brady: There isn't one, other than the case for Wentz. Brady got the four first-place votes and eight second-place votes that Wentz didn't get, and it's totally realistic to imagine him chasing down the kid for this award before it's all said and done.

Regular-season passing: 244-for-341 (71.6 percent); 2,783 yards; 15 TDs; 5 INT; 60.3 Total QBR
The case for Brees: He leads the league in completion percentage at 71.6, which would tie the record set last year by Minnesota's Sam Bradford and be the fourth time in Brees' career that he finished a season at 70 percent or better. Bradford, Ken Anderson, Sammy Baugh, Steve Young and Joe Montana are the only others who have ever done that, and none of them more than once. Brees is comfortably top-five for the season in yards, yards per attempt, passer rating, yada, yada. The Saints are 8-2 and he's the quarterback, and the star running backs are sharing the glory, so here he is.
The case against Brees: I mean ... is he even the most valuable player on his own team? You could build a case that the Saints are winning because Mark Ingram and Alvin Kamara are running the ball so well, or because Marshon Lattimore, Cameron Jordan and the rest of the rejuvenated defense are dominating. Brees showed on Sunday against the Redskins that he's still the man in the clutch when the Saints need him, but they haven't really needed him to be Drew Brees to win their games this year.

Regular-season passing: 236-for-377 (62.6 percent); 2,801 yards; 21 TDs; 7 INT; 58.3 Total QBR
The case for Wilson: The Seahawks could very well be 0-10 without Wilson, no joke. Seattle has 3,676 yards of total offense so far this year. Wilson has accounted for 3,177 of them. That's 86.4 percent of the team's total yards either passing or rushing. He's the team's leading rusher by far, with 376 rushing yards to 208 for Chris Carson, who hasn't played since Week 4. Wilson has two of the Seahawks' three rushing touchdowns. Seattle has no offensive line and no run game, its best receiver is the slot guy and its defense is now falling apart due to injury. There's no one in the league doing a higher percentage of his team's important work than Wilson is doing right now for the Seahawks.
The case against Wilson: Seattle is just 6-4, and if the season ended right now, the Seahawks wouldn't be in the playoffs. MVPs don't generally come from non-playoff teams, and while Wilson's numbers make him the unquestioned King Seahawk, they don't stack up all that well with the rest of the top quarterbacks in the league right now. He's 14th in Total QBR, 10th in passer rating and 11th in yards per attempt. He does have six more touchdown passes than Brees, but the Saints are two games better, and that's the way these things go.

Regular-season receiving: 70 catches; 114 targets; 1,026 yards; 6 TDs
The case for Brown: He leads the league in catches, and is the only one so far with 70. He leads the league in receiving yards, and is the only one with over 1,000 so far. Only Houston's DeAndre Hopkins has more passing-game targets. Only Hopkins, his teammate Will Fuller V and Seattle tight end Jimmy Graham have more touchdown catches. Brown and Minnesota's Adam Thielen are tied for the league lead with 16 catches of at least 20 yards. Only Hopkins -- at 47 to Brown's 46 -- has more catches that have resulted in first downs. The Steelers are 8-2, have dealt with a bunch of confusion and internal turmoil this year, but Brown has been steady throughout ... except for that one thing with the water cooler in Baltimore.
The case against Brown: Receivers don't win this award, and the reasons why are understandable. It's a position that is dependent on another position for production, and even if the quarterback isn't going to beat him out, there's traditionally a sense that running backs handle more of the dirty work. That might not be fair to Brown, who's as valuable as receivers come. But that's the way MVP voting goes, historically, and there's no doubt it hurts his chances that teammate Le'Veon Bell is the league's leading rusher and the league's 17th-leading receiver with 49 catches of his own.
---
FULL RESULTS