It's crunch time. With two weeks left in the regular season, the man at the top is the same man who was there two weeks ago, but there have been major changes behind him.
Can Todd Gurley bulldoze his way to No. 1 before it's all over? How far does onetime poll leader Carson Wentz fall due to his season-ending injury? And is that really Case Keenum still hanging onto a top-five spot?
The race is starting to come into focus, but the final weeks could still shake things up. So let's get right to the poll, starting with its least surprising name.
Methodology: Our panel of 12 experts nominated their top five candidates. First-place votes are worth five points, second-place votes worth four, third-place votes worth three, fourth-place votes worth two and fifth-place votes worth one. The top five finishers are highlighted in the following graphic. Full results can be found at the bottom.

TOP FIVE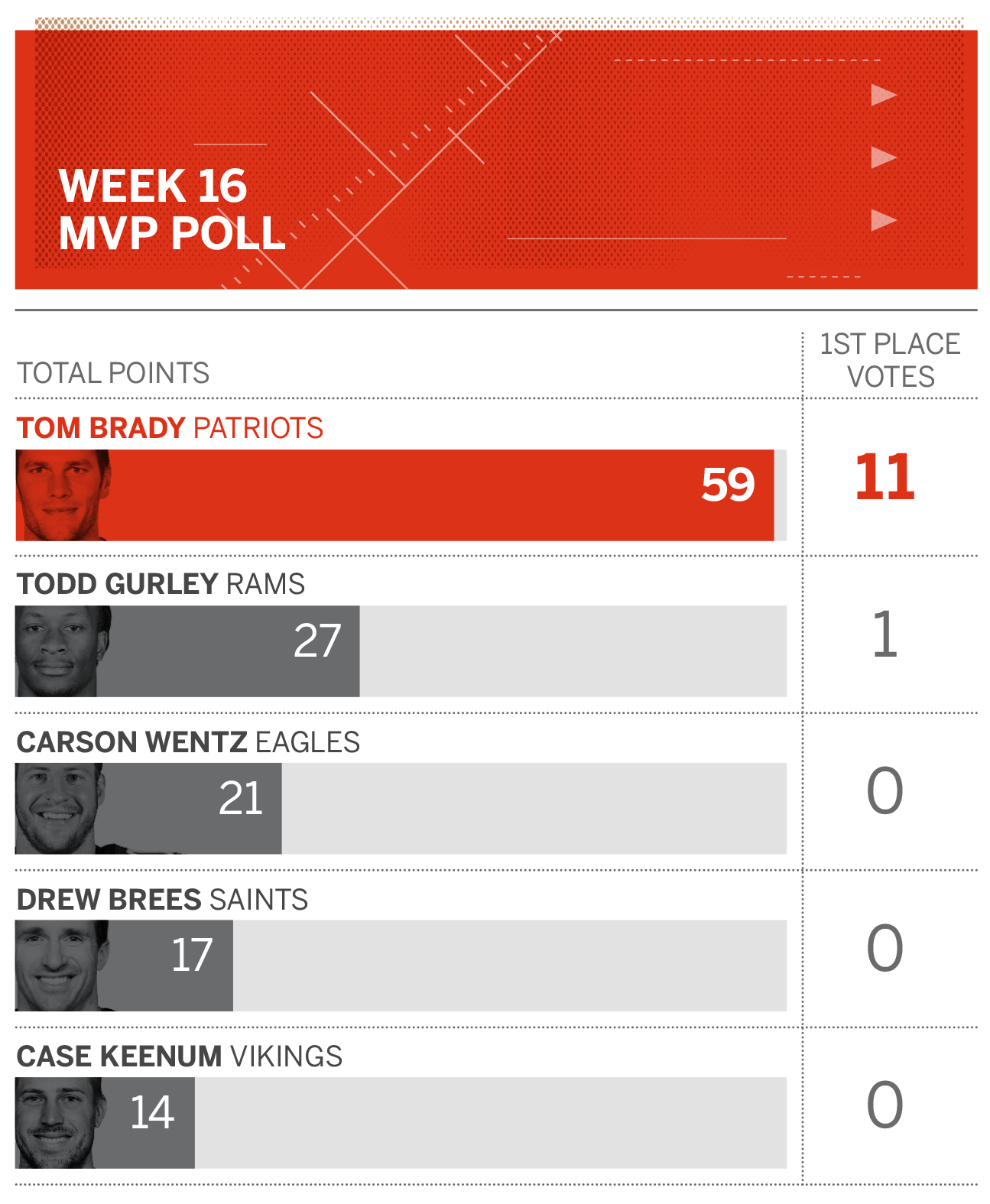 Regular-season passing: 346-for-516 (67.1 percent); 4,163 yards; 28 TDs; 7 INTs; 72.2 Total QBR
The case for Brady: Minutes before the Patriots-Steelers matchup disintegrated into the latest NFL catch-rule controversy, Brady Gronked his way down the field for what turned out to be a game-winning 77-yard drive in just 1 minute, 10 seconds. Brady with the ball in the two-minute drill is a sight that makes defensive coordinators question their career choices. He's first in the league in passing yards, second in passer rating, third in touchdown passes, fourth in QBR and fifth in completion percentage for an 11-3 team that's now in position to play home games all the way through January.
The case against Brady: We did this two weeks ago and said there really wasn't one. Since then, he did lay a bit of an egg in a Gronk-less Monday Night Football loss to Miami. He has two touchdowns and four interceptions in his past three games. If there's such a thing as a Brady slump, he might have just spent a week or so in one. But we're nitpicking. Two more games like the one he had against Pittsburgh would salt this award away.

Regular-season rushing: 257 carries; 1,187 yards; 13 TDs
Regular-season receiving: 54 receptions; 630 yards; 4 TDs
The case for Gurley: His performance against the Seahawks made Gurley the league-leader in the vital category of "Soul-Robbing Performances in Road Games Bringing About the End of a Dynasty in Your Own Division." Sure, we all know the Seattle defense is way banged up and not what it used to be. But even that doesn't explain the Seahawks' complete lack of answers for Gurley, who torched them for 180 total yards and four touchdowns in a 42-7 statement victory in Seattle. What it does explain is that Gurley is an unstoppable machine who leads the league with 17 touchdowns and ranks behind only Le'Veon Bell in total yards from scrimmage. The revitalized Rams offense is the story of the season, and Gurley is its roaring engine.
The case against Gurley: For a non-quarterback to win this award, he has to deliver some sort of history-making performance -- a la Adrian Peterson in 2012, when he fell 8 yards short of the NFL rushing record -- and there has to be a dearth of obviously qualified quarterback candidates. The latter is where Gurley likely misses out this year. Brady has been too good for the voters to give this award to a running back.

Regular-season passing: 265-for-440 (60.2 percent); 3,296 yards; 33 TDs; 7 INTs; 74.4 Total QBR
The case for Wentz: Even after missing last week's game with his season-ending knee injury, Wentz leads the NFL with 33 touchdown passes against just seven interceptions. He ranks second in Total QBR this season behind only Deshaun Watson -- what might have been, right? -- and is obviously a massive part of the reason the Eagles have the best record in the NFL.
The case against Wentz: It's that season-ending injury. Last year in this space, I was making the case against Brady based on the fact that he had missed the first four games of the season because of suspension. That had nothing to do with the merits of the suspension, just the simple fact that it's hard to give an MVP award to a guy who plays only 75 percent of the season when you have good candidates who have played 100 percent. So here we are again, but with Wentz. Through no fault of his own, Wentz will end up having played just 81.25 percent of the season. Brady, Gurley et al will presumably have played 100 percent of the season. It matters.

Regular-season passing: 343-for-478 (71.8 percent); 3,850 yards; 21 TDs; 7 INTs; 60.2 Total QBR
The case for Brees: The Saints (barely) remain atop the NFC South and Brees is the legendary quarterback who continues to operate their offense. He's fourth in yards, third in yards per attempt and tied with Brady for second in passer rating. Brees feels like the kind of guy who wins MVP awards, and I think when people are filling out the fourth and fifth spots on their ballots he seems like a guy who belongs.
The case against Brees: There's a case to be made that he's not the most valuable player on his own team. I mean, sure, the quarterback almost always is -- but Brees isn't playing demonstrably better than he did in any of the past three seasons, all of which ended up with the Saints 7-9. What's different about this year's Saints is the way the defense has played for most of the season and, of course, the dominance of the running game behind Mark Ingram and Alvin Kamara. Honestly, if the pair of running backs weren't sharing the workload so beautifully and only one was doing all of this himself, he'd probably be in this spot (or higher) instead of Brees.

Regular-season passing: 290-for-427 (67.9 percent); 3,219 yards; 20 TDs; 7 INTs; 73.3 Total QBR
The case for Keenum: Right behind Watson and Wentz on that season Total QBR list is Keenum, the Vikings' third-stringer-turned-savior. Minnesota is 11-3 and still has some degree of hope to lock up home-field advantage all the way through the playoffs, including the Super Bowl, which will be played in its home stadium. Keenum has managed not only to steer the ship, but to do so deftly enough that Teddy Bridgewater's return to the field last week was a feel-good garbage-time story and no threat to Keenum's job security.
The case against Keenum: He's just 12th in passing yards, with only 20 touchdowns against seven interceptions. It's nothing against Keenum's performance, which has been exemplary, but the numbers aren't eye-popping, MVP-level numbers.
---
FULL RESULTS