The Kansas City Chiefs were evaluating North Dakota State's Carson Wentz as a draft prospect when they came across a pass play that, more than a year later, would spring rookie running back Kareem Hunt for a 78-yard touchdown catch against the New England Patriots.
Damn right, they stole it.
The NFL playbook has long been a revered document packed with foundational text and illustrations, but it isn't a static one. New plays find their way into the huddle any number of ways.
Here are three examples, including the longest reception by a running back against New England during the Bill Belichick era, the longest run by a quarterback in NFL history, and a play that ranks No. 1 on a head coach's list of favorite playcalling moments.
---
Play No. 1: The incidental discovery
Brad Childress, now a Chicago Bears consultant and the recently named head coach for Atlanta's entry in the Alliance of American Football, was among the Chiefs assistants assigned to study college quarterbacks before the 2016 draft. The Chiefs didn't have a realistic shot at Wentz, but they studied him and came to appreciate the Bison's offense under head coach Chris Klieman and then-coordinator Tim Polasek.
"You are looking at the player, but as coaches you can't help but delving into, 'OK, what kind of offense are they playing?'" Childress said. "They ran so much fly-sweep stuff. We had Tyreek [Hill]. We were like, 'Man, that fits us perfectly.' We didn't even have Hunt then. We were thinking of Tyreek on the sweep and Tyreek coming out of the backfield running the seam."
Polasek, now the offensive line coach at Iowa, said they called the play in question "He-Man" -- H-back in the seam -- from their "Super Hero" package.
"All-Go Special Halfback Seam" was the Kansas City nomenclature for the incarnation that produced the 78-yard touchdown pass from Alex Smith to Hunt against the Patriots in the 2017 opener.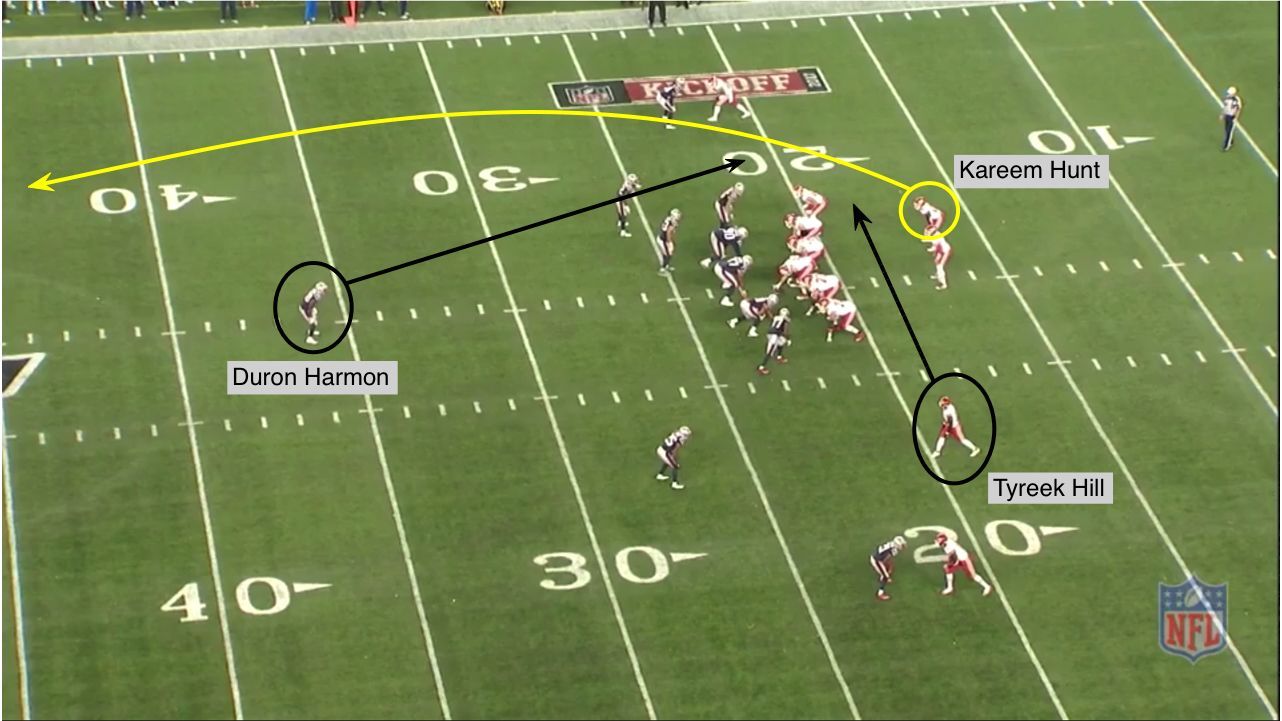 Smith aligned in the shotgun five yards behind center. Hunt aligned to Smith's immediate right, with Hill aligned in the left slot. Hill broke across the formation to provide the fly-sweep element, triggering an instant reaction from safety Duron Harmon, the only Patriots player lined up more than five yards off the line of scrimmage. With Harmon sprinting toward the offensive right backfield to cut off Hill, Hunt ran an arcing route that took him outside the yard-line numbers and back toward the field's vacant middle, where he caught the ball in stride 31 yards downfield.
"You try to be creative," Childress said. "Then you see somebody else do it and say, 'We can do that.' If you were to get some North Dakota State film, you would see that play and say, 'That is a pretty cool play.' You didn't see them run it once. You saw them run it as a staple. You went, 'Man, that is even better for us because their hashmarks are closer to the sideline than ours are.'"
---
Play No. 2: The last-minute addition through film study
NFL fans won't soon forget the 2013 Week 12 game in Foxborough, Massachusetts, that saw Tom Brady's Patriots overcome a 24-0 deficit to beat Peyton Manning's Denver Broncos in overtime. Who could have known that a forgettable play within that memorable game -- Montee Ball losing 1 yard in the first quarter -- would help the Broncos get payback in the AFC Championship Game?
Some coaches prefer having the game plan finished well in advance. Others, including then-Broncos coordinator Adam Gase, keep tinkering right up until game day. Such was the case before Gase's 2013 Broncos faced the Patriots in the AFC Championship Game. Gase, now the Miami Dolphins' head coach, was catching up on film work two nights before the AFC title game when he spotted a potential opportunity.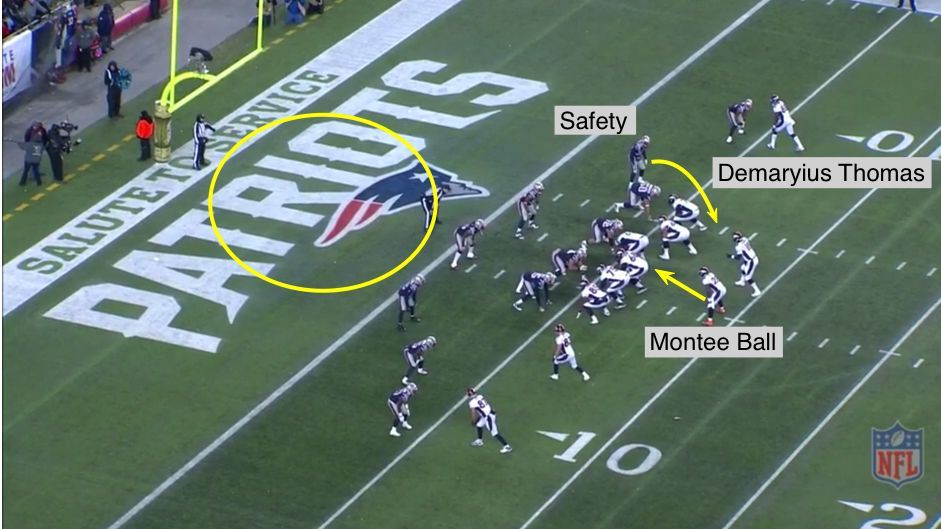 Gase noticed a few things as he re-watched Ball's 1-yard loss (see screenshot). Both safeties were near the line of scrimmage, leaving a huge void in the middle of the field. The safety on the single-receiver side of the formation was in position to stop the run or double-team receiver Demaryius Thomas if necessary.
"I'm watching it and wondering what would happen if we ran play-action to this guy [the safety]," Gase said. "Would he suck up enough? The corner was playing outside, the safety was playing inside. I said, 'Go slow off the ball and then run a slant.' We never repped this in practice. We walked through it."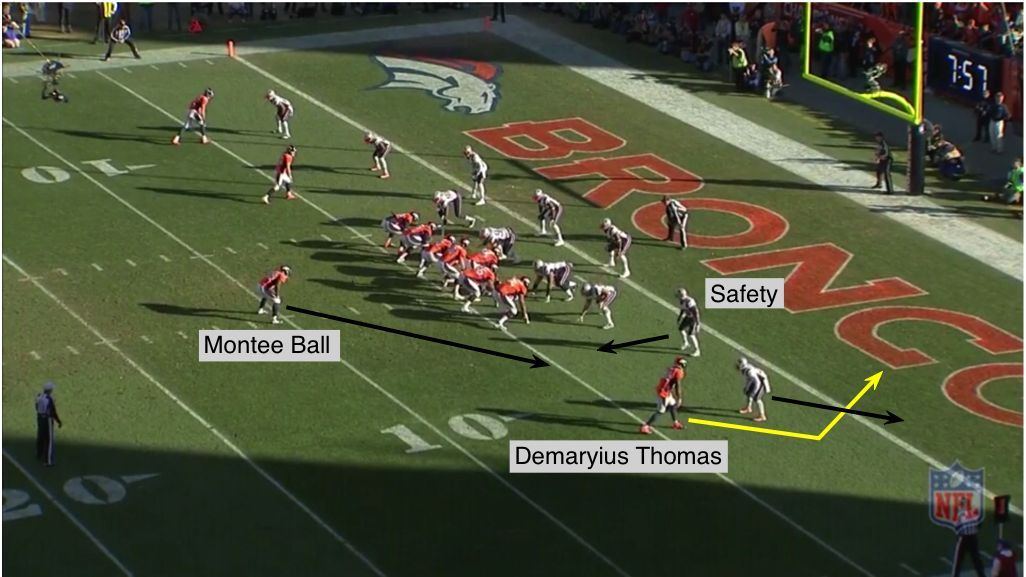 The play made its way onto the call sheet on first-and-goal from the 3 with 7:55 left in the third quarter and Denver holding a 13-3 lead. Manning was under center this time. He took the snap, turned and dipped to simulate the handoff. Ball charged forward toward the end zone, freezing the safety, Steve Gregory, enough to neutralize him. Thomas worked outside, then back under the corner, Alfonzo Dennard, before easily snatching Manning's pass in the end zone.
The TV broadcast of the play shows Manning extending his index finger toward the Denver sideline as he jogged off the field following the play -- a nod to the coaching staff that any playcaller would savor, especially coming from a future Hall of Famer.
"It was my favorite one of all time," Gase said.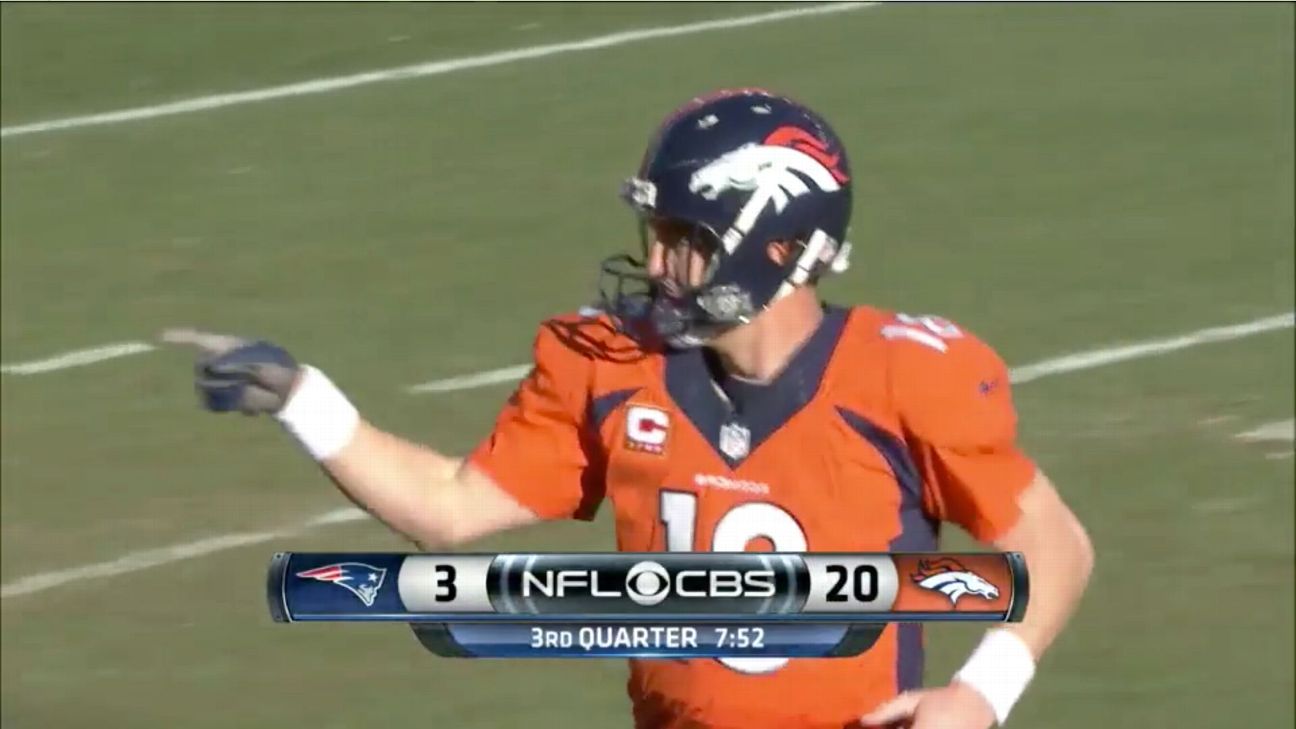 Gase has company there. Oakland Raiders quarterbacks coach Brian Callahan, an offensive assistant on that 2013 Broncos staff, referenced the same play when asked independently for a good example of a team adding a new play. Plenty of other new plays produce modest results or fizzle, sometimes never to see the playing field again. But when they work, especially in a big moment, there are few better feelings for the people involved.
"A lot of people don't want to add at the last minute," Callahan said, "but with Peyton, you kind of had to because he would always have ideas and he is still studying tape. There was just a huge void back there that Adam had picked up on during the latter part of the week. That is the most memorable one I have, where we put in the play on Saturday, we hadn't run anything like it prior and then scored a touchdown in an AFC Championship Game -- that stands out."
---
Play No. 3: The new play customized for specific personnel
The Raiders' new offensive coordinator, Greg Olson, served in the same role with the team in 2013-14, when Dennis Allen was the head coach and the team did not have an established starting quarterback. Olson added a play that produced the longest run by a quarterback in NFL history, a 93-yarder by Terrelle Pryor on the first snap from scrimmage during a 21-18 victory over Pittsburgh.
"Most plays get added based upon knowing what the defensive rules are -- say, knowing what the corner's rule is when he has a flat coming towards him, knowing what the safety's rule would be when he has the No. 2 coming vertical, those kinds of things, and then designing something to beat that," Olson said. "Or, we will watch all the 2-by-2 formations and sort it by Cover 2, see three other teams running something against it and then add that if we think our guys can do it."
The zone-read play designed to take advantage of Pryor's uncommon speed was closely related to a conventional running play the Raiders had been using.
"We did a lot of things that year based on the quarterback we had," Olson said. "That play fit into a jab play we were running. We ran the jab, but arced the tight end and made it a zone-read where if the end chased down, you go ahead and pull it. If you ask the safety for Pittsburgh who bit on it, he would say, 'Shoot, they had been running that for weeks and weeks, giving the same look, I came crashing down and he pulled it.'"
It was a classic case of adding a play to suit specific personnel.
"Certainly we weren't running that offense with Carson Palmer," Olson said.