After nearly 10 years away from coaching, some might wonder whether Jon Gruden still has what it takes to succeed. Don't count among them the players and coaches who know him, though.
"I hope these players are ready because they're going to get Chucky," Jerry Rice said. "They're going to get him. How they deal with that is a different story, but Chucky? Chucky's going to come out."
Our NFL Nation reporters collected tales about Gruden as told by former coaches and players, talking with everyone from the man who gave him his first NFL job (Mike Holmgren) to the former assistant whom he'll be facing in Week 1 (Rams coach Sean McVay).
---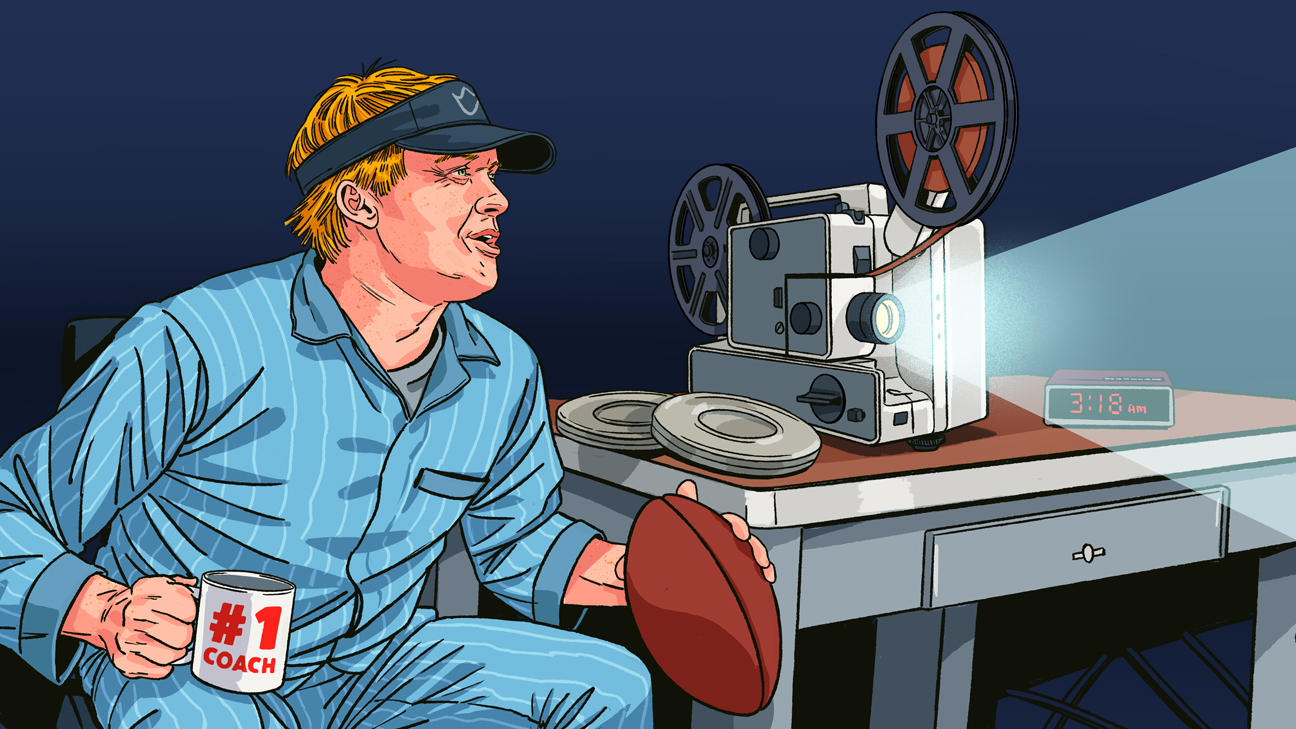 'He will outwork you, he absolutely will'
Mike Holmgren, former head coach who hired Gruden with the 49ers (1990) and Packers (1992)
"I think he really is a very, very bright guy when it comes to football. And you couple that with his willingness to study film, study the opponent and prepare the team, that's kind of what you want in a coach. I would say this, in terms of his work ethic: Sometimes he almost works himself into a state of exhaustion. There's no backing off, and there are times -- and I've talked to him about this -- where a good night's sleep gets you fresh and raring to go again, and that's hard for him to do. But I think he's older now, and he's been through the wars, if you will, as a head coach and done very well. But it's something that he has to pay attention to moving forward because he will outwork you, he absolutely will. ... And if you try and keep up with him, that's tough duty."
Biggest adjustment for Gruden after coaching layoff:
"I think dealing with the new rules. I've even read some of the things where Jon's been frustrated with the offseason stuff, and he and I have talked about that when I've seen him. Things are different now. It's a different time. The social media is more out there than it was when he first was a head coach. And so things we really would want to keep in the locker room get out there -- players are more likely to talk about things and go on Twitter or whatever it is -- and that might be a little bit of an adjustment for him."
---
'He'll be the most popular guy on the sideline'
Charles Woodson, former defensive back who played for Gruden (1998-2001)
"He's coming for [the Raiders], man. I think the guys will be ready. I think the one thing that will probably take them by surprise is the star-like quality that Gruden has and the relationship that he had with the fan base when he was here. They haven't seen this, so he'll be the most popular guy on the sideline. It won't be Derek Carr ... it's going to be Jon Gruden."
---
'He does the work of about four different guys'
Jay Gruden, Washington Redskins coach who worked with his brother Jon on the Buccaneers (2002-08)
"The thing about Jon is he has great energy every day. It doesn't matter if he gets one hour of sleep or five. He's the same every day; he's the same guy. Great energy, very passionate and a great motivator. He's always prepared. He studies the game so his quarterbacks have a plan every day. That's something I learned from him. That's what you have to have done to be successful. Your quarterback has to be well prepared and in order to do that, someone has to do the work. A lot of times it's the quarterbacks coach or the coordinator. With Jon, it's Jon. He does the work of about four different guys. ...
"We've gone through quite a few quarterbacks in our time [at Tampa]. I don't want to throw anyone under the bus, but he has a quick trigger. Quarterback switches are a result of production or not being prepared. He blows the protection or gets it wrong and it's something we worked on, he'll find someone to get it right. It's easier said than done sometimes because there's a lot to it. But you have to have a guy who can handle his demanding schedule and his work ethic. He's demanding on everyone, really."
On talking football:
"Oh, yeah, we go all night. The napkins are flowing. We go to Hooters, have some wings and borrow about 14,000 napkins and draw on them. We don't talk about really anything else. In the Gruden household, there's really nothing else we can talk about. We don't know anything else. It's kind of sad, but it's fun."
---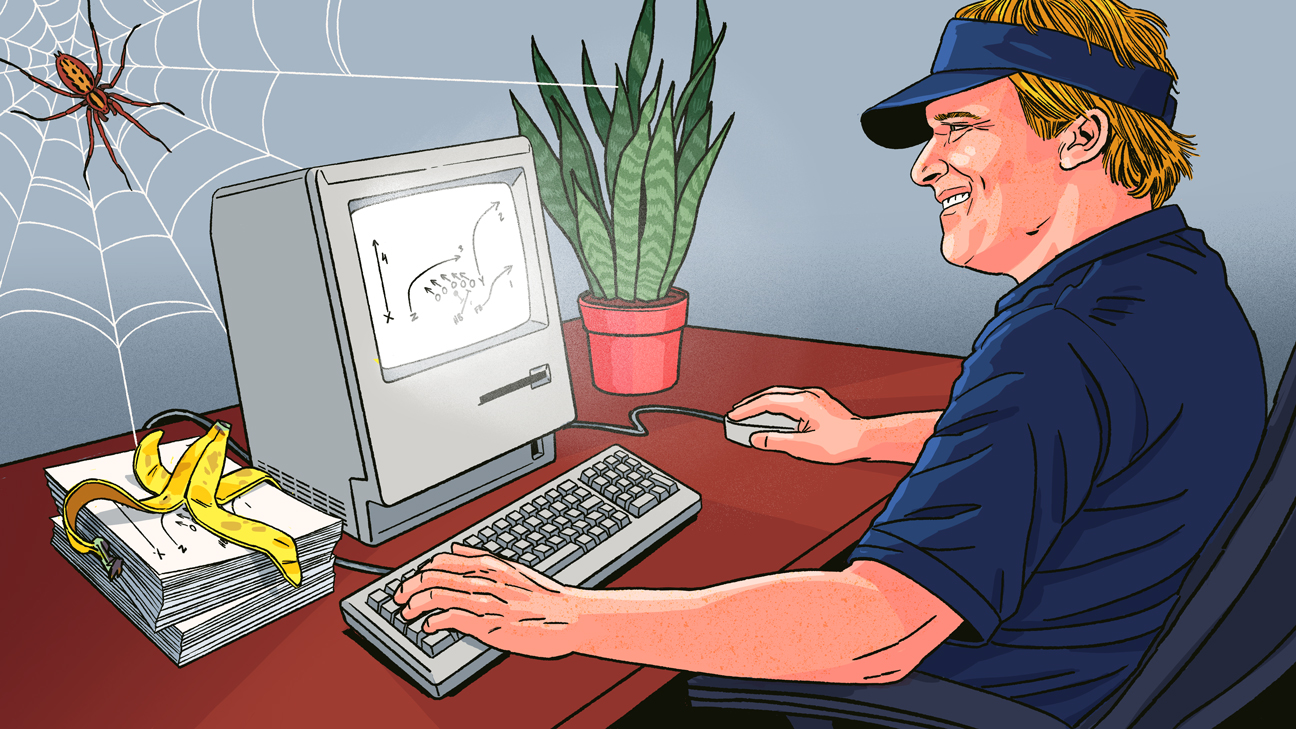 'He was really the first guy to draw the passing game on a computer graphics system'
Mike McCarthy, Packers head coach who worked with Gruden at Pitt in 1991
"Jon was a ball of energy. He was coming from the 49ers. He had the pro experience, and they had just come off losing the NFC Championship Game, I think, to the Giants. We hired him at Pitt, and it was a great experience for me personally because I was a graduate assistant and I worked with the quarterbacks and dealt directly with Paul Hackett. Jon and I were always there at night. It was all football.
"It was the first time I'd ever been around a guy who got to the office before 5 o'clock in the morning. He was really the first guy to draw the passing game on a computer graphics system. So he took all of Coach [Bill] Walsh's original pictures in San Francisco -- George Seifert and Mike Holmgren were out there, too -- and Jon transferred all the hand drawings onto a computer system. It was one of those old Macintosh square computers and [the program was] Super Paint 2.0. ... He was a dynamic young coach; I don't think anybody that ever came across Jon in his early days didn't think he was going to be successful. He had a lot of energy and tremendous work ethic."
---
'Is this happening to me?'
Sean Payton, Saints head coach who got his first NFL job as Eagles QBs coach (1997-98) when Gruden was the offensive coordinator (1997)
"He was one of those guys, I'll never forget, one of the early things he said was, 'Knowledge is power.' And he was very committed to constantly pressing the boundaries of what you want to do or think offensively and thinking outside the box. Very creative, very detailed teacher. And he was a huge influence on me as a young coach to have that opportunity."
His unique Gruden story:
"We go on the road to Dallas, Monday Night Football, Week 3, 1997. So it's my first Monday Night Football game ever. And Jon's in the box, and I'm on the sideline with the coach-to-quarterback headset. At that time it was fairly new [the coach-to-QB communication system]. So you had a backup plan when that went out, it was a series of signals.
"Now Jon had an elaborate amount of plays and formations. So there was a system in place of signaling -- and we would always do this the night before the game. I'd stand in the room in the front, the quarterbacks would be in the chairs and Jon would look at me and say, 'Give 'em play No. 17' or whatever. And I'd look down and it would be, '2 jet flanker drive halfback corner' or '22 flanker drive halfback burst.' But I'd signal it. And we'd have this little 15-20-minute signal meeting.
"So it's Monday Night Football, and we're in Texas Stadium, Jon's in the box and Ty Detmer's starting. And early in the game the headsets go out. And I'm scrambling like Barney Fife. I can't believe it's Monday Night Football, Texas Stadium, and the headsets are out. Is this happening to me? Jon's screaming at me from upstairs. And it was as stressful as you can imagine. ... He was screaming at me. Ty's laughing at me. And I'm in the middle of it. It was just like one of those, 'You gotta be kidding me.'"
On Gruden preparing him to interview with former Raiders owner Al Davis:
"I actually went in and interviewed for the quarterbacks [coach] job then after [Gruden's] first year [in Oakland], so going into his second year. Went in there to interview with he and Al Davis, and that was the first time I had ever met Al Davis. Al wanted experience, and shoot I really had only two years at that time in the NFL ...
"[Gruden said], 'He's gonna want you on the board. He's gonna hit you with a lot of things. But he's also gonna hit you on personnel, man. So make sure you've got the AFC West down.' ... It's a meeting room. Jon's in the back of the room behind me, and Al's got a grease board with four brand-new markers and a towel. And Al asks me to go up on the board and start drawing up certain plays. 'I want you to draw up this defense and then attack it.' So I'm giving him these routes ... and Al has to go take a phone call, and he's in the other room, and Jon whispers to me, 'Will you get the ball down the field for this guy.' Everything I had drawn up was intermediate routes. So he comes back in, and I'm like, 'We also like all-go special. We like these ...'
"Although, back to his 'knowledge is power' and studying, you go through a process like that -- interviewing with Al Davis and Jon Gruden -- you can interview with anyone in the world."
---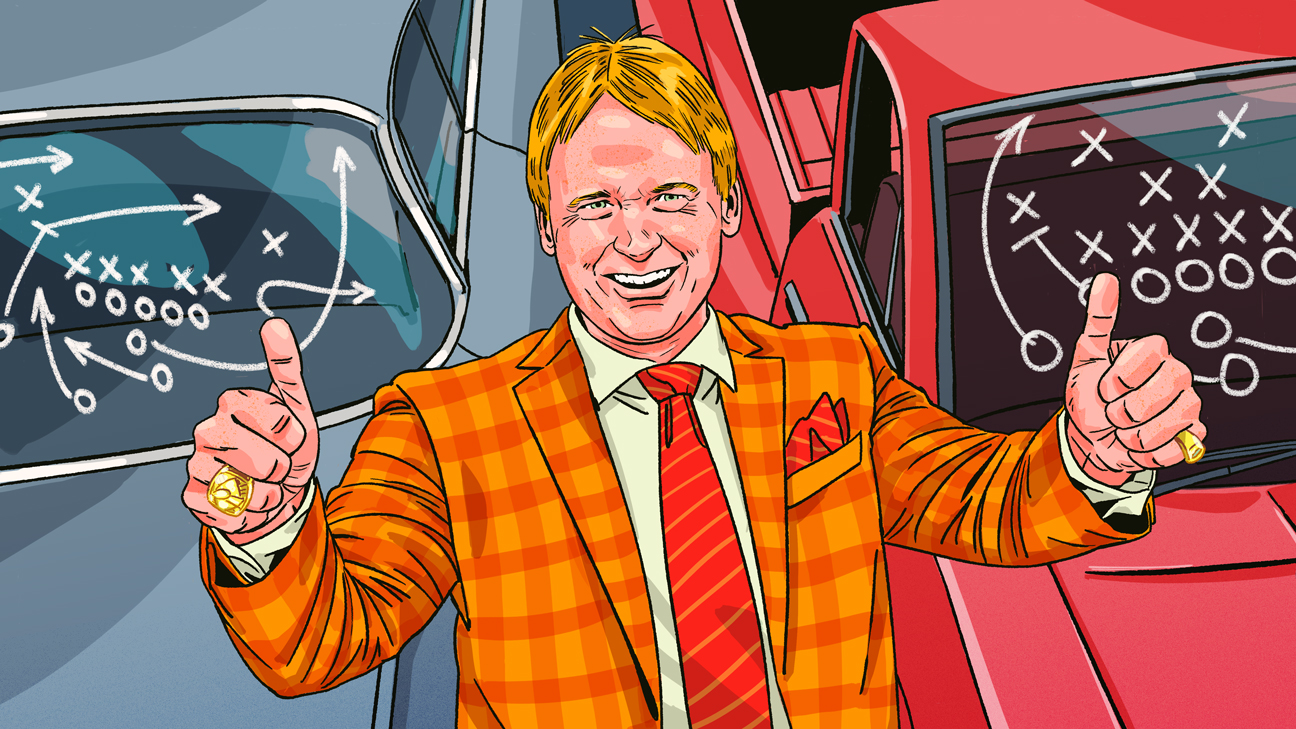 'You have to be a car salesman'
John Morton, former Jets offensive coordinator who got his start in coaching under Gruden as an offensive assistant for the Raiders in 1998
"In the beginning, he got in around 3 a.m. In the beginning of my first year there, I didn't get in quite that early, but then he was like, 'Hey, you need to get here when I'm here.' I was like, 'All right.' So then I started getting there just in case he needed something. He always talked about, 'Hey, I was a coffee boy and you need to be the same way.' So I got there early with him. If he needed something, it needed to be done right away. ...
"He made it fun to come to work. ... He had a good demeanor about him, the way he got his point across. He always told me it was always about your demeanor and how you get your point across. He said, 'You have to be a car salesman.' If you want to sell plays, you can't be short on energy. People want to be associated with people that have a lot of energy and love what they do and show enthusiasm, not someone who just walks in there and kind of goes through the motions."
---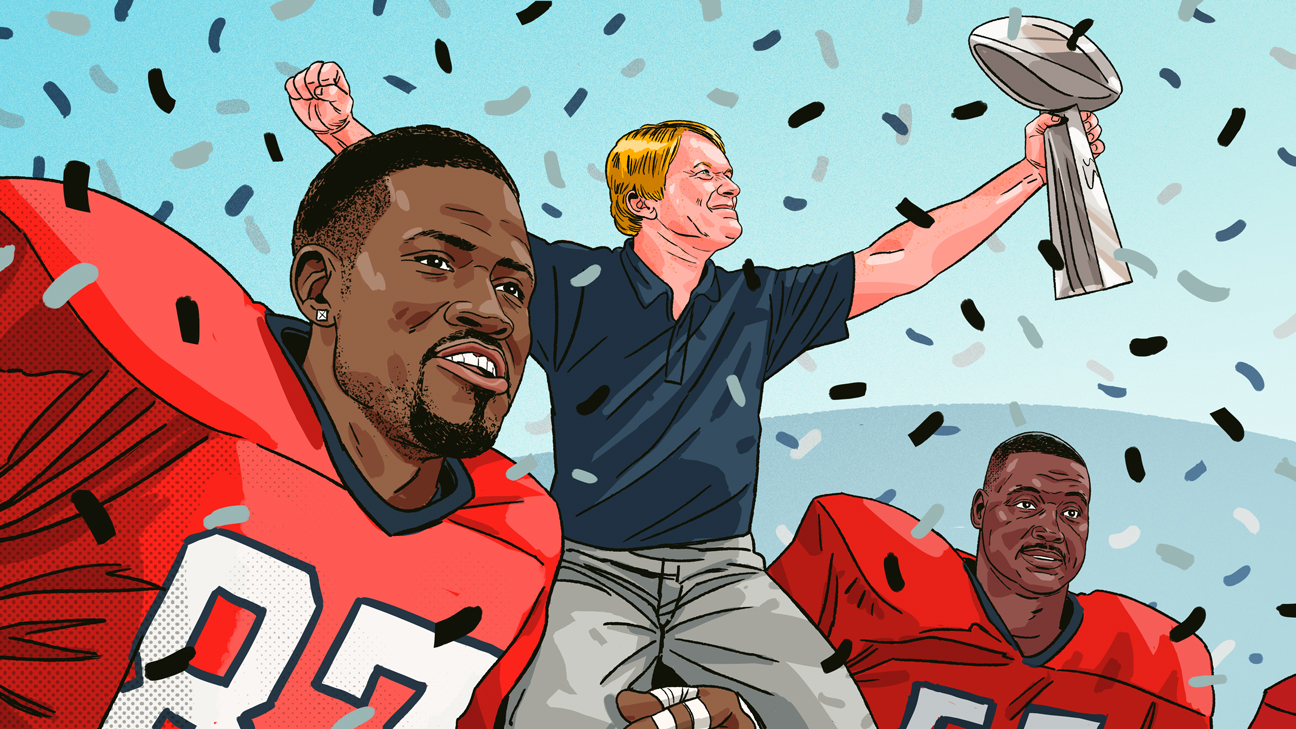 'He would let no other quarterback play'
Keenan McCardell, former Bucs wide receiver who played under Gruden (2002-03), and Derrick Brooks, former Bucs linebacker, who played under Gruden (2002-08). During the week of Super Bowl XXXVII, Gruden played the scout team quarterback and simulated Raiders QB Rich Gannon.
Brooks: "We didn't want to embarrass him so we let him complete a few passes [laughs]. We felt that it would be good for his personal résumé. ... The way he was able to go in and dissect Rich Gannon's personality to certain environments on the field, it was pretty spot-on."
Gruden: "I was ripping Brooks. I was throwing slants, square-ins. I was checking off. If I had played in the Super Bowl for the Oakland Raiders, it might not have been the same outcome."
McCardell: "He's playing like he's Rich Gannon, and he's enjoying it. Like, he's going through all the audibles and checks and stuff like that. And I'm just sitting there rolling. And he thought he could play quarterback [laughs]. Which he did -- he played quarterback -- but I'm just saying, he was slinging it around. He would let no other quarterback play."
---
'If they hadn't gotten rid of Jon, we could have done something special for a number of years'
Rich Gannon, former Raiders quarterback who played under Gruden (1999-2001). Gannon recalled the first day of free agency in 1999, when after his visit to the Raiders' Alameda facility, he was having lunch with Gruden and then-team executive Bruce Allen at a nearby Mexican restaurant and Gruden asked whether he had plans for the night.
"It was refreshing. I needed someone to believe in me, and I just felt like Jon and I had a bond because we both had a lot to prove. We hit it off. So [after lunch] we stopped at a convenience store, got a can of Copenhagen and a six-pack of beer -- it wasn't something fancy, pretty sure it was Coors Light -- and went back to the facility and watched tape. We wanted to have a direction for the offense. Our legacy needed to be to turn the organization around. I've never met anyone like him, with his relentless pursuit of excellence. And not just on Sunday, but Wednesday, Thursday, Friday. I didn't want to disappoint him. I played 17 years and the best three years of my life were when I was with Jon. I saw him burn the candle on both ends. If they hadn't gotten rid of Jon, we could have done something special for a number of years."
---
'Chucky's going to come out'
Jerry Rice, former wide receiver who played under Gruden in Oakland in 2001
"He was the reason that I came here. He called me up. He said, 'Jerry, you still want to play football?' I said, 'Yes, I do.' He said, 'You got 80 catches in you?' I said, 'Yes, I do.' And so he gave me an opportunity to continue playing the game I love, and once I got here, trying to get used to the terminology and all that, it was very complex, so it took me a little while. I didn't always line up in the right position and Jon, he was the type of coach that would confront me, that would say, 'Jerry, what are you doing? You're not supposed to be lined up there.' But I think that pushed me to work a little bit harder and play better football. ... Football is football. Either you buy in, or you're not going to be a part of it. I hope these [current] players are ready because they're going to get Chucky. They're going to get him. How they deal with that is a different story, but Chucky? Chucky's going to come out."
---
'I never saw him go home'
Lincoln Kennedy, former offensive lineman who played under Gruden in Oakland (1998-2001)
"I think we were in training camp up in Napa and he said he had to leave early because his wife was having a baby. Everybody kind of looked around like -- we've always seen Gruden at the facility spending 18 to 20 hours there, it's like, 'How did you have a baby? You ain't never home!' So we all joked about that one when his son was born and how he had a baby because he was never home and he was always spending time in the office, where he had a cot and everything else. He was literally spending 18 to 20 hours a day there, so I never saw him go home. He was always at the facility. Yeah, he would sleep there. Talking about first one in, last one to go. He never went home."
On the Chucky face:
"Like everyone else, he hated to lose. That's where the Chucky Face came in. He worked that because he realized there was a camera that was fixated solely on him, especially with the Raiders, and the whole Chucky persona was created."
---
'He knew things about you'
Dwight Smith, former Buccaneers safety who played under Gruden (2001-04)
"I knew he was a people person. The conversations you'd have with him a lot of times weren't even about football. He knew things about you. He was going to have conversations with you to check the pulse of what's going on in your life. I had [two] little brothers, Diamond and Dante, that I had custody of. My rookie year, my mom passed after I was drafted. He would ask, 'What's going on with them? Bring them to the facility.'
"I always tell people, 'You've gotta have a why.' If you have a reason why, you're most likely going to succeed. ... And those are the types of things as a coach, when you know those things, those are the buttons you can push. When you're not hustling, when you're not doing those things, it's like, 'Is that the type of example you're trying to set for your little brothers?' When you don't know those things, you can't use those things."
---
'I'm in my laboratory creating this up and creating that up'
Mike Alstott, former Bucs fullback who played under Gruden (2002-06)
"Jon brought a competition between the offense and the defense. At times it was Coach Gruden versus Coach [Monte] Kiffin. [Laughs] You know what I mean? Each and every day, during OTAs and camp and what-not. 'These guys were gonna do this and they were gonna do that and this and that, and we're gonna go out there and kick their butts.'
"Even during training camp and OTAs, it was on. It was on. We were going out there every practice and we were playing a game. We were playing the top-five defense in the league the last five years. So we had somebody that we could really -- when we did well, obviously he got excited -- and again, he was a guy that was able to teach you and you learned from his knowledge, from his dedication to the game each and every day and his commitment to being in the film room. ... Very elaborate playbook, very detailed and again, very passionate about obviously his creation. He'd always say, 'I'm in my laboratory creating this up and creating that up' when he was coming up with different schemes [laughs]."
---
'You can bet your ass that Jon Gruden has been getting himself better'
Sean McVay, Rams head coach who was an assistant wide receivers coach with Gruden in Tampa in 2008
"He brought it every single day. When I look back at the amount of work from a head-coaching role that he did, it's amazing to me, just the efficiency of which he worked and the amount of things that he did, being involved in the offense but still truly being the head coach and having the responsibility with the personnel and things like that. It was amazing. But it was always something that, immediately after the season, he was working hours where he's studying film, going about his normal preparation.
"I think he's one of those rare people that when that year went the way that it did [Gruden was fired in 2008 after finishing 9-7], and then you try to decide, 'Do I want to coach or do I want to transition?' I think it was a pretty good opportunity with the Monday Night Football thing. Clearly he's very good on camera. I think it was something that he felt good about. I think it was only a matter of time [before he returned to coaching]. I was surprised that he was away from the game this long. I think the way that he's approached it, and the way that he continues to study as if he is coaching, game-planning, learning things, what he's been exposed to -- he's not going to miss a beat. And I think in a lot of ways he'll be better, just because of the different things that he's done to allow himself to improve. While maybe he hasn't been coaching a team, you can bet your ass that Jon Gruden has been getting himself better."
ESPN Nation reporters Rich Cimini, Rob Demovsky, Alden Gonzalez, Paul Gutierrez, Brady Henderson, John Keim, Jenna Laine, Mike Triplett and Eric Williams contributed to this report.
Illustrations by Brandon Loving.