Camps were quiet for the 12 teams that will play on the road in preseason games on Thursday. But there still was plenty of fun and excitement to be found elsewhere. In Atlanta, the news for guard Andy Levitre left him blue. In Los Angeles, the Rams expressed some optimism in the contract situation with star defensive lineman Aaron Donald.
Here's what you need to know from camps across the league.


It's a boy!

Congratulations @LevitreAndy and @katielevitre! pic.twitter.com/5f4XogmXsd

— Atlanta Falcons (@AtlantaFalcons) August 8, 2018
---

Rams general manager Les Snead met with reporters Wednesday morning in Baltimore to provide an update on the Aaron Donald situation. Donald did not report by the NFL's Aug. 7 deadline to accrue a season toward unrestricted free agency and will remain a restricted free agent after the season. As far as long-term contract negotiations, Snead told reporters, "We're in the same zip code, area code, ballpark." He then added, "Zip code usually means you're close, but you still haven't agreed."
---

Kirk Cousins with high praise for former Vikings quarterback Case Keenum, who he'll see this weekend in Denver: "I think there's a bit of an unspoken camaraderie among NFL quarterbacks in general because as you look at someone, you know that they've been where you are, and they understand what it's like to practice, and play, and get hit, and stand in there, and come back the next week. Not a lot of guys can do that, not a lot of guys have done that, so the one's that have, there's a bit of a bond there, whether you spend time together or not. Certainly, he's a guy I think we're wired very similarly as people and I have a great deal of respect for him and his wife, his family. I wish him a great deal of success going forward."
---

Teddy Bridgewater to Clive Warford. Sam Darnold to Chris Herndon. Get used to the latter combo. #Jets pic.twitter.com/ydutmxh5BN

— Rich Cimini (@RichCimini) August 8, 2018
All three quarterbacks will play Friday against the Falcons, Todd Bowles told ESPN NY radio. Best bet: Josh McCown starts, but plays only a series. That would jibe with how the Jets practiced today. As usual, McCown was the No. 1, but he took only six reps in team drills. Teddy Bridgewater took 18 reps (nine with the first team) and Sam Darnold got 26 (eight with first team). Darnold threw an interception, his third in two days. This time it was an underthrown deep ball. He caught fire in a 7-on-7 period in the red zone. "He was dropping dimes," S J.J. Wilcox said. Bridgewater rebounded with a solid day after two INTs yesterday.
---

Mitch Trubisky not recognizing that he's signing an autograph for his own backup quarterback is my favorite preseason highlight pic.twitter.com/urm5KDfXKr

— Pete Blackburn (@PeteBlackburn) August 8, 2018
Slacks & shades for our #BusinessTrip. 😎 pic.twitter.com/1MeGiuRvYo

— Chicago Bears (@ChicagoBears) August 8, 2018
---

The Seahawks held a short walk-through today with their preseason opener tomorrow night against the Colts at CenturyLink Field. The highlight, if there is such a thing in a walk-through, was 66-year-old head coach Pete Carroll briefly playing the role of scout-team quarterback. Cornerbacks Byron Maxwell, Neiko Thorpe and Trovon Reed didn't appear to be practicing. That means we should see a lot of rookie fifth-round pick Tre Flowers on the right side.The team has been thrilled with how Flowers, a college safety, has taken to cornerback. His first preseason game will provide more of a gauge of his progress.
I promise @turfthedog when the guys are done with practice we can play fetch! #GoHawks #Notjustmansbestfriend #Trainingcamp pic.twitter.com/pdDeqN580H

— Blitz the Seahawk (@BlitzTheSeahawk) August 8, 2018
---

Usually, @VonMiller's the one signing autographs.

But today *he* wanted an autograph. 💙 pic.twitter.com/ooqSde7tjx

— Denver Broncos (@Broncos) August 8, 2018
---

Playmaker. @MarvinJonesJr. pic.twitter.com/eVUm4yLA0w

— Detroit Lions (@Lions) August 8, 2018
---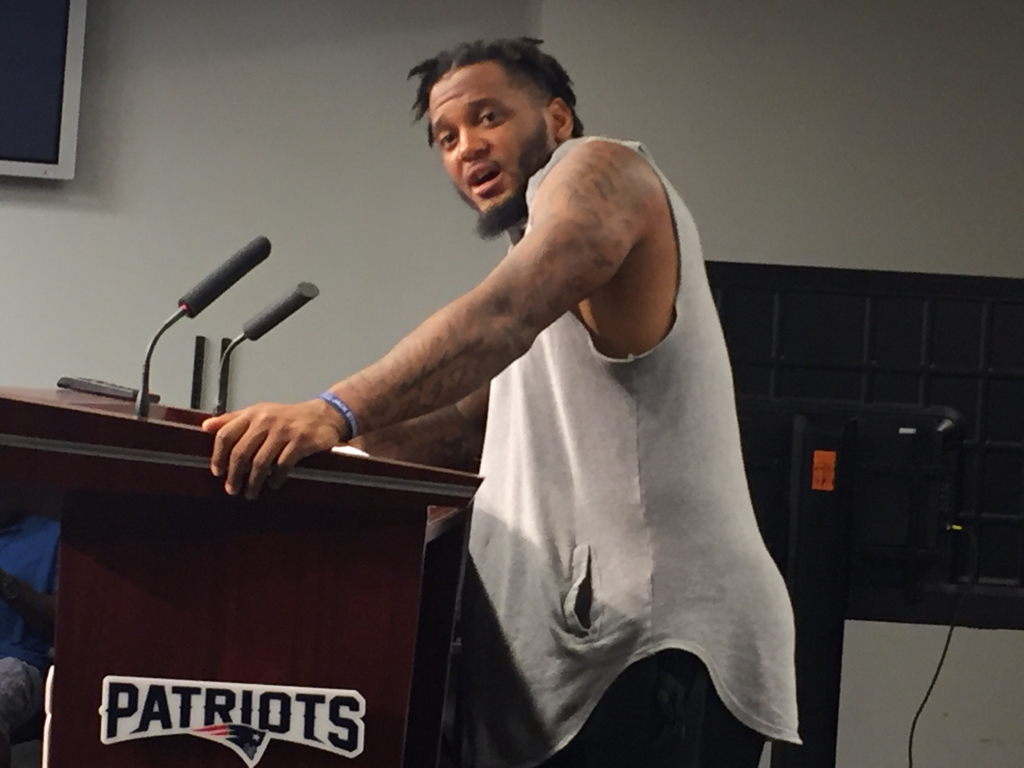 From the lighter side: Patriots safety Patrick Chung agreed to answer questions from the media in a press conference setting Wednesday, saying it was because he lost a game of "rock, paper, scissors" with Patriots media relations director Stacey James. Chung generally prefers to keep a lower profile.
---