Any given Sunday ... every quarterback has a shot to sit atop the Total QBR leaderboard. While QBs are most often judged by wins and losses or touchdowns and interceptions, we like to rank them every week by the stat that measures their per-play contribution to their team's cause.
An explainer of QBR can be found here, but the main idea is to capture more elements of a quarterback's play than traditional methods consider. QBR includes the value (or lack thereof) of quarterback rushing, sacks, fumbles, relevant penalties and -- crucially -- the down and distance of every play. QBR works on a zero-to-100 scale, with 50 being roughly average and 75 about Pro Bowl-caliber.
Each Tuesday in this space, we'll highlight the best and worst QBR performances from the NFL weekend and break down what made each quarterback perform at either extreme.
Which quarterbacks were the best and worst in Week 13?
---
Top three

Total QBR: 94.5
Wilson finds himself in the top three of the week for the fourth time this season, trailing only Drew Brees' six appearances.
Against San Francisco on Sunday, he used an incredibly efficient first half to claim the top spot for the week. Those first-half totals might not have been gaudy, as he was just 4-of-6 passing for 102 yards. But three of his four completions went for touchdowns, and the other completion was for 45 yards. All told, it was good for a 99.6 raw QBR in the half. The only better first half in a game this season? Wilson against the Lions in Week 8 (99.7).
He has posted a Total QBR above 90 in back-to-back weeks, the first time he has done so since doing it three games in a row from Weeks 13 through 15 of the 2015 season. -- Gargiulo
Total QBR: 93.3
Despite taking the season-long lead in Total QBR away from Brees (who rolled out a season-low 19.3), this is only Mahomes' third trip to the weekly top three. While he might not consistently rank in the top three, he's usually close to it. Mahomes has been among the top 10 Total QBRs of the week a league-leading 10 times and has not had lower than the 13th-best QBR in any given week. He previously held the top spot overall between Weeks 3 and 8.
Mahomes got to the top three this week by laughing in the face of pressure against the Raiders. He set season highs in completions, yards and first downs while pressured Sunday, going 8-of-14 for 151 yards with seven first downs and a touchdown. -- Gargiulo
Total QBR: 92.6
In Week 12, Rivers completed 28 of 29 passes. On Sunday night, he topped it against Pittsburgh. Well, not in terms of raw completion percentage, but rather in QBR. (He had an 88.3 last week.)
Rivers did not fumble, something he did do the week prior against the Cardinals. Not fumbling is worth quite a few incompletions. And this week's game also came against a tougher opponent, giving his QBR a slight boost.
His biggest play of the game came on a 46-yard touchdown pass to Travis Benjamin, though admittedly he got a huge assist from the refs in not calling a false start on Sam Tevi. -- Walder
Just missed: Josh Allen, Buffalo Bills (85.1); Tom Brady, New England Patriots (85.0)
---
Bottom three

Total QBR: 13.1
The Jaguars might have won the game, but it could be argued it was in spite of Kessler and not because of him.
Sure, he completed 75 percent of his throws, but he gained only 150 yards and seven first downs on 24 attempts. He was also sacked three times (all coming on third down) and turned only one of his five rushing attempts into a first down for an offense that managed to score all of six points.
He also failed to move the ball into Colts territory often. Kessler had only six passing attempts from the Colts' side of the field. He did complete four of them, but for a total of 30 yards and a raw QBR of 2.6. -- Gargiulo
Total QBR: 13.5
Look at that left-right split! For those wondering at home, Daniel put up a more-than-respectable 76.8 raw QBR when throwing to the right of the hashes. As much as he tried, he couldn't manage to throw only there, though.
Though both of Daniel's picks landed in the palms of Giants linebacker Alec Ogletree, one has to wonder if there wasn't another factor that caused the quarterback to look right so often. Look at where former Pro Bowl cornerback Janoris Jenkins lined up in the game, courtesy of NFL Next Gen Stats.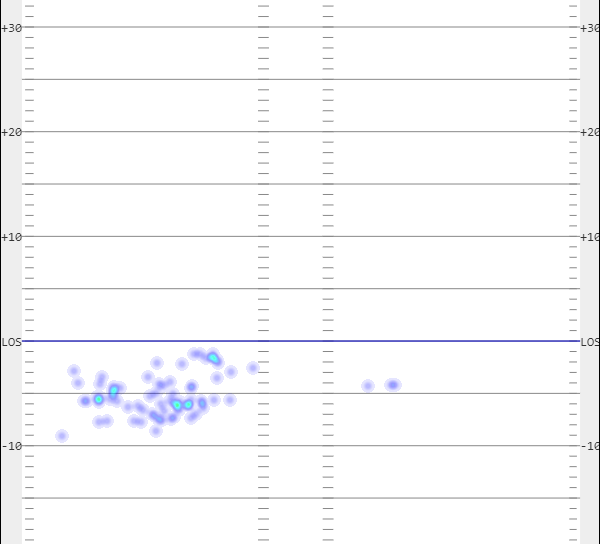 Now we don't know that Daniel was specifically avoiding Jenkins, but we can surmise that the defensive back probably had an impact. -- Walder
Total QBR: 13.5
The Bengals backup's poor QBR comes down to four factors: an interception, four sacks, negative EPA on 29 of 50 action plays and a poor opponent.
That's really it. He was remarkably unremarkable in his badness. Just like the Bengals these days. With Andy Dalton done for the season, Driskel will continue to see action. But with A.J. Green joining Dalton, it's unlikely we see too much improvement from the former sixth-round QB. -- Walder
Just missed: Mark Sanchez, Washington Redskins (16.9); Drew Brees, New Orleans Saints (19.3)