The NFL Pro Bowl will never be confused with a serious game, but Sunday's installment took its playful nature to another level. There was an attempted no-look pass from Kansas City Chiefs quarterback Patrick Mahomes, an NFC defense that included running backs Saquon Barkley, Ezekiel Elliott and receiver Mike Evans on the field at the same time, an interception return that included three laterals, and a touchdown catch by Jaguars cornerback Jalen Ramsey.
And there was the added "drama" of the NFC trying to avoid being the first team in Pro Bowl history to be shut out. It got off the hook when Falcons tight end Austin Hooper caught a 20-yard touchdown pass with 9:05 left in the game.
The AFC rolled to a 26-7 victory, with New York Jets safety Jamal Adams winning defensive MVP and Mahomes earning offensive MVP honors.
Here's a look at the scene and the action on Pro Bowl Sunday:
---
Mahomes: 'It was awesome'
Mahomes threw for 156 yards and a touchdown to win offensive MVP honors. "It was awesome," said Mahomes, who completed 7 of 14 passes, including a 50-yarder to Los Angeles Chargers receiver Keenan Allen. "To be in this experience and have this honor to be in this game, it really is an honor. I was glad that I won it, but credit to my teammates, they made some plays for me."
One of those teammates was fullback Anthony Sherman, who caught three passes for 92 yards and also ran for a 1-yard touchdown. Allen (95 yards) was the only player for either team with more receiving yards than Sherman. Mahomes was hoping his Chiefs teammate would have won the award, which would have made Sherman the first fullback to win MVP honors since the San Diego Chargers' Keith Lincoln in 1965. Read more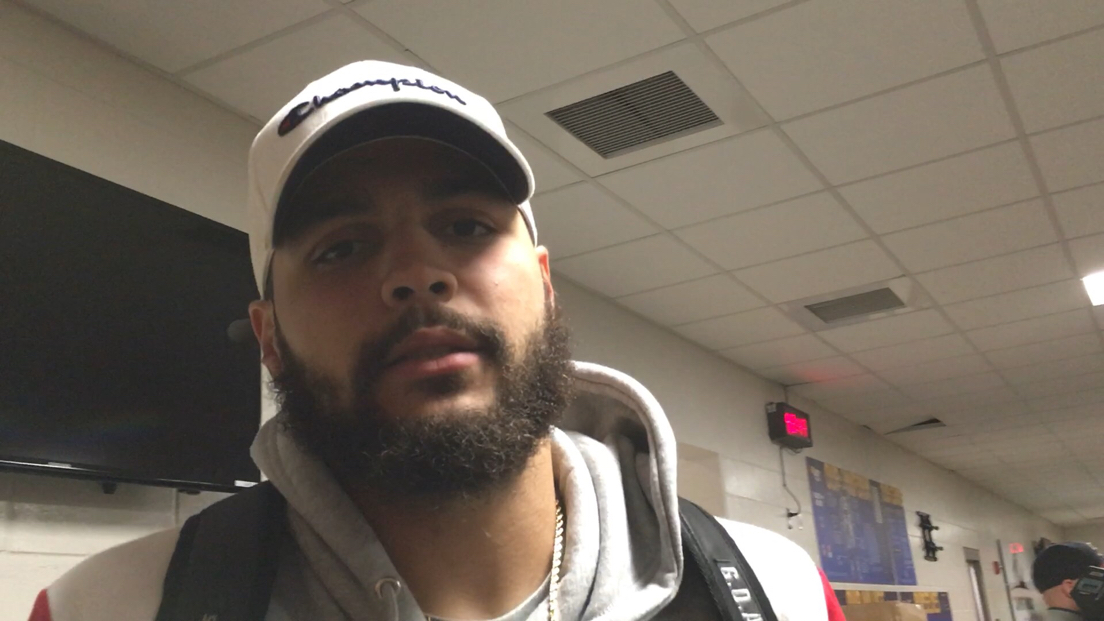 Bucs wide receiver Mike Evans: "I'd be the tallest corner in the league for sure. ... I'm an athlete. I can play both sides of the ball. Nah, I used to play both sides of the ball. I can't no more. My hips aren't good enough. I don't have the stamina. ... All I do is what most corners in the NFL do – press, play outside leverage and hold. That's what I did and it worked for me."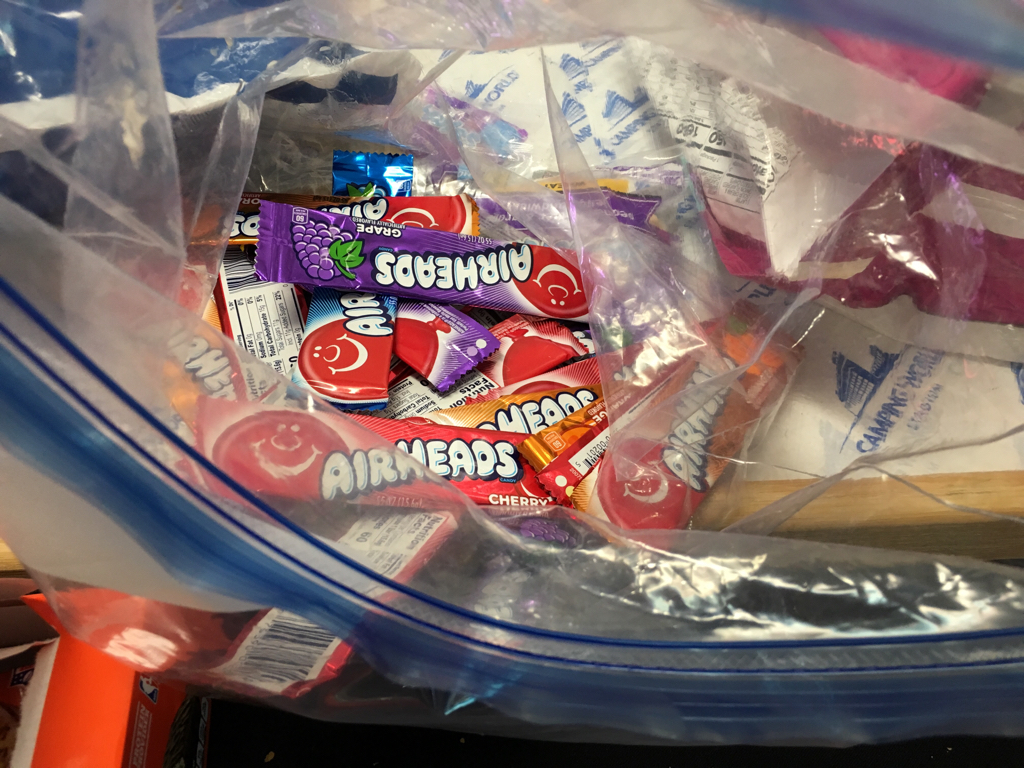 The NFC may have lost the Pro Bowl, but they got an unlimited supply of Airheads courtesy of Alvin Kamara (I'm told the food table in the AFC locker room had fruit).
Steelers WR JuJu Smith-Schuster was limping considerably on the walk to the AFC bus and declined to comment on his left knee injury. He was wearing sweat pants and not bending his left leg as he walked. He suffered a knee contusion during the AFC's Pro Bowl victory.
So far today the NFC has lined up Bucs WR Mike Evans, Cowboys RB Zeke Elliott, and RB Saquon Barkley on defense. Evans at DB (he has an interception) and Elliott and Barkley as pass rushers.
Through three quarters, the AFC has out-gained the NFC 324-110, including a 282-69 edge in passing yards. AFC leads 20-0. There has never been a shutout in the series since the game went to an AFC vs. NFC format in 1971. In fact, there has never been a shutout in any NFL all-star game (beginning in 1939).
And now WR Keenan Allen is questionable to return with a knee contusion. He and Steelers WR JuJu Smith-Schuster both suffered same injury and are questionable. With AFC leading 17-0 not expecting either to return.
First play in the second half of the Pro Bowl -- Mitch Trubisky intercepted by Chris Harris, Jr. The intended target was Adam Thielen. AFC is straight dominating today.
Tough first half for the NFC in the Pro Bowl, trailing the AFC 17-0. There's never been a shutout in Pro Bowl history. They did manage to get down to the AFC 4-yard line on their first possession but Kyle Juszczyk couldn't punch it in on fourth-and-2.
Pittsburgh WR JuJu Smith-Schuster is questionable to return with a knee contusion for the AFC. One thing you don't want to see at the Pro Bowl are injuries. The conditions today at Camping World Stadium are not ideal, either: Wet, windy and cold.
Random Pro Bowl stat: Since the NFC took a 20-3 lead into halftime of last year's game, the AFC has outscored the NFC 35-3 in three-plus quarters since. AFC leads this year's game 14-0 with 12:54 remaining in the first half at Camping World Stadium.
Mahomes out here with no-look sidearms in the Pro Bowl 🔥

(via @thecheckdown) pic.twitter.com/MikJeGN3aF

— ESPN (@espn) January 27, 2019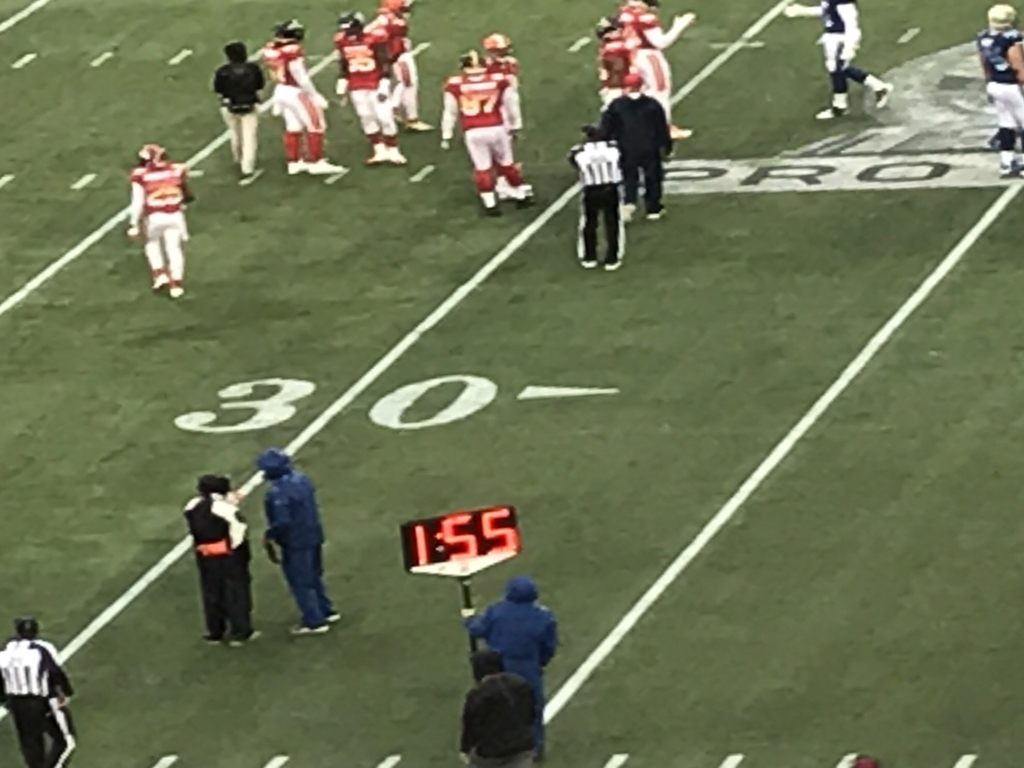 During the Pro Bowl the NFL is using a countdown clock so players on the field know how much time is left during a TV timeout.
We have our first questionable decision at the Pro Bowl. NFC coach Jason Garrett opts to go four it on fourth-and-2 at the AFC 4 and FB Kyle Juszczyk stopped for no gain. AFC leads 7-0 on Eric Ebron's 18-yard TD catch from Patrick Mahomes.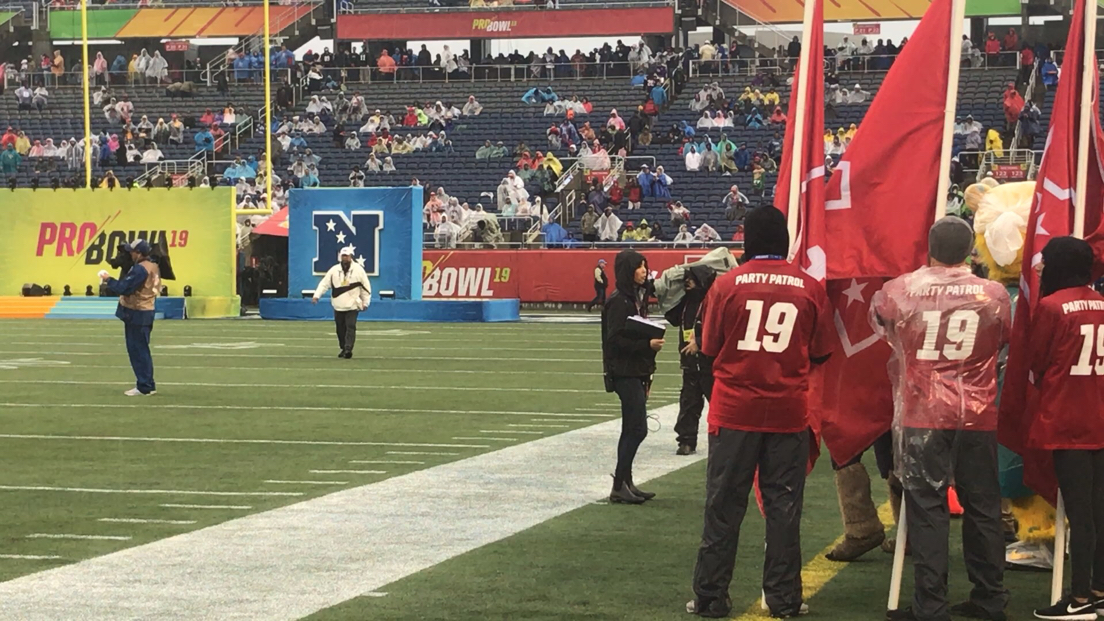 Yeah, they even boo the Patriots mascot at the Pro Bowl.
We'll see how much this happens today in an absolutely LOADED NFC backfield.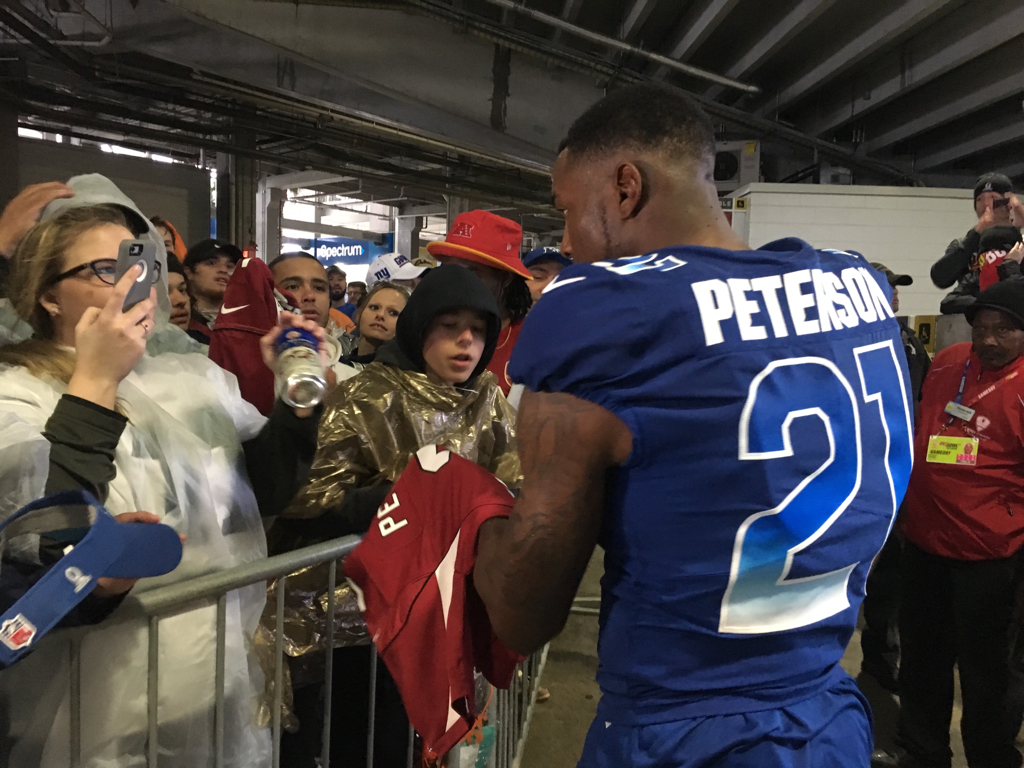 Patrick Peterson is taking literally every autograph request outside the NFC locker room. He even signed a woman's beer!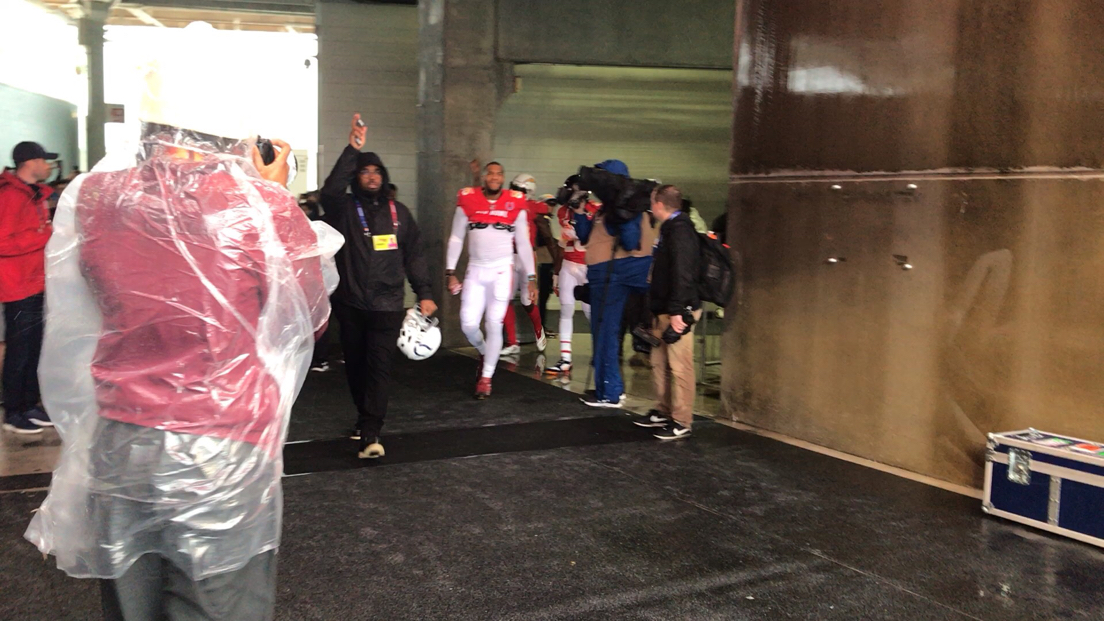 Jaguars CB Jalen Ramsey called Chargers S Derwin James his brother this week. They've been around each other in the field throughout the week.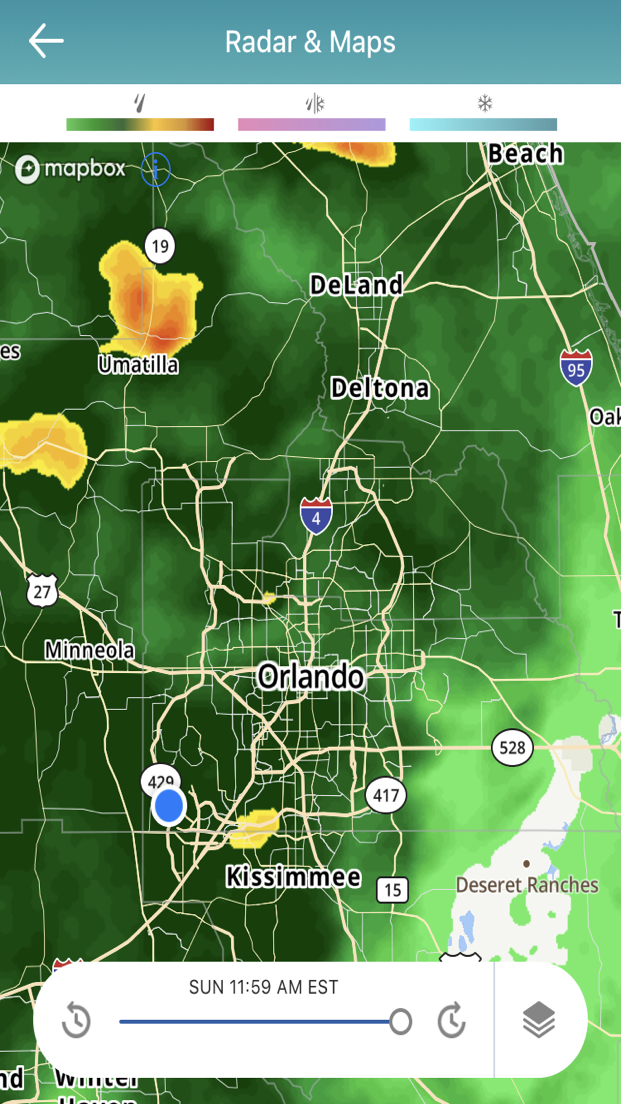 That's a lot of green across the Orlando area. Even worse news: It's supposed to stay that way during the Pro Bowl and into Sunday night. Temperature not forecast to get past 55 degrees, either. Second year in a row for bad weather at the game.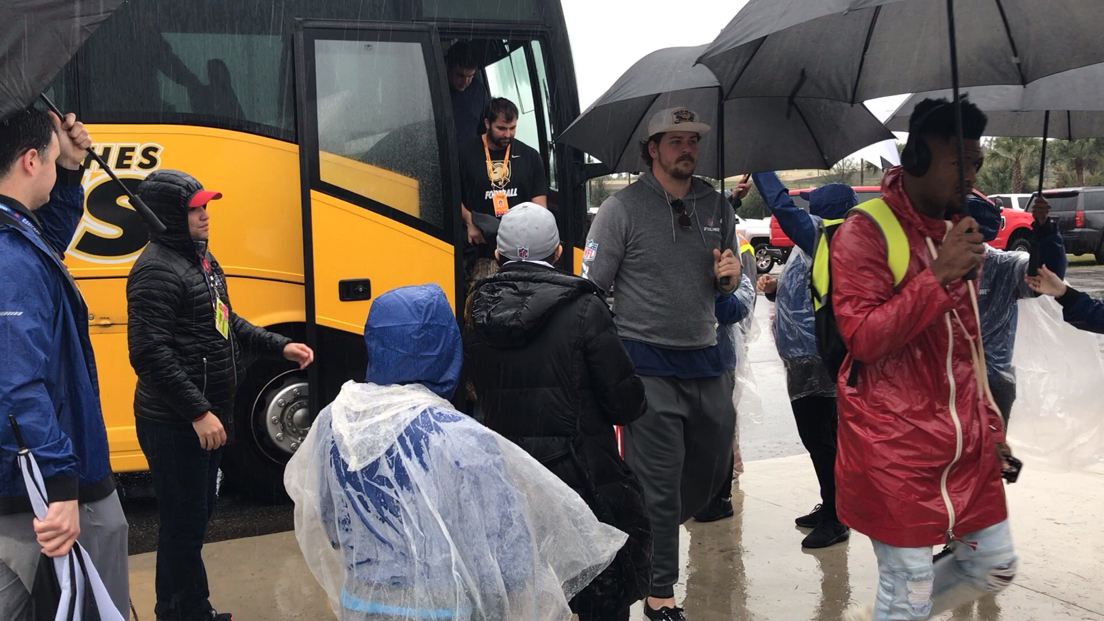 AFC players arrive at Camping World Stadium in less-than-ideal conditions. Jim Kelly is pumped up, though.