An entire middle class of NFL teams collapsed in November. Six organizations that had a viable shot of either winning their divisions or claiming wild-card spots simply fell apart over the past few weeks, opening up opportunities for the likes of the Cowboys, Seahawks and Broncos in the process. Favorites to make the postseason have seen their odds shrink or shrivel up entirely.
I'm going to run through those six teams to see what went wrong. (Hint: It involves injuries!) I'll also be trying to find a lesson for them to learn heading into 2019 to avoid ending up in this situation again.
I've used ESPN's Football Power Index (FPI) to find the moment this season when their playoff odds peaked and added their present playoff odds heading into Week 14. Let's start with a team that seemed like a playoff lock after Halloween before descending into disaster ...
Jump to a team:
CAR | GB | CIN | ATL | TEN | WSH
---

Peak recent playoff chances: Week 9 (6-2, 78.8 percent chance of making the postseason)
Now: 6-6, 14.1 percent
No team has seen a bigger collapse over the past month than the Panthers, who appeared to be in great shape after beating the Buccaneers by 14 points in Week 9. Since then, Carolina has lost four straight. While it might have been easy to write off the Panthers' 31-point loss to the Steelers as an aberration on a short week, their subsequent losses to the Lions, Seahawks and Buccaneers aren't as easy to wave away.
Cam Newton has been criticized for the losing streak, which isn't exactly a surprise. Quarterbacks typically take a disproportionate amount of the credit for winning streaks and a similar amount of blame for losing streaks, and Newton seems to attract resentment for everything from his body language to his postgame news conference attire. (The latter criticism seems particularly bizarre. Is Newton supposed to bring an outfit to the stadium for each possible outcome? What would be the appropriate clothing to wear in case of a tie?)
Admittedly, Newton didn't play well during Sunday's loss to Tampa Bay, when he threw four interceptions against a defense that was down four would-be starting cornerbacks and had previously picked off just three passes. There are legitimate concerns about Newton's shoulder, and as CBS' Will Brinson noted, Newton hasn't had any success throwing the ball deep over the past month.
While acknowledging Newton, here's where the Panthers rank in ESPN's win probability metrics on offense, defense and special teams on a per-game basis between their 6-2 start and their 0-4 collapse:
Well, that's quite clear. The best organizations are excellent self-scouters, so if you're feeling generous, Ron Rivera deserves credit for shaking up his defensive coaching staff this week. Rivera responded to the Bucs loss by firing defensive line coach Brady Hoke and cornerbacks coach Jeff Imamura while taking over defensive playcalling duties from first-year coordinator Eric Washington.
The Panthers' game plan is to get pressure by blitzing, given that they send extra rushers a league-high 37.8 percent of the time. They've blitzed more during this four-game losing streak, but the blitz has gotten home about as frequently as it did during the team's successful run. When the Panthers send extra pressure and get home, they've been fine.
The problems are, well, everything else. When the Panthers didn't send extra rushers during their 6-2 start, Kawann Short & Co. produced the league's 13th-ranked pressure rate. Over the past month, with the same defensive linemen, Carolina's defense has posted the league's worst pressure rate when it doesn't send extra rushers. This will not be the last time you see the Panthers finishing last in a defensive category in this section.
From Week 1 to Week 9, when the Panthers didn't pressure the opposing quarterback, their secondary held up behind in coverage. Carolina allowed a 101.0 passer rating without pressure, which was the No. 13 mark in the league. Since then, though, the Panthers have allowed a brutal passer rating of 135.5 in those same situations, the worst mark in the league. Their 93.7 Total QBR in those same situations also ranks last.
Overall, the Carolina pass defense has allowed a league-high 9.1 yards per attempt over the past month. It ranks only 31st in passer rating and Total QBR allowed, but when you look at deep passes, the Panthers are allowing opposing quarterbacks to post a perfect Total QBR of 100.0. James Bradberry and Donte Jackson, who were one of the league's best cornerback duos over the first month of the season, haven't been as effective over the past month. The two combined for 62 yards in pass interference penalties against the Bucs last week.
The same Panthers defense that forced 15 takeaways through the first eight games of the year has generated just one over the past month, and while that was a valuable recovery on a Peyton Barber fumble inside the Carolina 5-yard line, Carolina needs to start forcing opposing offenses to make mistakes. With two of its final four games coming against Drew Brees and the Saints, who have posted the second-fewest giveaways in football this season, Rivera's defense will need to revert to form quickly.
The special teams have fallen off even further. Kicker Graham Gano is the culprit here, likely owing to a knee injury that popped up this week. During the first half of the year, Gano was 21-of-23 on extra points and 11-of-11 on field goals, including the 63-yard game winner against the Giants that won Play of the Year in my midseason awards.
Over the past four weeks, Gano has gone 9-of-10 on extra points and 2-of-5 on field goal attempts. Against the Lions, Gano missed a 34-yard field goal that would have tied the game in the third quarter, then failed on an extra point that would have given the Panthers a 14-13 lead. Rivera then chose to go for two to win the game when the Panthers scored to make it a 20-19 contest with 1:14 to go. The following week, Gano missed a 52-yarder that would have given Carolina a 30-27 lead with 1:45 to go, and the Seahawks subsequently marched downfield to kick their own game winner.
There's a worthwhile point to remember here: The next time you hear someone say that a team needs to learn how to win games or has finally learned that lesson, keep in mind that it's simply nonsense. The Panthers have alternately been great or horrific in close games during Rivera's reign, a roller-coaster ride that has continued into 2018. The Panthers were 7-1 in games decided by seven points or fewer last season, and now they are 2-5 in those same contests. Even-year woes seem to keep Carolina out of the postseason.
Lesson for 2019: Add pass-rushing help. The Panthers have gotten by with a rotation of veterans on the edges over the past few years, but Julius Peppers has fallen off at age 38 and will likely retire after the season. Efe Obada has shown some promised on limited snaps, but with a draft deep in defensive linemen, the Panthers probably need to use their first-round pick on edge defenders.

Peak recent playoff chances: Week 10 (4-4-1, 43.2 percent chance of making the postseason)
Now: 4-7-1, 2.7 percent
I covered the Packers dropping off a bit on Monday in writing about Mike McCarthy's firing. And again, while the discussion has been built around quarterbacks, the defense has been a bigger issue. During the three-game losing streak that sank their season, the Packers have posted the league's 16th-best offense and its second-worst defense.
Here, injuries are the key culprit. I mentioned that the Packers had four defensive starters on injured reserve in Mike Daniels, Muhammad Wilkerson, Nick Perry and Jake Ryan. That doesn't even tell the whole story. Davon House, who might have figured in the cornerback rotation, is also on IR. Starting cornerback Kevin King, who missed Sunday's game against Arizona, joined him on Wednesday. Former Washington starting corner Bashaud Breeland, who was signed during the season to help cover up the injuries, also missed the Cardinals game with a groin injury, as did safeties Kentrell Brice and Raven Greene.
As a result, Green Bay's starting corners on Sunday were rookies Jaire Alexander and Josh Jackson. At safety, it had Tramon Williams -- who was converted from cornerback earlier this season -- and journeyman Ibraheim Campbell, who was placed on injured reserve after the loss. Street free agent Eddie Pleasant and practice-squad corner Tony Brown each took 15 percent or more of the defensive snaps.
It's tough to do much with a secondary as inexperienced as the one the Packers ran out. Take this third-and-7 pass from Josh Rosen to Trent Sherfield for 21 yards, where Campbell is the deep safety in center field. Despite the presence of the trips on the left side, Rosen glances toward the right side, which is enough for Campbell to take a false step and free up a throwing lane to Sherfield for a big completion. Campbell doesn't appear to have the instincts or the makeup speed to play that role.
Things got worse. The Packers blew a gap assignment on Chase Edmonds' first touchdown run. Reggie Gilbert was too slow on the edge to stop a Christian Kirk jet sweep and Alexander took a poor angle, with the run going for 23 yards. On the next play, Kirk sold Alexander a double move and caught a pass for 37 yards, which might have been a touchdown with a better throw from Rosen.
The pass rush, which sacked Rosen twice on 28 dropbacks, didn't help much. The Packers sent five men against a six-man protection, and while Dean Lowry eventually beat his man, his sack attempt both failed and took out Jones, who was coming in to pressure Rosen as a green-dog blitzer. With nobody blocking his path, Rosen stepped up and ran for 33 yards, running away from a flat-footed Campbell downfield along the way. Later on that drive, Edmonds ran for 29 yards on a play in which pulling guard Will Holden -- making his first appearance of the season -- managed to block two Packers into one another. Edmonds then scored his second touchdown on a play in which an unblocked Jackson failed to contain on the end and was beat outside.
Keep in mind this all happened against an offense that ranks last in DVOA, starts a rookie quarterback and was missing all five of its starting offensive linemen after Mike Iupati went down injured. The Packers didn't do enough on offense to get to 21 points, and you might rightfully expect Aaron Rodgers to get past 20 most weeks, but a defense that has absolutely been shredded by injuries made too many mistakes on Sunday. If you're hoping for the Packers to improve in 2019, the first step might not be with a new offensive guru to work with Rodgers. It's probably just a healthier defense.
Lesson for 2019: Be patient. As tempting as it is to overreact to these injuries, there's no reason to think the Packers will be as banged up on defense in 2019. They have a big decision to make this offseason with Clay Matthews, who is on pace for a career-low 3.5 sacks in the final season of his current deal, but they shouldn't go over the top in adding defensive pieces.

Peak recent playoff chances: Week 9 (5-3, 45.9 percent chance of making the postseason)
Now: 5-7, 0.2 percent
If you look further into the past, this is an even more calamitous drop by Marvin Lewis' team. The Bengals started the season 4-1 and held a 72.5 percent shot of making it into the postseason, only to blow a late lead against the Steelers in Week 6 and collapse. Their lone win over the ensuing seven weeks was a 37-34 victory over the Buccaneers in a game in which Jameis Winston threw four interceptions and the Cincinnati defense blew a 34-16 fourth-quarter lead, only for Andy Dalton to drive the Bengals downfield for a game-winning field goal.
Dalton and seemingly most of his teammates aren't around anymore, with the Bengals obliterated by injuries after their hot start. Losing a returning A.J. Green on Sunday was the final blow. The Bengals have had just 17 of their players suit up in all 12 games this season, the eighth-lowest mark in the league. With Dalton and Green leading the way, 26.4 percent of Cincinnati's cap spending in 2018 has gone to players currently on injured reserve, the second-highest mark in football behind the 49ers.
The concerning issue has to be the collapse of the defense, which has fallen from 17th in DVOA in both 2016 and 2017 to 28th this season. Since returning from their Week 9 bye, the Bengals have allowed opposing passers to complete a league-high 71.0 percent of their passes and post a passer rating of 122.3, ahead of only the Panthers and 49ers. It's one thing when it's against the Bucs and Chiefs, whom Cincinnati played before its bye, but after playing the Saints in Week 10, they've allowed nearly 28 points per game to the Ravens, Browns and Broncos.
Rarely conspicuous, the Bengals have little to play for over the remainder of 2018. Three of their final four games are on the road, and their home game against the Raiders in Week 15 is probably the most irrelevant game left on the NFL calendar, Joe Mixon fantasy owners aside. They have a chance to play spoiler against the Chargers in Week 14 and might end up with a road matchup against the Steelers' backups in Week 17.
Their goals for 2018 are mostly left to figuring out who they want to keep around for 2019. Can the Bengals justify paying Dre Kirkpatrick a base salary of more than $9 million when he has been alternately injured and ineffective since signing his new deal? Does fellow former first-round pick Darqueze Dennard have any future with the team? Is C.J. Uzomah a viable No. 1 tight end?
The follow-ups about the futures of Lewis and Hue Jackson might not lead to very satisfying answers for frustrated Bengals fans. If the Bengals thought Lewis was the right person to continue leading (or were too lazy to find a replacement) heading into 2018, it's difficult to make an argument that things have changed significantly this season. The Bengals got off to a hot start before dropping two straight against the Chiefs and Steelers. They still hit their bye at 5-3 before getting torn asunder by injuries. If anything, Lewis has a much better case for sticking around than he did a year ago. And if Lewis keeps power in Cincinnati, it's hard to believe Jackson will be going anywhere anytime soon.
Lesson for 2019: Find a better backup quarterback. There's no way for the Bengals to make up for Green's absence when their star wide receiver isn't on the field, of course, but they can do a better job of approximating the middling Dalton than Jeff Driskel. Owner Mike Brown has shown virtually no propensity to get involved in unrestricted free agency, but a move for a free agent-to-be like Ryan Fitzpatrick or Josh McCown might keep the Bengals afloat in 2019 if Dalton goes down.

Peak recent playoff chances: Week 9 (4-4, 34.7 percent chance of making the postseason)
Now: 4-8, 0.8 percent
The story of the 2017 Falcons was a pretty good offense spoiled by an overrated defense that never got off the field, leading to deflated raw totals for Matt Ryan & Co. The story of the 2018 Falcons is ... a pretty good offense spoiled by a wretched defense that never gets off the field, leading to deflated raw totals for Ryan & Co. You can chalk it up in part to the injuries suffered by Deion Jones and Keanu Neal, but the Falcons have fallen from 22nd in DVOA last season to dead last in 2018.
While the Falcons scored a rare defensive touchdown when Vic Beasley Jr. returned a Lamar Jackson fumble for six points in Week 13, Atlanta's defense hasn't done just about anything right for weeks. While it held the Ravens' offense to 20 points, that was mostly due to sloppy play from Baltimore. Jackson had one of the biggest misses of the season when he overthrew a wide-open John Brown for what should have been a completion of 30-plus yards on a pass the NFL's Next Gen Stats give an 81.5 percent chance of being completed: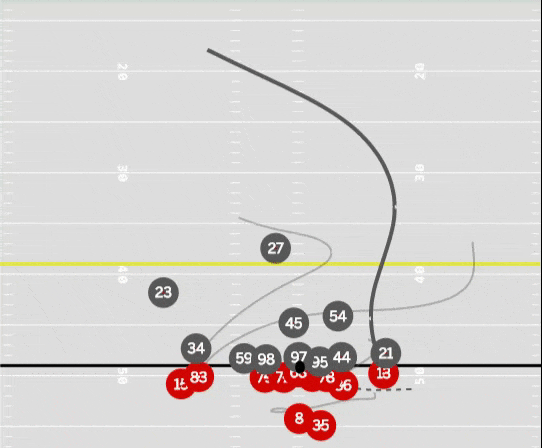 The Falcons don't really do anything right on defense. They're 31st in the league in getting off the field on third and fourth downs and 29th in red zone efficiency. Atlanta is not good against the run -- it ranks 30th in first-down rate and 28th in yards before first contact. Dan Quinn's defense is just as bad against the pass, where the Falcons are allowing a passer rating of 103.2, which is 28th in the league. They don't get after the quarterback, as Beasley & Co. are 28th in sack rate and last in pressure rate. And after forcing just 16 takeaways a year ago, the Falcons are on pace to grab ... 15 takeaways this season.
Meanwhile, after struggling in national television appearances against the Eagles and Saints, the offense's reputation is far worse than its actual performance. The Falcons' offense is getting no help, as was the case last season. In 2017, it ranked last in the league in average starting field position and drives per game. This season, it's 29th in average starting field position and 31st in drives per game.
By all measures, despite losing both starting guards and highly paid running back Devonta Freeman for most of the season, the Falcons have been good to very good on offense. Atlanta is 10th in DVOA and sixth in points per drive. After a hot stretch earlier in the season, it has dropped to 15th in the league in points per red zone possession, still leaving it just ahead of the Chargers and Rams.
What is fair to say, though, is that this four-game losing streak has been driven by an offensive collapse. Through the first eight games, the 4-4 Falcons were the league's fourth-best offense by win probability added, trailing only the Saints, Rams and Chiefs. Over the past four games, though, the Falcons rank 31st in the same category. Steve Sarkisian's offense has averaged just 15.5 points per game over the past month, down from 28.5 points per game over the first half of the season.
Falcons fans holding out hope that the offense from 2016 is ever going to return probably need to move on. Even if Kyle Shanahan had stayed, that offense was unsustainably great on first downs and in the red zone and immaculately healthy along the offensive line. If the offense continues to fade, Sarkisian likely will pay for the decline with his job. There's not much evidence, though, that the offense is what ails this team.
Lesson for 2019: Upgrade at defensive coordinator. The Falcons aren't going to have the cap space to splash for a major defensive upgrade, given that they're currently at $26.1 million in room without yet addressing Grady Jarrett's contract. Assuming Jarrett is brought back, the Falcons probably need to improve on Marquand Manuel, whose defenses have failed to live up to the heights of the 2016 playoffs. If Dan Quinn wants to stay in his current scheme, would Cowboys defensive backs coach Kris Richard make sense?

Peak recent playoff chances: Week 10 (5-4, 43.6 percent chance of making the postseason)
Now: 6-6, 12.7 percent
The Titans likely saved their season by launching into a furious comeback against the lowly Jets, who led 16-0 late in the second quarter and remained up 22-13 heading into the fourth before Marcus Mariota & Co. stormed back. After throwing a first-half pick-six, Mariota threw for 143 yards and a touchdown in the fourth quarter in leading the Titans to a 26-22 victory.
Was it a sign that the Titans will roar back into the playoff picture? Probably not. The game-winning drive was nearly pushed back when Mariota fumbled at the end of a 27-yard scamper, only for him to recover his own fumble. (To be fair, there also was a face mask penalty away from the play on the Jets, so the Titans wouldn't have lost the ball either way.) Mariota completed passes of 44 and 55 yards to start two of Tennessee's three scoring drives in the fourth quarter, but he subsequently went 0-for-3 with two sacks and settled for field goals both times. We know what the Titans are capable of doing, but it's difficult to trust that they'll hit their peak for any length of time.
After beating the Cowboys and Patriots to jump to 5-4, the Titans sank their divisional chances by getting blown out in Indianapolis and Houston. The FPI assigns Tennessee just a 1.4 percent chance of winning the AFC South; their chances aren't a whole lot better in the wild-card chase after losing head-to-head matchups against the Dolphins, Ravens, Colts and Chargers, each of whom loom as possible contenders. The best-case scenario for Tennessee is likely ending up in a battle with the Colts for the last wild card and beating them in Week 17 to tie up their season series at one apiece.
To do that, the Titans need steadier play on both sides of the ball. Mariota threw two deep bombs in the fourth quarter last week, but it came after he overthrew Taywan Taylor on what should have been a 50-yard touchdown to start the fourth quarter. There have been only 11 incompletions of 40 yards or more all season in which the NFL's Next Gen Stats predicted a completion probability of 60 percent or more. Mariota is responsible for two of those 11 throws, and they've both been on the same route concept and throw to Taylor.
The fourth quarter might have marked the time when Mariota had to start carrying this team. There have been opportunities for the former Oregon star to make plays. By Next Gen Stats, Mariota has the second-highest percentage of open receivers (51.1 percent) and the fifth-highest percentage of wide-open receivers (24.8 percent) in football among quarterbacks with 200 throws or more.
The free-agent class general manager Jon Robinson brought in this offseason also needs to step up, as it has been a major disappointment. Dion Lewis publicly excoriated the Patriots for going cheap at running back after beating New England in Week 10 while ignoring that his role with the Pats came after they let Shane Vereen leave for a larger deal. Lewis also said this after a game in which he carried the ball 20 times for 57 yards and had two catches for 11 yards, the sort of production you can get for the league minimum. Since then, Lewis has 107 yards from scrimmage on 33 touches, good for an average of just 3.2 yards per touch. His line isn't playing well, but if you can't top replacement-level performance behind a struggling offensive line, you've just made the argument to not pay running backs.
Malcolm Butler, more promisingly, has actually improved in recent weeks. The former Patriots standout was the primary cornerback in coverage on seven of the first 11 touchdowns the Titans allowed this season, including long scores to Kenny Stills, Will Fuller and Jordan Matthews. Butler hasn't been the primary target on any of the five subsequent touchdowns, and the embattled cornerback came up with the game-winning interception against the Jets last week.
It would be nice if the group could chip in some more picks. The Titans have the NFL's ninth-worst interception rate, which has to be frustrating given the presence of two expensive ex-Patriots cornerbacks and first-round pick Adoree' Jackson, who picked off five passes in his final year at USC. Safety Kevin Byard led the NFL with eight picks last season, but as is often the case, he has regressed toward the mean and has just two this season. It's a reminder that interceptions are a quarterback stat as opposed to a defensive back statistic, but the Titans have to hope that they catch a few more breaks over the last month of the season.
Lesson for 2019: Understand what they have with Mariota. As tempting as it is to look at a good start or two and hope that Mariota is finally realizing his considerable talent, the reality for the Titans is that we've now seen nearly four years and 1,548 pass attempts of Mariota under center, and it would be foolish to ignore what we've seen. At this point, the mercurial, injury-prone Mariota the Titans know is the one they have to expect they'll get going forward. He might improve, of course, and Mariota could piece together a Joe Flacco-esque postseason and win a Super Bowl if he gets hot, but the Titans can't pay Mariota for the player they want him to be. As they enter the fifth-year option of Mariota's rookie deal, the Titans will need to keep reality in mind as they enter long-term negotiations.
Peak recent playoff chances: Week 10 (6-3, 53.1 percent chance of making the postseason)
Now: 6-6, 19.6 percent
Washington was once the favorite to sneak into an unlikely NFC East title, but a horrific three-game stretch has seen Jay Gruden's team drop three straight and lose two starting quarterbacks. The season-ending broken bones suffered by Alex Smith and Colt McCoy have turned things over to Mark Sanchez, who had thrown all of 18 passes since the start of 2016 before being thrust into the lineup on Monday night against the Eagles. He was predictably awful, posting a passer rating of 53.7 in a 28-13 loss.
To be fair to Sanchez, there's little reason to think he should be able to do very much. Washington's offense has been unrecognizable for most of the year even beyond its quarterback injuries. The only offensive players to start all 12 games for Washington this year are Adrian Peterson, center Chase Roullier and right tackle Morgan Moses, who has been playing through an injury. Tight end Jordan Reed has also surprisingly lined up for all 12 games, but hasn't started them all and has been playing through back trouble. Alongside Arizona and San Francisco, this is the most injury-riddled offense in football.
The defense was able to paper over the offensive concerns by creating a ton of takeaways, but those have dried up. A unit led by D.J. Swearinger racked up 21 takeaways in the first 10 games, but it has been able to generate only one over the past two weeks. Creating takeaways and trusting Smith to protect the football can be a winnable model, but letting the other team hold the ball and turning things over to Sanchez is essentially its mirror image.
Relying heavily on Peterson might not be the answer, either, given that the 33-year-old is a boom-or-bust back at this point. On Monday, Peterson ran for a 90-yard touchdown, but his other eight carries went for a total of eight yards. That's a fair trade in most books, but Peterson is not going to run for a 90-yard score every week. Over the 2018 season, he has been stuffed for no gain or a loss on 23.4 percent of his carries, the second-highest percentage in the league for a back with 150 carries or more.
Furthermore, over the past five weeks, Peterson has posted the second-worst success rate (per NFL Next Gen Stats) in the league among backs with 50 carries or more, ahead of only Lewis. It's tempting to chalk that up to loaded boxes, but Peterson has held a blocking advantage in terms of number of blockers 72.3 percent of the time, well above the league average of 64.3 percent. Washington needs to keep Sanchez and its banged-up offensive line out of third-and-long, but that isn't happening.
Of course, owner Daniel Snyder and GM Bruce Allen have only made things worse with their off-field decision-making. They bizarrely chose to place a waiver claim on former 49ers linebacker Reuben Foster, tried to justify it by suggesting that they had spoken to his former Alabama teammates, and then misdirected toward a private investigation when several of those new teammates revealed that they hadn't been consulted about Foster. This private investigation employed people Allen knew from Tampa as opposed to contacting local police in the jurisdictions where Foster was accused of committing assault.
Furthermore, Washington doubled down on its unsurprising and seemingly endless capacity for public embarrassment by choosing to sign quarterback Josh Johnson as opposed to former 49ers star Colin Kaepernick, who remains a free agent. Gruden suggested this week that there wouldn't be enough time to teach Kaepernick a new system, a problem utterly refuted by USA Today's Steven Ruiz, who pointed out that the concepts Gruden runs in Washington are identical to those Kaepernick ran under both Jim Harbaugh and Chip Kelly in San Francisco.
Johnson, who has a career passer rating of 57.7 and hasn't thrown an NFL pass since 2011, can't be considered by anyone with even a shred of credibility as a better option than Kaepernick. It's telling that Snyder and Allen are more comfortable inventing an investigation to justify claiming Foster than they are with signing Kaepernick, or that Gruden doesn't think he's capable of teaching a former Super Bowl quarterback a scheme in which Kaepernick already has excelled.
This is, of course, the same organization that ran Kirk Cousins out of Washington while calling him "Kurt" and posting manipulated contract offers to the public. The team has sank over the past three weeks, but in reality, it has been fading from former glory for most of the past two decades.
Lesson for 2019: Think for a second before you do or say something ignorant. No, it probably won't stick this time, either.