Saints Bounty Scandal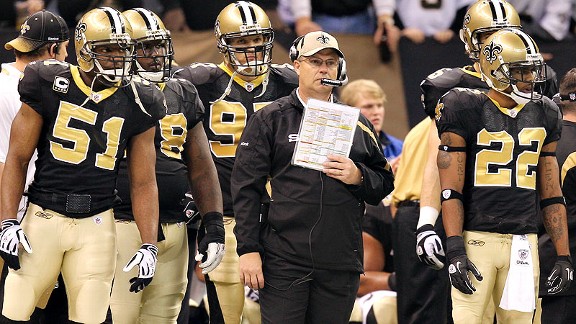 The New Orleans Saints were found to have operated a bounty system in which players were paid bonuses for, among other things, hard hits and deliberately injuring opposing players. The system was in place from 2009 -- the season the Saints won the Super Bowl -- to 2011, and between 22 and 27 Saints players participated in the program.
On March 2, 2012, the NFL announced the findings of its investigation, saying that the players and defensive coordinator Gregg Williams pooled their money to pay out the bonuses over three seasons. The league also found that head coach Sean Payton was aware of the bounty system and, though not directly involved with it, hadn't done anything to shut it down. Saints GM Mickey Loomis had been ordered by owner Tom Benson to shut down the program, but failed to do so.
Since the NFL unveiled its findings, Williams has been accused of running similar bounty programs during his coaching stints with the Titans, Redskins and Bills.
The NFL handed down punishment for the bounties on March 21, 2012. Head coach Sean Payton was suspended for one year without pay, effective April 1. GM Mickey Loomis was suspended without pay for the first eight regular-season games of 2012. Saints assistant Joe Vitt was suspended for the first six games of 2012.
Former Saints defensive coordinator Gregg Williams, currently with the Rams, was suspended indefinitely, effective immediately. His status will be reevaluated by commissioner Roger Goodell following the 2012 season.
In addition, the Saints franchise was fined $500,000 and docked second-round picks in the 2012 and 2013 drafts. The league has not yet announced any disciplinary action against the players involved.
The Saints appealed the suspensions of Payton, Loomis and Vitt, but the NFL upheld the suspensions. The appeal delayed the start of Payton's suspension from April 1 to April 16.
On May 2, the league announced the suspension of four players for their leadership roles in the bounty system. Linebacker Jonathan Vilma was suspended for the entire 2012 season, DL Anthony Hargrove was suspended for eight games, Will Smith for four and Scott Fujita for three. Fujita and Hargrove had left the Saints by the time the suspensions were handed down. The player suspensions were vacated on technical grounds by an arbitration panel on Sept. 7, 2012, just two days before the Saints' season-opener. After re-starting the disciplinary process, Goodell upheld the suspensions for Vilma and Smith and reduced the suspensions for Fujita and Hargrove to one and seven games respectively.
TOP STORY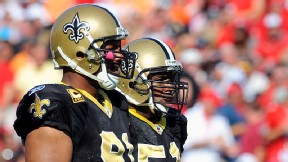 NFL re-issues bounty penalties
NFL commissioner Roger Goodell has reduced the bounty-related suspensions of two New Orleans Saints players while upholding the punishments of two others. Story »
COMMENTARY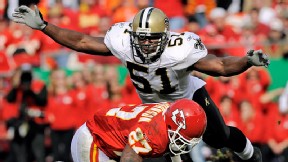 Say Hi To The Bad Guy
Roger Goodell and the NFL have made a scapegoat out of Jonathan Vilma with his one-year ban. Mark Kreidler »
GREGG WILLIAMS COACHING RESUME
• 2012: St. Louis Rams - Defensive Coordinator
• 2009-11: New Orleans Saints - Defensive Coordinator
• 2008: Jacksonville Jaguars - Defensive Coordinator
• 2004-07: Washington Redskins - Defensive Coordinator
• 2001-03:Buffalo Bills - Head Coach
• 1997-2000: Tennessee Oilers/Titans - Defensive Coordinator
• 1994-96: Houston Oilers - Linebackers Coach
• 1993: Houston Oilers - Special Teams Coach
• 1990-92: Houston Oilers - Defensive Quality Control Coach
• 1988-89: University of Houston - Graduate Assistant
• 1984-87: Belton High School - Head Coach