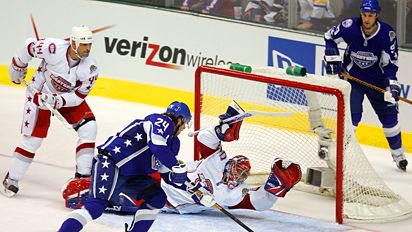 All-Stars Shine Again
The NHL's All-Star Game returned Wednesday night, with the Western Conference using a six-goal second period to power to a 12-9 victory over the Eastern Conference in Dallas.
Story
|


Montreal to host 2009 All-Star Game
Montreal was named the site of the 2009 All-Star Game, an event that will come during the season when the Canadiens will celebrate their 100th anniversary.



NHL unveils new uniforms
After more than two years of testing and designing -- and nearly 100 different versions -- the NHL unveiled their new "uniform system."


End text -------------------------
WHAT YOU NEED TO KNOW

WHAT
2007 NHL All-Star Game
WHERE
American Airlines Center -- Dallas, Texas
WHEN
Wednesday, Jan. 24, 8 p.m. ET (Versus)
STARTING LINEUPS

EASTERN CONFERENCE

POSITION
PLAYER
Forward
Sidney Crosby, Penguins
Forward
Alexander Ovechkin, Capitals
Forward
Daniel Briere, Sabres
Defenseman
Brian Campbell, Sabres
Defenseman
Sheldon Souray, Habs
Goaltender
Ryan Miller, Sabres

WESTERN CONFERENCE

POSITION
PLAYER
Forward
Joe Thornton, Sharks
Forward
Jonathan Cheechoo, Sharks
Forward
Joe Sakic, Avalanche
Defenseman
Scott Niedermayer, Ducks
Defenseman
Nicklas Lidstrom, Red Wings
Goaltender
Roberto Luongo, Canucks

Voting | Complete rosters | YoungStars
HISTORY
For a complete history of NHL All-Star Game results, statistics and scoring, check out our history page.


All-Star Game -- History
SCHEDULE OF EVENTS

DATE
EVENT
Monday, Jan. 22
"NHL Salute to a Generation of Stars"
7 p.m. ET
Tues., Jan. 23
YoungStars Game, SuperSkills event
Begins at 7:30 p.m. ET
Wed., Jan. 24
All-Star Game
8 p.m. ET