You heard it here first: Oilers will return to postseason
September, 16, 2008
09/16/08
9:53
AM ET
Every season, I try to identify an "it" team. You know, that team that improves so much, or comes out of nowhere, etc.
Last season, I predicted the Washington Capitals would finally get back into the playoffs (so did my ESPN.com colleague Scott Burnside). OK, so it took until the final week of the regular season, but they did indeed make the big dance and were a great story around the league.
[+] Enlarge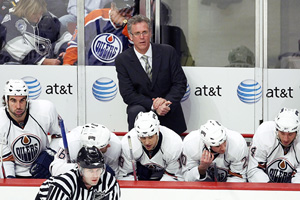 Jonathan Daniel/Getty ImagesLast season, Craig MacTavish and the Oilers finished ninth in the West, missing a playoff spot by three points.
This season, I think it's a no-brainer -- the Edmonton Oilers.
Partly because of the pickups in the offseason, notably puck-moving blue-liner Lubomir Visnovsky, and first-line winger Erik Cole, but also because of the continued development of a hugely young, talented base led by linemates Andrew Cogliano and Sam Gagner. I just believe this will be a fun and successful season for the Oilers. I don't see how this team doesn't get back into the playoff picture.
Apparently Oilers fans share my thoughts. I caught up with Oilers coach Craig MacTavish last night and he said the excitement is building in his market.
"Well, it's palpable here in Oil Country," MacTavish told ESPN.com. "Everybody is wildly excited. You try and be cautious, but it's hard. There's so many good things happening right now. We've had some bad luck the last little while with some injuries, but it really allowed us to get the ice time and develop the young guys.
"I've been around a lot of young guys over the years and this group is just not going to be denied. I just don't get the sense that there's going to be any drop-off virtually in any one of them."
For you hockey poolies out there, MacTavish also tipped me off on his possible line combinations, although, as we all know, those can change in a hurry in the modern-day NHL.
For now, MacTavish sees Cole on the first line with Shawn Horcoff and Ales Hemsky. Cogliano, Gagner and Robert Nilsson were a hit last season, so MacTavish will probably leave the kids together to start the season. A solid third line right now would see Fernando Pisani, Dustin Penner and captain Ethan Moreau.
I'm telling you right now folks, the Oilers are back in the playoffs this season.