Sabres rebounding from past offseason woes
September, 19, 2008
09/19/08
10:35
AM ET
One of the feel-good stories in the NHL right now is what's happening in Buffalo. Just over a year after the Sabres survived a PR disaster by losing co-captains
Chris Drury
and
Daniel Briere
to free agency, the team has rebounded strong by locking up other core players.
Fantasy Hockey -- Join Now!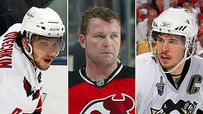 Fantasy hockey gets a face-lift on ESPN.com this season, and we've got all the strategy, analysis and projections you need to make this your most successful season ever. 2008 Draft Kit | Sign up!
First-line winger Jason Pominville was the latest Thursday, signing a $26.5 million, five-year contract extension. His deal follows the long-term signings of starting goalie Ryan Miller, top center Derek Roy and forwards Paul Gaustad and Jochen Hecht. Of course, so is star winger Thomas Vanek after the Sabres matched Edmonton's offer sheet last summer.
Slowly but surely, GM Darcy Regier got himself off the mat after the Drury/Briere nightmare (he also lost Brian Campbell, forced to trade the star blueliner after failing to sign him last February) and began to lock up the rest of the team's key players.
"I was talking to [coach] Lindy [Ruff]. The environment that we live in is very different than the pre-lockout CBA," Regier told ESPN.com. "With the offer sheets and unrestricted free agency at the latest at 27 -- it forces teams to make decisions earlier and to make them for a longer period of time. And, obviously, the players have the same decisions. And as expensive as it might be to keep your own players, it's even more expensive to go buy them on the open market. If you can."
Last season was a tough one to take if you were a Sabres fan. After back-to-back trips to the Eastern Conference finals, the team missed the playoffs after the offseason defections and some wondered if the club had missed its proverbial "window of opportunity."
"Clearly, in hindsight, we know that we would have not have been able to keep everybody," said Regier. "We have a core. And certainly the players that we lost were very key players for this team and very good players in the National Hockey League. But we had a core of kids that had grown up together, were developing into good players. So, when we looked at it, we felt if we could keep them together and build with them, that we would still be a very good team and be competitive. So that's kind of the road we went down and followed."
I've been wrong before, but I think Buffalo gets back in the playoffs this season. And in the wide-open East, who knows what can happen after that.
Schneider in limbo
The Anaheim Ducks open camp with physicals today, but veteran defenseman Mathieu Schneider won't be there.
"Anaheim and I talked yesterday, and the Ducks were very professional, and they believe they are closing in on a deal in the very near future," Schneider's agent Pat Morris of Newport Sports told ESPN.com this morning. "So they thought it was most productive if Mathieu remained at home until a trade was consummated."
The Ducks need to move the 39-year-old blueliner and his $5.75 million salary in order to get under the salary cap and re-sign veteran winger Teemu Selanne.
Ducks GM Brian Burke put Schneider on waivers Tuesday, but he cleared with no takers. It's expected Burke will have to take a lesser salary in return in whatever trade he ends up making.