Smyth on Sakic's return ... and all those injuries
September, 22, 2008
09/22/08
2:46
PM ET
This is a big year for
Ryan Smyth
.
It absolutely killed him when injuries limited him to 55 games last season, in what was the first year of a big contract with the Colorado Avalanche. For those who don't know Smyth, there are few players in the league who put more pressure on themselves to deliver. He wasn't happy.
[+] Enlarge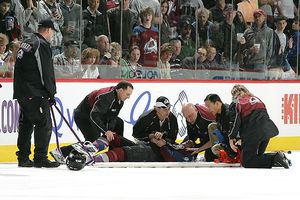 Michael Martin/Getty ImagesRyan Smyth battled many injuries in 2007-08, including a concussion and separated shoulder from a hit during a March 1 game.
"I had so many awful injuries," Smyth told ESPN.com. "Once I got here last year, I just tried to get my feet wet and see where I fit in and adjust that way. I started feeling good, and all of a sudden, I started to get injured. Every time I felt like I was getting going again, I got injured and never really recuperated from it."
(Smyth was out six weeks with a broken ankle and later missed more time when he suffered a concussion and minor shoulder separation from a Jack Johnson hit on March 1.)
And how does he feel now? "Awesome."
I was thinking of Smyth this summer when Joe Sakic deliberated over his future. I remembered how much Sakic had lobbied Smyth to sign with Colorado a year ago. Would Sakic then turn around and retire? Smyth admitted to reminding Sakic of that -- subtly.
"No question," Smyth said. "There was a few times before we left Denver for Canada for the summer, a couple of times we got together and I told him I had to bug him about it. He's obviously a world-class player and future Hall of Famer. I was just happy to hear he re-signed because he was a huge influence for me to come down here."
A big season for both Smyth and Sakic might help their case for the 2010 Canadian Olympic team. There are some who believe the 39-year-old Sakic might be an important veteran voice 16 months from now for a team that will feel incredible pressure to win on home soil. I think if he comes back to play another NHL season, and he's healthy at the time of selection, you definitely select him -- even if it's as the 13th forward.
As for Smyth, a longtime performer for Canada on the international stage, his gritty-type role is being challenged by the likes of Brenden Morrow, Shane Doan and Mike Richards. Smyth, aka "Captain Canada" (I actually gave him that nickname during one of his many World Championship appearances earlier this decade), needs a big season to hold them off.